Axios AM
March 31, 2017
1 big thing: Trump, baffled and brooding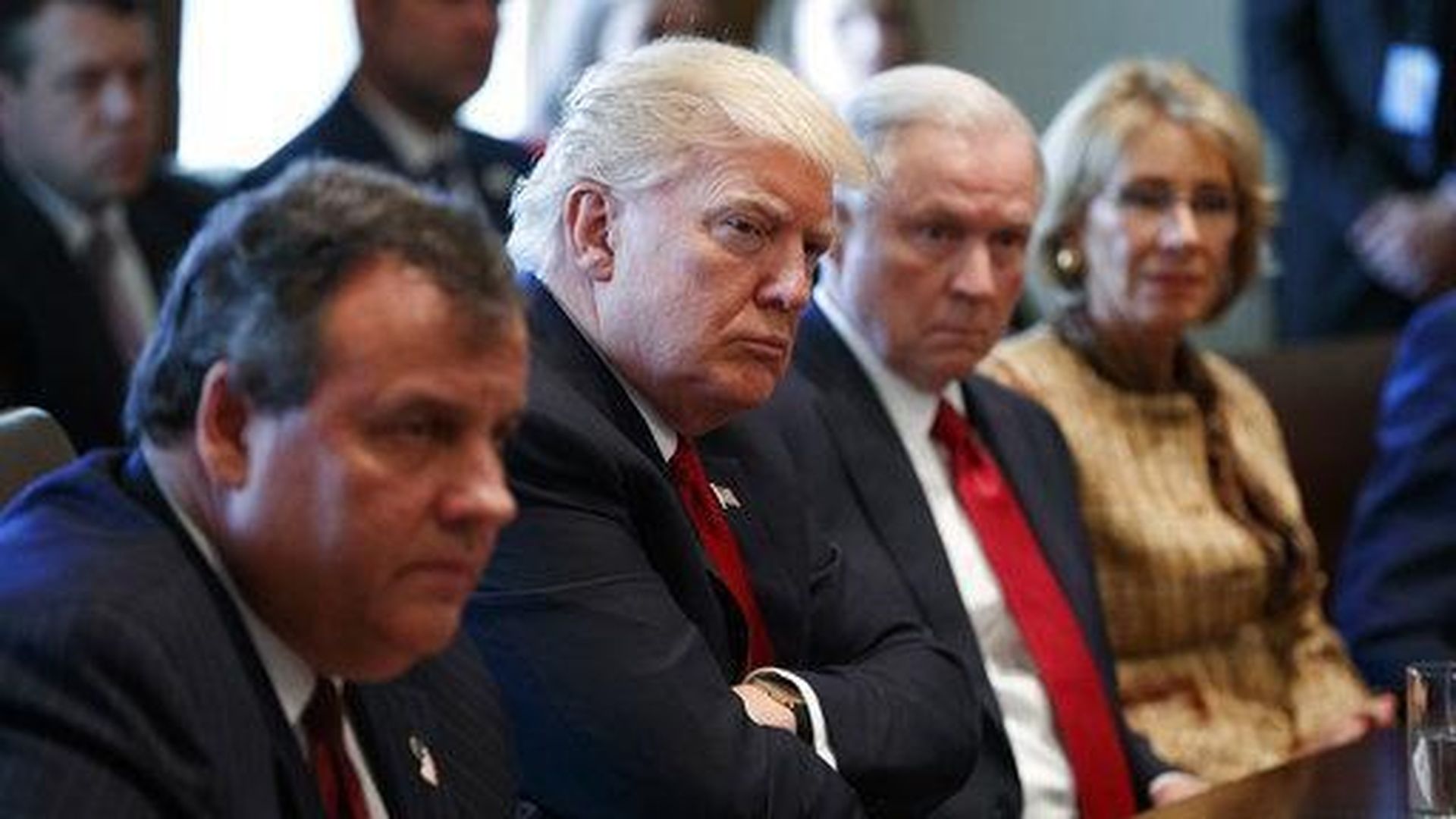 President Trump brought his chaos-and-loyalty theory of management into the White House, relying on competing factions, balanced by trusted family members, with himself perched atop as the gut-instinctdecider. He now realizes this approach has flopped, and feels baffled and paralyzed by how to fix it, numerous friends and advisers tell us.
"Trump is thinking through his frustrations," said one Washington wise man close to the West Wing. "The team didn't put the windows in right."
The chaos dimension has created far more chaos than anticipated. Come nightfall, Trump is often on the phone with billionaire, decades-long friends, commiserating and critiquing his own staff. His most important advisers are often working the phone themselves, trashing colleagues and either spreading or beating down rumors of turmoil and imminent changes.
This has created a toxic culture of intense suspicion and insecurity. The drama is worse than what you read.
Behind the curtain: Axios' Jonathan Swan today sat in Reince Priebus' office with Steve Bannon, Jared Kushner, and Reince's deputy, Katie Walsh, who — fed up with the internal "Game of Thrones," and treated with suspicion by some prominent West Wing colleagues — is leaving to help launch Trump's outside political group, America First Policies.
The purpose of the meeting was to spin her departure — the officials said they needed an all-star player to get the group off the ground. But during the conversation one of the officials made a revealing comment. He views the Trump White House in terms that could be applied to the iterative process of designing software. It's a beta White House.
The senior official — the comment was "on background" — said the White House was operating on similar principles to the Trump campaign:
"We rode something until it didn't work any more," the official said. "We recognized it didn't work, we changed it, we adjusted it and then we kind of got better ... [T]his was much more entrepreneurial."
In the White House, he said, "we're going to keep adjusting until we get it right.
Translation: Buckle up. You should expect regular, sometimes violent, upheavals in this Trump White House.
Sound smart: In any organization, all habits — good and bad — trickle down. So no wonder you have so many young staffers spending so much time stirring mischief and trying to prove loyalty, often blindly.
2. The first to crack?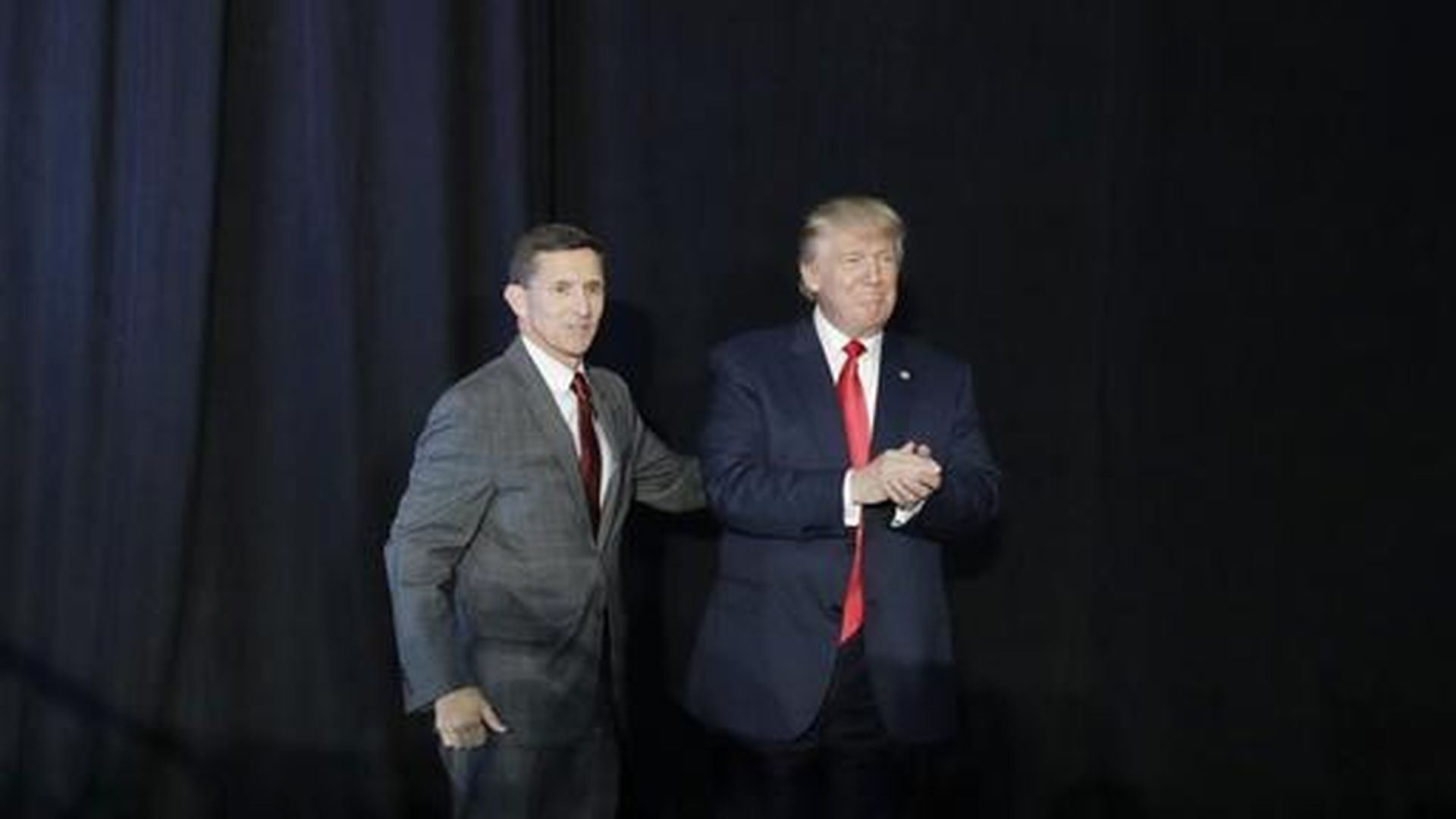 Shot ... Gen. Mike Flynn to Chuck Todd on NBC's "Meet the Press" on Sept. 25, re Hillary aides: "When you are given immunity, that means that you have probably committed a crime."
Chaser ... Wall Street Journal front page today, "Flynn Offers Deal for Testimony," by Shane Harris, Carol Lee and Julian Barnes: "Flynn, ... Trump's former national security adviser, has told the [FBI] and congressional officials investigating the Trump campaign's potential ties to Russia that he is willing to be interviewed in exchange for a grant of immunity from prosecution."
"[T]he fact that he was seeking immunity suggested Mr. Flynn feels he may be in legal jeopardy."
Flynn's attorney, Robert Kelner: "General Flynn certainly has a story to tell, and he very much wants to tell it, should the circumstances permit."
Sound smart: Flynn is a loose cannon with nothing left to lose. The Trump camp should be worried.
3. Digital bully pulpit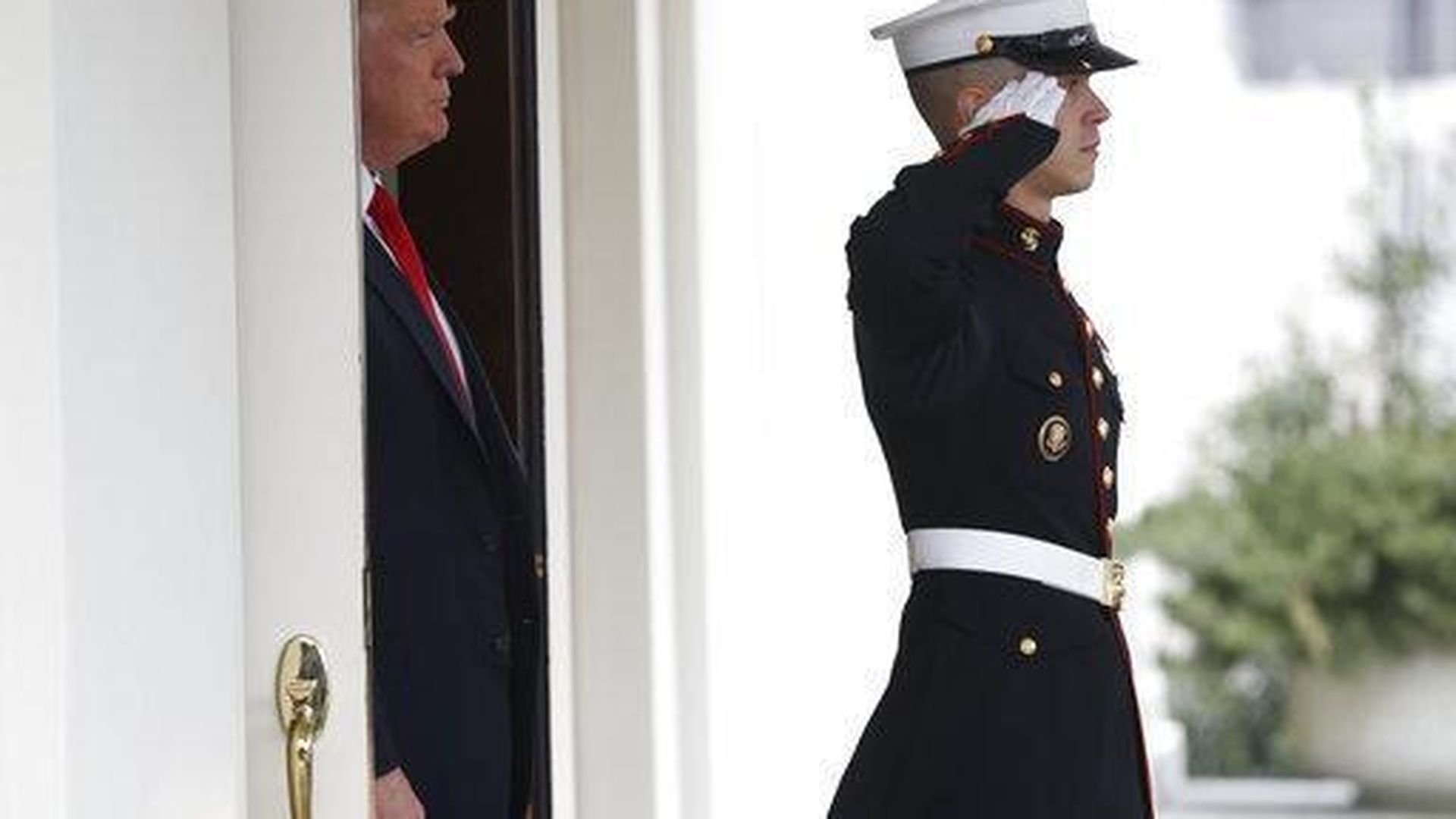 As part of his increasingly bullying posture toward the House GOP's hardline Freedom Caucus, Trump yesterday began using a tool that members of Congress fear — and that we thought he'd use more in the health-care fight. On Twitter, Trump badgered and hugged individual lawmakers:
"If @RepMarkMeadows, @Jim_Jordan and @Raul_Labrador would get on board we would have both great healthcare and massive tax cuts & reform. ... Where are @RepMarkMeadows, @Jim_Jordan and @Raul_Labrador?#RepealANDReplace."
"Great op-ed from @RepKenBuck. Looks like some in the Freedom Caucus are helping me end #Obamacare."
"The Freedom Caucus will hurt the entire Republican agenda if they don't get on the team, & fast. We must fight them, & Dems, in 2018!"
Bonus Trump tweet: "The failing @nytimes has disgraced the media world. Gotten me wrong for two solid years. Change libel laws?"
4. This'll get an "Amen" from Trump, Ryan
Rep. Adam Kinzinger (R-Ill.) flays the Freedom Caucus in a N.Y. Times Op-Ed, "Undermining the G.O.P. From Within":
They move the goal posts, and once that happens, they still refuse to play. We are the Charlie Brown party, hoping that this time, things will be different. But time and again, the Freedom Caucus is Lucy — pulling the ball out from under us, letting us take the fall and smiling to themselves for making a splash. It's a cheap tactic, not a way to govern, and enough is enough.
5. Trump starts nationalist trade push
The President's top trade officials last night previewed two executive actions that are coming today, intended to signal to foreign countries that Trump intends to follow through on his nationalist campaign rhetoric. Axios' Jonathan Swan was on the White House conference call:
Commerce Secretary Wilbur Ross and the U.S. Trade Representative are initiating a comprehensive study of the ways foreign countries are fleecing America on trade. They'll report back in 90 days with findings on everything from unbalanced free trade deals to lax enforcement to unfair WTO constraints.
Peter Navarro, the director of Trump's National Trade Council, said too many countries are getting away with dumping artificially cheap goods into U.S. markets.
The giant panda in the room: Navarro said the announcement wasn't about China ― but it kinda is. The example of unfair trade practice that Ross highlighted was the dumping of artificially cheap, state-subsidized steel into the American market. And which country might be doing that? Trump could have a rather contentious meeting next week at Mar-a-Lago with President Xi.
6. "Washington has work to do"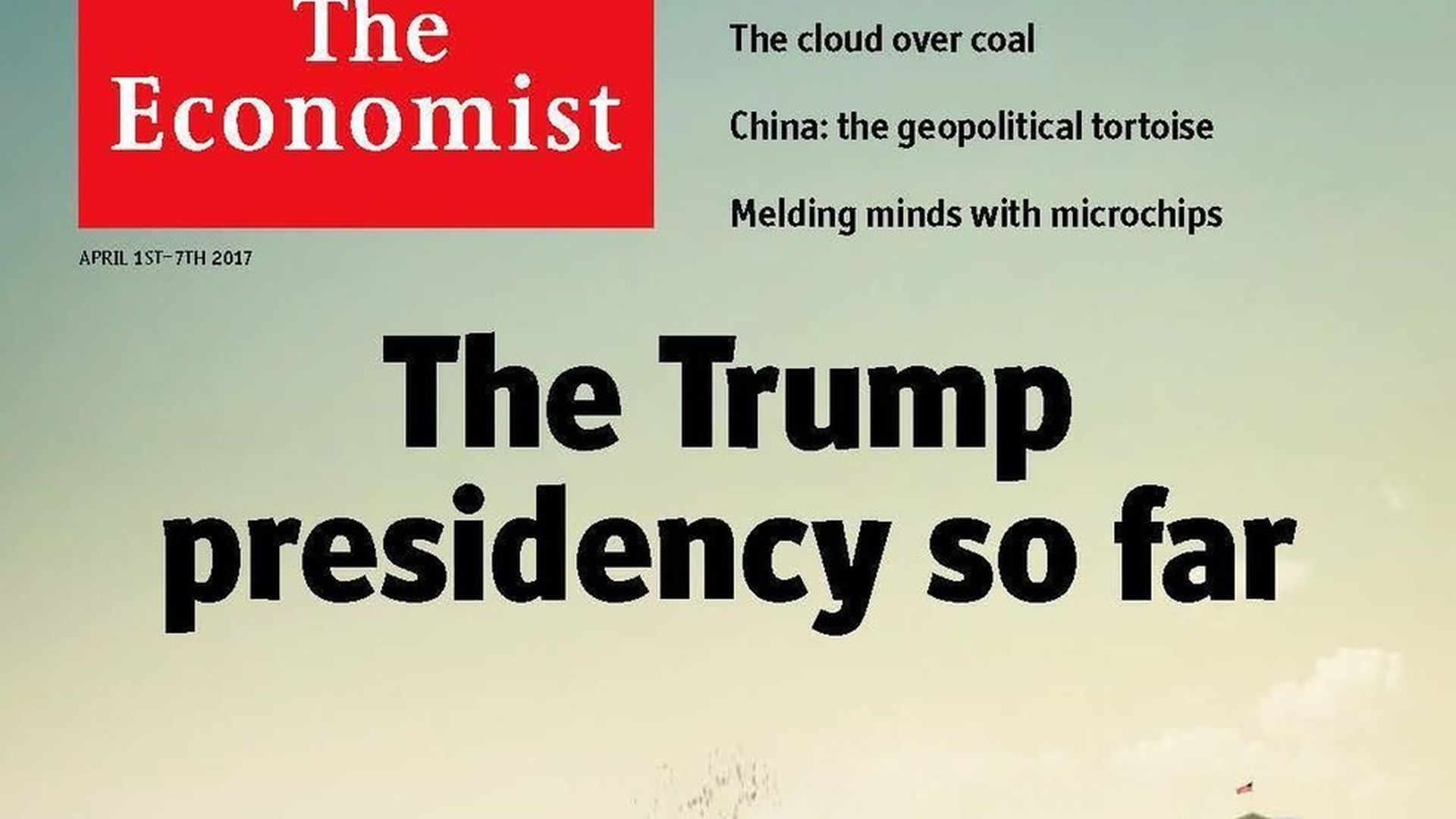 The Economist's cover leader, "The Trump presidency is in a hole ... And that is bad for America — and the world":
It is tempting to feel relief that the Trump presidency is a mess. For those who doubt much of his agenda and worry about his lack of respect for institutions, perhaps the best hope is that he accomplishes little. That logic is beguiling, but wrong. After years of gridlock, Washington has work to do. The forthcoming summit with Xi Jinping, China's president, shows how America is still the indispensable nation. A weak president can be dangerous — picture a trade war, a crisis in the Baltics or conflict on the Korean peninsula.
Chaser ... Michael Bloomberg Op-Ed in N.Y. Times,"Climate Progress, Without Trump":
Those who believe that the Trump administration will end American leadership on climate change are making the same mistake as those who believe that it will put coal miners back to work: overestimating Washington's ability to influence energy markets, and underestimating the role that cities, states, businesses and consumers are playing in driving down emissions on their own.
7. Future-watch: Every business will be in education
In a conversation last evening with reporters in Boston, GE CEO Jeff Immelt said the company is going all-in on futuristic manufacturing, having ditched businesses like finance and network television to focus on building stuff like jet engines and gas turbines.
Axios' Chris Matthews reports these takeaways from Immelt's comments at the dinner at Row 34, a few blocks from GE's new HQ:
Fears of robot-driven joblessness are overblown, even as he invests billions in automation: "This notion of the war of the robots happening in the short term, that's more of a Silicon Valley vision than the real world."
Robots are making Americans richer: Businesses can only pay workers more if they become more productive, and automation allows humans to focus on more valuable tasks.
It's not just technology, but politics that drive automation: "The question of the last election was: 'How do you create $25 per hour jobs?'"
Every business will be in the education business: GE and firms like it must do more to train workers to rise above tasks that robots can do, "not because we're bleeding hearts, but because we're good at it."
8. Business talker
"Airlines Make More Money Selling Miles Than Seats: The golden goose isn't your ticket or bag fee — it's the credit card you use to collect frequent flier miles," by Bloomberg's Justin Bachman:
"Each mile fetches an airline anywhere from 1.5 cents to 2.5 cents, and the big banks amass those miles by the billions, doling them out to cardholders each month."
"For the banks, people who pay annual fees for those cards to accumulate miles are the closest thing to a sure bet."
The sale of miles "has expanded so much that it accounts for more than half of all profits for some airlines, including American Airlines Group Inc., the world's largest."
9. Worthy of your time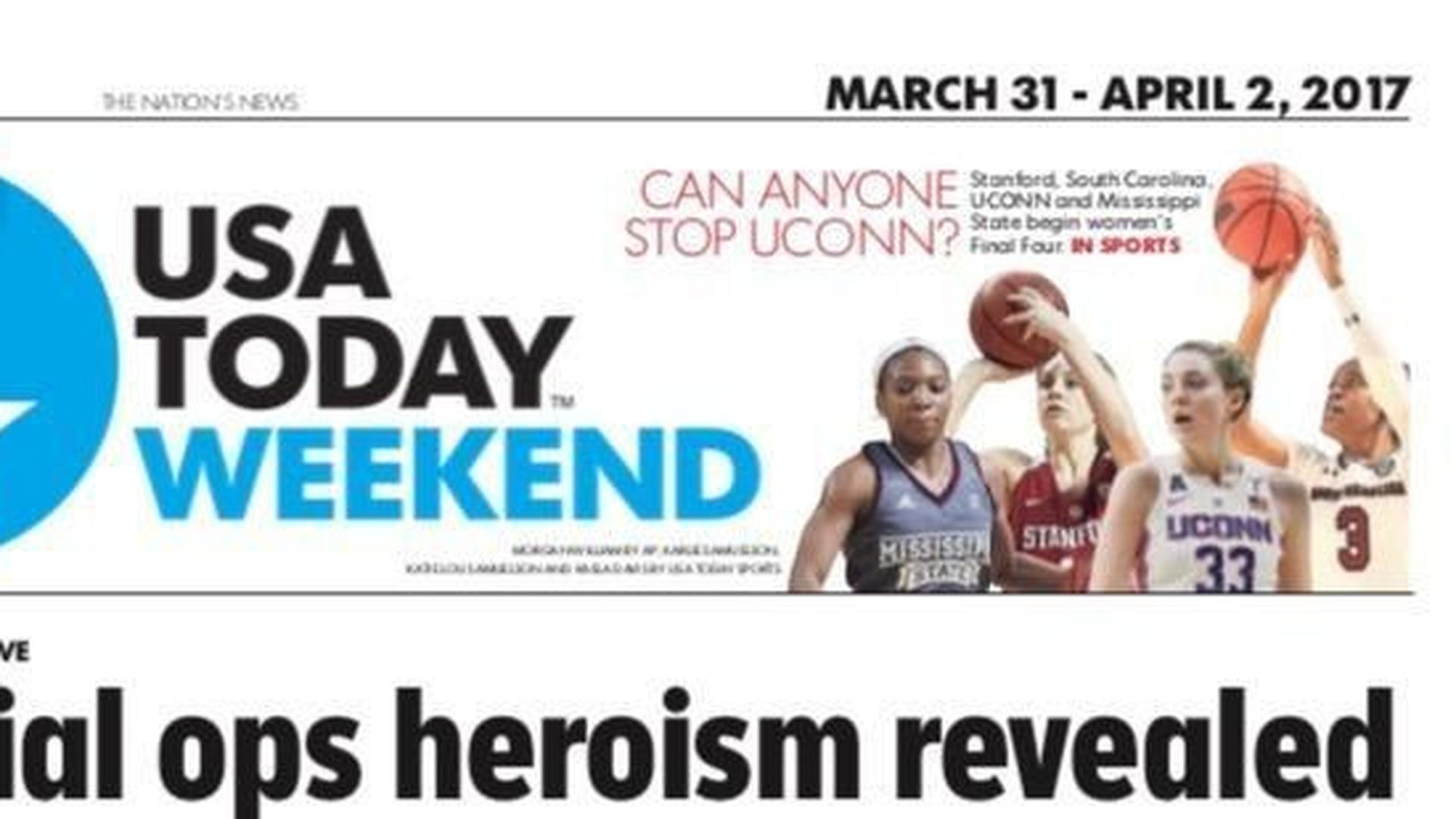 Rarely released details in USA Today's cover story, "Silver Stars reveal secret valor among Delta Force, other commandos," by Tom Vanden Brook:
The awards, due to their sensitive, secretive nature of their missions, were bestowed without public notice. The Army released to USA TODAY 12 of 41 the narratives associated with the Silver Stars, the third-highest medal granted for heroism. ...
A few threads hold together the narratives for the 12 Silver Stars awarded to Army commandos: lots of bullets, many aimed at the soldiers, some striking them, but many, many more outgoing, killing insurgents and protecting fellow troops. And death, mostly, for insurgents. The Pentagon has been loath to acknowledge body counts in the counterinsurgency wars in Iraq and Afghanistan, as top commanders, such as Gen. David Petraeus, insisted that killing is not the path to ultimate victory. The Silver Stars were not won in hearts-and-minds battles, but in life-and-death struggles. Eighteen al-Qaeda fighters were killed in a battle in Baghdad, while more than 20 Taliban militants died in Helmand Province.
10. 1 healthy thing
Men's Fitness has a handy list of the "dirtiest menu words": Alfredo, butter, breaded, battered, crispy, fritters, golden, refried, loaded, pan-fried, covered and — worst of all — smothered.
The (c)leanest menu words: grilled, baked, lightly sautéed, primavera, marinara, roasted and — best of all — steamed.
P.S. "The NBA's Secret Addiction," by Baxter Holmes in ESPN The Magazine: "[T]he power of the PB&J [is] being wielded as a form of asymmetric nutritional warfare." The Milwaukee Bucks have offered players peanut-butter-and-jelly-flavored oatmeal, PB&J recovery shakes, PB&J waffles and PB&J pancakes.
The NBA is covered in experts, obsessed with peak performance — and still this pillar of grade-school cafeteria lunches is the staple snack of the league. An exorbitantly wealthy microclique, backed by an army of personal chefs, swears by a sandwich whose standard ingredients boast a street value of roughly 69 cents.