Axios AM
June 04, 2018
1 big thing: Trump's mind-control superpowers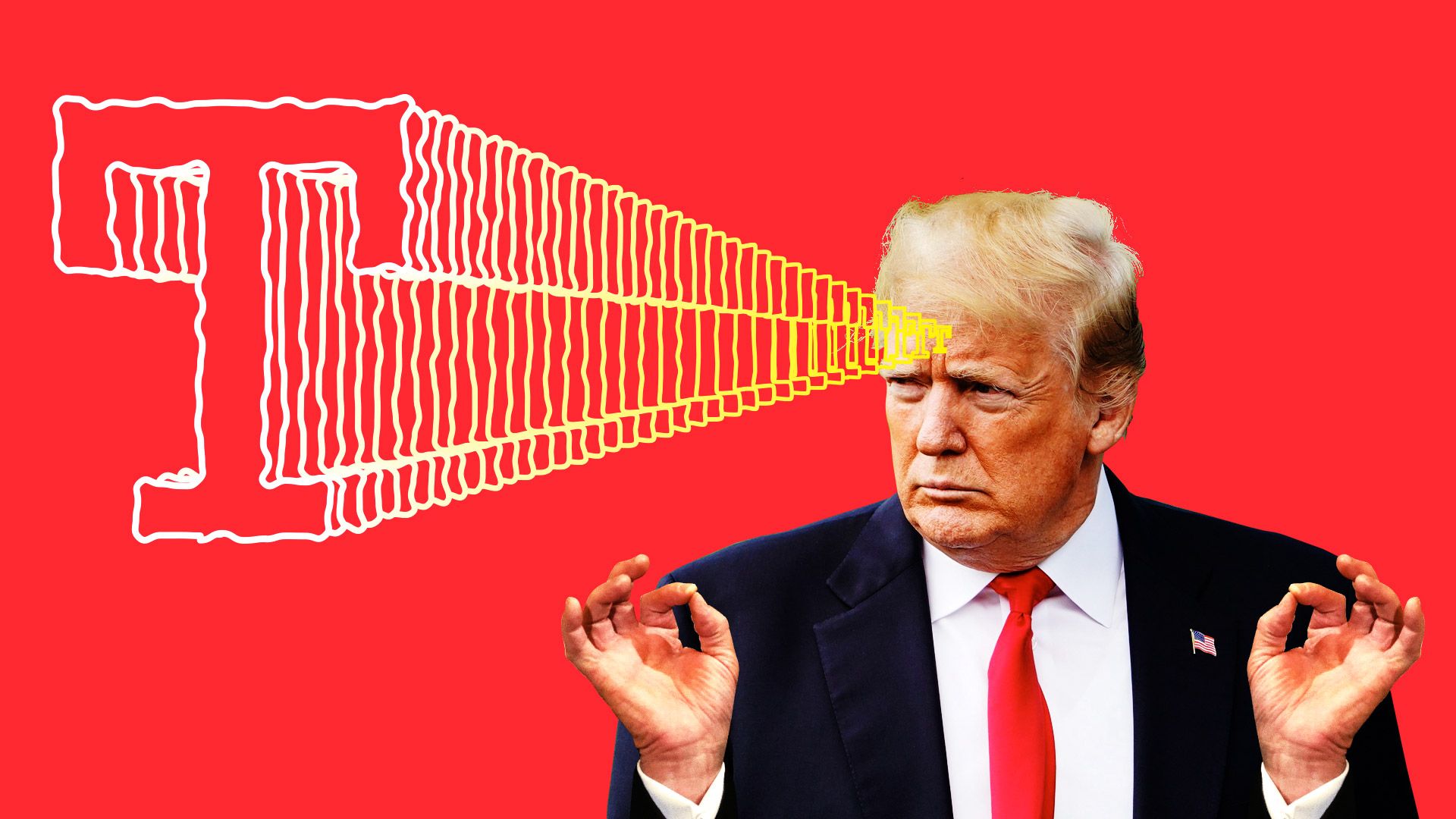 In our lifetime, no president has matched Donald Trump's ability to summon the power of pulpit + friendly media + the tweet-by-tweet power of repetition and persuasion to move minds en mass, Axios CEO Jim VandeHei writes: 
You see this in the silence of Republican critics; the instant shifts in GOP views of the FBI, Putin and deficits; and the quick, widespread adoption of his branding efforts around "deep state," "Spygate" and "no collusion." 
We hear so much, so often that we become numb to what Trump is doing. This allows big things (such as fundamental shifts in governing norms) to seem like small things or nothing at all. 
Why this matters ... Trump and allies are floating untested legal arguments: The president can't obstruct justice, or can unilaterally shut down probes of himself, or can even pardon himself. If you think he won't try something unprecedented — and maybe get away with it, at least with Republicans — you aren't paying attention.
A few data points to marinate in:
For all the drama, "never before"s and controversy, at 501 days into his presidency, Trump has more party support than any president since World War II except George W. Bush after 9/11. The more Republicans see and hear, the more they agree with him. 
House Majority Leader Kevin McCarthy, the second ranking Republican in the House and possible next Speaker, on CNN yesterday became the latest GOP leader to claim "no collusion," despite Robert Mueller's ongoing probe. The more they hear his terms, the more they repeat them.
Michael Hayden, a huge Trump critic who's a former CIA director and National Security Agency director, tells Kara Swisher in a Recode Decode podcast that Republican support is so unmovable that impeachment, regardless of evidence, would be unwise because it'd be seen as "soft coup."
A case in point on being numb: Trump's retaliation against Amazon.
He threatened the company behind the scenes, then publicly, while privately pushing U.S. Postmaster General Megan Brennan to double Amazon's package rates.
This was quickly forgotten even though it's highly abnormal for presidents to use their voice and power to pick on one specific public company using misleading data points. 
Tim Miller, a Republican and the former spokesman for Jeb Bush, nailed the nothing-is-abnormal-when-everything-is-abnormal phenomenon in a tweet about a piece he wrote for Crooked Media:
"Take  Romney's 47% gaffe - or frankly any major political gaffe in history - and dump it into Trumps Nashville speech verbatim. The remark wouldn't have even made it into the newspaper." 
Then consider this small but telling example of persuasion: 
No one in the world was thinking about former Illinois Gov. Rod Blagojevich, who's serving a 14-year sentence for corruption and soliciting bribes. He was a Democrat brought down by Democrats in a Democratic state. 
Suddenly Trump floated the idea of curtailing his sentence, claiming he was guilty of typical politics, not some huge crime. Again, this was not the view of Democrats or the courts. 
Then, Fox News' Judge Jeanine Pirro, a Trump favorite, made her Saturday night show a shockingly safe and sympathetic forum for Blagojevich's wife, Patti, to kiss up to Trump and paint the president and her husband as victims. 
The Trump + Fox formula probably means Blagojevich will be freed — and a lot of Republicans will applaud, if recent history holds. 
Remember this: Hayden might be right. It is possible that no matter what Mueller finds, no matter how extensive or incriminating, Trump survives.
The only indisputable way to remove a president from office is for him to be impeached, then convicted and ousted by a supermajority of the Senate.
That means a bunch of Republicans would need to turn on him — and there is scant evidence to date that many, if any, ever would. 
2. Economists worry about possible recession in 2020
New overnight ... "A group of top business economists believes the major tax cuts President Trump pushed through Congress will give a significant boost to economic growth this year and next year. But they worry that by 2020, the country could be entering a new recession," AP Economics Writer Martin Crutsinger writes:
The National Association for Business Economics says in its quarterly outlook that its panel of 45 economists "believe the positive effects from the Trump tax cuts will quickly fade after the first two years."
"Asked when the next recession might begin, two-thirds of the NABE economists saw one starting by the end of 2020, with 18% even more pessimistic, expecting the next downturn to begin by the end of 2019."
"The NABE economists are 'slightly less optimistic about the U.S. economy in 2018 than they were three months ago,' says NABE vice president Kevin Swift, chief economist at the American Chemistry Council."
"Part of the drop-off in optimism reflects growing worries about what Trump's get-tough approach on trade might do to U.S. growth prospects."
Wow! "Three-fourths of the NABE panel believes that current trade policies will have a negative impact on the economy."
P.S. Wall Street Journal lead story, "Global Growth Loses Steam: Shift dims outlook for stocks as some investors turn to safer assets such as bonds." (Subscription)
But, but, but: "Hardly anyone expects a recession any time soon."
3. Big problem with any North Korean nuclear deal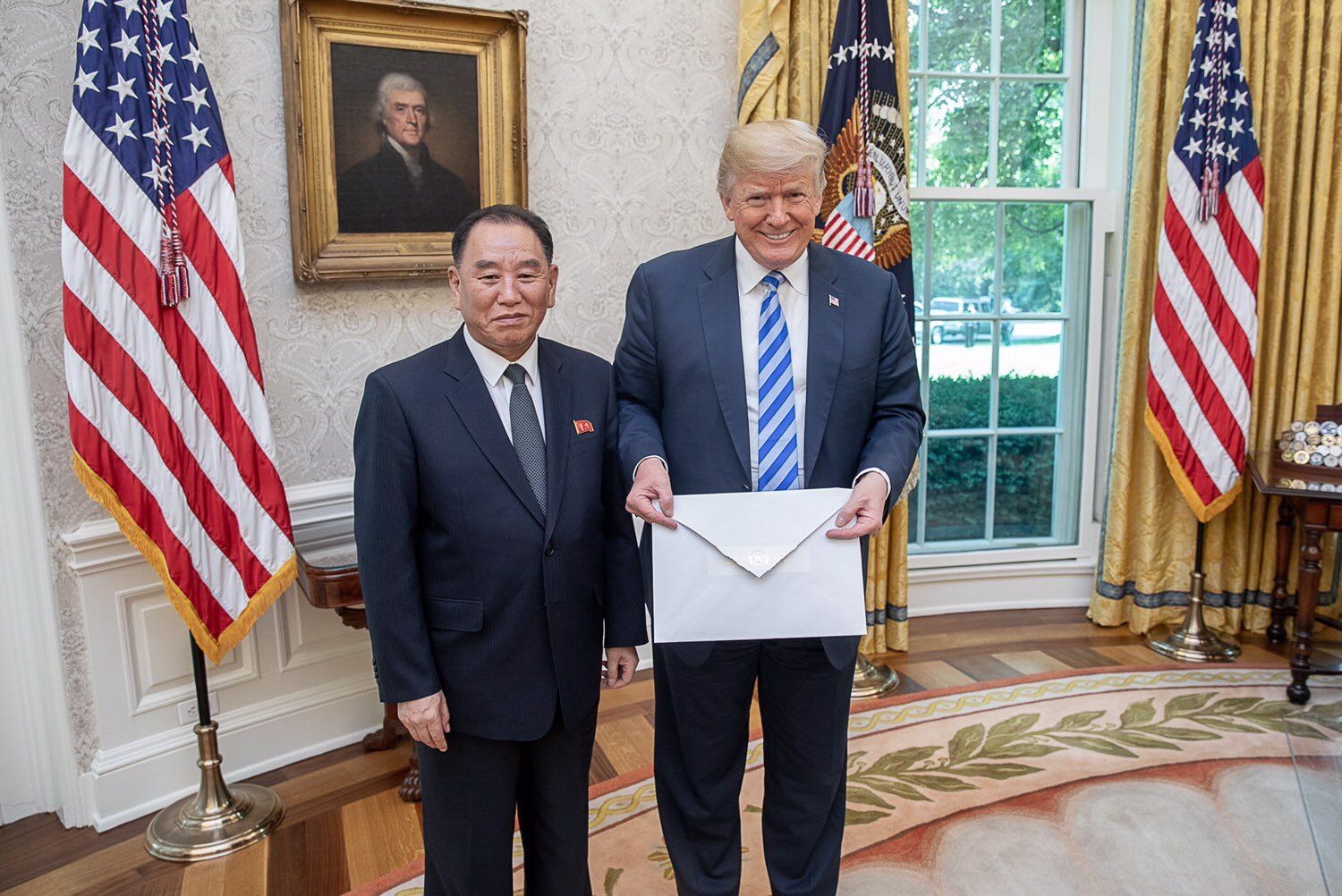 "[N]ot enough nuclear experts may exist to visit the hundreds of buildings, track down the voluminous records and conduct the comprehensive inspections required to verify compliance" with a North Korean denuclearization deal, the L.A. Times' David Cloud reports:
"[I]f Kim ... agrees to disarm in stages over the next decade or longer, the most likely outcome if a nuclear deal ultimately is struck, the massive effort would require hundreds of international nuclear inspectors to help dismantle warheads, shut down facilities, interview North Korean scientists, unravel procurement systems, physically tag and monitor bomb-making equipment."
The problem: "U.S. intelligence agencies believe Pyongyang has assembled as many as 60 nuclear weapons and built a widely dispersed network of secret development and production facilities, some deep underground in the country's rugged northern mountains."
Why it matters: "Nothing approaching such a sweeping agreement with a closed police state like North Korea has been attempted in the history of nuclear disarmament."
4. Pic du jour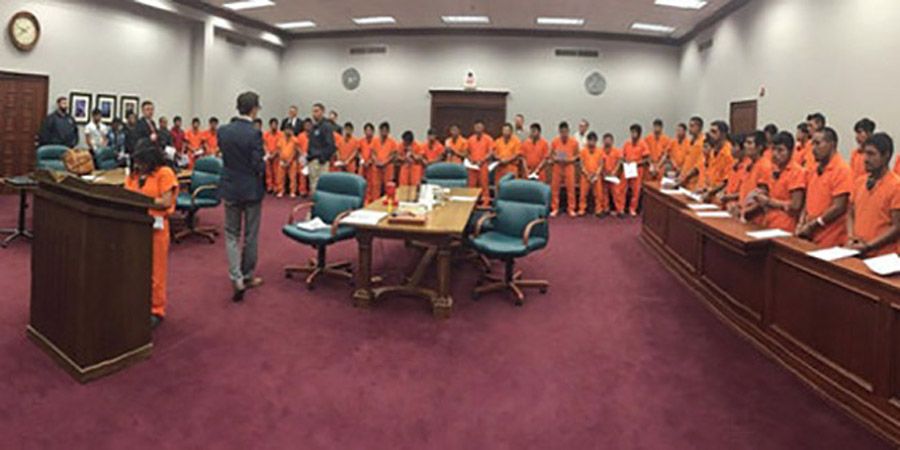 Debbie Nathan, writing for The Intercept about mass court proceedings that result from the administration's "zero tolerance" policy for illegal border crossers:
"Taking photographs of federal court proceedings is strictly forbidden. But in the federal courthouse in Pecos, Texas, someone apparently felt so bad about the new policies that they secretly shot a photo [in April] of dozens of immigrants clogging a court in orange jumpsuits."
5. Device makers have vast access to Facebook data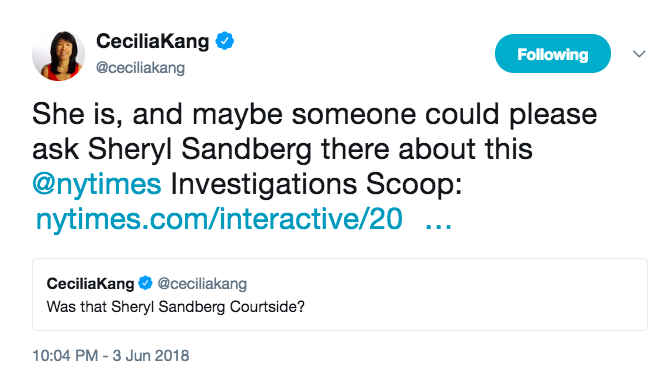 "Facebook Gave Device Makers Deep Access to Data on Users and Friends: The company formed data-sharing partnerships with Apple, Samsung and dozens of other device makers, raising new concerns about its privacy protections" — N.Y. Times' Gabriel J.X. Dance, Nicholas Confessore and Michael LaForgia:
"Facebook has reached data-sharing partnerships with at least 60 device makers — including Apple, Amazon, BlackBerry, Microsoft and Samsung — over the last decade ... The deals allowed Facebook to expand its reach and let device makers offer customers popular features of the social network, such as messaging, 'like' buttons and address books."
Why it matters: "Facebook allowed the device companies access to the data of users' friends without their explicit consent, even after declaring that it would no longer share such information with outsiders. Some device makers could retrieve personal information even from users' friends who believed they had barred any sharing."
"Most of the partnerships remain in effect, though Facebook began winding them down in April. The company came under intensifying scrutiny by lawmakers and regulators after news reports in March."
"Facebook officials defended the data sharing as consistent with its privacy policies, the F.T.C. agreement and pledges to users. They said its partnerships were governed by contracts that strictly limited use of the data, including any stored on partners' servers. The officials added that they knew of no cases where the information had been misused."
6. First look: Parkland students embark on summer tour
The students of March for Our Lives, including survivors of the Parkland high school shooting, today will announce a 60-day, 20-state, 75-stop summer bus tour to register young people to vote and to promote gun law reform.
The bus tour, "March for Our Lives: Road to Change," will include meetings with victims and survivors. It follows the 850 rallies and protests that drew hundreds of thousands of people around the globe on March 24.
David Hogg, 18, who graduated yesterday with the other seniors of Marjory Stoneman Douglas High School, told me in an interview Saturday to promote the tour that his biggest surprise as he travels the country has been: "There's a lot more love than hate out there."
Hogg, who plans to work on voter registration during his gap year ahead, said: "I'm glad I'm getting my diploma and not my death certificate."
Another key leader of the tour is Parkland grad Emma González, 18, whose powerful moment of silence was a highlight of the Washington rally.
Emma, now stopped for selfies wherever she goes, is headed to the New College of Florida in Sarasota.
She told me her message to politicians about gun reform is: "If you don't support this, ... it'll look like you're going against kids."
The tour launches Friday, June 15, at a Peace March in Chicago, led by students from St. Sabina Academy. From there, students will make 50 stops in states that include Texas, California, South Carolina and Connecticut.
A separate, simultaneous Florida tour will make more than 25 stops in the state, visiting every congressional district.
"More than 4 million Americans turned 18 this year, making them eligible to vote for the first time," says a March for Our Lives news release.
What the students are calling for: "universal, comprehensive background checks; creating a searchable database for gun owners; funding the Centers for Disease Control to research gun violence; ... and banning high-capacity magazines and semi-automatic assault rifles."
7. Jimmy Fallon is surprise Parkland graduation speaker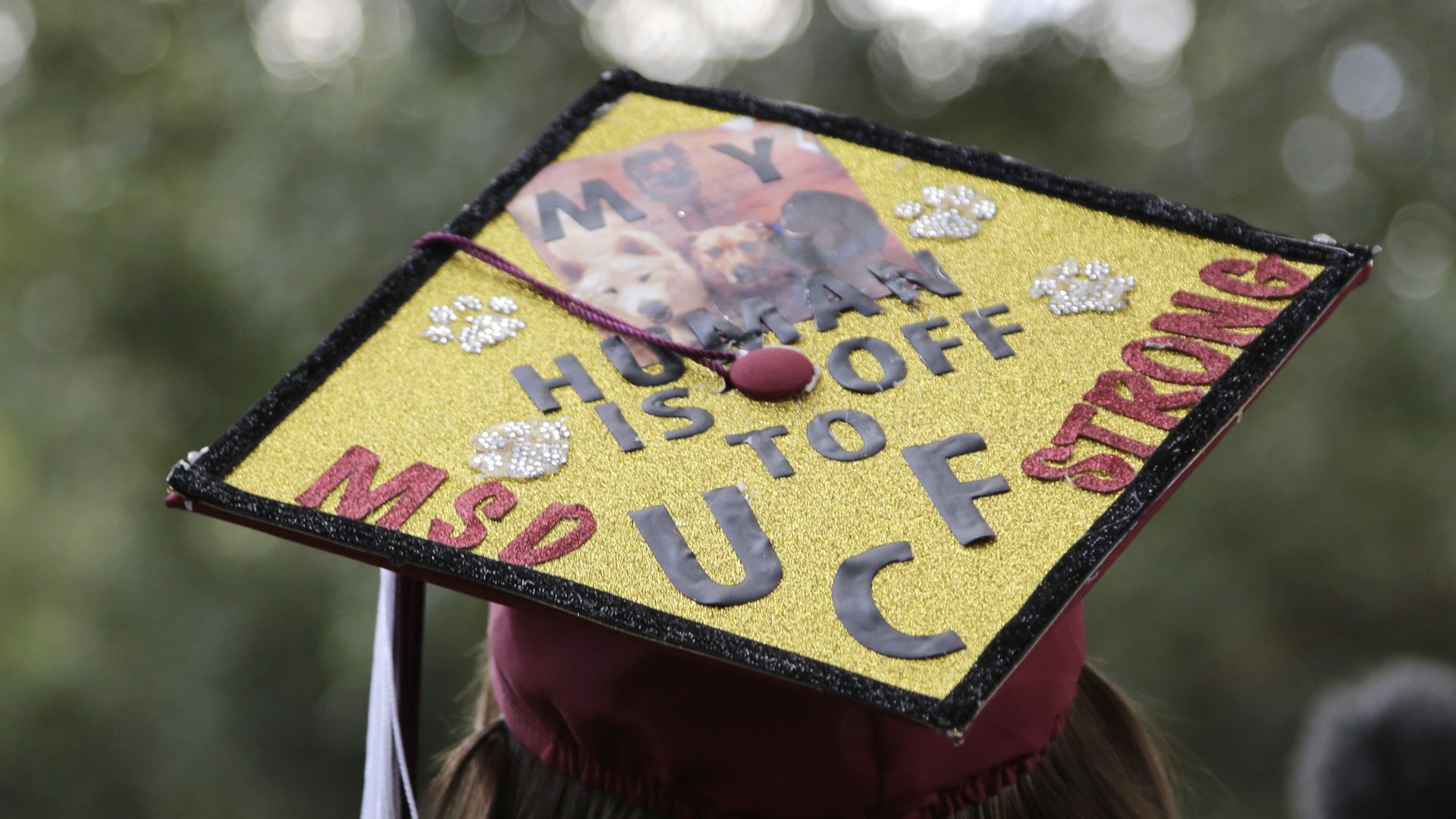 NBC "Tonight Show" host Jimmy Fallon was the surprise graduation speaker yesterday at Marjory Stoneman Douglas High School in Parkland, Fla., where a gunman killed 17 people in February:
In a video of his address, reported by AP, Fallon said: "You are not just the future — you are the present. Keep changing the world. Keep making us proud."
"First thing is this: When something feels hard, remember that it gets better."
Fallon joked that the students "won't be classmates any more. You'll be adults who will Facebook search each other at 2 in the morning for the next 10 years."
"Silent forms of protest make bold statements at Parkland graduation" — CNN: "Numerous members of the class of 2018 wore sashes bearing the message #MSDStrong, the school's rallying cry after the February mass shooting."
"Orange is a recurring motif in the fight for stricter gun control, inspired by the color that hunters wear to protect themselves. ... [S]ome survivors of the shooting incorporated orange into their graduation regalia."
"Senior David Hogg ... wore an orange cap with a price tag for $1.05 attached to the tassel. According to Never Again, the price tag is intended to represent how much each student in Florida is worth to Republican Senator Marco Rubio based on how much money he received from the" NRA.
8. Oil companies play big role in climate-change debate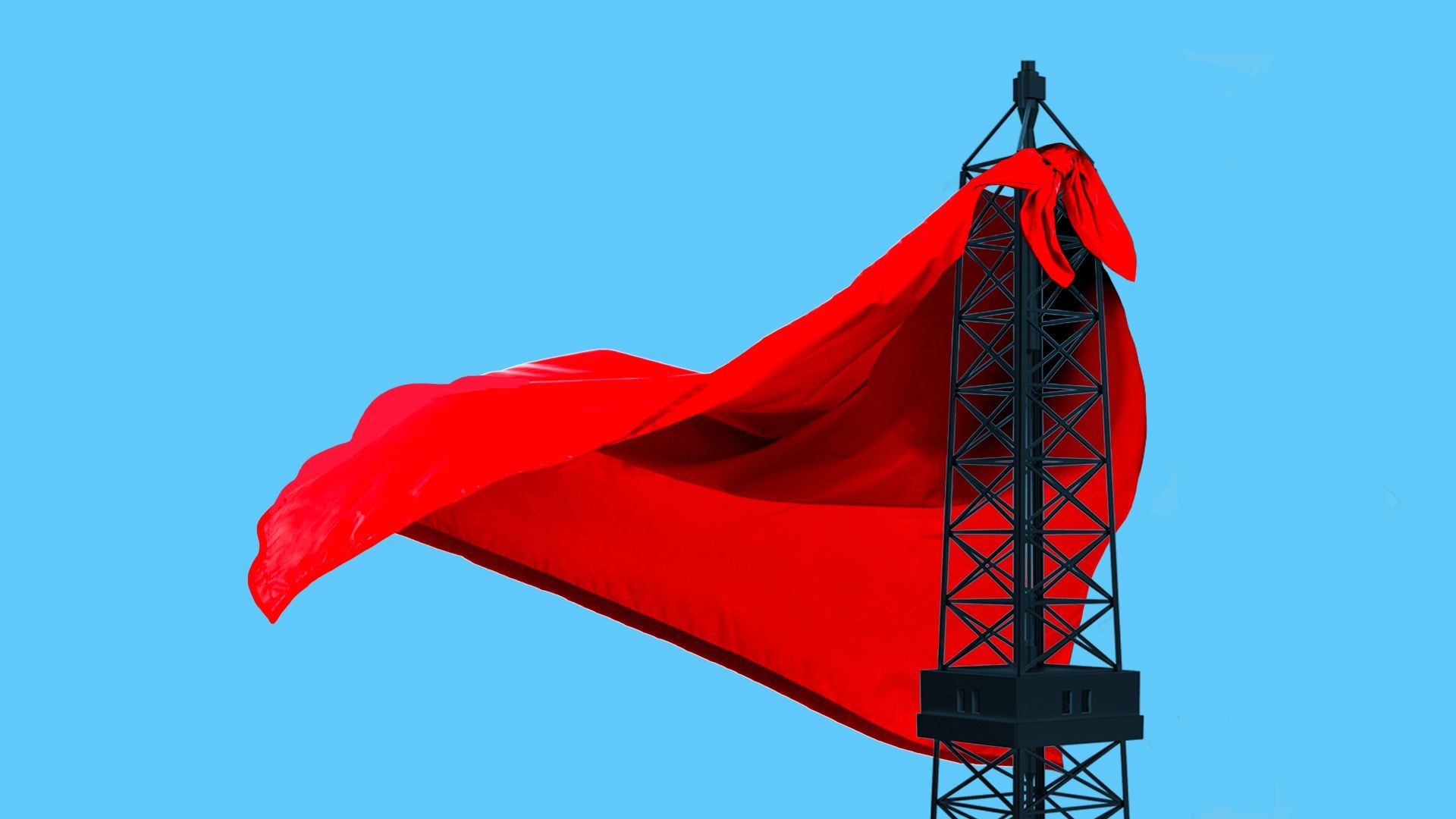 The new flashpoint in the climate change debate is over the role of oil companies — whether they're culprits, allies, or something of a frenemy, Axios' Amy Harder reports in her weekly "Harder Line" energy column:
Why it matters: The burning of fossil fuels these companies produce is a big reason Earth's temperature is rising, yet their products are also foundations of the global economy. Whether you love or hate them, what role these companies play is inherent to addressing climate change, particularly in the absence of presidential leadership on the issue.
Driving the news: Pope Francis is hosting a gathering later this week at the Vatican with executives of major oil producers and investment firms to talk about how the companies can address climate change, we reported exclusively Friday.
9. Vulnerable Dems campaign on opioids, drug prices
Vulnerable Senate Dems have found a common villain: the pharmaceutical industry. They're highlighting both drug prices and the opioid epidemic as they try to make their cases to voters, Axios' Caitlin Owens reports:
Opioids and drug prices both resonate deeply with voters, and some Democratic incumbents have long track records on one or both issues.
Tackling the opioid epidemic and reducing the cost of prescription drugs are unifying issues, and pharmaceutical companies — which are deeply unpopular with voters — are the shared target.
In the House, Republicans in swing districts are the ones pointing to their votes tackling the opioid epidemic.
P.S. Elections = volatility ... "If 2016 is any guide, pharmaceutical, biotech and other healthcare stocks could be in for a rough summer and fall heading into another round of U.S. elections," Reuters' Lewis Krauskopf reports:
"[P]rescription drug costs could become a hot topic as mid-term U.S. Congressional elections near, inflaming investor concerns that prices for medicines may not be sustainable in the face of government and market pressures."
On Wednesday, President Trump "said major drug companies would announce price cuts in two weeks, underscoring how the issue remains in the political spotlight."
10. 1 flop thing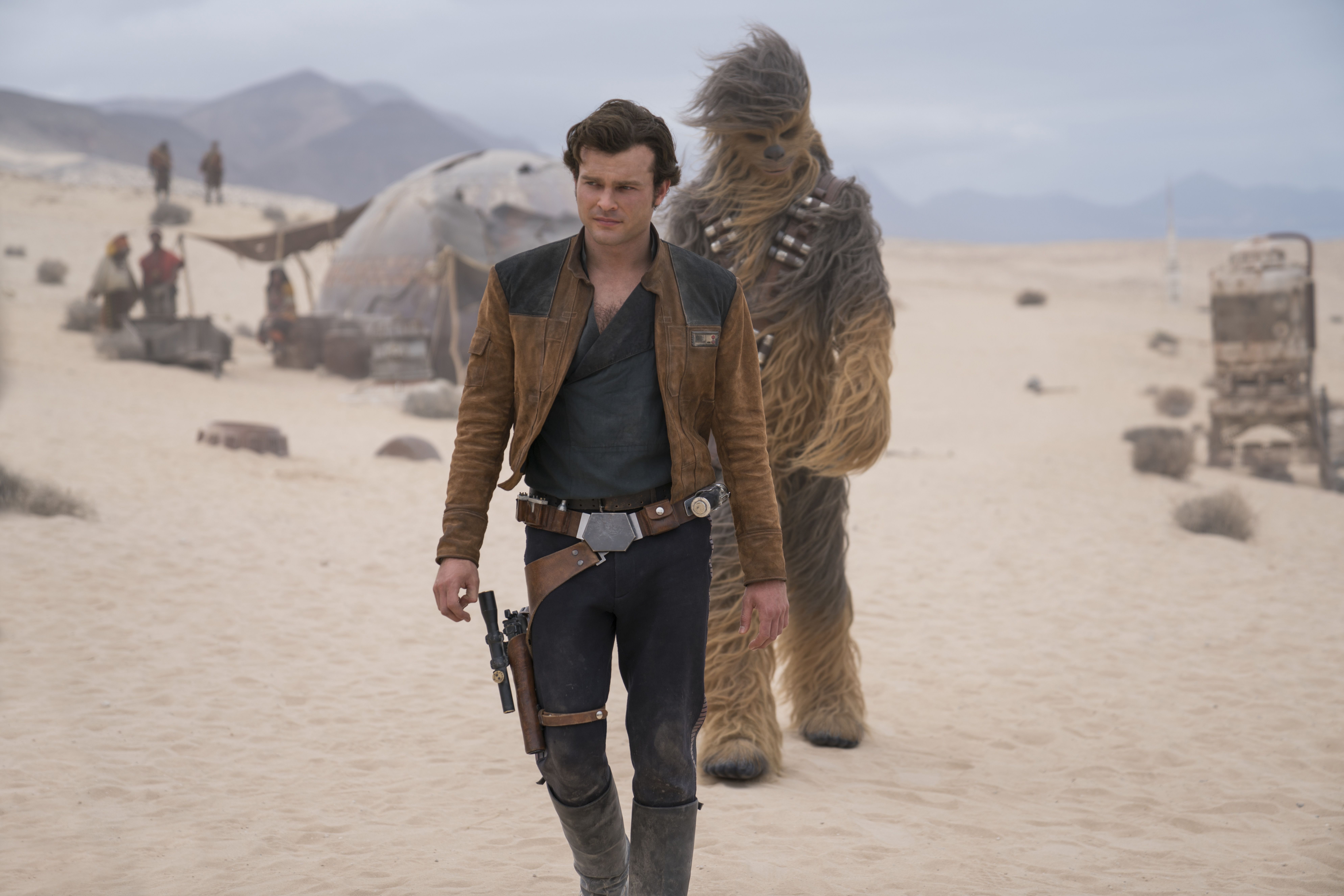 A surprise "Star Wars" flop ... "Solo" is crashing at light speed, according to The Wall Street Journal's Erich Schwartzel (free link):
"'Solo: A Star Wars Story,' which cost more than $250 million to produce, will likely finish its domestic run below $200 million — a once unfathomable performance for the 'Star Wars' spinoff about beloved character Han Solo."
Why it matters: The disappointing box office seems to "signal wavering support among fans for how Disney is treating the storied franchise."