Axios AM
July 01, 2017
Happy holiday Saturday morning, and welcome to July! It's Canada Day. Situational awareness: A request from Trump's voting commission for info about every U.S. voter is getting a rocky reception in the states, per AP: Even some conservative states that voted for Trump, such as Texas, say they can provide only partial responses based on what is legally allowed.
1 big thing
Hail Mary, or Hindenburg?
Either way, the White House recognizes it faces long odds to rescue the health-care bill as senators head home for the Fourth.
Axios' Jonathan Swan ferreted out the intriguing news that the White House has reached out to former Trump campaign officials in hopes of ginning up repeal-and-replace rallies in Maine to pressure Sen. Susan Collins, and Nevada to try to retrieve Sen. Dean Heller.
Both are long shots. Three Republican defections kill the bill, and Sen. Rand Paul of Kentucky also looks firmly opposed.
The White House has engaged its political office — led by former Christie aide Bill Stepien — to put localized pressure on Collins and Heller, including appeals from Republican mayors and legislators, and perhaps the rallies.
Sources inside the administration are deeply skeptical that this will work.
Behind the curtain: Stepien and HHS Secretary Tom Price joined a Thursday strategy meeting at the White House, led by congressional liaison Marc Short. The mood was bleak. Swan is told Price was the most optimistic person in the room.
The meeting's message: They weren't making much progress. Heller, Collins and Paul are the three biggest problems.
The day after: Both ends of Pennsylvania Avenue are looking at fallback options. Trump tweeted yesterday: "If Republican Senators are unable to pass what they are working on now, they should immediately REPEAL, and then REPLACE at a later date!"
Sound smart: Momentum matters — in sports, in love and in politics. Momentum is all against the GOP.
Maybe Rs are lucky ... Paul Krugman column in N.Y. Times: "Losing health coverage is a nightmare, especially if you're older, have health problems and/or lack the financial resources to cope if illness strikes. And since Americans with those characteristics are precisely the people this legislation effectively targets, tens of millions would soon find themselves living this nightmare."
Steve Brill's "9 ways to really fix Obamacare": "Tort reform should be included."
2. Trump's odd alliance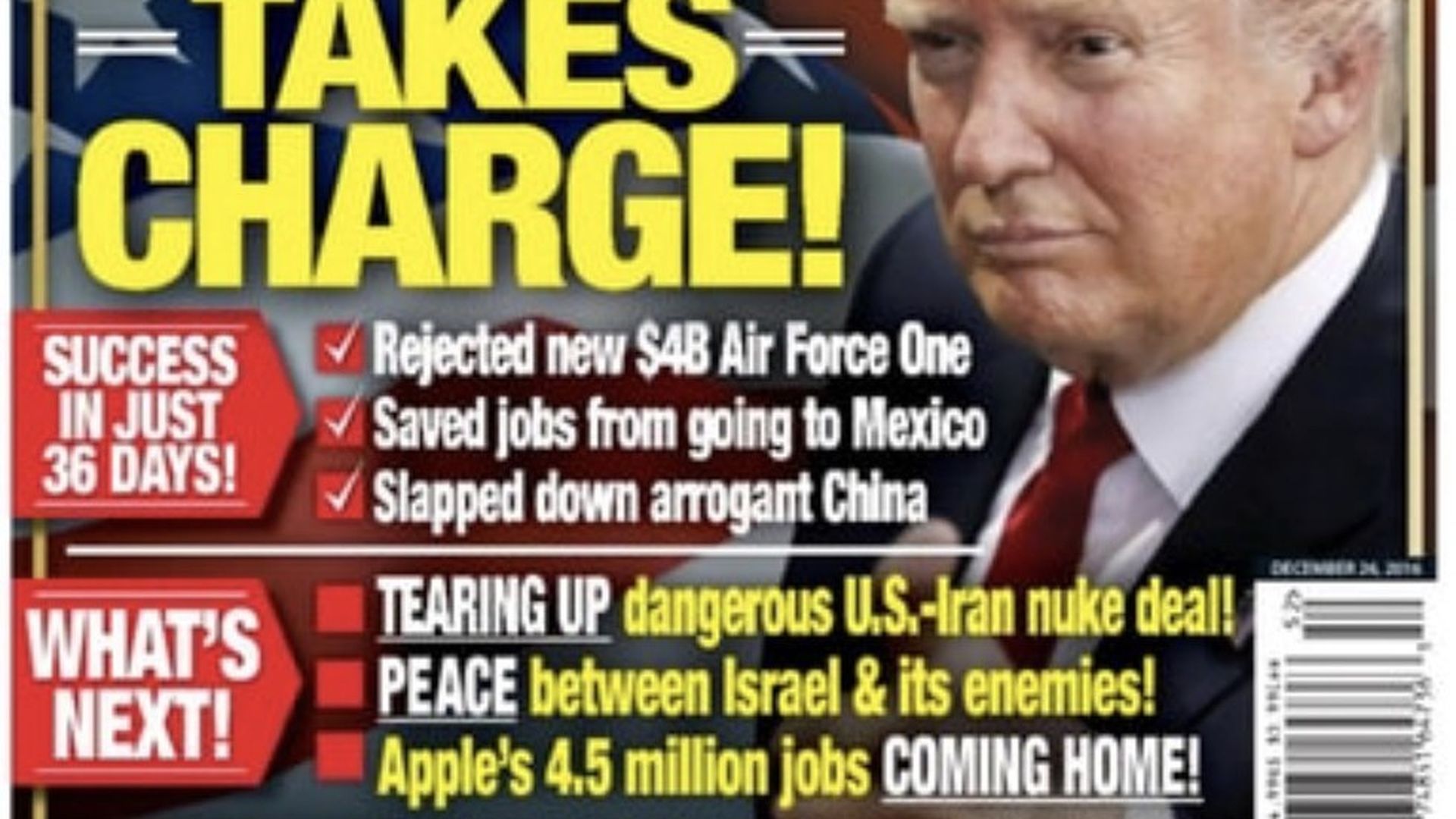 Bloomberg reveals that Jared Kushner almost bought the National Enquirer three years ago: "Kushner and his brother-in-law, Joe Meyer, tried with Enquirer publisher David Pecker to buy the tabloid's owner, American Media Inc. ... The deal ultimately fell through because of weak advertising revenue at the time."
CNN's Brian Stelter reminds us that Trump said last July: "Why didn't the National Enquirer get the Pulitzer Prize for [John] Edwards? And O.J. Simpson?"
Those nuggets reflect the close Trump/Enquirer relationship, spotlighted by the bizarre back-and-forth between Trump and the "Morning Joe" co-hosts over his involvement in a piece about them:
Mika Brzezinski and Joe Scarborough wrote in a WashPost op-ed: "[T]op White House staff members warned that the National Enquirer was planning to publish a negative article about us unless we begged the president to have the story spiked."
Scarborough added on the show: "Donald Trump called me during the campaign and bragged about his friend [David Pecker] who ran the National Enquirer. And he'd always say: 'Have you seen the Ben Carson story? Have you seen the Ben Carson story? Have you seen that story in the Enquirer?' And then he'd talk about it."
More Scarborough: "[T]here were all these stories ... planted in the National Enquirer for people that Donald Trump wanted to attack. And then he would talk about it on the campaign trail. So when we heard [a threat], we said: 'Oh, so we've gone from campaign mode to now trying to attack us. And of course, go ahead!'"
A Trump tweet admitted he had conversed with Joe about the matter: 'Watched low rated @Morning_Joe for first time in long time. FAKE NEWS. He called me to stop a National Enquirer article. I said no! Bad show."
Sound smart: We can't top Drudge's banner, "SUMMER OF CRAZY."
3. Data du jour
The White House salary list shows three officials working for free: Jared Kushner, Ivanka Trump and one of Jared's lieutenants, Reed Cordish, Assistant to the President for Intergovernmental and Technology Initiatives (worth more than $100 million).
21 staffers get the top rate of $179,700/year, per a list by Axios' Becca Rotenberg. Economic adviser Gary Cohn makes $30,000, the minimum to qualify for health insurance.
Click here to see who makes what.
For comparison ... Bloomberg's Toluse Olorunnipa and John McCormick: "Women occupy a smaller portion of those earning top pay under Trump than in his predecessor's administration. Among 22 individuals earning the top salary, 73 percent are male, with 16 men and six women."
"During the final year of ... Obama's administration, males accounted for 56 percent of those earning the maximum salary of $176,461, a level reached by nine men and seven women. ...
"[T]he data ... show information for 377 employees, compared to 487 in the Obama administration's first year."
Bonus: Tweet du jour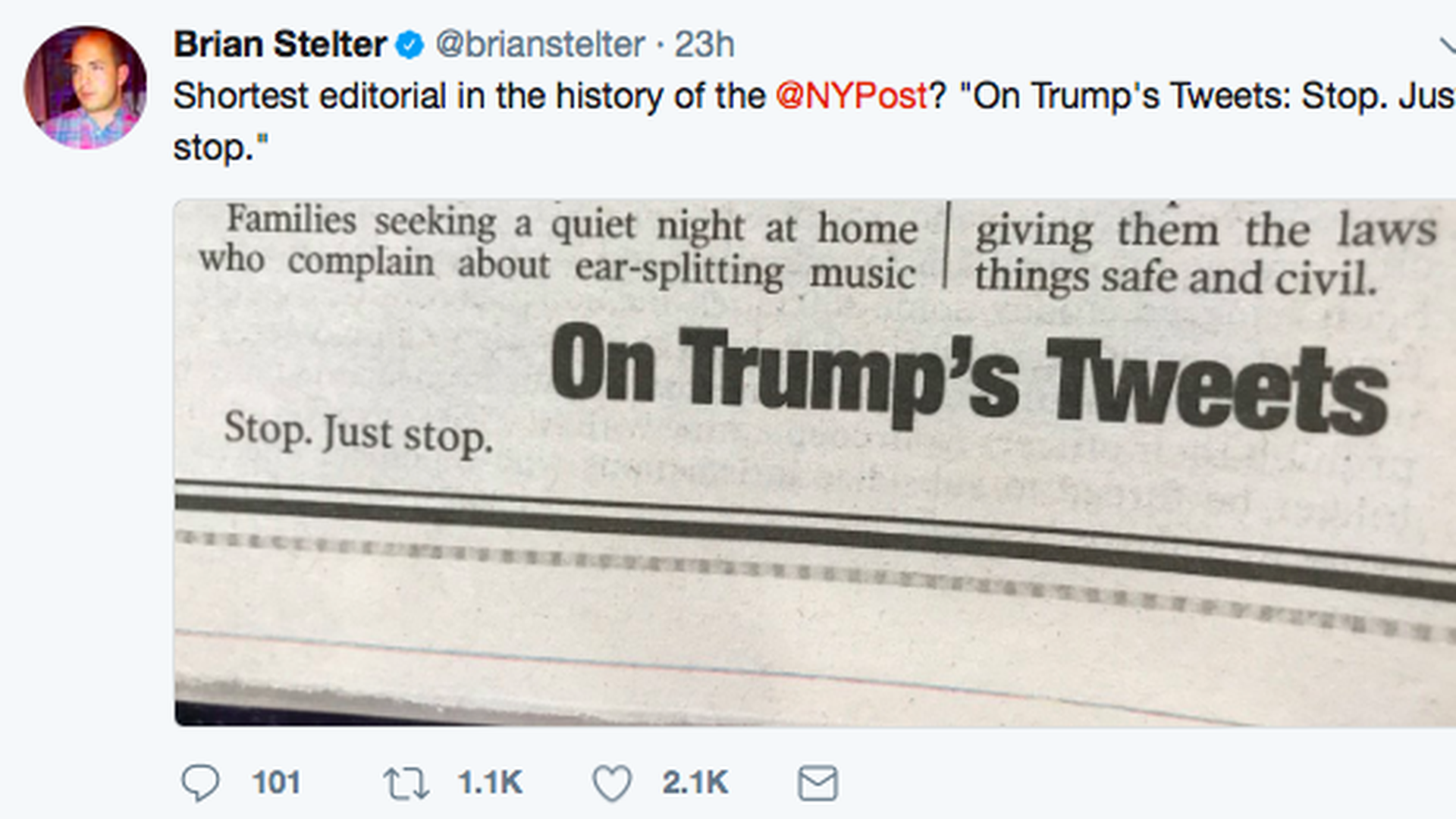 4. Deconstruction Zone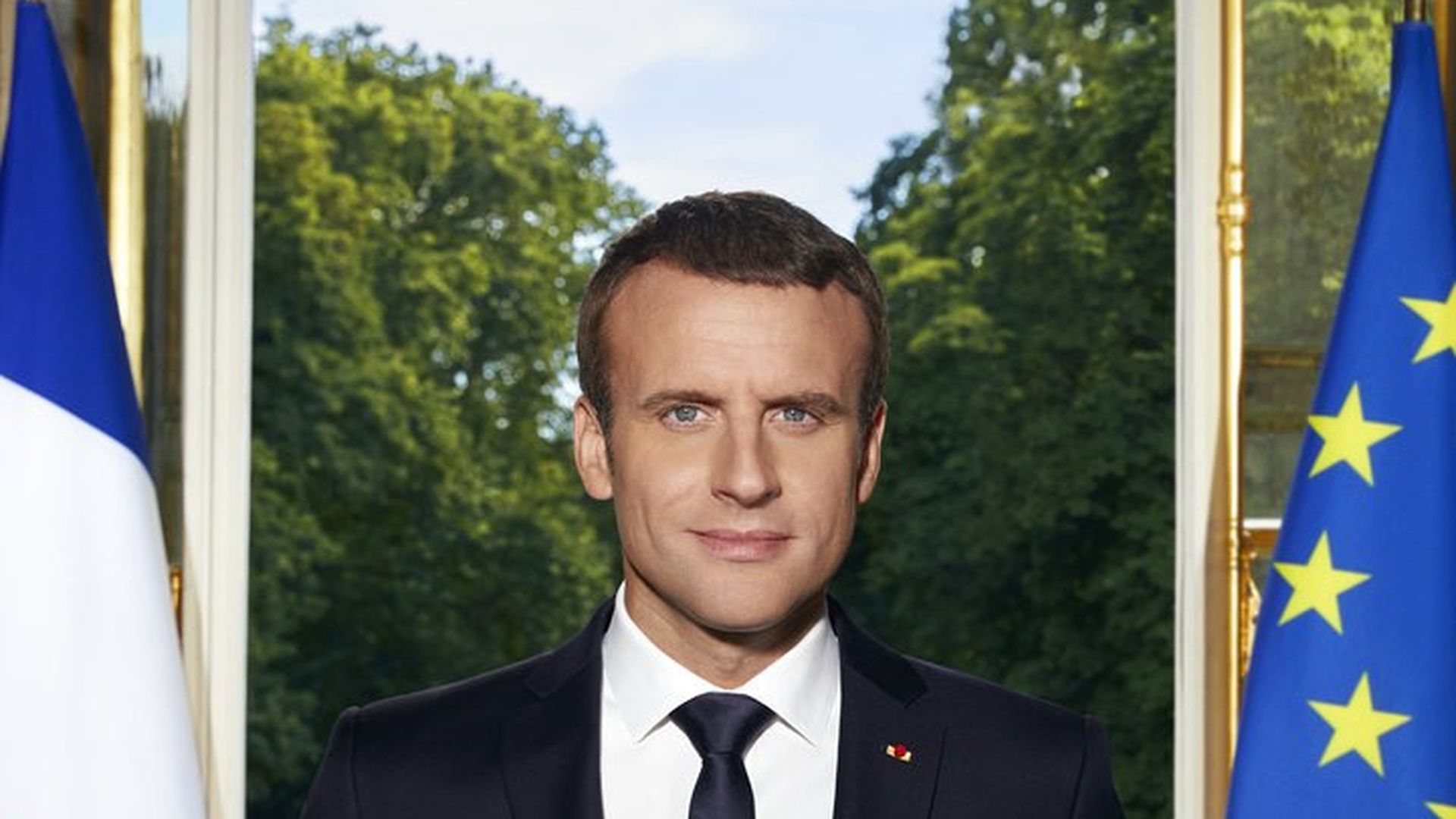 Vanessa Friedman, N.Y. Times fashion director/critic, offers a fascinating behind-the-click of the official portrait of French President Emmanuel Macron (age 39), released by Élysées Palace. In "Emmanuel Macron Raises the Presidential Portrait Stakes," she writes about a video of the portrait-making, which includes "Macron facing an empty desk that he then fills, very carefully, with an assortment of objects":
"two cellphones, three books (a Charles de Gaulle memoir, André Gide's 'Fruits of the Earth' and Stendhal's 'The Red and the Black'), a brass clock and a bronze rooster. He is shown carefully opening the memoir ... as if ... he has been stopped amid ... referencing his famous forefather's thoughts."
Friedman's read on the shot, which "shows Mr. Macron in a perfectly pressed dark suit and skinny navy tie leaning against the front of the desk, ... the windows ... flung open to reveal the ... Élysées garden":
Modernity and technology: the phones, which have never appeared in a French presidential portrait.
Tradition: the classic books, the Gallic rooster statuette (rooster = one of the national emblems).
Openness and fresh air: the windows.
Solidarity with Europe: the flags.
Getting to work: the office.
5. The talk of tech, Wall Street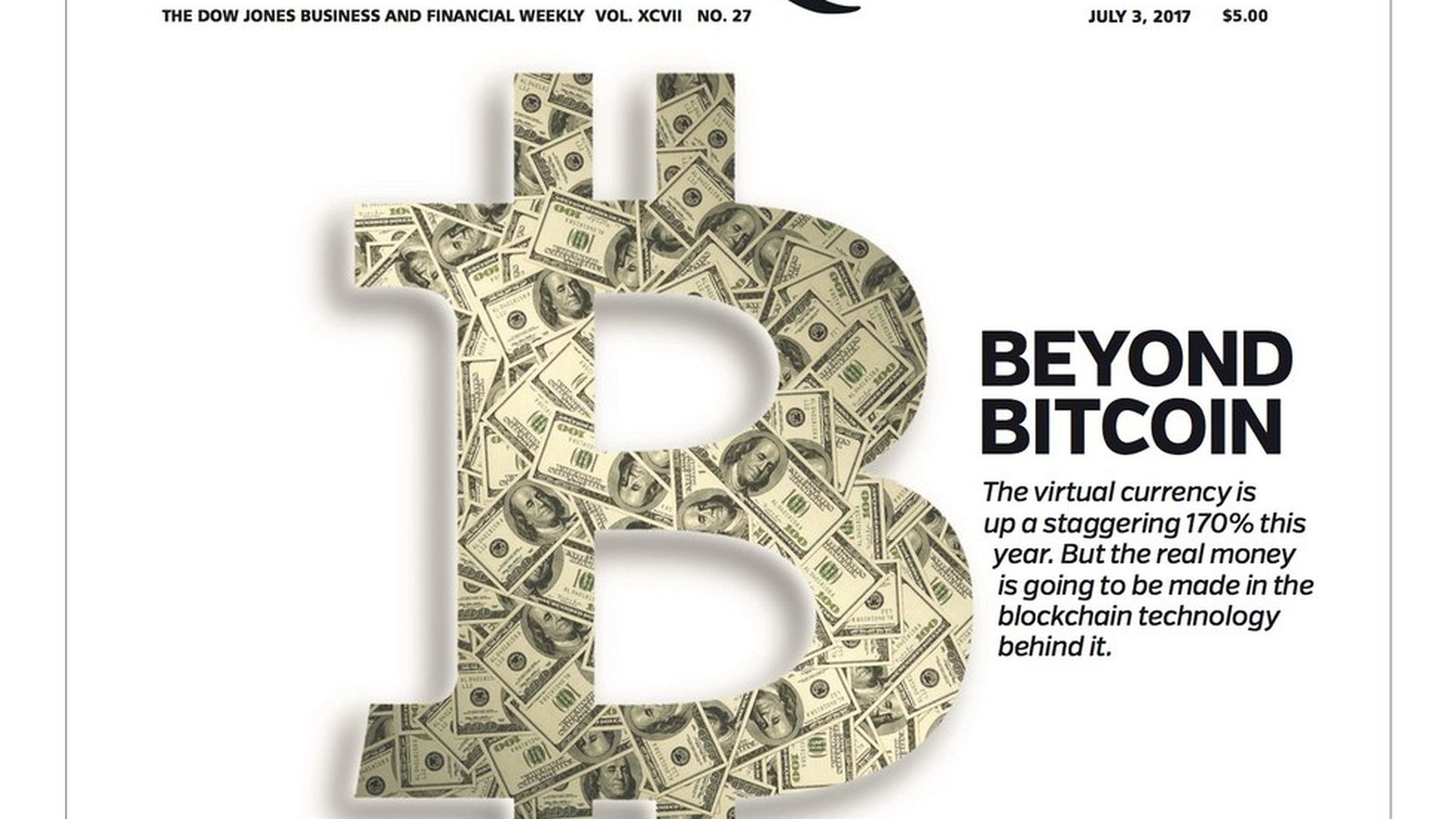 Worth reading the whole thing ... N.Y. Times, top of front page, "Women in Tech Reveal Culture Of Harassment: 2 Dozen Break Silence on Men's Behavior," by Katie Benner: "Most venture capitalists and entrepreneurs are men, with female entrepreneurs receiving $1.5 billion in funding last year versus $58.2 billion for men, according to the data firm PitchBook."
"Many of the investors hold outsize power, since entrepreneurs need their money to turn ideas and innovations into a business. And because the venture industry operates with few disclosure requirements, people have kept silent about investors who cross the lines with entrepreneurs."
Worries cloud Wall Street romp... Wall Street Journal lead story, "Stocks' Strong First Half Worries Market Watchers," by Steven Russolillo in Hong Kong (in print: "Global Stocks Cap Strong First Half"):
"All but four of the 30 major indexes representing the world's biggest stock markets by value have risen this year, a first-half performance unmatched since 2009."
"[T]he tech-heavy Nasdaq Composite surged 14%, its best first half since 2009. The Dow Jones Industrial Average and S&P 500 each rose 8%."
Pay attention 1: "High stock valuations and tranquil trading this year have prompted concerns that investor complacency is setting in."
Pay attention 2: Barron's columnist Ben Levisohn calls last week "a game changer" because of central-bank comments: "[T]he world is ever so slowly moving away from the easy money that helped propel this eight-year bull market. 'Peak quantitative easing is behind us." (Free link for Axios readers)
6. 🎶 1 lit jam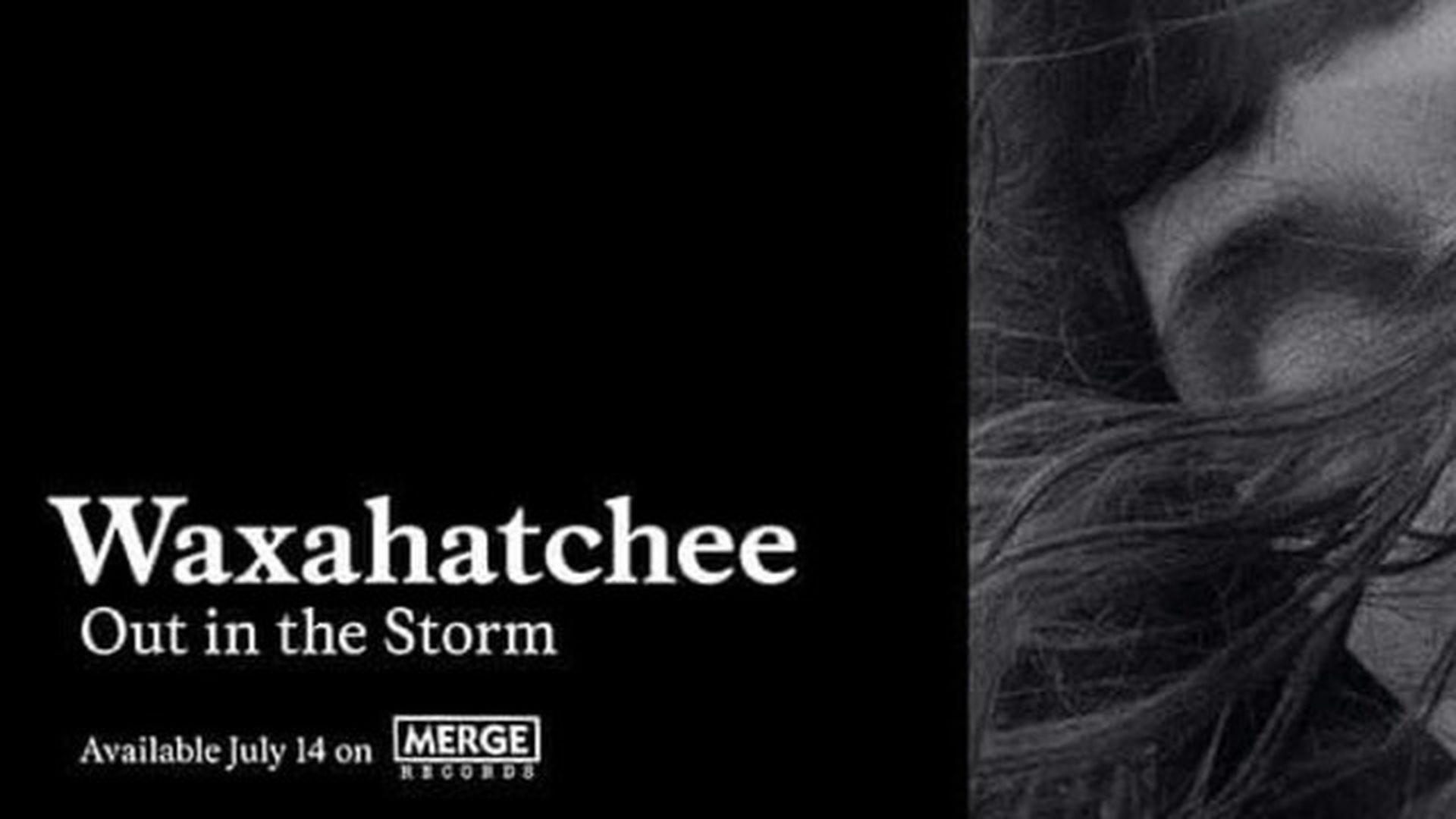 Shane Savitsky, Axios Newsdesk reporter, describes his music taste as "firmly in my pop punk phase at 27 instead of 17.
For Week 2 of our Saturday tunes, Shane nominates "Never Been Wrong" by Waxahatchee: "Everything Katie Crutchfield touches is gold ... The new album from her band, Waxahatchee, comes out in two weeks — and I can already guarantee it'll be my most played of the year."