https://www.axios.com/newsletters/axios-am-123f7d3f-4b75-4418-b2fa-256bcd738a1d.html?chunk=0#story0
1 big thing: Comey truth bomb
Jim Comey's cinematic opening statement, describing his awkward encounters with President Trump in vivid detail that you almost never get from inside government, foretells gripping testimony when the fired FBI director goes before Capitol Hill cameras at 10 a.m. ET today.
MSNBC's Lawrence O'Donnell pointed out that any actor would want to act it, and any director would want to direct it.
Comey's pre-released testimony, about a Jan 27 dinner in the White House Green Room: "[T]he President said, 'I need loyalty, I expect loyalty.' I didn't move, speak, or change my facial expression in any way during the awkward silence that followed. We simply looked at each other in silence."
For all the cable-news talk of smoking guns, top Republicans were authentically relieved by what they read in the afternoon bombshell.
Their reaction puzzled me at first, but here's a truth bomb: Comey's seven-page, 3,100-word statement describes unusual, unprecedented and, to most, disturbing behavior by the president. But it presents no new information that proves a crime:
Read between the lines, and you see Trump's transactional side — trying to make a distraction go away, like you would in business. The problem of course, is that he's no longer just running a family business: Corner-cutting and interference doesn't work in the Oval.
The rapier reporting by The New York Times' Michael Schmidt was perfectly borne out. Putting aside the astonishing atmospherics, the facts of Comey's account are what we expected, but not much more.
The key passage, when Comey says Trump "called me at the FBI" on March 30: "He said he had nothing to do with Russia, had not been involved with hookers in Russia, and had always assumed he was being recorded when in Russia. He asked what we could do to 'lift the cloud.'"
Brookings senior fellow Benjamin Wittes, a friend of Comey's and editor-in-chief of the Lawfare blog, posted one of the best deconstructions of the statement, calling the Trump scenes "poisonous stuff ... conduct that a society committed to the rule of law simply cannot accept in a president."But Wittes also writes: "Let's leave to another day whether anything the President did here amounts to any kind of obstruction of justice."A top Republican close to the White House said the statement "shows Trump is relentless and unconcerned with Presidential behavioral conventions, which are two of the characteristics that won him votes."Republicans, though, need to recognize what they're defending: actions that show little respect or understanding for the lines and limits that safeguard rule of law. This isn't normal.
Be smart: The road ahead is long. Comey's statement is captivating, but not grounds for impeachment. The threshold for any action is much higher than many think, because Republicans alone will set it.
https://www.axios.com/newsletters/axios-am-123f7d3f-4b75-4418-b2fa-256bcd738a1d.html?chunk=1#story1
2. The "satellites"
One more passage from Comey that helps explain Trump's mindset in a way that has not been clear before:
"I explained that we had briefed the leadership of Congress on exactly which individuals we were investigating and that we had told those Congressional leaders that we were not personally investigating President Trump. I reminded him I had previously told him that. He repeatedly told me, 'We need to get that fact out.'"
Then Comey uses a word that I suspect will become famous as the investigation unfolds:
"The President went on to say that if there were some 'satellite' associates of his who did something wrong, it would be good to find that out, but that he hadn't done anything wrong and hoped I would find a way to get it out that we weren't investigating him."
The big question: Who does the Trump think of as "satellites"?
https://www.axios.com/newsletters/axios-am-123f7d3f-4b75-4418-b2fa-256bcd738a1d.html?chunk=2#story2
3. Parallels between Russia probe and Watergate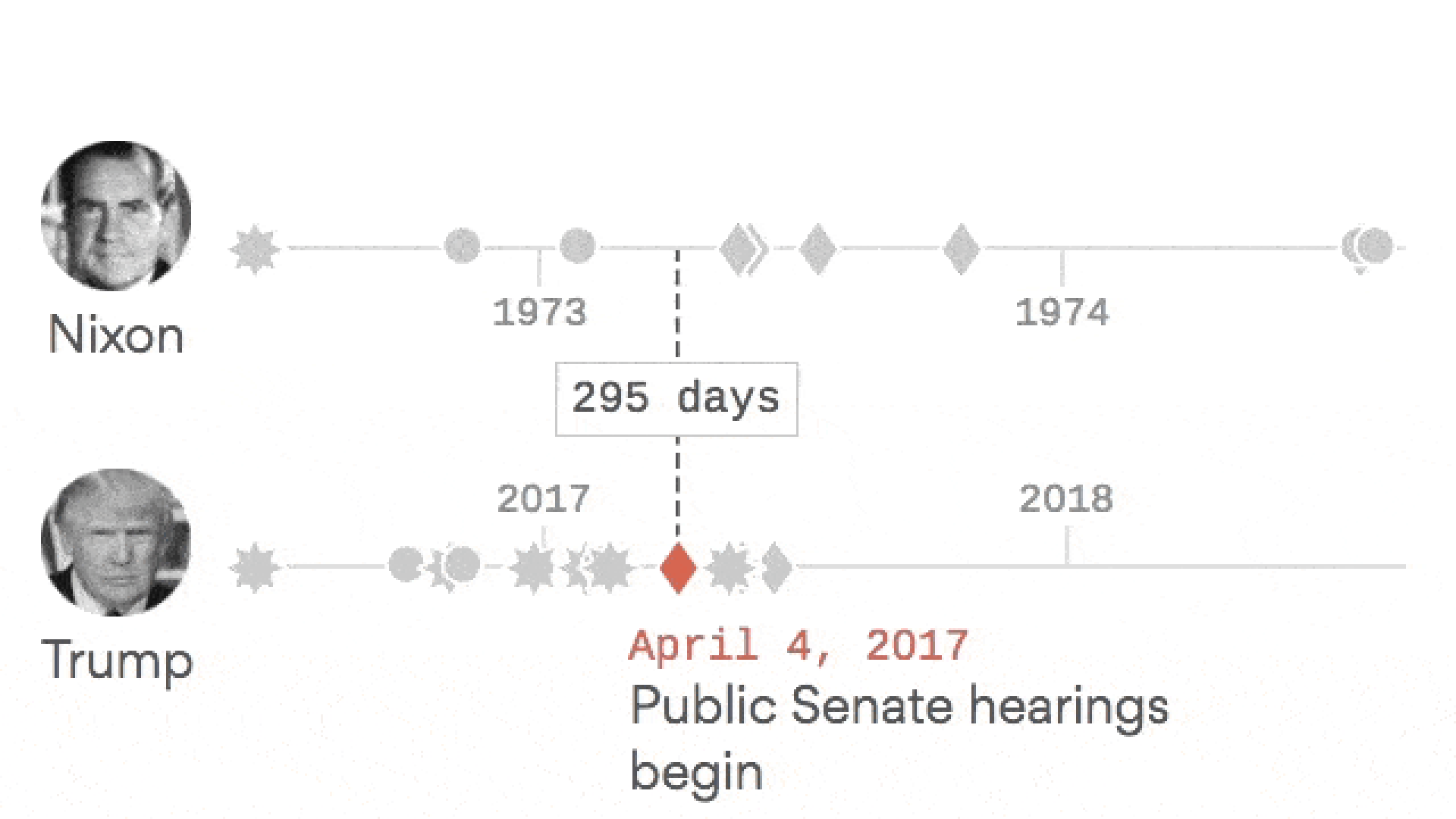 From Axios' Chris Canipe and Andrew Witherspoon, a side-side-look at events that led to Nixon's resignation, and to today's testimony by fired FBI Director James Comey.
https://www.axios.com/newsletters/axios-am-123f7d3f-4b75-4418-b2fa-256bcd738a1d.html?chunk=3#story3
4. Comey's successor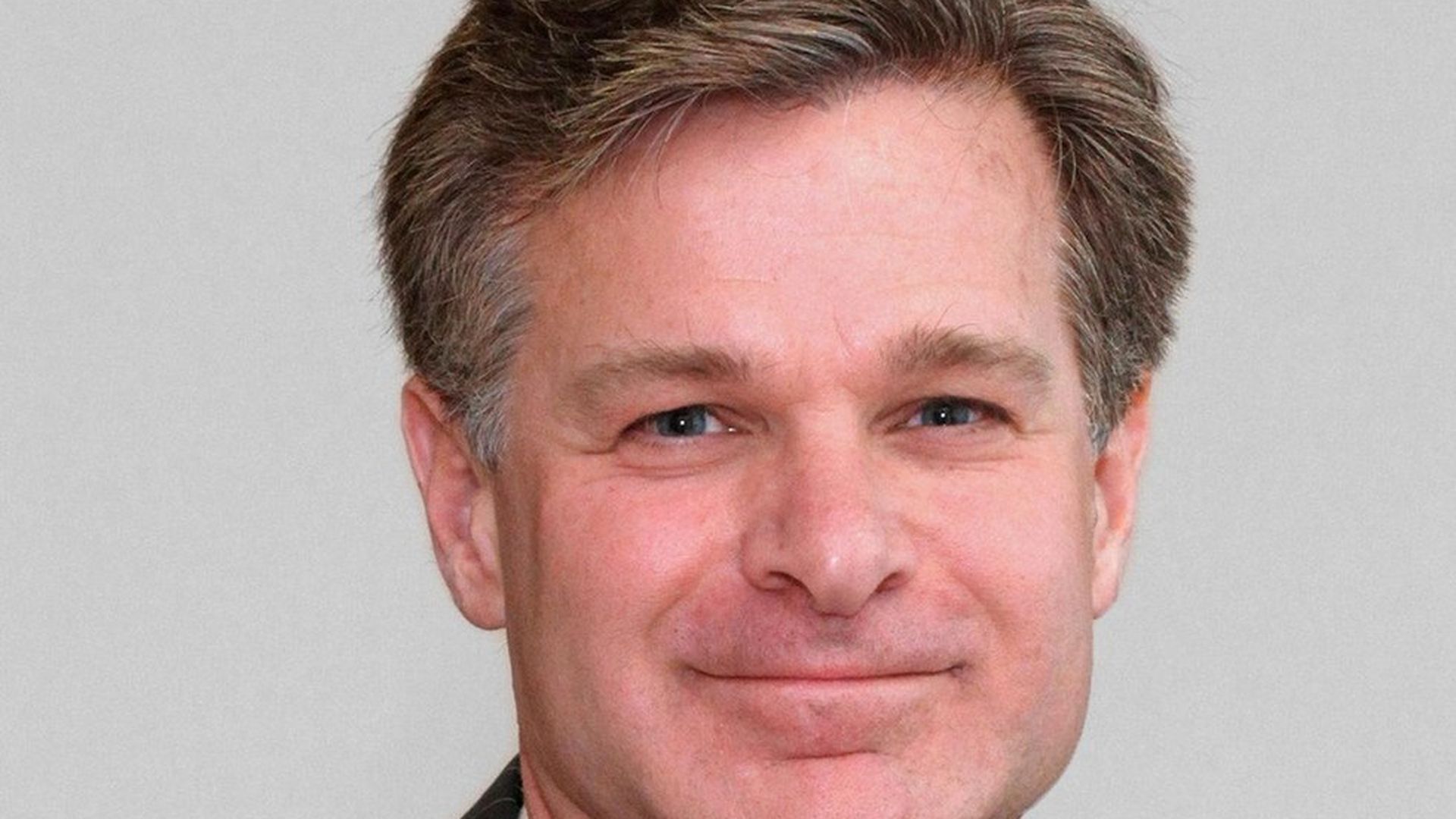 The morning before Comey's testimony, President Trump tweeted his selection as his new FBI director: Chris Wray, 50, a litigation partner at King & Spalding in D.C. and Atlanta, who was President George W. Bush's assistant attorney general overseeing the Criminal Division.
Wray represented Chris Christie in Bridgegate.
N.Y. Times p. A1, " F.B.I. Nominee Seen as Shield Against Politics," by Adam Goldman and Matt Apuzzo: "a safe, mainstream pick from a president who at one point was considering politicians for a job that has historically been kept outside of partisanship."
More from NYT: "a veteran Washington lawyer who is more low key and deliberative than either Mr. Mueller or Mr. Comey but will remain independent. ... Wray will not tolerate meddling, his friends say."
The rollout, per WashPost's Callum Borchers: " Speaker ... Ryan ... didn't get a heads up ... Trump also failed to notify top Democrats ... Many of Trump's own staffers did not know about the Wray selection."
https://www.axios.com/newsletters/axios-am-123f7d3f-4b75-4418-b2fa-256bcd738a1d.html?chunk=4#story4
5. If you click one thing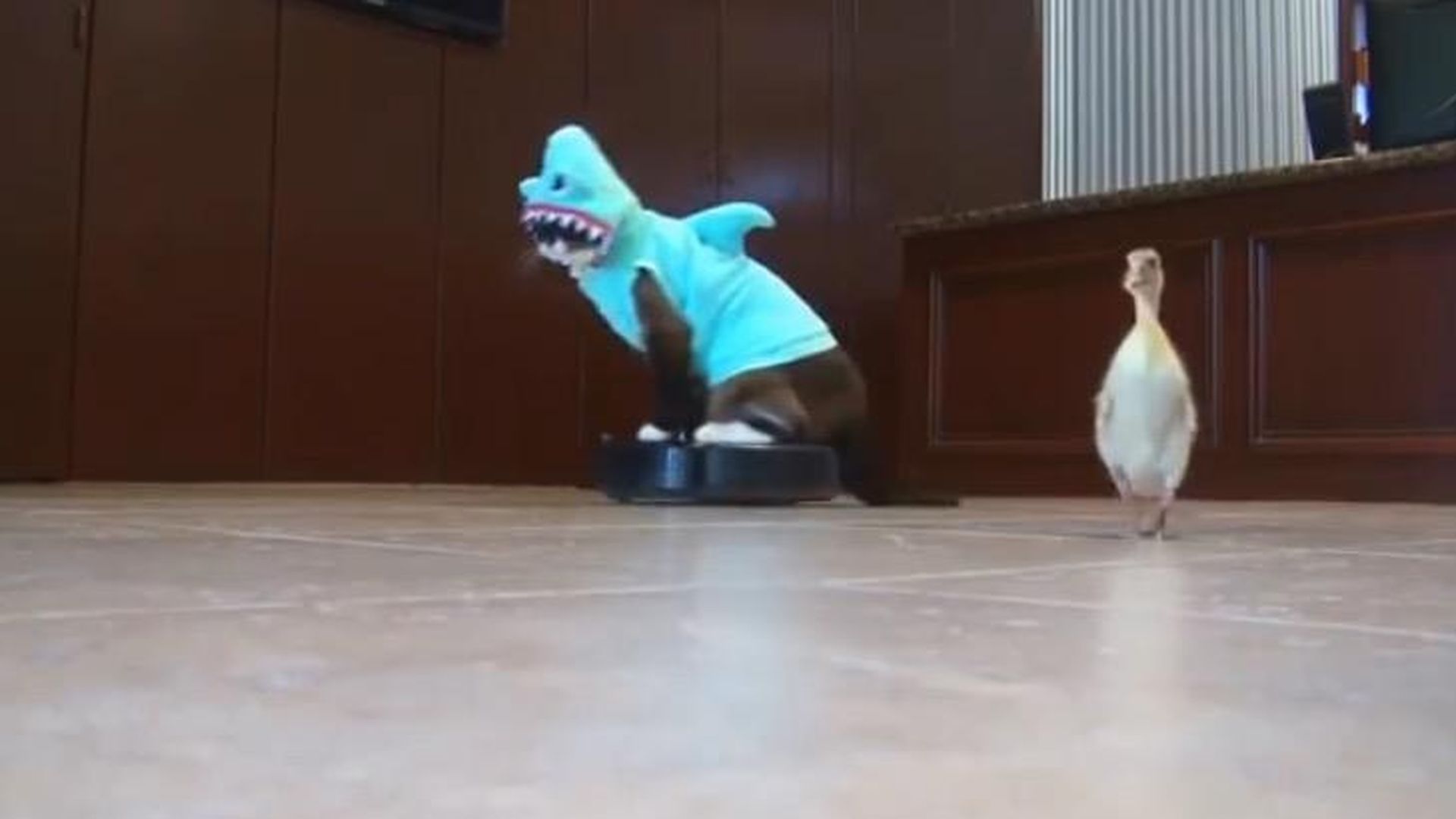 Apologies for the link trouble yesterday. But worth the wait ...
Axios-style "smart brevity" comes to video, with a new series "Almost Now," as part of our Future of Work Launch.
This quick, fun history of robots (by Rob Groulx and Eli Sinkus, with the help of Bubba Atkinson, Steve LeVine and the design squad) has cameos by the Jetsons and Larry Summers. One forecast: Every robot created can cost three to five jobs.
https://www.axios.com/newsletters/axios-am-123f7d3f-4b75-4418-b2fa-256bcd738a1d.html?chunk=5#story5
6. "Suite of power"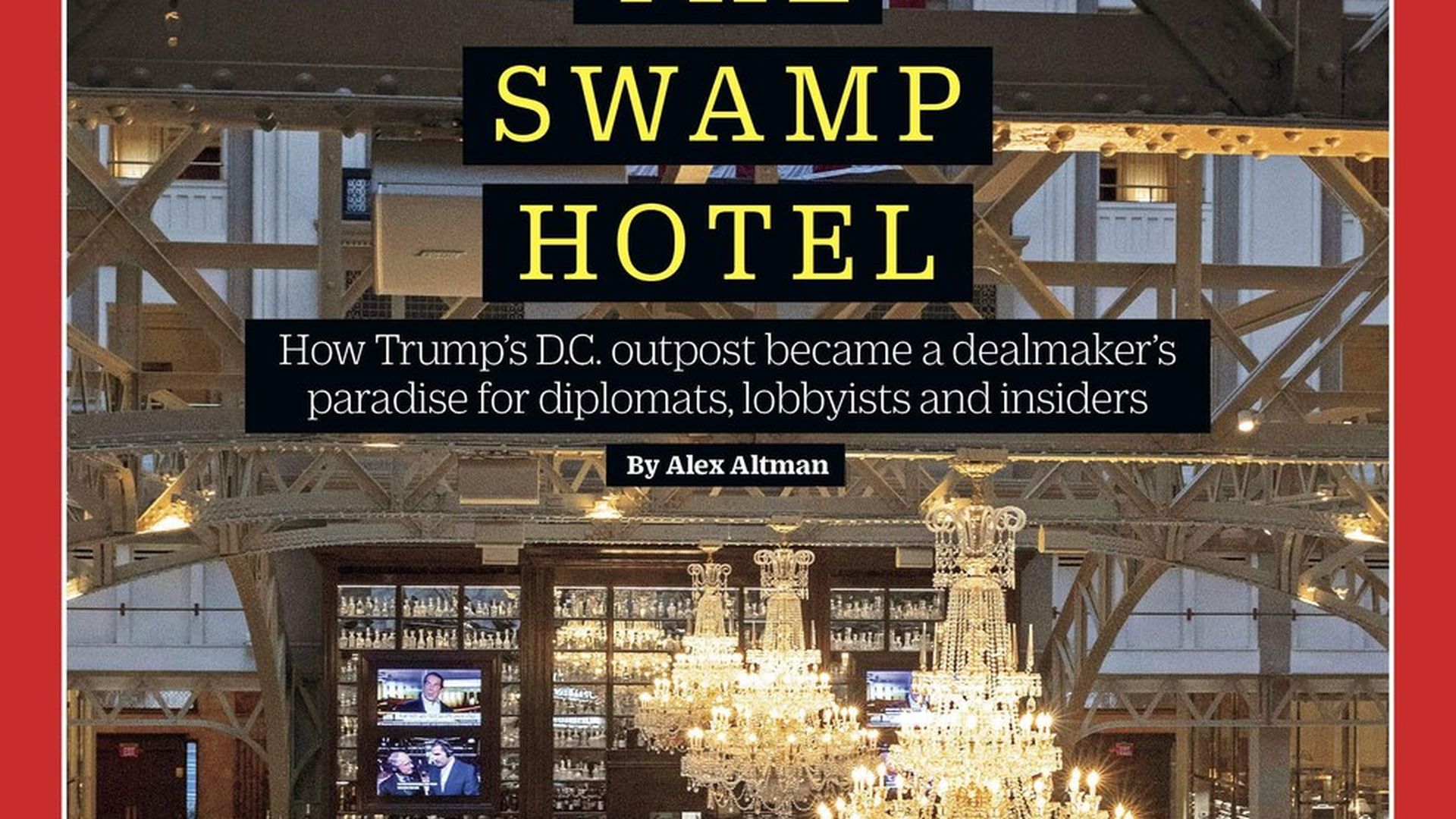 TIME cover story ... "Why Donald Trump's Washington hotel is the capital's new swamp," by Alex Altman:
"There's a seafood pyramid called 'the Trump tower' that costs $120."
A former Trump campaign adviser: "Of course we hang out there. Everyone hangs out there. Being in the Trump hotel's lobby is a way to get people to know you."
One longtime Republican power broker summed up the role the hotel is playing in Trump's Washington: "It is a magnet for unsophisticated foreign governments and companies to offer tribute. It does not work, but it's perceived as a path to influence."
https://www.axios.com/newsletters/axios-am-123f7d3f-4b75-4418-b2fa-256bcd738a1d.html?chunk=6#story6
7. Polls open in the U.K.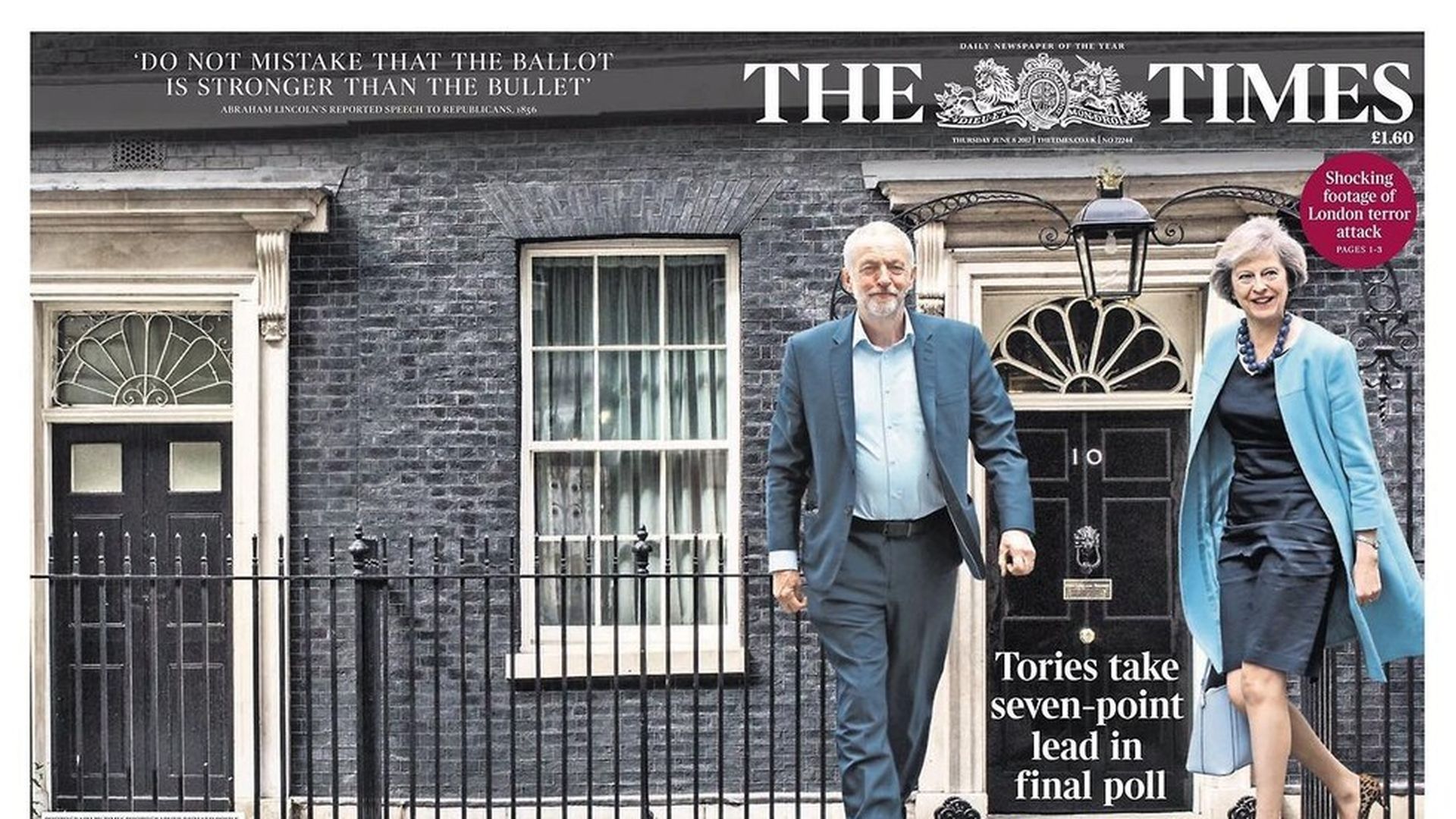 Last-minute polls put Prime Minister Theresa May's Tories (Conservatives) ahead of Jeremy Corbyn's Labour in today's snap election Her huge cushion shrank in recent polls, and the pre-election terrorist attacks injected uncertainty.
Polls close at 5 p.m. ET. Projections usually come quickly.
N.Y. Times Quote of the Day ... Rachel Johnson, a writer who is the sister of the foreign secretary Boris Johnson, describing the looming snap elections in Britain, the country's fourth major vote in four years: "The country is exhausted. This has been just a depressing exercise in democracy."
The quick facts, from Axios' Shane Savitsky.
Why it matters: "The outcome of the election will determine how the United Kingdom moves forward with its Brexit negotiations, which will have an impact across the entire world."
https://www.axios.com/newsletters/axios-am-123f7d3f-4b75-4418-b2fa-256bcd738a1d.html?chunk=7#story7
8. This year's Fortune 500 is "rebel territory"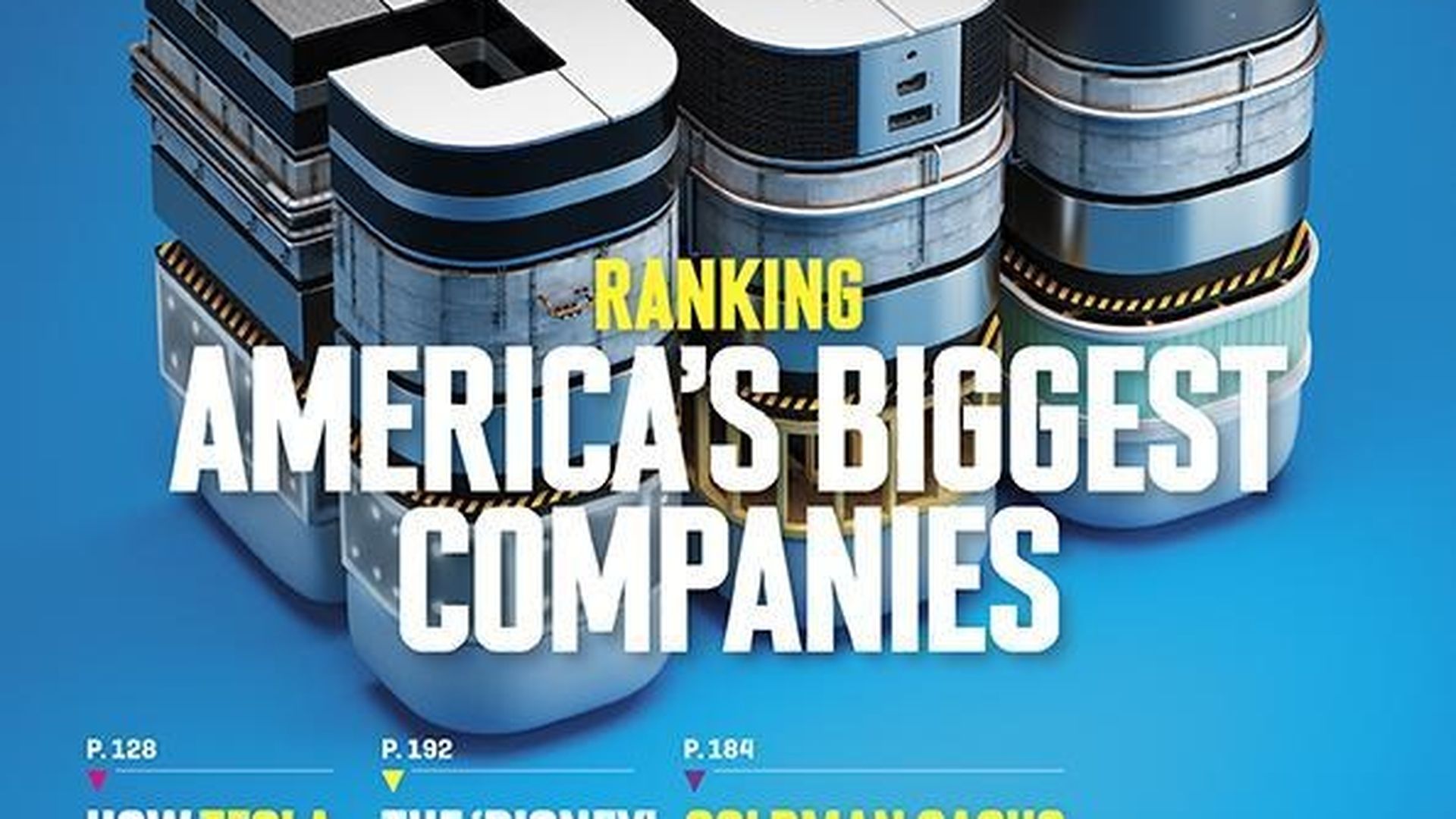 Fortune 500, ranked by total revenue:
Walmart
Berkshire Hathaway
Apple
Exxon Mobil
McKesson
UnitedHealth Group
CVS Health
General Motors
AT&T
Ford Motor
Includes "Radical Thinkers and "Stargazing Inventors."
https://www.axios.com/newsletters/axios-am-123f7d3f-4b75-4418-b2fa-256bcd738a1d.html?chunk=8#story8
9. Facebook "constituent badges"
Facebook is rolling out a product that will let lawmakers (or, more likely, their staffers) see what articles are popular with people who live in their districts, Axios' David McCabe writes.
The company says it will help lawmakers better respond to the issues their constituents are focused on.
Why it matters: It's the latest civic-engagement move from the company, which has grappled with its place in the political landscape.
But wait, there's more: The company is letting users get "badges" that show they are a constituent of a certain lawmaker. It will appear next to comments on that official's page. It also added a targeting option for lawmakers to more precisely reach people in their district with posts.
https://www.axios.com/newsletters/axios-am-123f7d3f-4b75-4418-b2fa-256bcd738a1d.html?chunk=9#story9
10. 1 fun thing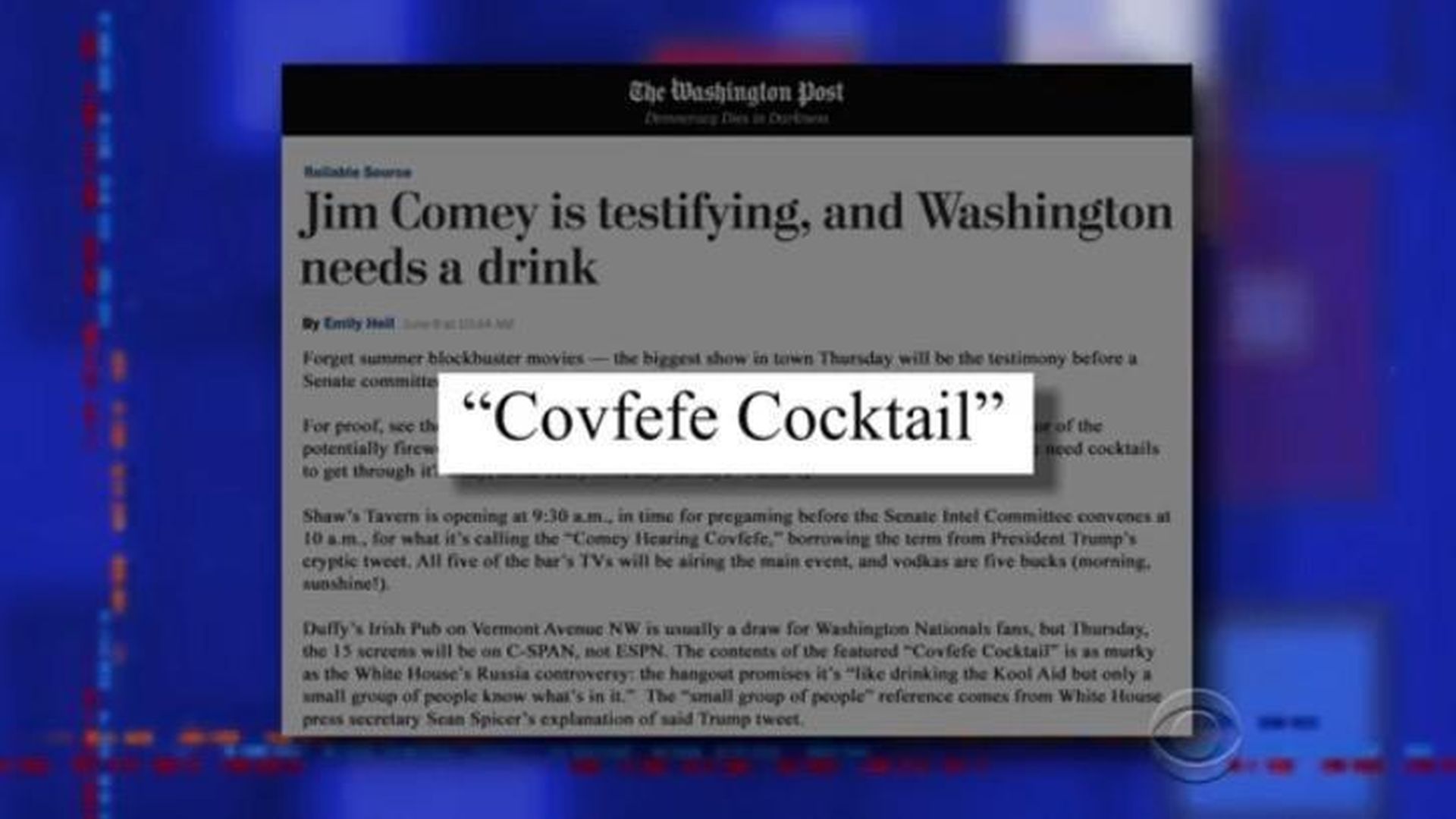 Late-night hosts feast on what Stephen Colbert calls "the most magical night of the year," Comey testimony eve: "I hung my socks over CNN."
Top lines from N.Y. Times "Best of Late Night," by Giovanni Russonello:
Jimmy Kimmel: "President Trump was like, 'You can prepare statements?'"
Kimmel: " "Can you imagine getting fired, and then the next thing you know, you get to trash talk your boss in front of the whole world? It's like a dream come true."
Seth Meyers: "It sounds like a terrible Tinder date."