Axios AM
September 02, 2018
☕️ Good Sunday morning.
Situational awareness ... Mess for Aretha's heirs: "Though she lived to 76 and was terminally ill with pancreatic cancer, the Queen of Soul died without a will." (AP)
1 big thing: D.C. dreams of saner times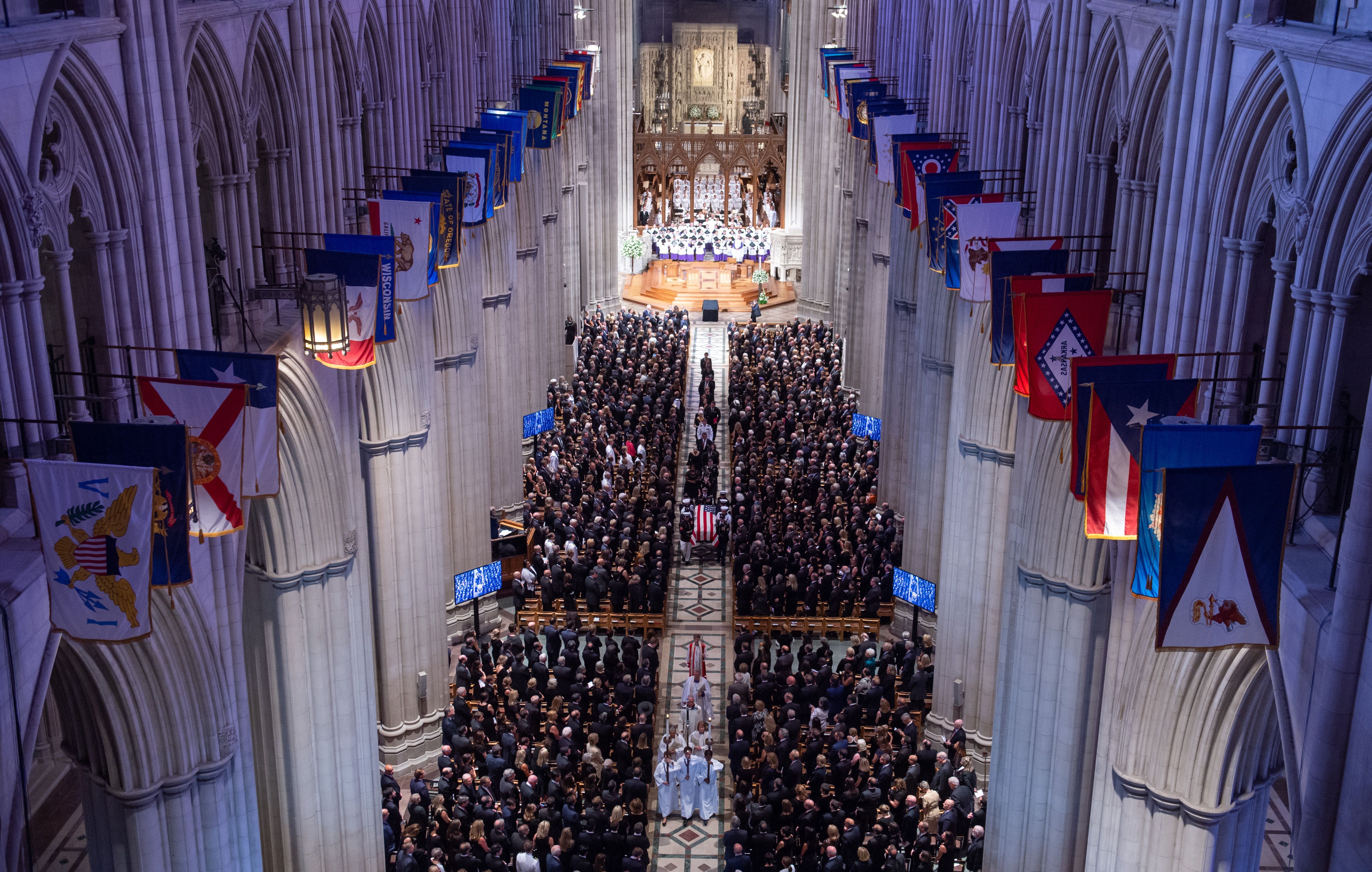 Amid the Trump-shaming at the emotional Washington National Cathedral sendoff for Sen. John McCain, the televised eulogies and private conversations reflected a broader dream that the United States is still capable of a saner politics.
"We were reminded by his funeral that we have been, and could again be, a nation based on values like honor, truth-telling, service, humility, respect, and kindness," Walter Isaacson, author of a shelf of historical biographies, told me.
"That was the last gift McCain gave us."
One of the day's most socially viral moments was a bipartisan gesture that wasn't even on the program: TV coverage captured President George W. Bush trying to unobtrusively pass a piece of candy from Laura Bush, on his left, to Michelle Obama, on his right.
President Barack Obama captured the mood with the single word "small":
"So much of our politics, our public life, our public discourse, can seem small and mean and petty, trafficking in bombast and insult, in phony controversies and manufactured outrage."
"We never doubted the other man's sincerity or the other man's patriotism, or that when all was said and done, we were on the same team."
Obama spoke right after Bush. Both had vanquished McCain for president, but got a call from the senator in his waning months, asking them to eulogize him.
The unusual invitation gave Obama the line of the day: "It showed his irreverence — his sense of humor, little bit of a mischievous streak. What better way to get a last laugh than to make George and I say nice things about him to a national audience?"
Bush called McCain "a man with a code": "John's voice will always come as a whisper over our shoulder: We are better than this. America is better than this."
Reality interlude: This is likely to be a late-summer fling. Every single sign heading into President Trump's 2020 reelection campaign is that the rhetoric and reality of politics are only going to get worse.
Demography and technology are fueling the Trump brand of tribal politics, and his governing choices have left him more dependent on stoking his own forces rather than bringing in new swaths of support.
The day's only mid-speech applause went to Meghan McCain, who gave fiery remarks through tears: "The America of John McCain has no need to be made great again because America was always great."
She certainly followed some of McCain's last advice: "When my father got sick, when I asked him what he wanted me to do with this eulogy, he said, 'Show them how tough you are.'"
One of the sweeter McCain memories came from former Senator Joe Lieberman of Connecticut. The two senators had traveled the world together as part of congressional delegations. McCain always regretted not naming Lieberman to a historic bipartisan presidential ticket, instead crassly picking Sarah Palin.
"One of John's favorite cities in the world was Jerusalem," Lieberman recalled. "And one of his favorite things to do there was to stand on the balcony with [Sen. Lindsey Graham] and me of our hotel looking out at the old city and discussing all of the religious and political history that happened there over the centuries."
So there are causes larger than ourselves, as McCain constantly reminded his audiences, particularly young people.
Now we just have to remember what they are.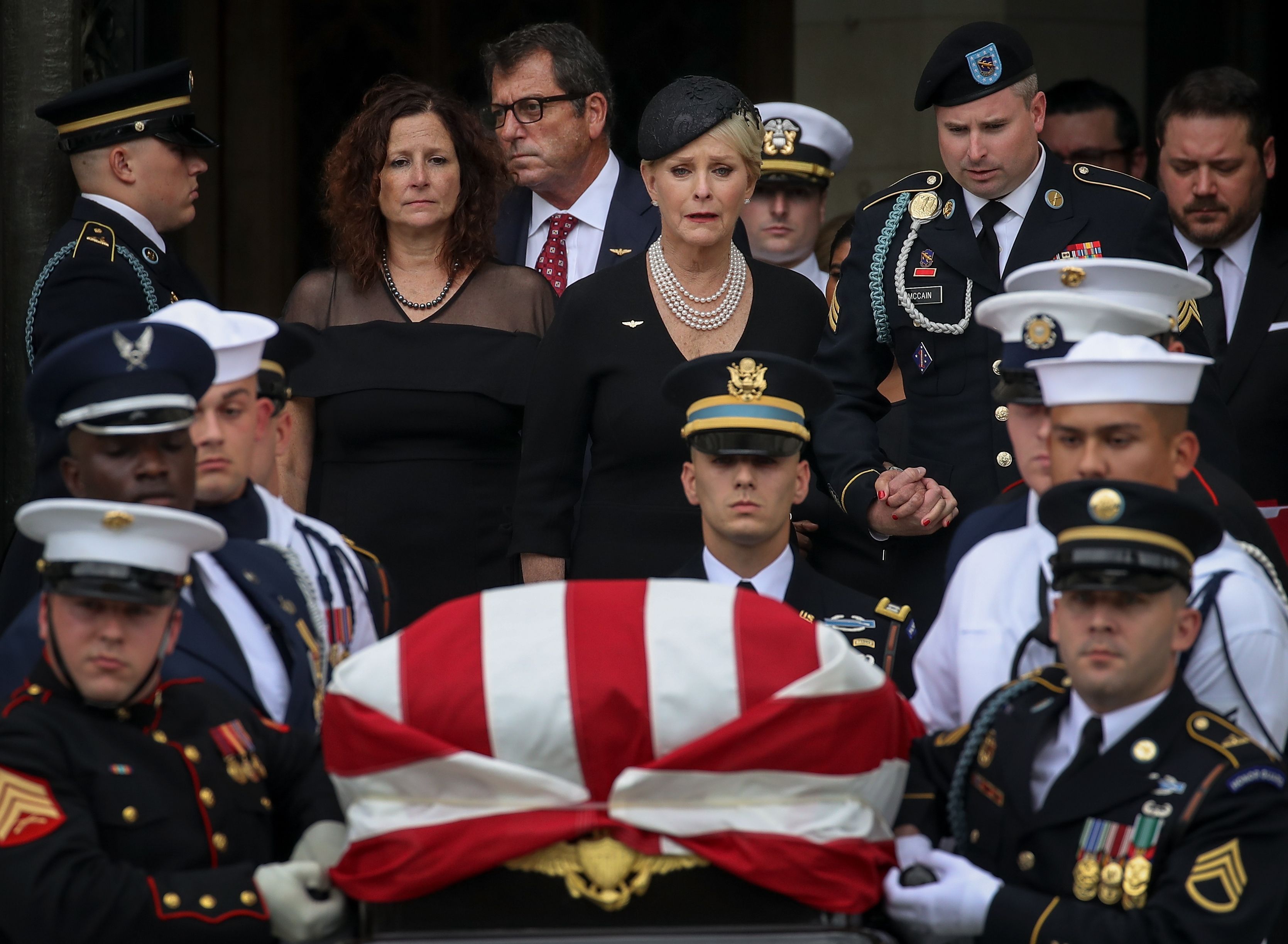 2. Article of the day
Only 13% of homeowners in California have earthquake insurance, and fewer than one out of 10 commercial buildings are insured for quakes, N.Y. Times San Francisco bureau chief Thomas Fuller writes:
Why it matters: "A big earthquake is a certainty for the state, scientists say."
Consider the scale of the coming calamity:
"With the median price of a home in California now above $500,000, estimates of the potential uncovered losses in an earthquake run into the hundreds of billions of dollars."
"CoreLogic, a real estate research company, estimated that a 7.3 magnitude earthquake along the Puente Hills Fault in Los Angeles would cause economic losses of as much as $450 billion, more than twice as much as the damage caused by Hurricane Katrina, the costliest United States natural disaster."
"[O]ne-fifth of America's $10 trillion in mortgage debt held in California."
"FEMA ... has a ceiling on individual assistance in disasters of $33,000, but actual payouts are typically much lower."
3. New retail push: Making old age easier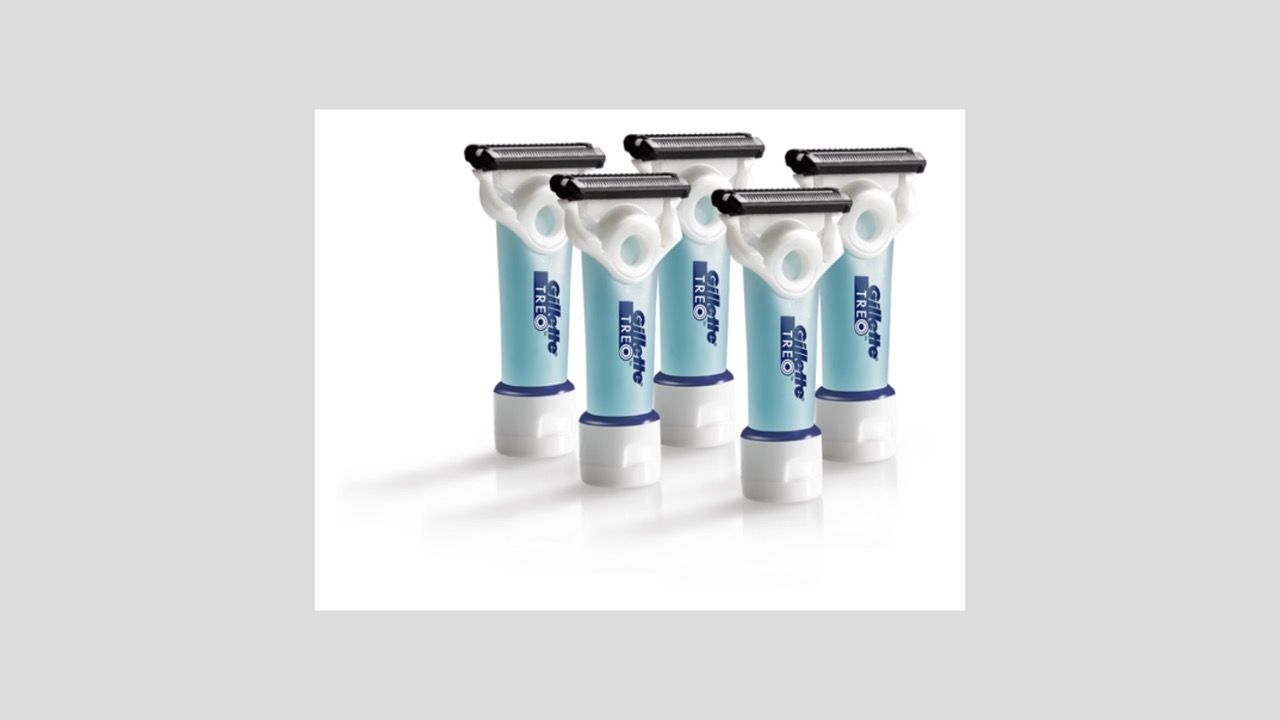 There's a gold rush to create smart shoes, custom razors and high-tech devices for the over-65 crowd ... "Redesigned products aim for Baby Boomers with money to spare," WashPost national retail reporter Abha Bhattarai writes:
"Executives at Gillette ... have begun to see another milestone emerge in their customers' lives: the moment when sons begin shaving their aging fathers."
Matt Hodgson, a design engineer at Procter and Gamble, which owns Gillette: "We started seeing it all over social media — men posting about washing, grooming and shaving their fathers ... It's a very difficult and emotional thing to do."
The Gillette Treo is described by the company as "the first ever razor designed specifically for assisted shaving."
The Post says it "has an extra-wide handle and comes with a tube of clear gel that eliminates the need for running water or shaving cream."
"Other companies are creating hairbrushes and combs with extendible handles, toothbrushes with three-sided heads, and sensor-packed shoes that can detect falls, all aimed at elderly consumers and those who care for them."
4. Cover du jour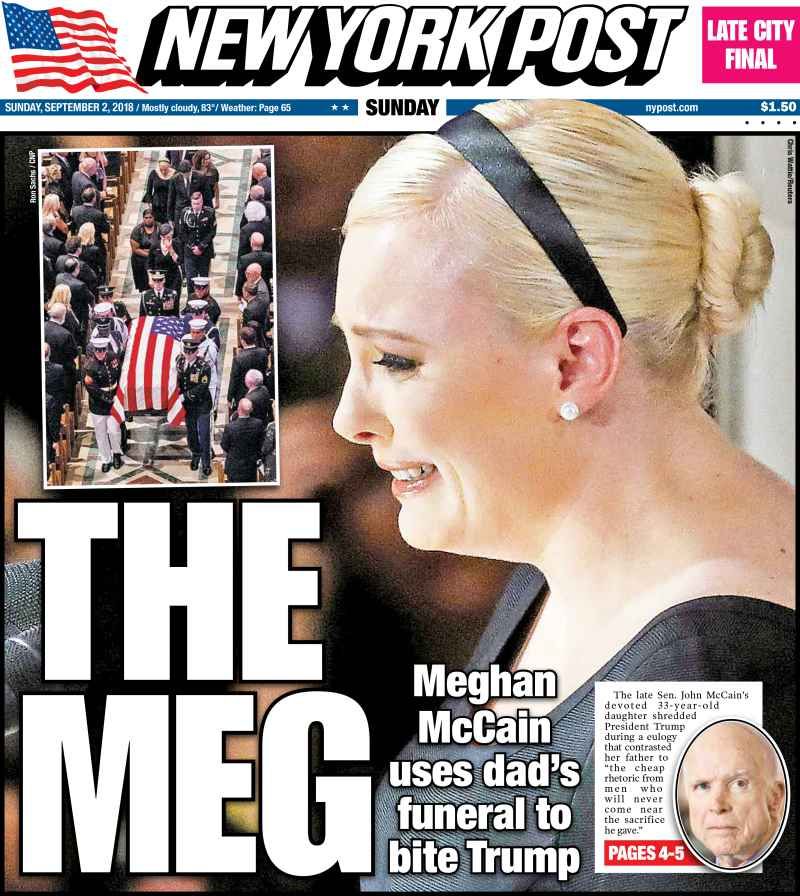 5. New duet on GOP trail: Don Jr. and "K.G."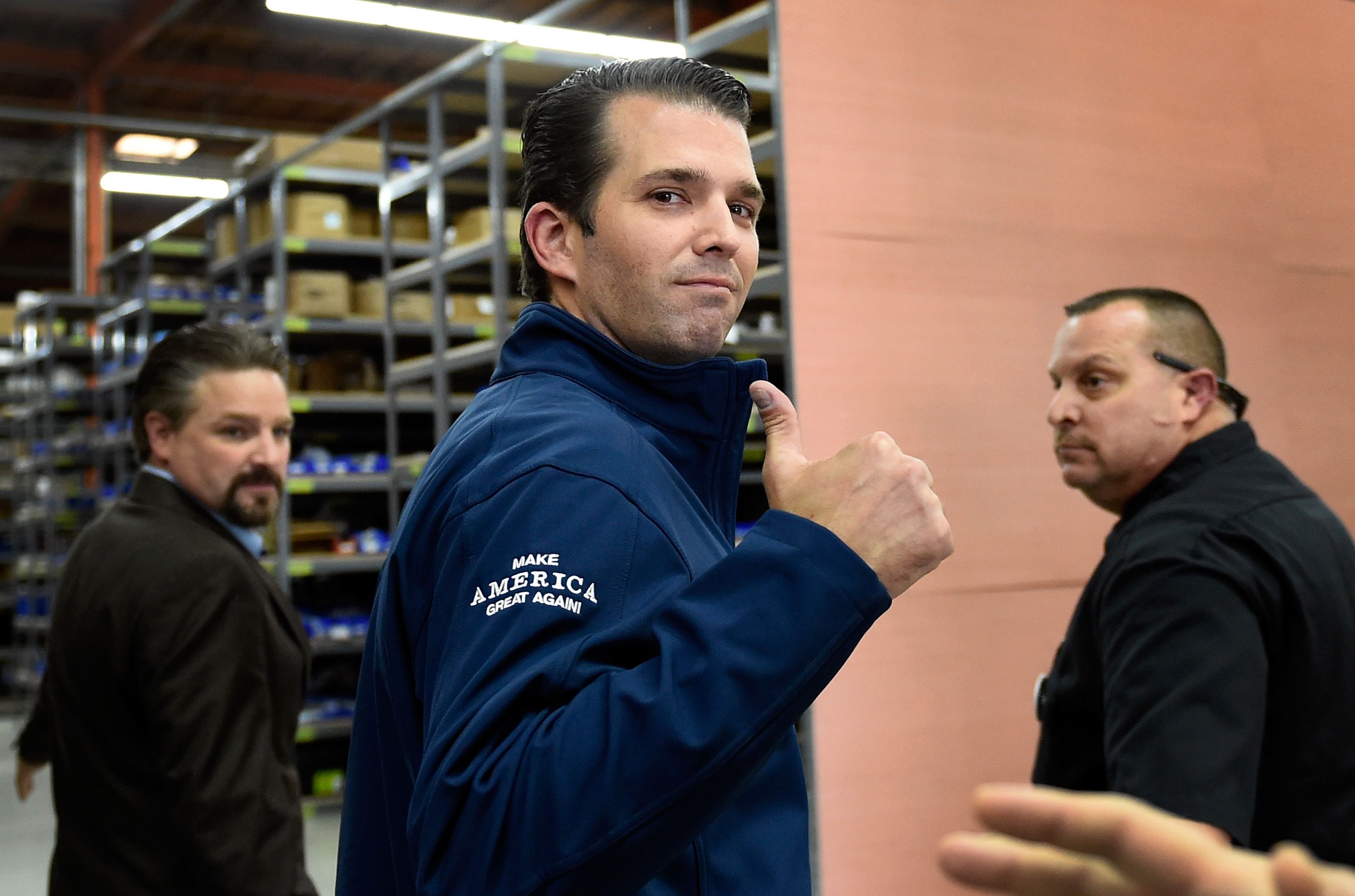 Donald Trump Jr. is about to embark on a fall fundraising push for midterm candidates in what he calls "regular America ... you know, everywhere between New York and Malibu." But first he played the Hamptons.
He and his girlfriend, former Fox News anchor Kimberly Guilfoyle, posed for endless selfies at a pair of August events for Rep. Lee Zeldin, including a $300-a-person dinner party in Nissequogue where the attire was: "Comfortable Causal. Shorts are acceptable."
The pair of events set a record for Zeldin: 800 people donated $500,000.
"I see him on TV — he's fighting for us," Don Jr. said of Zeldin, sounding very much like his father's son.
Trump — whose blunt, occasionally profane style made him a popular guest on conservative talk radio during his dad's campaign — introduces Guilfoyle as "K.G.," and calls her "one of the original true believers in the cause."
Don Jr.'s participation in the notorious Trump Tower meeting with Russians, of keen interest to Robert Mueller, hangs over the new road show. But Don Jr. told me he's "not worried about any of that stuff."
"You look at one of the largest investigative forces the country has ever assembled looking for something for two years, and we're still talking about the same thing."
"Regular people see that every bombshell turns out to be B.S."
Don Jr. said he's going to spend much of September most of October on the road, with invitations triaged according to where he can move the needle:
"My job is not to help someone who's going to lose by 20 points only lose by 10 ... I want to help someone who's going to lose by two, win by four."
"I'm there to help people who have been good to me, or become friends and loyal to me and the family."
So in coming weeks, Don Jr. and K.G. are hitting Ohio, Louisiana, Pennsylvania, North Dakota, Montana, Louisiana — and Texas for a day with Sen. Ted Cruz.
6. 📚 1 book thing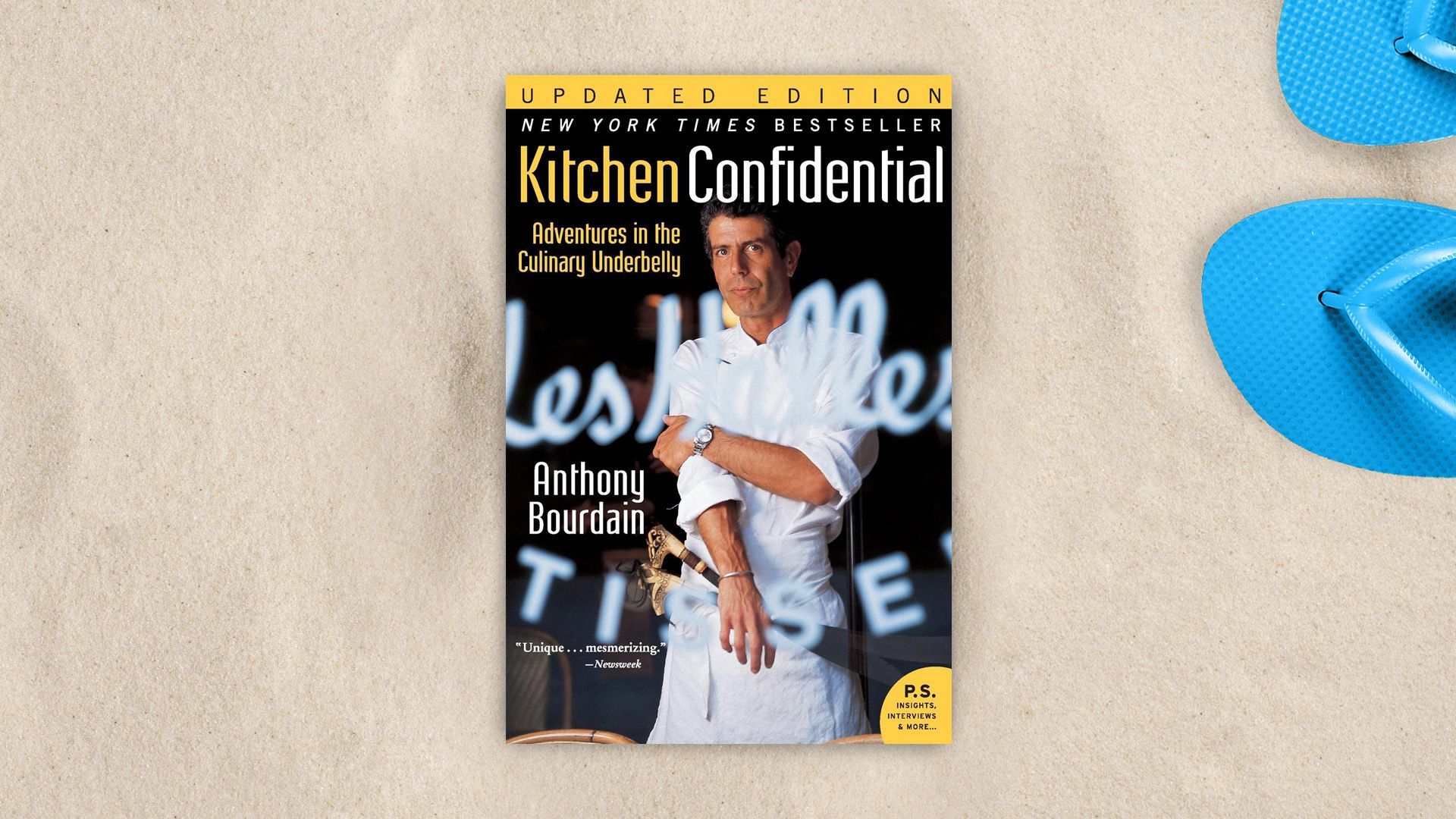 If you're missing our weeknight Axios PM conversations, we hope you'll join. (Sign up free here.) All summer, our weekly "Beach Reads" book club has included my own finds, plus the great suggestions from our smart, curious readers.
A rewind of our summer selections:
Thanks for reading. We'll have live updates all day on Axios.com.