Axios AM
March 07, 2018
☕️ Good Wednesday morning ...
1 big thing: Trump's dangerously thin red line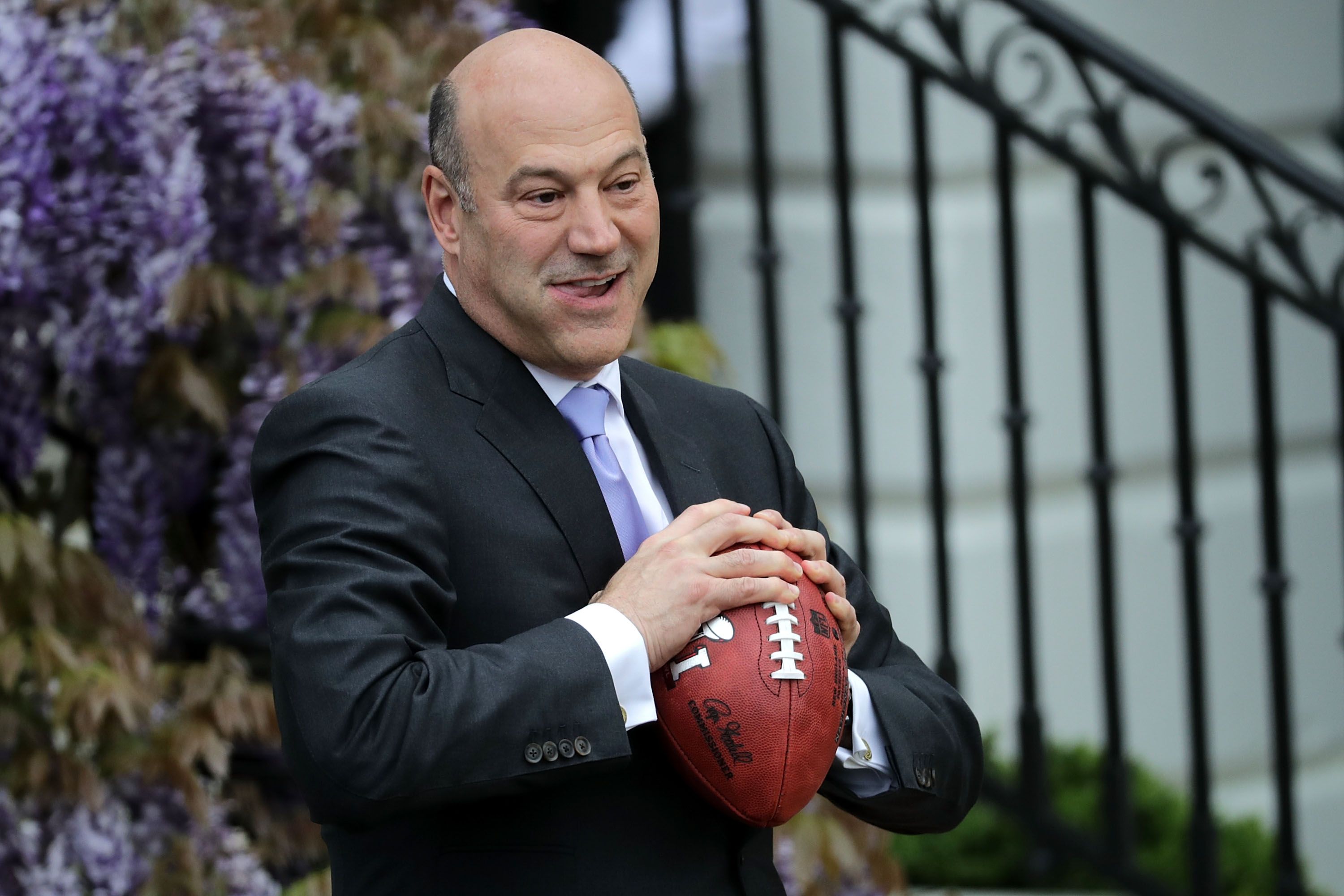 Exclusive palace intrigue: How Cohn told POTUS ... In early February, after President Trump's well-received State of the Union address and Davos trip, economic adviser Gary Cohn was having lunch with the president and Chief of Staff John Kelly, in the small dining room off the Oval Office.
"I've got to tell you," Cohn told the president, according to West Wing sources. "I'm working at like 20 percent of my capacity."
For a year, Cohn had felt like he was beating his head against a brick wall, leading Groundhog Day tutorials on the benefits of free trade and the danger of tariffs.
After helping steer Trump's victory on tax cuts, Cohn wanted another big assignment, commensurate with the skills, experience and appetite of a former president of Goldman Sachs.
Advocating for Trump's infrastructure plan, which is dead on the Hill, wasn't juicy enough.
Cohn said that if Trump could put him in a role where he would use 80% or 90% of his brain capacity, he'd stay. Otherwise, he should go.
Then Trump announced this week that he planned to impose sweeping tariffs on steel and aluminum — an embarrassment to Cohn, who had boasted to his Wall Street and Hamptons buddies that he had kept the president on the right track on trade.
Cohn had planned to leave last week, according to the sources. But then with the departure announcements by Hope Hicks and Josh Raffel, Cohn didn't want to pile on, the sources said.
Yesterday — with the details of the tariffs plan up in the air, but with Cohn convinced Trump was going big — he told POTUS that he'd leave in coming weeks.
Trump would be willing to entertain calling Cohn back for a big job (White House chief of staff?), and Cohn would consider it, the sources said.
Why it matters: The Trump White House is bleeding talent, losing a half dozen or more officials who helped advise and contain the president. Worse, warn several officials, there is little to no succession planning to quickly fill vacancies with top-flight talent.
This leaves the Trump White House understaffed and devoid of the moderating forces that helped shape his first 14 months in office. What remains is a more pliant, nationalistic staff, one much more aligned with Trump on trade, immigration and other issues.
One source close to the White House told us: "POTUS rightly pointed out from the podium [yesterday] that he likes competition inside. They fight it out, he makes a decision. ... What happens when the dissent is gone?"
Be smart: So increasingly, the restraints are off. In this midterm year, and looking ahead to the reelection race, look for Trump to be more Trump — more Trump, The Nationalist.
Hardliner Stephen Miller's influence may grow, on immigration and other issues.
And now there'll be one fewer Dem telling Trump to cool it on the culture wars.
Jonathan Swan emails me: "There's going to be a power vacuum in the West Wing. People will fill it — and they're much more likely to be people who agree with Trump on trade and immigration than a person, like Cohn, who opposes him and is willing to tell the president to his face that he's wrong."
2. Buzz: the new Cohn
The White House hasn't done any succession planning, but here's who Jonathan Swan and I are hearing as possible Gary Cohn replacements:
Kevin Warsh, former Fed governor and economic official for President George W. Bush.
Shahira Knight, Deputy Assistant to the President for Economic Policy, Cohn's top tax official.
Peter Navarro, White House trade adviser, who argued for tariffs.
Larry Kudlow, CNBC senior contributor and conservative commentator, who shares Cohn's views on trade.
P.S. Trump at a press conference yesterday, before the Cohn announcement, on finding new talent:
"Many, many people want every single job. You know, I read where, 'Oh, gee, maybe people don't want to work for Trump.' And believe me, everybody wants to work in the White House. They all want a piece of that Oval Office; they want a piece of the West Wing. And not only in terms of it looks great on their résumé; it's just a great place to work."
"So many people want to come in. I have a choice of anybody. I could take any position in the White House, and I'll have a choice of the 10 top people having to do with that position. Everybody wants to be there."
3. Rise of global populism
Why the populist wave isn't breaking any time soon ...
President Trump's tariffs, and Italy's lurch to chaotic populism in Sunday's election, are of one piece, Axios future editor Steve LeVine writes:
They are new chapters in the far-flung uprising against the post-World War II system that we've watched unfold for about two years.
The big picture: Trump's support for tariffs is part of the same wave of discontent that led to Brexit, anti-European Union politics in Austria and Germany, and the decision by Italians to sideline mainstream parties and give half their vote to two populist parties.
Bonus: Pic du jour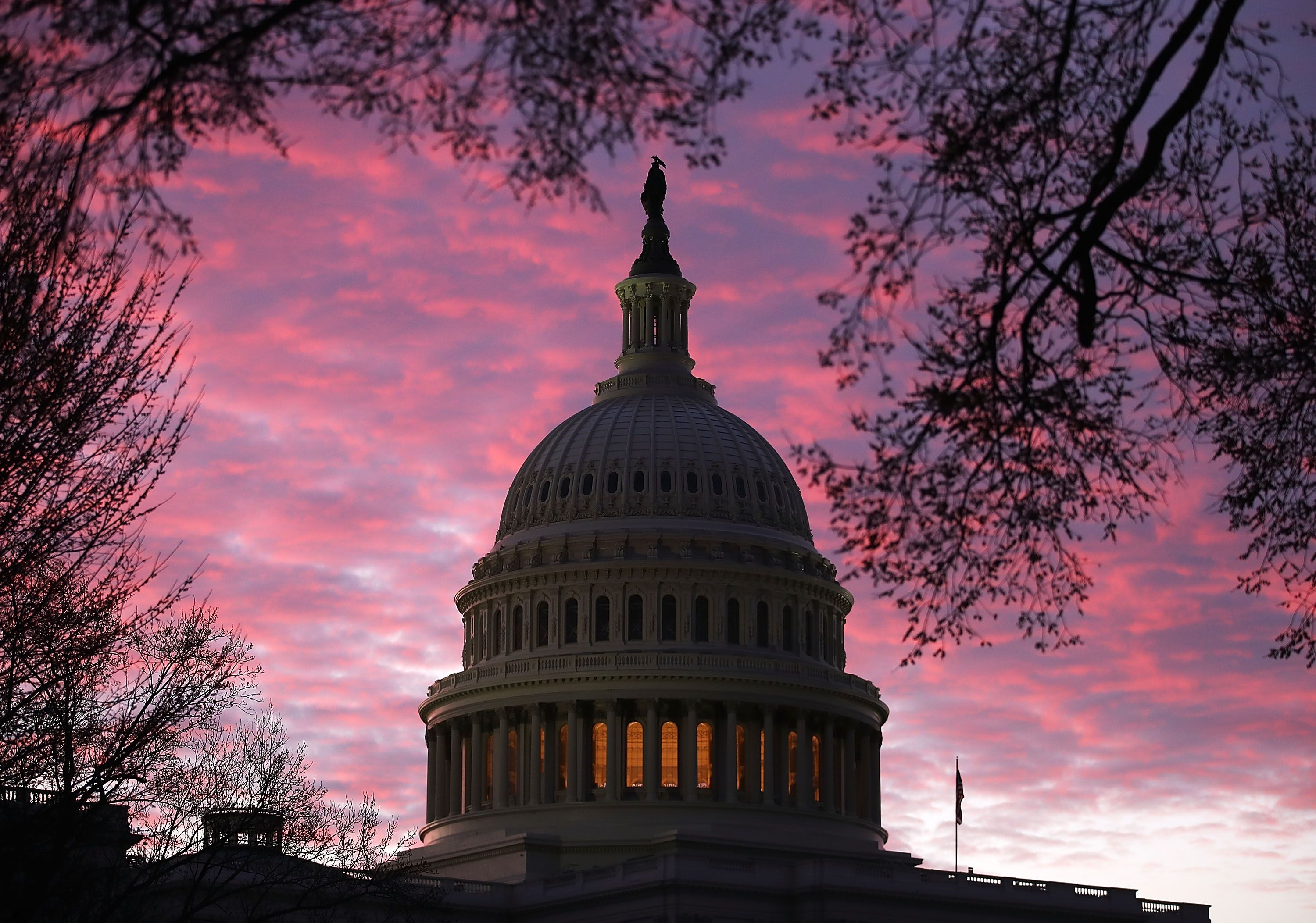 Almost spring (March 20) in D.C. ... The sky lights up as the sun rises behind the Capitol yesterday.
4. Trend to know: It's not just blue-collar jobs
A third of US. major metro areas — nearly 100 communities— are shedding a greater proportion of white-collar than blue-collar jobs, AP's Josh Boak finds:
So declining manufacturing centers — many in Trump Country — get hit twice.
Why it matters: "[T]he flow of white collar jobs out of these cities has pulled money and brainpower out of local economies and left them more vulnerable to economic downturns."
Examples: Erie, Pa. ... Toledo and Canton, Ohio ... Sheboygan, Wis. ... Wichita and Topeka, Kan. ... Birmingham, Ala. ... Decatur, Ill.
U.S. manufacturing employment peaked nearly 40 years ago, in 1979. Professional class jobs have "increasingly become the backbone of the U.S. economy."
"Children who left for college aren't returning home as they once did."
The takeaway: "Without a foundation of white collar jobs, it becomes difficult for these areas to reinvent themselves in an era when the economy more and more requires specialized knowledge and technological skill."
5. Texas-sized wins for women, Dems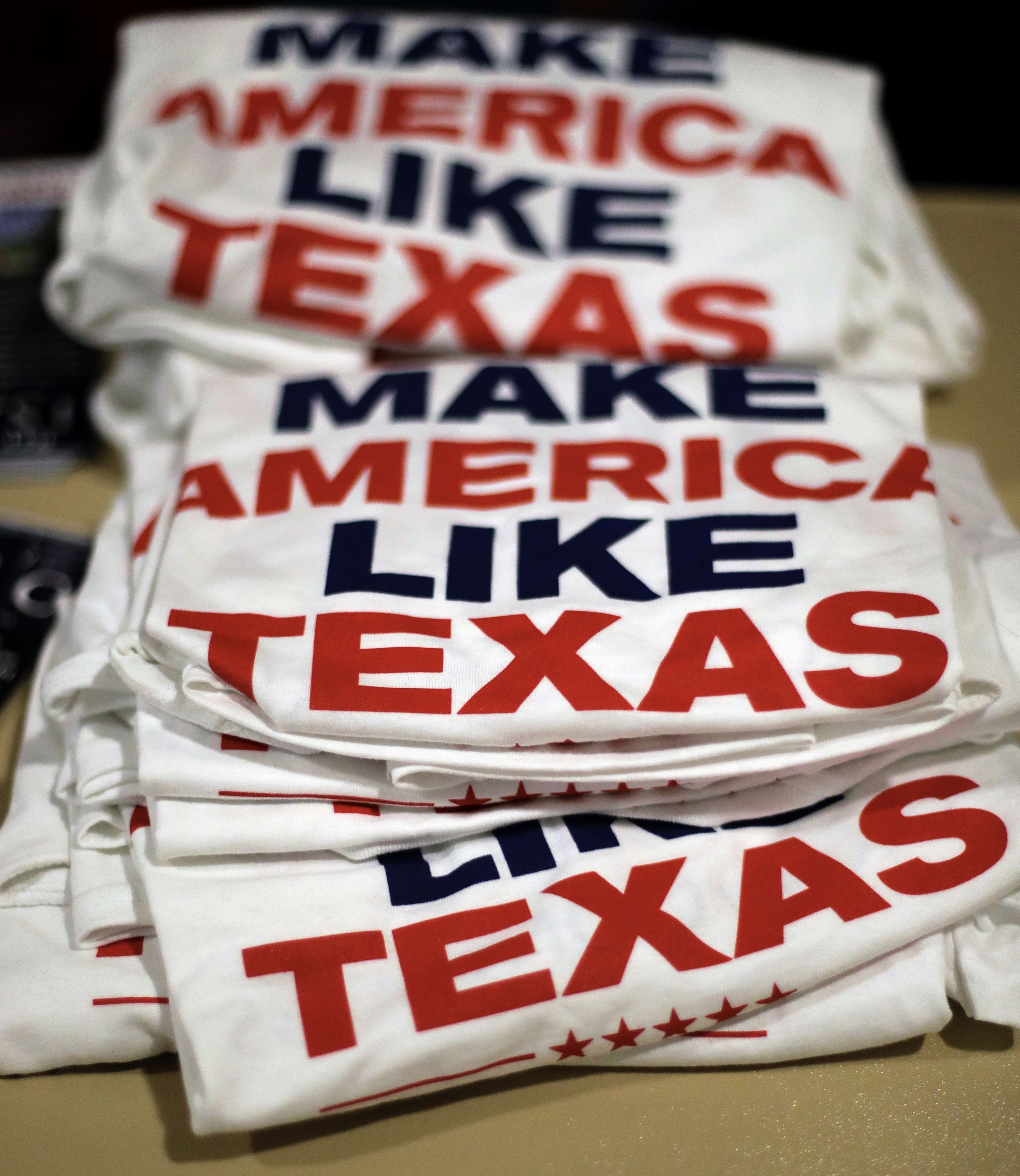 "Women running for Congress surged to big wins and Democrats smashed recent turnout levels in Texas' first-in-the-nation 2018 primary elections, giving Republicans a potential glimpse of what's ahead in the first midterms under President Donald Trump," AP reports from Austin:
"Energized and angry Democrats ... came out in force to surpass 1 million voters Tuesday — the first time the party has eclipsed that benchmark in a midterm primary since 2002, just months after the Sept. 11 attacks."
"Of the nearly 50 women running for Congress in Texas, more than half won their primaries outright or advanced to runoffs."
What's next: "[A]t least three of those runoffs in May will feature women going head-to-head." In Houston, "liberal favorite Laura Moser forced a runoff with Lizzie Pannill Fletcher."
But, but, but: "Republicans also set a new benchmark for turnout in a midterm election.
P.S. Land Commissioner George P. Bush, eldest son of Jeb, fended off a stiff challenge to win his Republican primary and advance toward almost-certain victory in the November general election. (Dallas Morning News)
6. Top 20 billionaires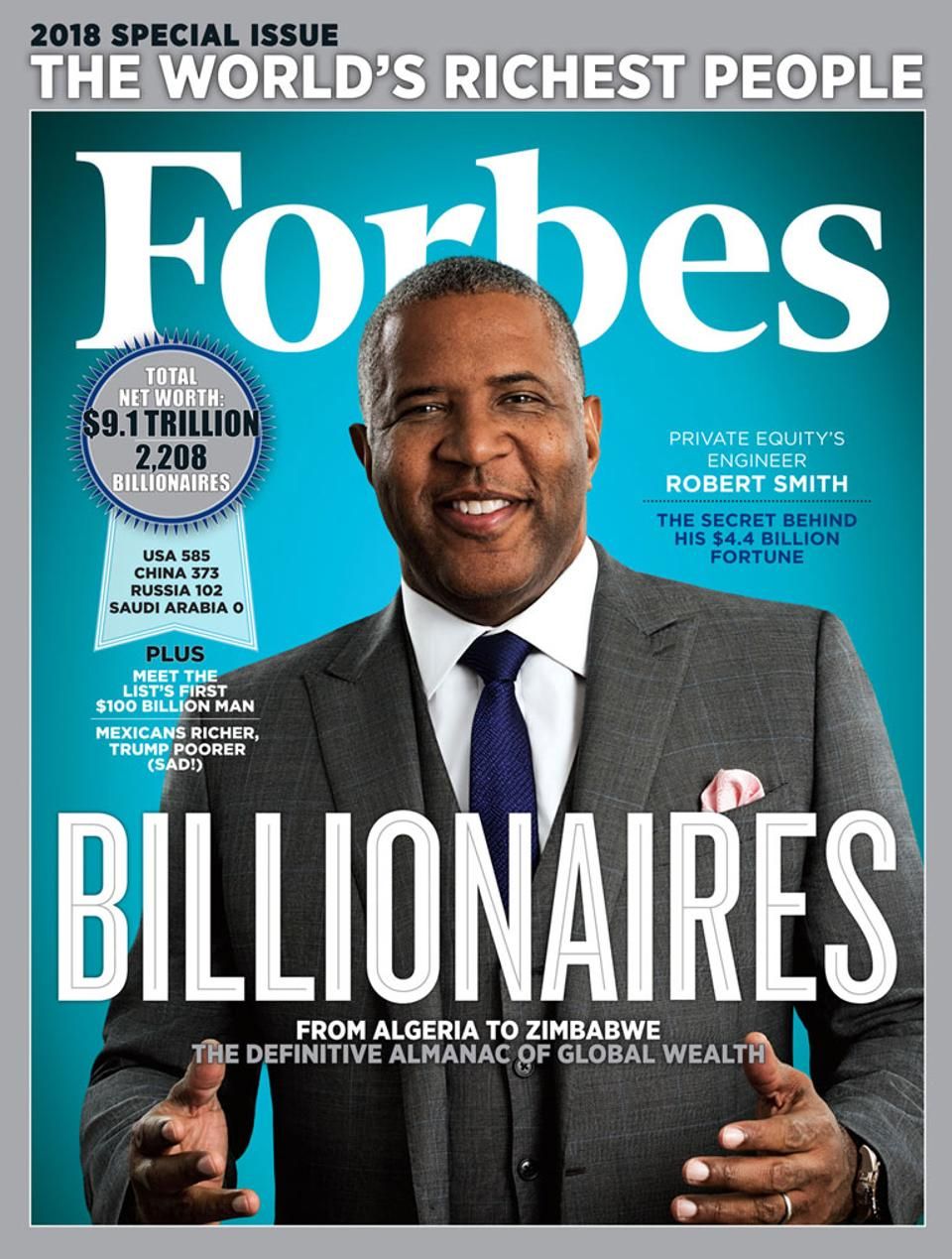 The Three-Comma Club ... A record 2,208 billionaires made Forbes' 32nd annual ranking of the world's richest.
Centi-billionaire Jeff Bezos seizes the top spot for the first time:
Jeff Bezos: $112 billion ... Up from 2017 ... U.S.
Bill Gates: $90 billion ... Up ... U.S.
Warren Buffett: $84 billion ... Up ... U.S.
Bernard Arnault family: $72 billion ... Up ... France
Mark Zuckerberg: $71 billion ... Up ... U.S.
Amancio Ortega (Zara): $70 billion ... Down ... Spain
Carlos Slim Helu family: $67.1 billion ... Up ... Mexico
Charles Koch: $60 billion ... Up ... U.S.
David Koch: $60 billion ... Up ... U.S.
Larry Ellison: $58.5 billion ... Up ... U.S.
Michael Bloomberg: $50 billion ... Up ... U.S.
Larry Page: $48.8 billion ... Up ... U.S.
Sergey Brin: $47.5 billion ... Up ... U.S.
Jim Walton: $46.4 billion ... Up ... U.S.
S. Robson Walton: $46.2 billion ... Up ... U.S.
Alice Walton: $46 billion ... Up ... U.S.
Ma Huateng: $45.3 billion ... Up ... China
Francoise Bettencourt Meyers family (L'Oréal): $42.2 billion ... New ... France
Mukesh Ambani: $40.1 billion .... Up ... India
Jack Ma: $39 billion ... Up ... China
Go deeper: See the full list.
7. Tracking power
Michael Bloomberg spends $20 million to launch a new global watchdog agency to monitor the tobacco industry, The Guardian reports:
The funding for STOP (Stopping Tobacco Organizations and Products) comes from Bloomberg Philanthropies.
"Global information and data on the behavior of the tobacco companies, especially in low- and middle-income countries where they are seeking to grow their markets, will be collated and held on a public website."
"Bloomberg ... has committed almost $1bn to the global fight against tobacco."
8. Mueller's growing chorus
George Nader, an "adviser to the United Arab Emirates with ties to current and former aides to President Trump[], is cooperating with the special counsel ... and gave testimony last week to a grand jury," per the N.Y. Times:
Why it matters: "Mueller appears to be examining the influence of foreign money on Mr. Trump's political activities and has asked witnesses about the possibility that ... Nader ...

funneled money

from the Emirates to the president's political efforts

."
"It is illegal for foreign entities to contribute to campaigns or for Americans to knowingly accept foreign money for political races."
9. Coming attractions
First look ... On Sunday, March 18, CBS News' "60 Minutes" will air a Norah O'Donnell interview with Mohammed bin Salman, the crown prince of Saudi Arabia, two days before the young leader is to meet President Trump.
The last wide-ranging interview a Saudi leader did with U.S. television was with Barbara Walters in 2005. 
Norah, who worked two years to land the interview, spent a week in the kingdom, and will air reports all next week on "CBS This Morning."
Tom Friedman column in N.Y. Times today, "Memo to the President on Saudi Arabia."
"Nothing's off limits" ... See the promo for George Stephanopoulos' interview with James Comey, the former FBI director's first since being fired, as part of a "20/20" prime-time special on Sunday, April 15.
10. 1 frozen thing: Curling is cool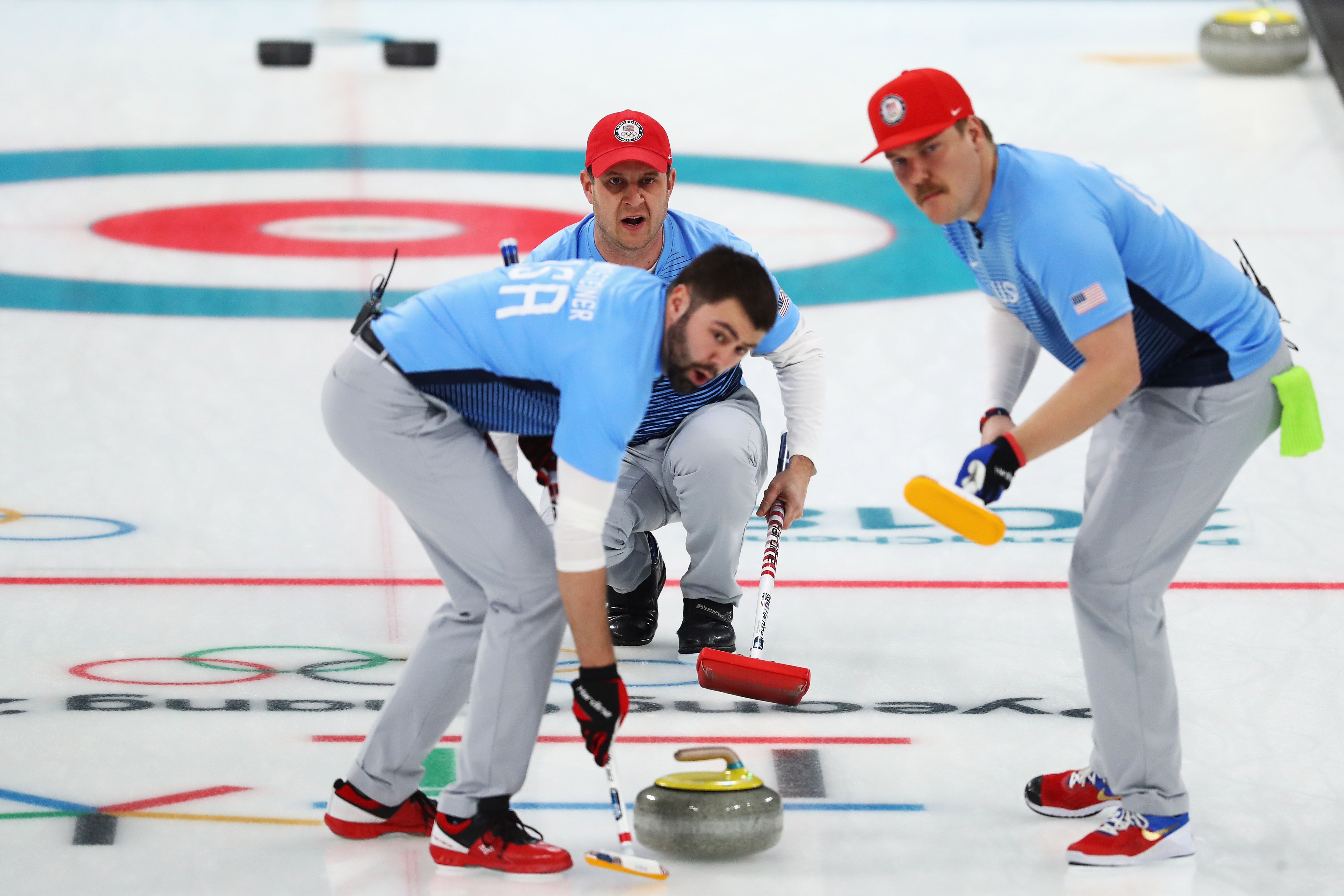 Accessible sport ... Curling clubs across the country are struggling to keep up with the demand for ice and learn-to-play sessions since the U.S. men's team made its run to a gold medal in the Winter Olympics, AP's Eric Olson writes:
"In a single-file line, the all-ages group of 40 shuffled gingerly onto the ice [in Omaha, Neb.]. ... A few looked athletic; others not so much."
"All had pulled rubber 'grippers' over the soles of their shoes to reduce slippage, and now it was time to learn how to curl."
The instructor "admonished them to not play catch with ... the 40-pound stones ... [R]unaway stones 'trucking down the ice' ... should be stopped with a broom, not a foot."
What's happening: "The Denver Curling Club held six open houses over 10 days, and more than 1,000 people ages 6 to 80 came out ... The Lone Star Curling Club in Austin ... has sold out 500 spots spread over 10 learn-to-curls."
Why it matters: "Every four years, coinciding with the Winter Olympics, curiosity in the ancient Scottish sport is piqued. But this year, clubs across the nation are reporting unprecedented interest, particularly after the U.S. men won the country's first curling gold medal."