Axios AM
July 30, 2017
Good Sunday morning from Pasadena, Calif., where I'll be on two panels this afternoon at the third annual Politicon, a nonpartisan "Coachella of politics" for 10,000. If you're in L.A., please come: I want to meet as many Axios readers as I can. At 1:30 p.m., I'm moderating a panel on "How Trump Won" (including Carville, Begala, Bill Kristol, Jason Miller and Joel Pollak). At 5 p.m., I'm on a "Fake News" panel. Here's today's lineup. Get tickets here. Pics and more deets below.
1 big thing: "The threat has significantly worsened"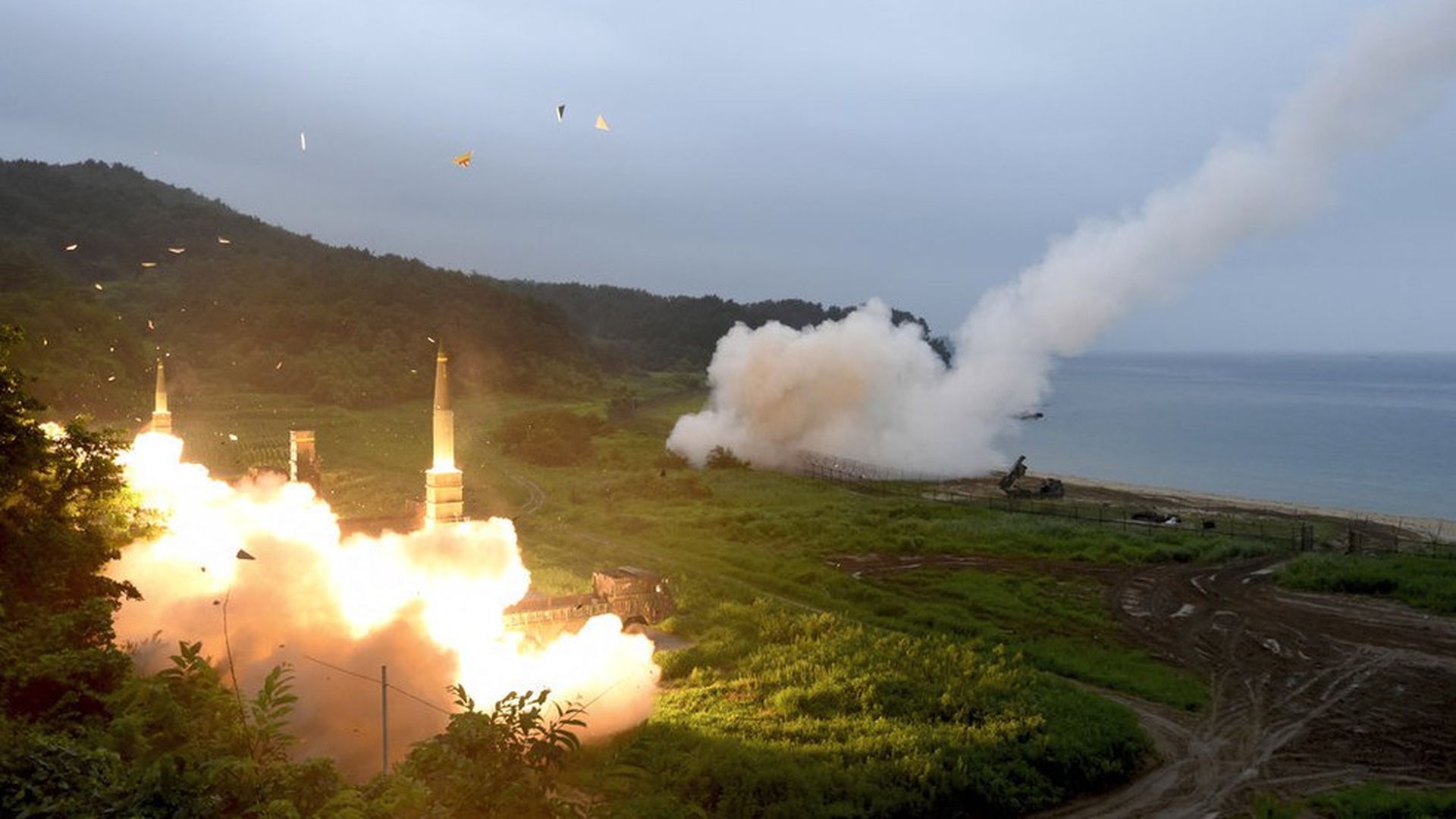 Despite certain distractions, you need to re-focus on what President Obama said would be President Trump's biggest immediate national-security worry: North Korea.
This is one thing Obama said that Trump believes.
Amid the internal and external mayhem, I can tell you from my private conversations that the West Wing believes the danger is accelerating and escalating.
A senior administration official: "The threat has significantly worsened."
North Korea has now fired two intercontinental ballistic missiles in a month. The administration is skeptical of North Korea's new claim that that the "entire" U.S. mainland is now in range.
But this weapon absolutely can hit L.A. And that's not fine.
A lot of Trump's tweets signify nothing. But when he hit China last night for being insufficiently helpful in pressuring North Korea, it was calculated — and, we're told, a sign of an increasingly tough posture in the week ahead.
The pair of tweets: "I am very disappointed in China. Our foolish past leaders have allowed them to make hundreds of billions of dollars a year in trade, yet ... they do NOTHING for us with North Korea, just talk. We will no longer allow this to continue. China could easily solve this problem!"
Indispensable China watcher Bill Bishop reported last night in his free Sinocism newsletter: "Expect the US to announce another round of secondary sanctions, likely with more teeth and targeted at more important institutions and individuals than the last round."
And Bishop emails us: "Another round of incremental sanctions is unlikely to move Beijing from its usual response of calling for calm and talks. Grim and going to get grimmer."
What's next: Look for a combination of military, financial and diplomatic steps to show resolve and increase pressure on the regime:
South Korea, which had been reluctant to poke the bear, is newly interested in increasing its offensive capability.
Japan and South Korea are likely to be more receptive to joint action with the U.S.
And the U.S. can be expected to seek a new resolution from the U.N. Security Council.
Go deeper: "The Interpreter" column by Max Fisher on A8 of today's N.Y. Times, "North Korea's Nuclear Arms Sustain Drive for 'Final Victory'" ... Axios' Shannon Vavra on U.S. preps for attack.
2. About last night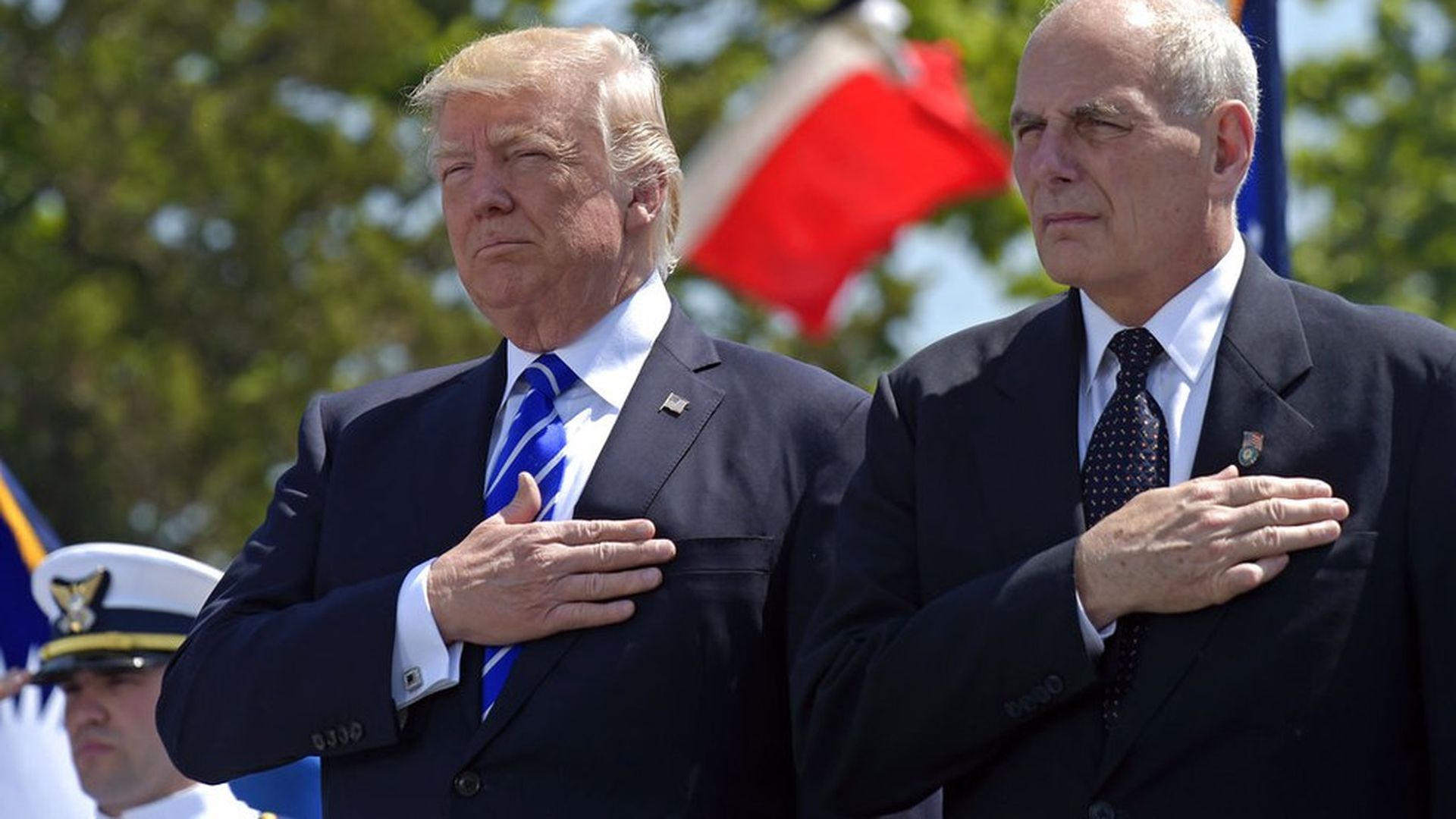 Spotted ... Trump's new chief of staff, Gen. John Kelly, officially starts tomorrow. But the two bonded last night at what appeared to observers to be a welcome dinner for eight, in BLT Prime at the Trump International Hotel on Pennsylvania Avenue.
Kelly sat at Trump's right, according to numerous nearby diners.
Trump was greeted by cheers. The others at the table were Treasury Secretary Steve Mnuchin and his wife, Louise Linton; Commerce Secretary Wilbur Ross and his wife, Hilary Geary; and Deputy National Security Adviser Dina Powell and David McCormick.
3. Trump's worst week
It's official ... Peter Baker writes in the lead story of today's N.Y. Times: "Trump enters a new phase of his presidency on Monday with a new chief of staff but an old set of challenges as he seeks to get back on course after enduring one of the worst weeks that any modern occupant of the Oval Office has experienced in his inaugural year in power."
AP calls it a "six-month stall."
Business Insider put it this way: "The Boy Scouts were forced to apologize. the Pentagon was caught flat-footed. The GOP failed to pass a crucial healthcare vote. The president openly undercut his attorney general. The White House communications director publicly attacked the White House chief of staff. ...
"Congress backed the president into a corner on Russia, and the police department that hosted the president's speech on gang violence quickly denounced his remarks. ... '[T]his was without a doubt his worst week,' said longtime Republican strategist Rick Tyler."
Be smart: If the President doesn't see a quick turnaround under General Kelly, he'll be out of excuses: That will mean it's him.
P.S. Who had a good week? Emily Smith of N.Y. Post's Page Six: "Spicey met with [CBS News President] David Rhodes ... a 'whole slew' of people at NBC, including President of NBC News Noah Oppenheim ... also met with Fox News about a role on the network, as well as ABC News."
A TV insider: "Spicer has met with everyone except CNN — for obvious reasons. Everybody wants to get the first interview with him, he's a huge booking right now — but Sean's got his own agenda and he's first looking for a big TV job."
4. 2018 blowback
"Weary Republicans in Washington may be ready to move on. But conservatives around the country are warning that the GOP-led Congress cannot abandon its pledge to repeal the Affordable Care Act without triggering an electoral nightmare," AP's Steve Peoples and Tom Beaumont write:
"The Senate's failure to pass a repeal has triggered a new wave of fear and outrage among the party. Conservative groups say senators who voted against the bill are 'sellouts.' ... Trump's allies pledge to run conservative challengers against uncooperative Republicans. And party leaders are warning of deep disillusionment and cynicism among the most passionate GOP voters."
A WashPost front-pager ("Democrats could exploit GOP stagnation in 2018") points out that Republicans "now live in the worst of both worlds — with nothing to show for seven years of campaign promises, even though dozens of vulnerable lawmakers cast votes that could leave them exposed to attacks from Democrats." Mike DeBonis and Amber Phillips write:
"[T]he collapse of the repeal effort has left conservative activists fuming about how the GOP could have flinched and pondering payback for the party establishment — particularly several moderate senators who voted for ACA repeal legislation when it had no chance of becoming law only to balk when it did."
Why it matters: "Numerous House lawmakers leaving a closed-door Republican conference meeting hours after the Senate bill collapsed said that efforts to undo the increasingly popular health law would have to continue."
5. Curl-up reading
When I'm having a career conversation with a young person, I never ask them what they want to be doing in five years: They either don't know, or won't tell you.
I cut through the fog by asking: "Who would you like to be?" Then I throw out some examples: Would you rather be Savannah Guthrie, or Glenn Thrush? It works every single time: It's a very clarifying question.
I wouldn't be anyone besides myself — there's no deal I'd take. But the example answer I give to spur conversation is Michael Lewis, author of "The Big Short," "Moneyball," "The Blind Side," and so much more.
And if you want to treat yourself to one long read today, here 'tis: In Vanity Fair's September issue (Angelina Jolie on the cover), Michael Lewis dives deep into the Department of Energy, based on the hunch that President Trump and Energy Secretary Rick Perry don't know what it does (spoiler: nukes and R&D):
There might be no time in the history of the country when it was so interesting to know what was going on inside these bland federal office buildings—because there has been no time when those things might be done ineptly, or not done at all. But if you want to know how the D.O.E. works — the problems it manages, the fears that keep its employees awake at night, the things it does you just sort of assume will continue being done — there's no real point in being inside the D.O.E. Anyone who wants a blunt, open assessment of the risks inherent in the United States government now has to leave it to find it. ...
If your ambition is to maximize short-term gains without regard to the long-term cost, you are better off not knowing those costs. If you want to preserve your personal immunity to the hard problems, it's better never to really understand those problems. There is a downside to knowledge. It makes life messier. It makes it a bit more difficult for a person who wishes to shrink the world to a worldview.
Bonus: If you're in L.A. today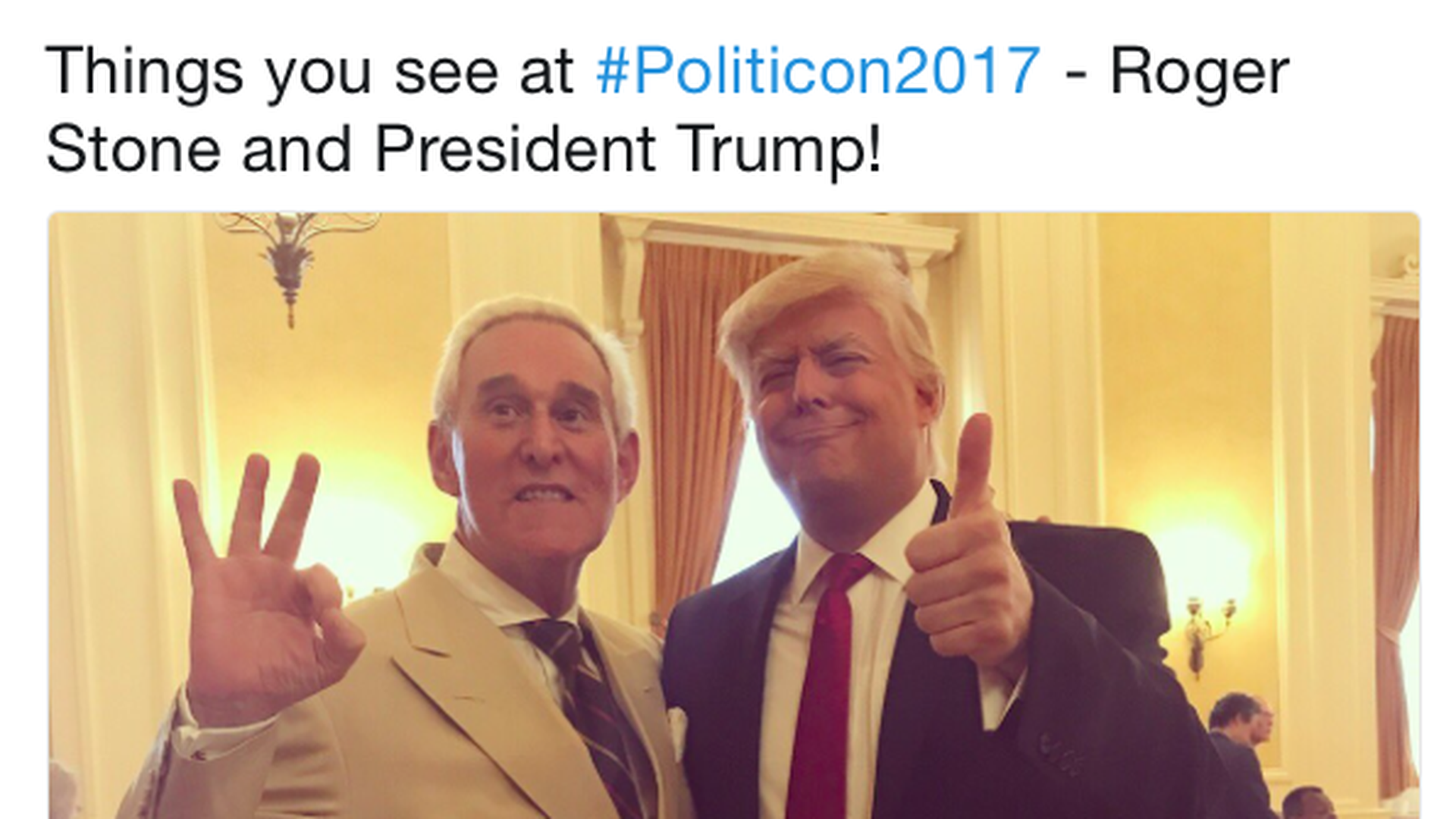 I'd love to see you at Politicon, at the Pasadena Convention Center, where there's a panel of producers, actors and writers from HBO's "Veep" at 11:30 a.m. Sked here. Tix here.
The fest began yesterday. Organizers expect 10,000 over two days — up from last year's 8,000, and 3,500 in the debut year. The lineup includes 176 panelists, on 75 panels and podcasts:
At 1:30, I referee a "How Trump Won" conversation with Paul Begala, James Carville, Bill Kristol, Jason Miller and Joel Pollak.
At 5 p.m., I'm on a "Fake News" panel led by Amy Holmes.
Got a question you want answered? Shoot me a note: [email protected]
In the exhibit hall, get "Make California Great Again" swag, buy a Trump Countdown Clock keychain, or take your picture inside a five-foot-tall, wood-and-foam "Morning Joe" mug. (Available prop: Rachel Maddow glasses.)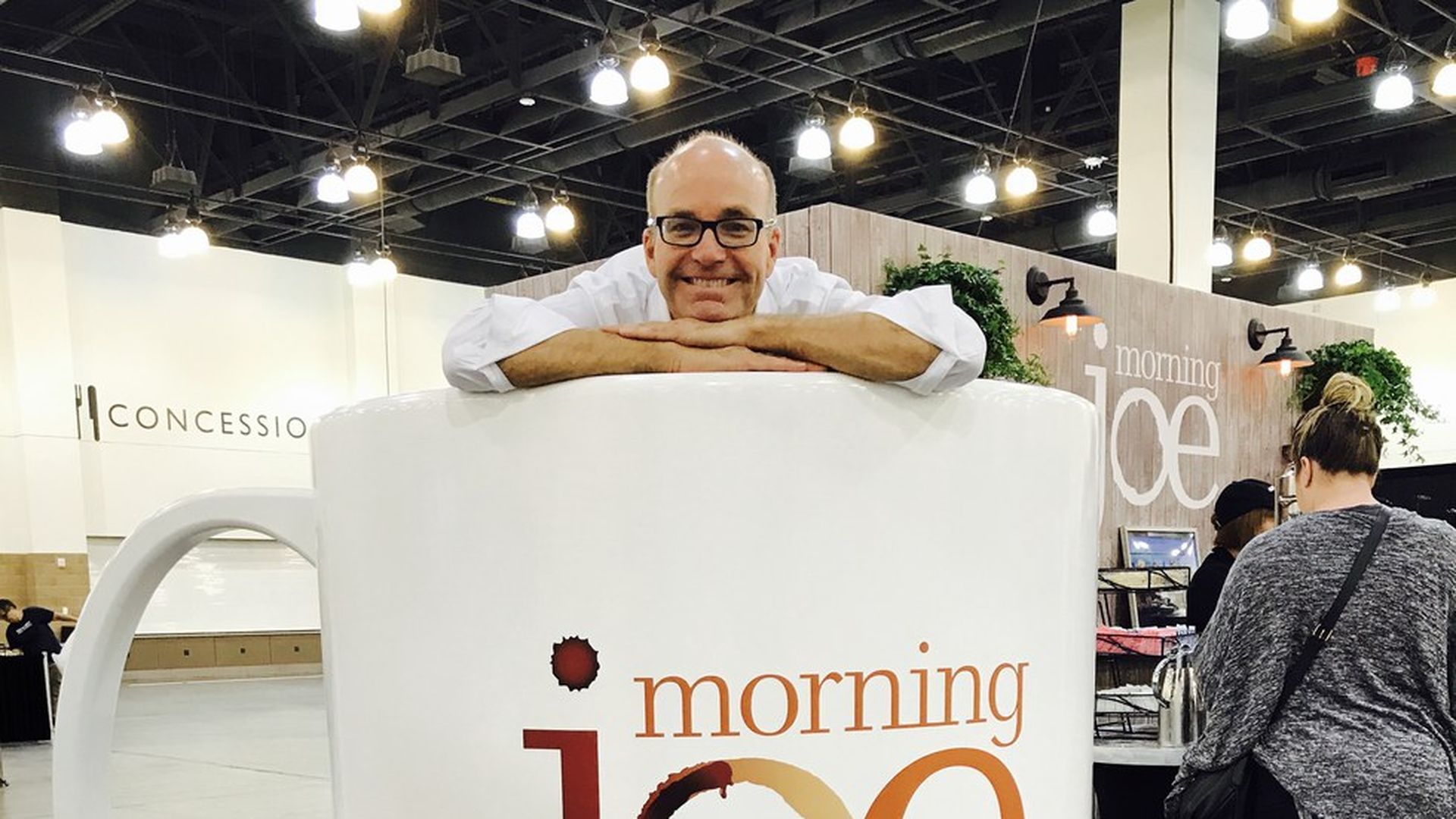 6. 1 fun thing: A skinny twist for a donut shop
A new Dunkin' Donuts here in Pasadena will open next month "under the rebranded name Dunkin'," according to the Pasadena Star-News, to emphasize the "company's various coffees, iced drinks and frozen drinks ... 'to reinforce Duncan's beverage-led focus.'"
So far, this is the only franchise to announce the skinny name. And you can still get crullers, croissants — and s'mores donuts.