Facebook will participate in an interview series with Axios, covering questions about the company, the 2016 election and the platform's broader role in social media. The series launches Thursday with my exclusive interview with COO Sheryl Sandberg: Watch it at 9 a.m. via Facebook Live on Axios' Facebook page or Axios.com. ("Like" our Facebook page to get the notification.)
The series will cover the social, technological, political, economic, and privacy dimensions of platforms. Axios editors and reporters specializing in politics, tech, business and media will control the questions and coverage. The collision of these topics is the central focus of Axios' mission.
All interviews will be on the record, and posted on Axios. Facebook will link to the coverage on its Hard Questions blog, designed to explore difficult issues facing Facebook's global community.
https://www.axios.com/newsletters/axios-am-0b26e244-cbee-46ed-a752-c582f6725150.html?chunk=0#story0
1 big thing: How Russia trolled us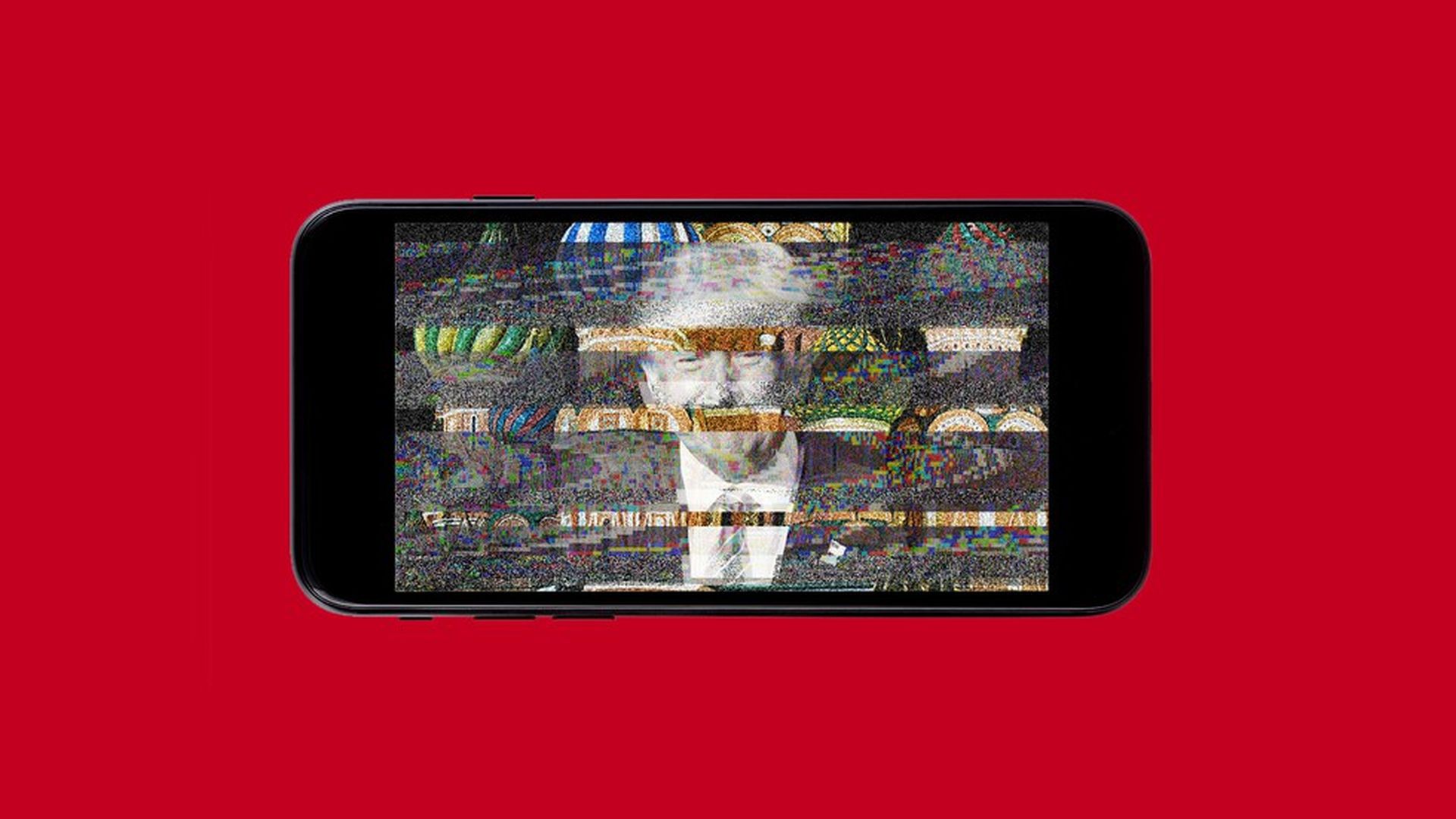 During the 2016 election, Russia ran a disinformation campaign that was intentionally hard to track but is finally being decoded, Axios Sara Fischer reports:
Russian operatives used many small, segregated campaigns across many automated platforms that often aren't monitored by people, making it harder to get caught in the moment, if at all.
Why it matters: It will take a whole lot of investigative reporting to understand the extent of the Russian disinformation campaign that was used to meddle in the election and cause division. But the contours now are emerging.
We weren't prepared: The government's lagging understanding of social media technology leaves tech companies to monitor themselves — which didn't provide much incentive for them to keep close tabs on how their platforms were being used for electoral manipulation.
Following the money: A lot of the revelations don't find that Russians had tremendous paid budgets on separate platforms/products, but it's starting to add up: Google: "tens of thousands" ... Facebook: $100,000 ... Twitter: $270,000+.
A New York Times front-pager — "Russians Spun American Rage Into a Weapon, by Nick Confessore and Daisuke Wakabayashi — gleans these additional clues from "the trail of Russian digital bread crumbs":
"The Russian campaign ... appears to have been tailored to exploit the companies' own strategies for keeping users engaged. Facebook, for example, pushed people to interact more in Groups like the ones set up by the Russians."
"The Russians appear to have insinuated themselves across American social media platforms and used the same promotional tools that people employ to share cat videos, airline complaints and personal rants."
"Boosted by Russian accounts, the material was quickly picked up by other American users of Facebook, spreading the posts to an even bigger audience. The Russian presence appeared to be layered throughout different platforms: Some of the Facebook accounts, including Being Patriotic, had linked accounts on Instagram and Twitter, according to deleted content captured in Google's cache."
Be smart: We're barely beginning to figure out what happened online during the 2016 election, and the 2018 midterms are coming up fast — a vast new field for mischief and misinformation.
It's highly unlikely regulation — government-mandated or self imposed — will prevent cheap election interference in time for next year.
Go deeper: Jonathan Albright, research director of the Tow Center for Digital Journalism at Columbia University, has been tracking Russian Facebook and ad tech use for months. His latest report looks at the organic tactics used by Russian-controlled pages, links and engagements that he estimates cold have reached or influenced hundreds of millions, if not billions of people.
https://www.axios.com/newsletters/axios-am-0b26e244-cbee-46ed-a752-c582f6725150.html?chunk=1#story1
2. Google, too
"As sprawling as it was sophisticated" ... "Russian operatives bought ads across several of Google's services without the company's knowledge," the WashPost reports on A1:
"Google found that tens of thousands of dollars were spent on ads by Russian agents whose targets included Google's YouTube and gmail services, along with the company's signature search engine and its DoubleClick ad network."
Why it matters: "The revelation about Google ... adds it to a growing list of iconic tech companies used by a dis­information operation ... approved by the Kremlin. Twitter and Facebook already had disclosed some Russian accounts, and U.S. investigators say other companies likely were exploited as well."
What's next: "Executives for Facebook and Twitter will testify before congressional investigators on Nov. 1. Google has not said whether it will accept a similar invitation to do so."
https://www.axios.com/newsletters/axios-am-0b26e244-cbee-46ed-a752-c582f6725150.html?chunk=2#story2
3. A new Gilded Age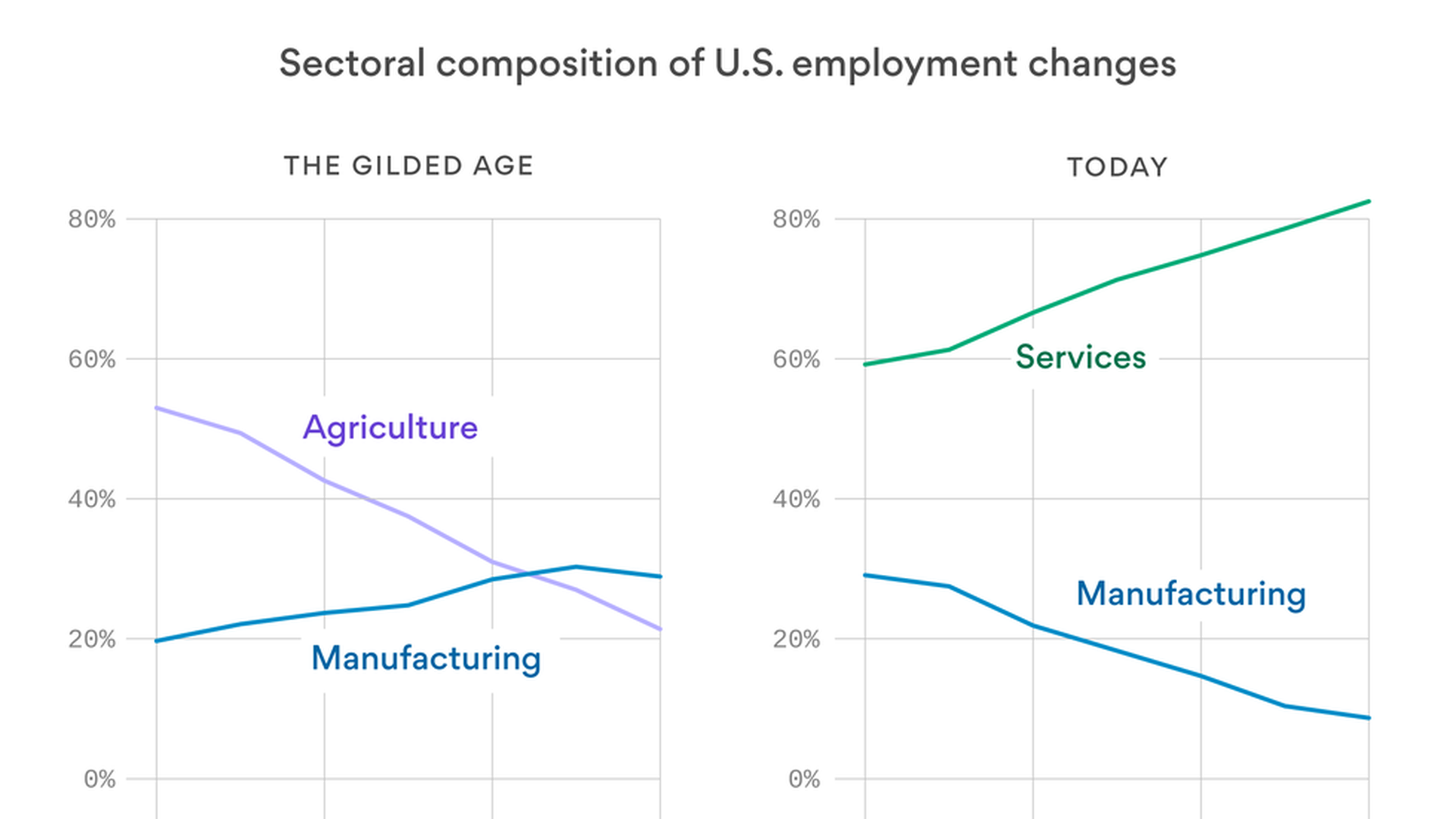 The income inequality that was the hallmark of the Gilded Age in the late 1800s was driven by changes in employment as the nation moved from agriculture to manufacturing.
Lobbyist Bruce Mehlman finds a similar trend in Census data showing growth of service industry employment and continuing decline of manufacturing jobs.
Why this matters: Mehlman notes that the Gilded Age saw the rise of vast fortunes for innovators, new technology reshaping the economy and intensely divided politics, all helping to fuel a populist backlash.
Go deeper: Here's Mehlman's full report on the "Navigating the New Gilded Age."
https://www.axios.com/newsletters/axios-am-0b26e244-cbee-46ed-a752-c582f6725150.html?chunk=3#story3
4. Inferno in wine country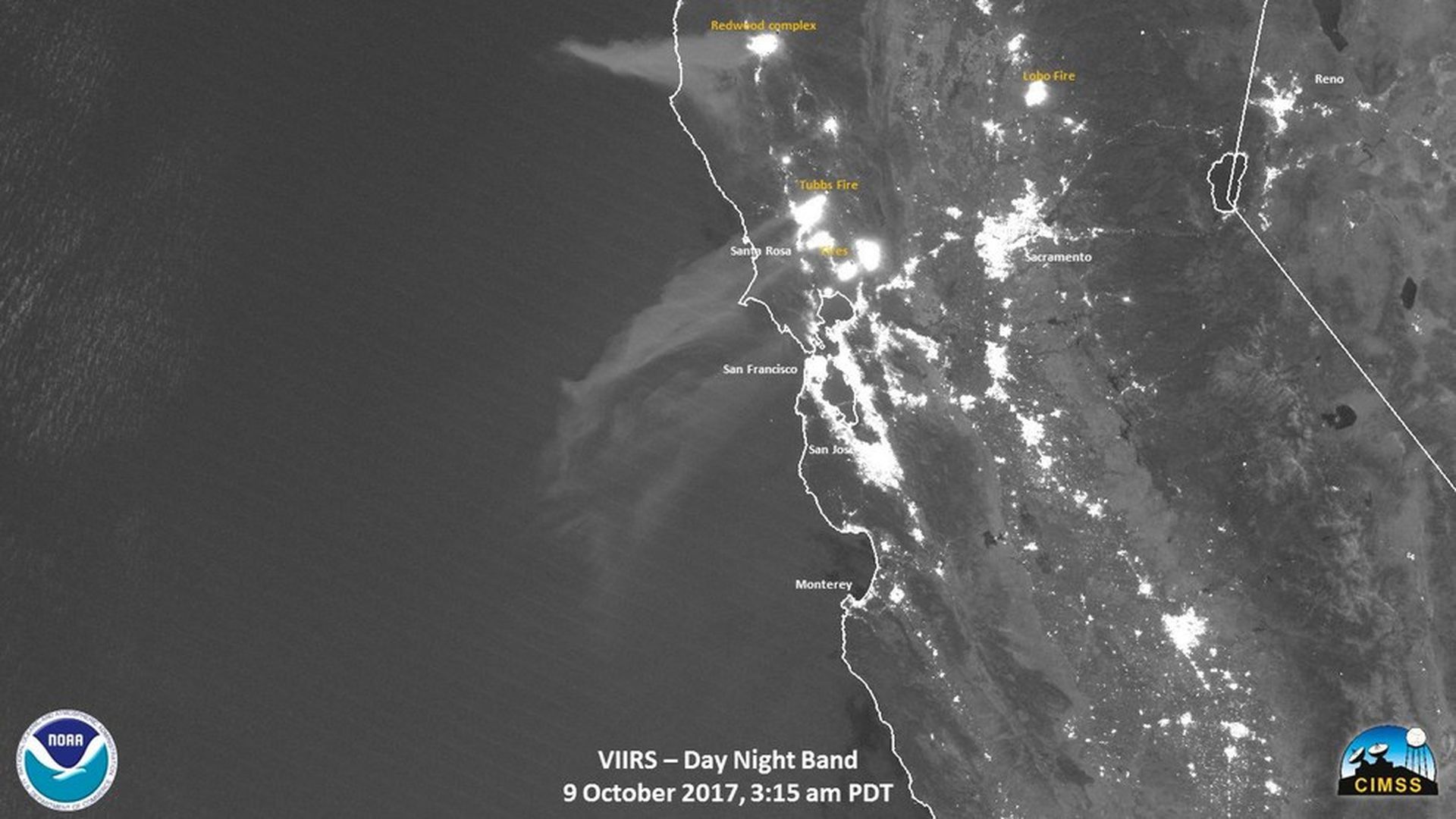 "A swarm of fires supercharged by powerful winds ripped through Napa, Sonoma and Mendocino counties Monday, killing at least 10 people, injuring dozens of others, destroying more than 1,500 homes and businesses, and turning prominent wineries to ash," the San Francisco Chronicle reports:
"Signorello Estate, a winery on Silverado Trail, was ruined, and buildings at nearby Stags' Leap Winery burned, too."
"Starting in the middle of the night, the fires hopscotched across neighborhoods, raced across fields and jumped freeways. Wind gusts up to 70 mph pushed walls of flames nearly 100 feet high, throwing embers ahead like hot fingers into strip malls and subdivisions."
"Many people who fled the surge had enough time to grab car keys, perhaps a pet, but not much more."
"Sonoma County officials received more than 100 reports of missing people as of [last] evening."
Why it matters: "one of the most damaging series of blazes in modern California history."
https://www.axios.com/newsletters/axios-am-0b26e244-cbee-46ed-a752-c582f6725150.html?chunk=4#story4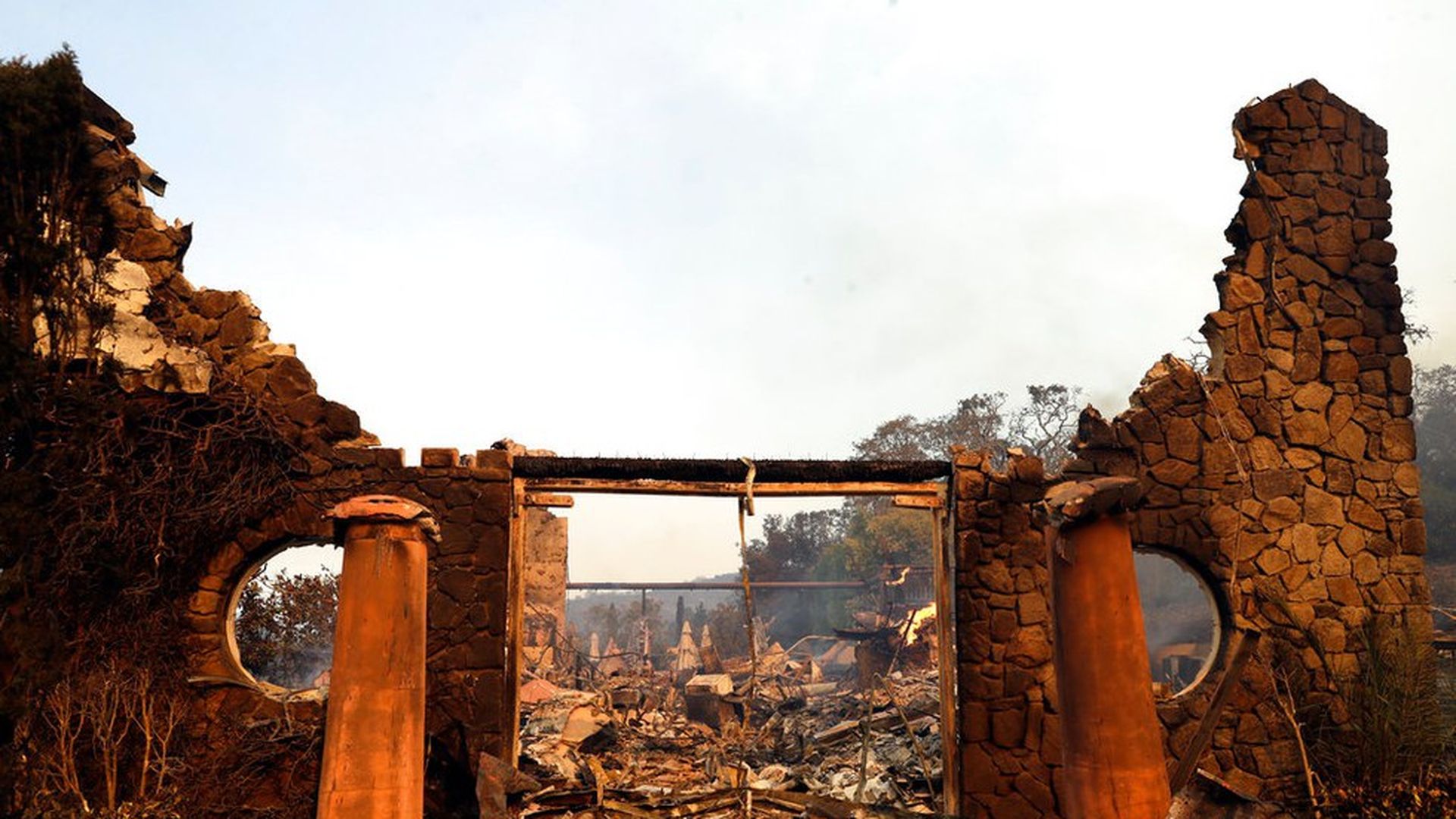 Here's the entrance to the fire-ravaged Signorello Estate winery in Napa, Calif.
Go deeper: Stunning before-and-after photos from N.Y Times.
https://www.axios.com/newsletters/axios-am-0b26e244-cbee-46ed-a752-c582f6725150.html?chunk=5#story5
5. Puerto Rico aid still tangled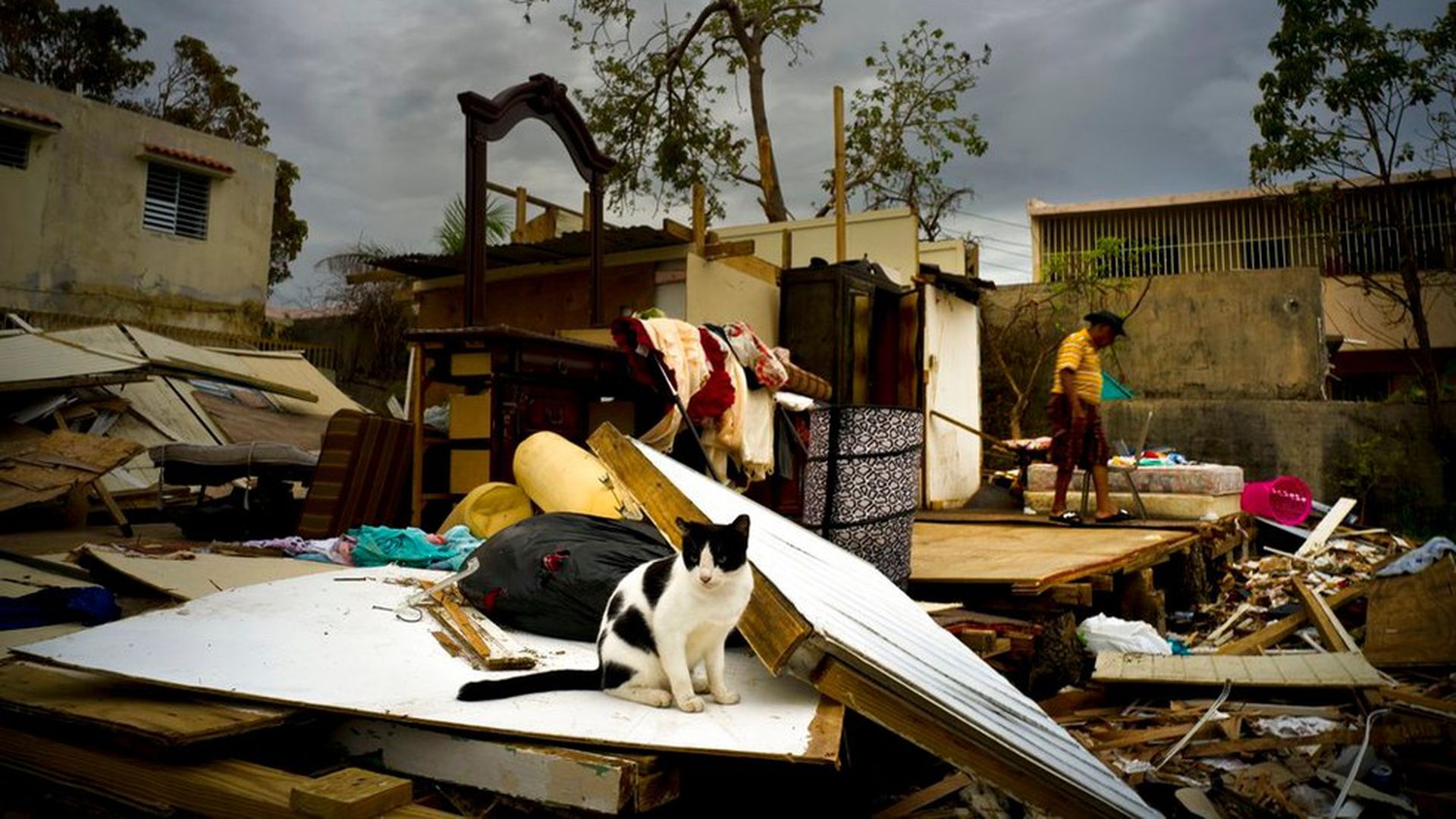 In this photo taken yesterday, Efrain Diaz Figueroa, 70, walks through the remains of the house of his sister, destroyed by Hurricane Maria in San Juan.
Figueroa, who also lost his own home on Puerto Rico, waits for a relative to come and take him to Boston. He says he has worked all his life, and can't continue in these conditions in Puerto Rico.
Aid distribution is still a mess, USA Today's Oren Dorell reports from San Juan:
"The Auxilio Mutuo Hospital here can't figure out how to get specialized medical supplies from the nearby airport. A Puerto Rican in Tampa found the quickest way to deliver help to her hometown was to do it in person. And shipping containers filled with emergency goods are piling up at the Port of San Juan."
Status update ... Customers with electricity: 15% ... People in shelters: 6,452 ... Functioning cell towers: 28% ... Access to drinking water: 60% ... Commercial flights: 100%.
https://www.axios.com/newsletters/axios-am-0b26e244-cbee-46ed-a752-c582f6725150.html?chunk=6#story6
6. Trump "increasingly isolated"
"Frustrated by his Cabinet and angry that he has not received enough credit for his handling of three successive hurricanes, President Trump is now lashing out, rupturing alliances and imperiling his legislative agenda," the WashPost's Bob Costa, Phil Rucker and Ashley Parker report in the paper's lead story:
"In a matter of days, Trump has torched bridges all around him, nearly imploded an informal deal with Democrats to protect young undocumented immigrants brought to the country as children, and plunged himself into the culture wars on issues ranging from birth control to the national anthem."
"Trump in recent days has shown flashes of fury and left his aides, including White House chief of staff John F. Kelly, scrambling to manage his outbursts."
"One Trump confidant likened the president to a whistling teapot, saying that when he does not blow off steam, he can turn into a pressure cooker and explode."
"Many in the White House say they appreciate the disciplined structure Kelly has implemented, but it has left Trump without the free-flowing conversations with staff and outsiders that he had come to relish."
Be smart: Aides are baffled by the attack on Senate Foreign Relations Chairman Bob Corker. Trump may want to be essentially a third party, built on anti-establishment-ism and anti-elitism, without a traditional ideological core.
And he just loves to stir the pot: The country is once again paying attention to him, bashing what's generally seen as a feckless Senate GOP.
https://www.axios.com/newsletters/axios-am-0b26e244-cbee-46ed-a752-c582f6725150.html?chunk=7#story7
7. Quote du jour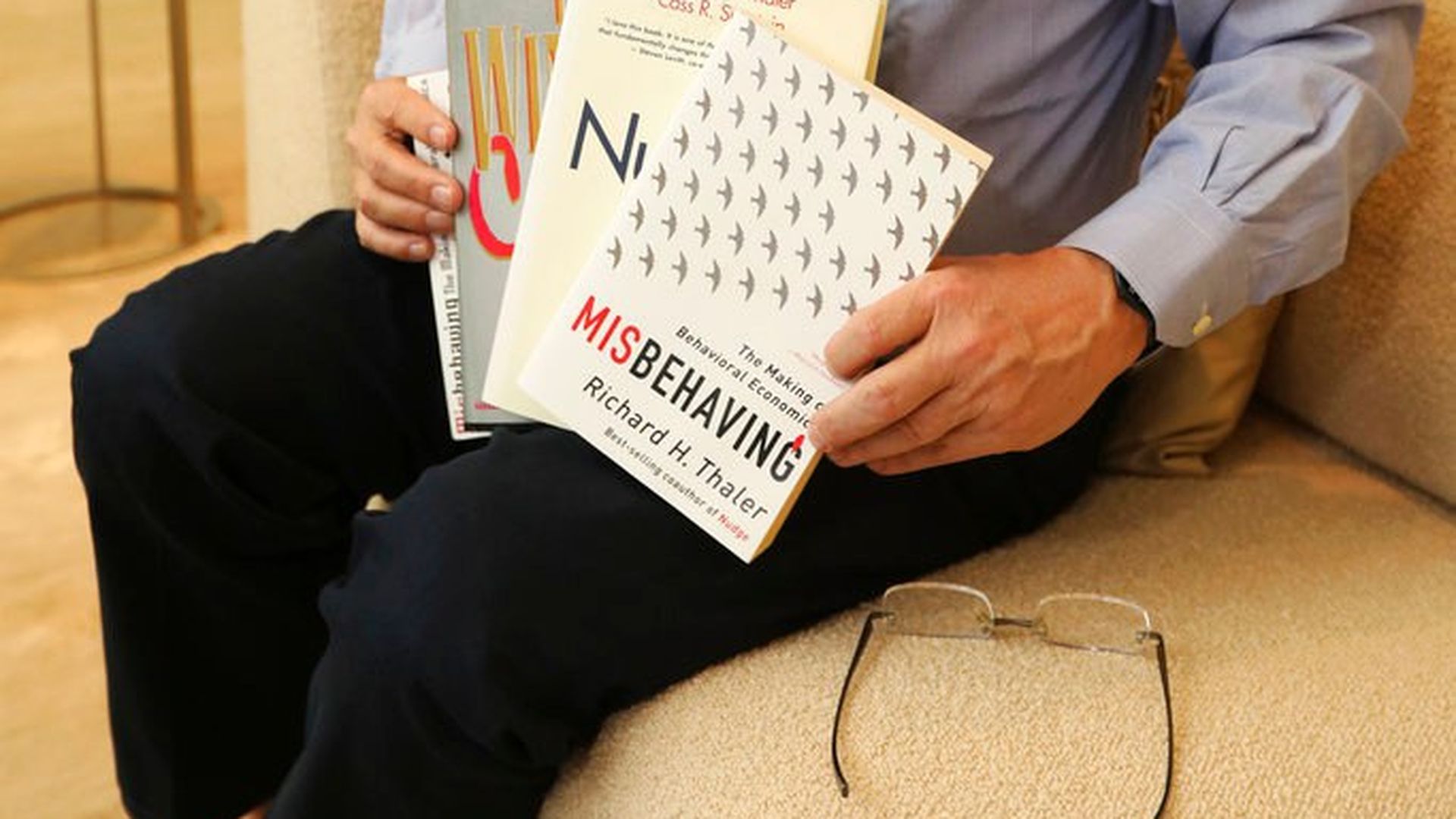 Richard H. Thaler of the University of Chicago, who won the 2017 Nobel in economic science for his work showing that people are predictably irrational, on how he would spend the $1.1 million in prize money:
"This is quite a funny question. I will try to spend it as irrationally as possible."
https://www.axios.com/newsletters/axios-am-0b26e244-cbee-46ed-a752-c582f6725150.html?chunk=8#story8
8. Howard Schultz hits the road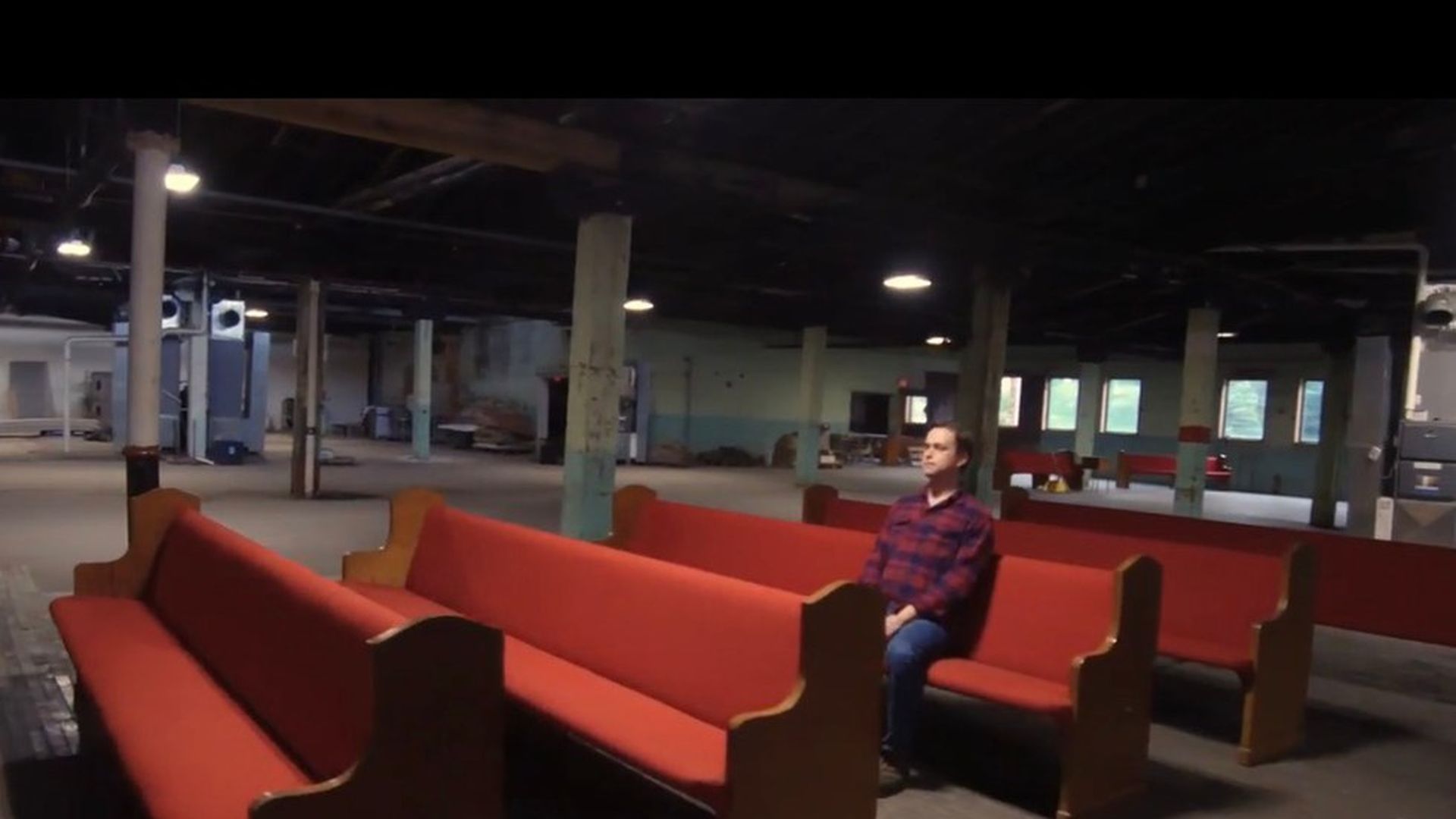 https://www.axios.com/newsletters/axios-am-0b26e244-cbee-46ed-a752-c582f6725150.html?chunk=9#story9
9. Weinstein name change
"A Weinstein-free name is in the works as the studio has enlisted two ad agencies to develop a new brand identity," the Wall Street Journal reports on the front page. "Harvey Weinstein's name is being scrubbed from the credits of coming film and television projects."
Harvey Weinstein "sent a private email to a number of high-level Hollywood executives at the studios, networks and talent agencies, begging for their aid in helping him save his job," hours before he was fired by his own company. They mostly refused. The Hollywood Reporter has the full text:
My board is thinking of firing me. All I'm asking, is let me take a leave of absence and get into heavy therapy and counseling. Whether it be in a facility or somewhere else, allow me to resurrect myself with a second chance. A lot of the allegations are false as you know but given therapy and counseling as other people have done, I think I'd be able to get there.
I could really use your support or just your honesty if you can't support me.
But if you can, I need you to send a letter to my private gmail address. The letter would only go to the board and no one else. We believe what the board is trying to do is not only wrong but might be illegal and would destroy the company. If you could write this letter backing me, getting me the help and time away I need, and also stating your opposition to the board firing me, it would help me a lot. I am desperate for your help. Just give me the time to have therapy. Do not let me be fired. If the industry supports me, that is all I need.
With all due respect, I need the letter today.
https://www.axios.com/newsletters/axios-am-0b26e244-cbee-46ed-a752-c582f6725150.html?chunk=10#story10
10. 1 Porg thing