https://www.axios.com/newsletters/axios-am-0ad6f28a-e1bc-4e42-83d1-2c0ac4baf4a6.html?chunk=0#story0
​1 big thing: Extreme chaos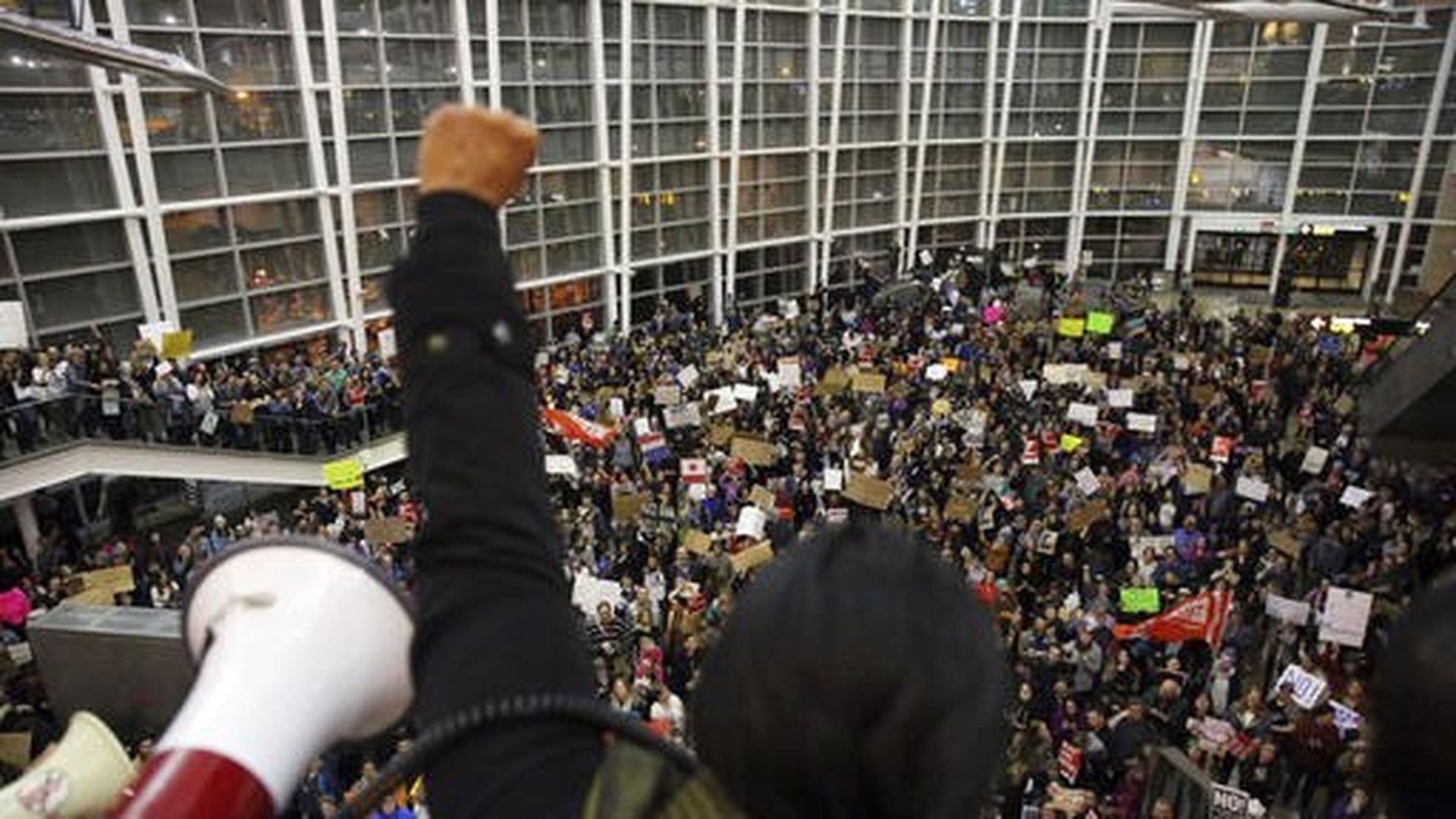 The instant, searing global backlash over President's Trump's executive order on refugees threatened to swamp an otherwise productive week and to supply defining opening visuals of the young presidency. White House officials say they expected resistance, but some administration officials were rattled last night by the scale, swiftness and decibel level of the blowback.A federal judge in New York issued a temporary, nationwide stay just before 9 p.m., as thousands of sign-waving protesters jammed Washington Dulles, New York's JFK and other airports.@KimKingsley was retweeted 14,000 times when she posted video of cheering at International Arrivals at Dulles as travelers were freed. At San Francisco International Airport, the demonstration swelled to 700, with raucous cheering and applause when a detained travler was released.Democrats, after spending nearly two months back on their heels, suddenly have an opening. Sen. Cory Booker of New Jersey showed up at Dulles airport, then tweeted last night: "I am driving North now from Virginia. I will check in on things at Newark airport tomorrow." Virginia Gov. Terry McAuliffe held a press conference on a concourse at Dulles, calling the order "antithetical to the values that make America great. It will not make our country safer."@HillaryClinton tweeted: "I stand with the people gathered across the country tonight defending our values & our Constitution. This is not who we are."Outrage abroad was rampant. British Prime Minister Theresa May, just back from her White House visit, said through Downing Street: "[W]e do not agree with this kind of approach." And German Chancellor Angela Merkel, a key U.S. ally, slammed the restrictions, saying through a spokesman that "even in the necessarily resolute battle against terrorism it is not justified to place people from a certain origin or belief under general suspicion."Good morning, Mr. President ... Today's first two tweets: "Somebody with aptitude and conviction should buy the FAKE NEWS and failing @nytimes and either run it correctly or let it fold with dignity! ... Our country needs strong borders and extreme vetting, NOW. Look what is happening all over Europe and, indeed, the world - a horrible mess!"Here are a few quick bullets to make you smart fast — the Axios secret sauce:
https://www.axios.com/newsletters/axios-am-0ad6f28a-e1bc-4e42-83d1-2c0ac4baf4a6.html?chunk=1#story1
​2. Best quote
"Lawyers for the two Iraqis held in New York have been unable to speak to their clients. When the lawyers asked to speak with them, Customs and Border Protection agents at JFK said that they were not the ones to field such a request. 'Who is the person to talk to?' the attorneys asked, according to the complaint. The CBP agents responded: 'Mr. President. Call Mr. Trump.'"
https://www.axios.com/newsletters/axios-am-0ad6f28a-e1bc-4e42-83d1-2c0ac4baf4a6.html?chunk=2#story2
​3. "The Trump bulldozer"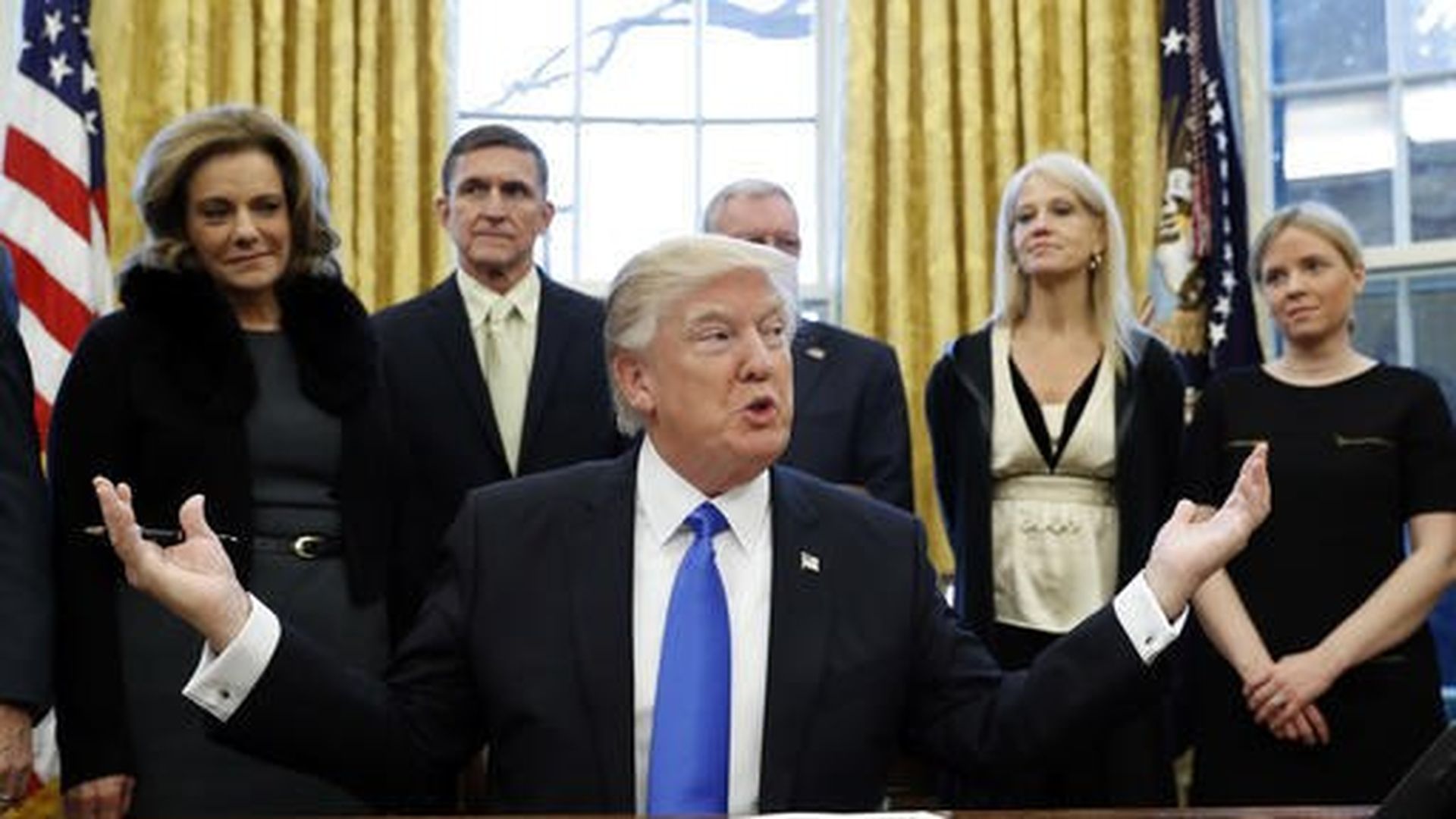 If you click only one thing … Jim VandeHei and I have a new piece up this morning that explains the method behind the Trump frenzy: "[F]rom the point of view of the president's brain trust, he's getting his way, and, with each passing day, more Republicans and outside leaders seem to be falling in line, even as critics rage. This is more a bulldozer than a runaway train." Click here to see who's buckling, and why.
So much for the notion that the press takes Trump too literally … Axios' Dan Primack points out: "After just over a week in office, it is obvious that President Trump takes Candidate Trump's promises literally. He literally plans to build a wall. He literally put a temporary ban on refugees from entering the country."
https://www.axios.com/newsletters/axios-am-0ad6f28a-e1bc-4e42-83d1-2c0ac4baf4a6.html?chunk=3#story3
​4. Bannon rising
In a move that stunned longtime national-security hands, Trump yesterday added Steve Bannon, his chief strategist, to the National Security Council's Principals' Committee, on par with the SecState and SecDef. Neither Karl Rove nor David Plouffe nor David Axelrod were on the Principals' Committee. Bannon is defined as a regular attendee, an elevation over the Director of National Intelligence and Chairman of the Joint Chiefs of Staff, who "shall attend where issues pertaining to their responsibilities and expertise are to be discussed."
Signing the NSC organizational order in the Oval Office, Trump told reporters the structure "represents … a lot of efficiency and I think a lot of additional safety. People have been talking about doing this for a long time — like many years."
https://www.axios.com/newsletters/axios-am-0ad6f28a-e1bc-4e42-83d1-2c0ac4baf4a6.html?chunk=4#story4
​5. Leak blamed on infiltrator
News organizations received digital recordings of three sessions last week's GOP congressional retreat in Philadelphia, and Axios' Jonathan Swan obtained the private explanation that was emailed to House members and senators. Mark Strand, president of the Congressional Institute, blamed an interloper with counterfeit credentials who "misrepresented herself on multiple occasions to retreat organizers as the spouse of an elected official." We posted the whole memo.
https://www.axios.com/newsletters/axios-am-0ad6f28a-e1bc-4e42-83d1-2c0ac4baf4a6.html?chunk=5#story5
6. Best jokes from Alfalfa
Since President Trump skipped last night's black-tie, off-camera Alfalfa Club Dinner, Vice President Pence did the honors before the biggest annual gathering of tycoons, national leaders and elder statesmen:
Pence joked, per our spies, that Team Trump is all getting to know each other: "It wasn't too long ago, I thought a Reince Priebus was a midsize hybrid." This elicited a smile from the White House chief of staff, who was at the head table.
The V.P. said Trump is "going to build a big, beautiful, impenetrable wall. It's gonna be nine feet tall, and it's gonna run right between the West Wing and the press corps. And The New York Times is going to pay for it."
Pence's best line: "Of the eight richest people in the world, five are in this room. I feel like I'm at a Cabinet meeting."
Mayor Michael Bloomberg, the incoming club president, received applause when he said it was classy of Hillary to attend the inauguration. Bloomberg claimed that Trump couldn't attend the dinner because he was stuck on a phone call with Putin: "I feel for him. We've all had bosses who call us on the weekend."
Erskine Bowles — former Bill Clinton White House chief of staff, and the club's outgoing president: "What a year: Angela Merkel has required people in her country to stop wearing full face veils. And here at home, Hillary has begun wearing one."
"This administration is very military heavy. You have 'Mad Dog' Mattis, a Marine general. John Kelly, a Marine general. Mike Flynn, an Army general. And Jefferson Beauregard Sessions, a Confederate general."
https://www.axios.com/newsletters/axios-am-0ad6f28a-e1bc-4e42-83d1-2c0ac4baf4a6.html?chunk=6#story6
​7. "Truthful hyperbole" …
… and "innocent exaggeration" could be the new "alternative facts." Trump's history of whoppers is reprised by investigative reporter David Barstow in the lower right corner of the N.Y. Times front page, "Up Is Down': Unreality Show Echoes a History of False Claims": "All week long, news organizations chased down one Trump tall tale after another" — including the Philly murder rate (falling, not rising as Trump said) and a supposed shooting in Chicago during Obama's farewell address (never happened).
A hallmark of his business career: "Trump's most noteworthy deceptions often did double duty, serving not just his ego but also important strategic goals. Mr. Trump's habitually inflated claims about his wealth … fed his self-proclaimed image of a business genius even as they attracted lucrative licensing deals."
Key phrase: "Nearly 30 years ago, in his best-selling book 'The Art of the Deal,' Mr. Trump memorably extolled the advantages of 'truthful hyperbole,' which he described as 'an innocent form of exaggeration — and a very effective form of promotion.'"
https://www.axios.com/newsletters/axios-am-0ad6f28a-e1bc-4e42-83d1-2c0ac4baf4a6.html?chunk=7#story7
8. Rx for Trump: more sleep
Arianna Huffington's new wellness website, Thrive Global, posts her "Modest Proposal: Mr. President, Get Some Sleep": What "Trump is recreating is the [Bill] Clinton working process … with all of its feverish, frantic, late-night, sleep-deprived chaos. … His first week was dominated by his clumsy handling of the gays-in-the-military issue … And according to [David] Gergen, this way of working 'planted seeds that almost destroyed Clinton's presidency.' Bill Clinton himself later acknowledged [to CNN in 2008] 'every important mistake I've made in my life, I've made because I was too tired.'"
Arianna: "Trump has long regarded sleep as just another adversary to be dominated into submission. "You know, I'm not a big sleeper," he said during a campaign rally in Illinois. "I like three hours, four hours. I toss, I turn, I beep-de-beep, I want to find out what's going on.' And many of his campaign's most divisive moments [tweets] came in the middle of the night or early morning."
"Perpetual-motion president" — Dan Balz column in WashPost: "Trump is moving at an unprecedented pace to change the direction of the country and reset America's place in the world. … He is the perpetual-motion president. … [His first week] was all that Trump's supporters might have hoped for and all his opponents feared."
https://www.axios.com/newsletters/axios-am-0ad6f28a-e1bc-4e42-83d1-2c0ac4baf4a6.html?chunk=8#story8
​9. What we're watching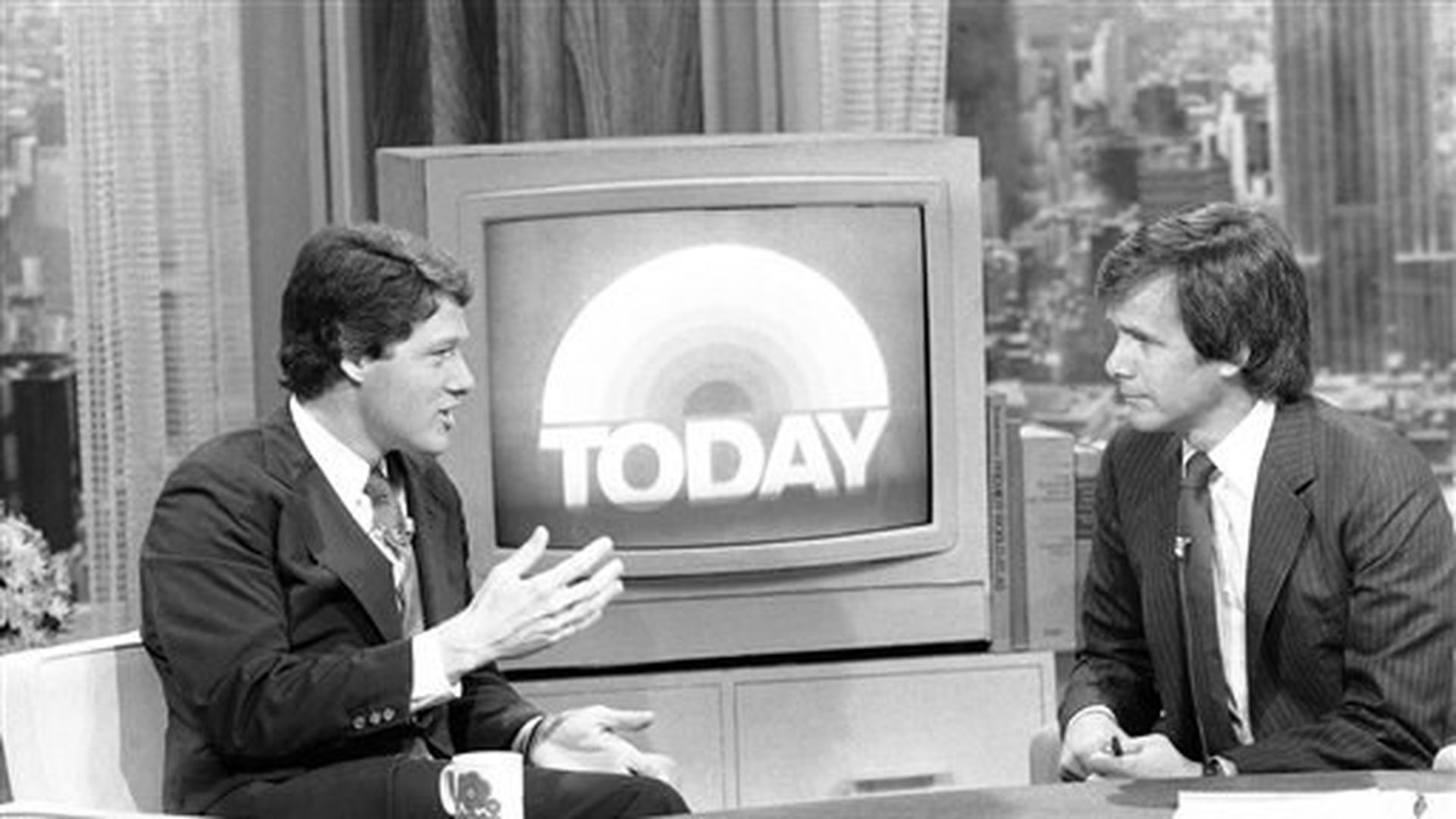 A two-hour NBC News "Dateline" special at 9 p.m. ET celebrates Tom Brokaw's "First 50 Years" at the network: "Brokaw and his guests will share insights … from the last half century [on] race relations, politics, the women's movement, technology, and global affairs." Lester Holt had a video preview.
https://www.axios.com/newsletters/axios-am-0ad6f28a-e1bc-4e42-83d1-2c0ac4baf4a6.html?chunk=9#story9
​10. 1 fun thing
"Snack-shaming" at the cineplex, brought to us by the N.Y. Post: "A ticket taker at Cinépolis in Chelsea — where a large popcorn costs a wallet-shrinking $8.25 — went full-prison guard, searching customers' bags with a flashlight … Moviegoers who try to smuggle in snacks are forced to shame-eat before they are allowed inside theaters … A Cinépolis spokeswoman claimed employees were actually looking for weapons."
THANK YOU FOR READING, and happy end-of-weekend. I appreciate your thoughts, links and tips: Just reply to this e-mail. It's my real in-box; no one else sees it.