Get up: It's Game Day! "College football owns Labor Day weekend and has turned it into five-day football holiday," AP says in a Week 1 preview. Good luck, Anders and 'Bama! (Sorry, @AxiosNick.)
https://www.axios.com/newsletters/axios-am-09bd337d-adb6-4e60-8a16-876d0ea66169.html?chunk=0#story0
1 big thing: A massive mistake gets worse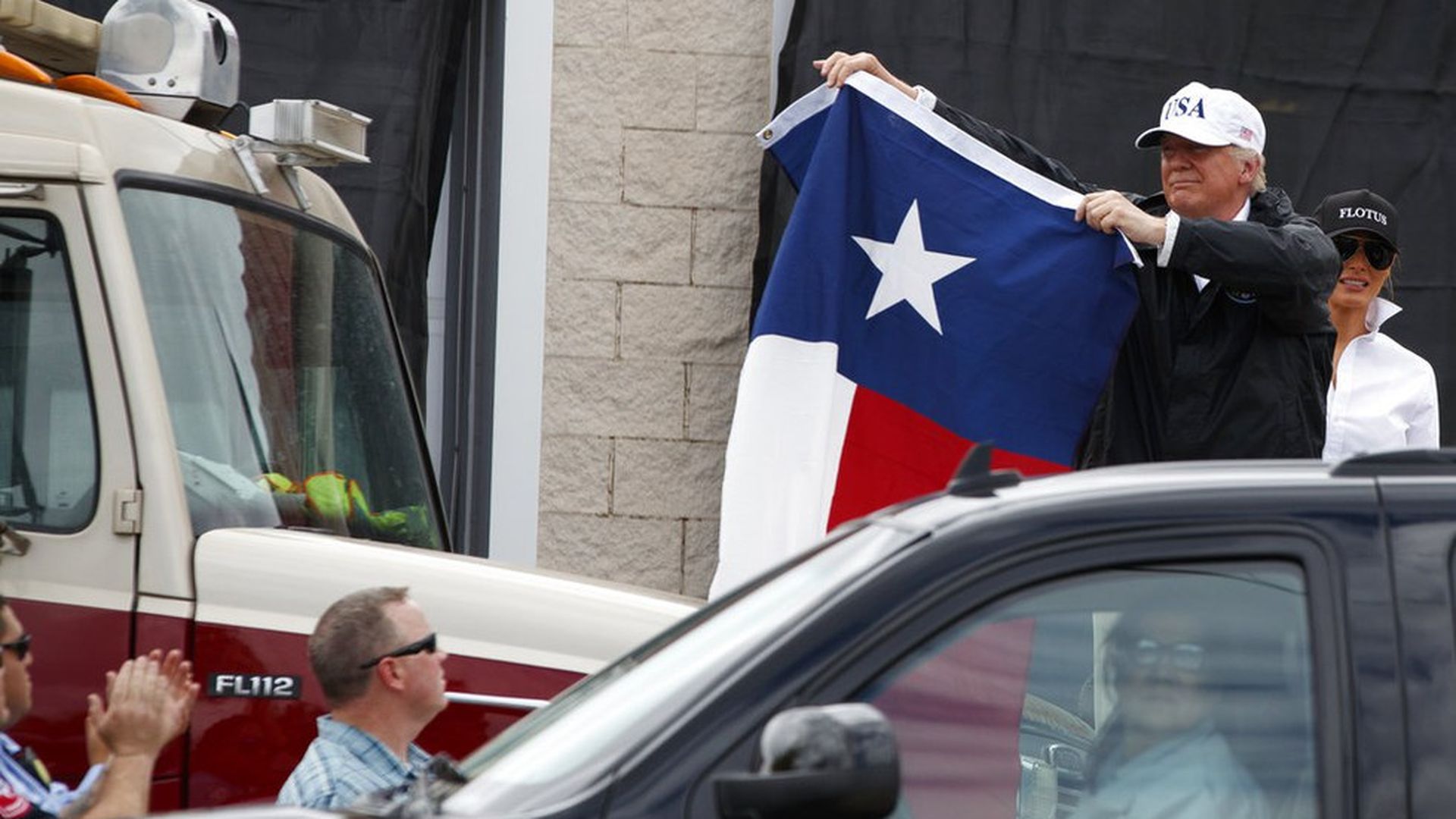 In a new wave of revelations about how President Trump came to fire FBI Director Jim Comey, one fact may matter most in the long run.
What's new: According to the N.Y. Times' Michael Schmidt and Maggie Haberman, Vice President Pence was in the Oval Office on May 8 when Trump "announced that he had decided to fire Mr. Comey," which he did the next day, and read from an aide's "angry, meandering" draft memo outlining a justification.
More detail, from the WashPost's lead story, matching the NYT: "At the Oval Office meeting, ... Trump described his draft termination letter to top aides who wandered in and out of the room, including then-Chief of Staff Reince Priebus, White House Counsel Donald McGahn and senior adviser Hope Hicks."
"Pence arrived late, after the meeting had begun. They were also joined by [the author of the draft, senior policy adviser Stephen] Miller and ... Jared Kushner, both of whom had been with Trump over the weekend in Bedminster [N.J.]. Kushner supported the president's decision."
Why it matters: That gives Pence more visibility than was previously known into what we have told you is one of the dumbest political mistakes in the modern era, since it precipitated the appointment of Special Counsel Bob Mueller.
Schmidt and Haberman broke the story yesterday that Mueller has obtained a draft of a letter (never sent) "which Mr. Trump had composed with Stephen Miller," giving "an unvarnished view" of why he was planning to fire Comey:
"McGahn, ... the White House counsel, [was concerned by] references to private conversations the president had with Mr. Comey, including times when the F.B.I. director told Mr. Trump he was not under investigation in the F.B.I.'s continuing Russia inquiry."
"McGahn successfully blocked the president from sending the letter ... to Mr. Comey. But a copy was given to the deputy attorney general, Rod J. Rosenstein, who then drafted his own letter.
"Rosenstein's letter was ultimately used as the Trump administration's public rationale for Mr. Comey's firing, which was that Mr. Comey had mishandled the investigation into Hillary Clinton's private email server."
What Trump's lawyers can argue: These were Miller's views, not Trump's. What matters is the advice he got from his lawyers, who told him he did have grounds for the dismissal, and prepared the justification.
Why this is a massive problem for White House credibility: This is more evidence — as if we needed it — undercutting Trump's letter to Comey explaining his firing, which doubled as the president's first public explanation. He wasn't accepting any recommendation. Trump wanted to do this, and had stewed about it.
As the WashPost delicately puts it: "[T]he Oval Office discussion suggests that Pence and other top aides who echoed the initial public explanation for Comey's ouster did not provide a full accounting of Trump's decision process."
P.S. Cover of tomorrow's WashPost Outlook section, "Congress can't count on Mueller's investigation. It should beef up its own," per former Sen. Bob Graham (D-Fla.), who co-chaired the 9/11 committee: "[T]he House and Senate intelligence committees must quickly begin planning for post-Mueller scenarios."
https://www.axios.com/newsletters/axios-am-09bd337d-adb6-4e60-8a16-876d0ea66169.html?chunk=1#story1
2. 1 big thought ...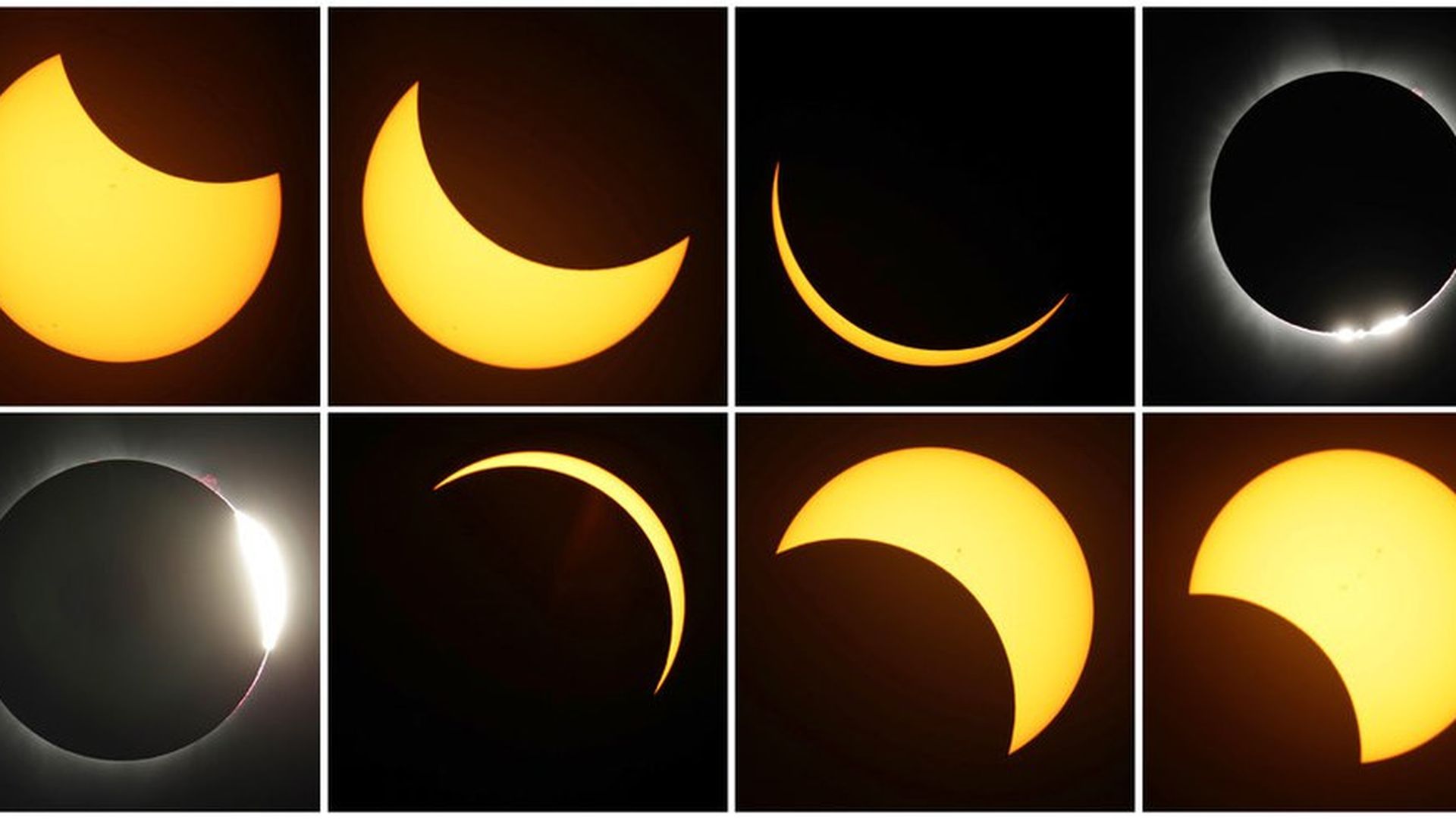 ... about August 2017, as historians may see it, from CNN senior digital writer Eliott C. McLaughlin:
Charlottesville exposed our divisions. Harvey hid them. The eclipse showed us we are but tiny players in a vast universe, and we have more in common than we think.
https://www.axios.com/newsletters/axios-am-09bd337d-adb6-4e60-8a16-876d0ea66169.html?chunk=2#story2
3. Houston, in perspective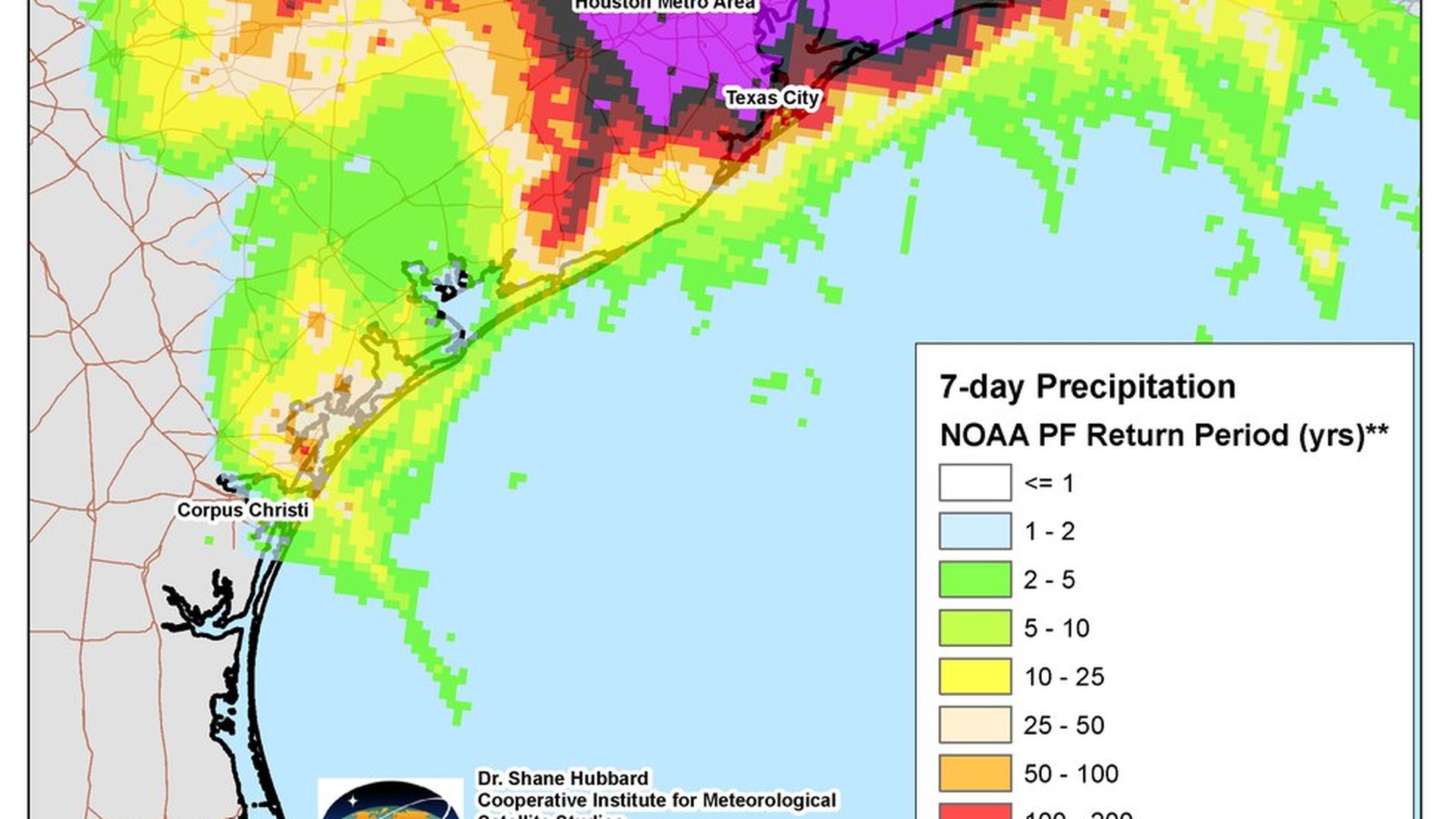 "Harvey is a 1,000-year flood event unprecedented in scale," per WashPost weather editor Jason Samenow:
"An analysis from the University of Wisconsin's Space Science and Engineering Center has determined that Harvey is a 1-in-1,000-year flood event that has overwhelmed an enormous section of Southeast Texas equivalent in size to New Jersey."
"There is nothing in the historical record that rivals this, according to Shane Hubbard, the Wisconsin researcher who made and mapped this calculation."
"A 1,000-year flood event ... signifies just a 0.1 percent chance of such an event happening in any given year."
But, but, but: "[R]ainfall and flood data generally go back only 100 years or so, so statistical tricks must be applied to determine what 500-year and 1,000-year events actually represent. Furthermore, the climate is changing and precipitation events have become more intense in recent decades, so what constitutes different return frequencies (100-year, 500-year, 1,000-year and so forth) is probably changing."
Why it matters: "Climate change studies have found that what's considered a 500-year flood today may become much more frequent in coming decades."
Houston Chronicle banner ... "As the skies clear, gritty labor continues: 'It just gets worse': Families pick up pieces amid push for a return to normal." (Read the digital paper free.)
https://www.axios.com/newsletters/axios-am-09bd337d-adb6-4e60-8a16-876d0ea66169.html?chunk=3#story3
Bonus: What POTUS is reading en route Texas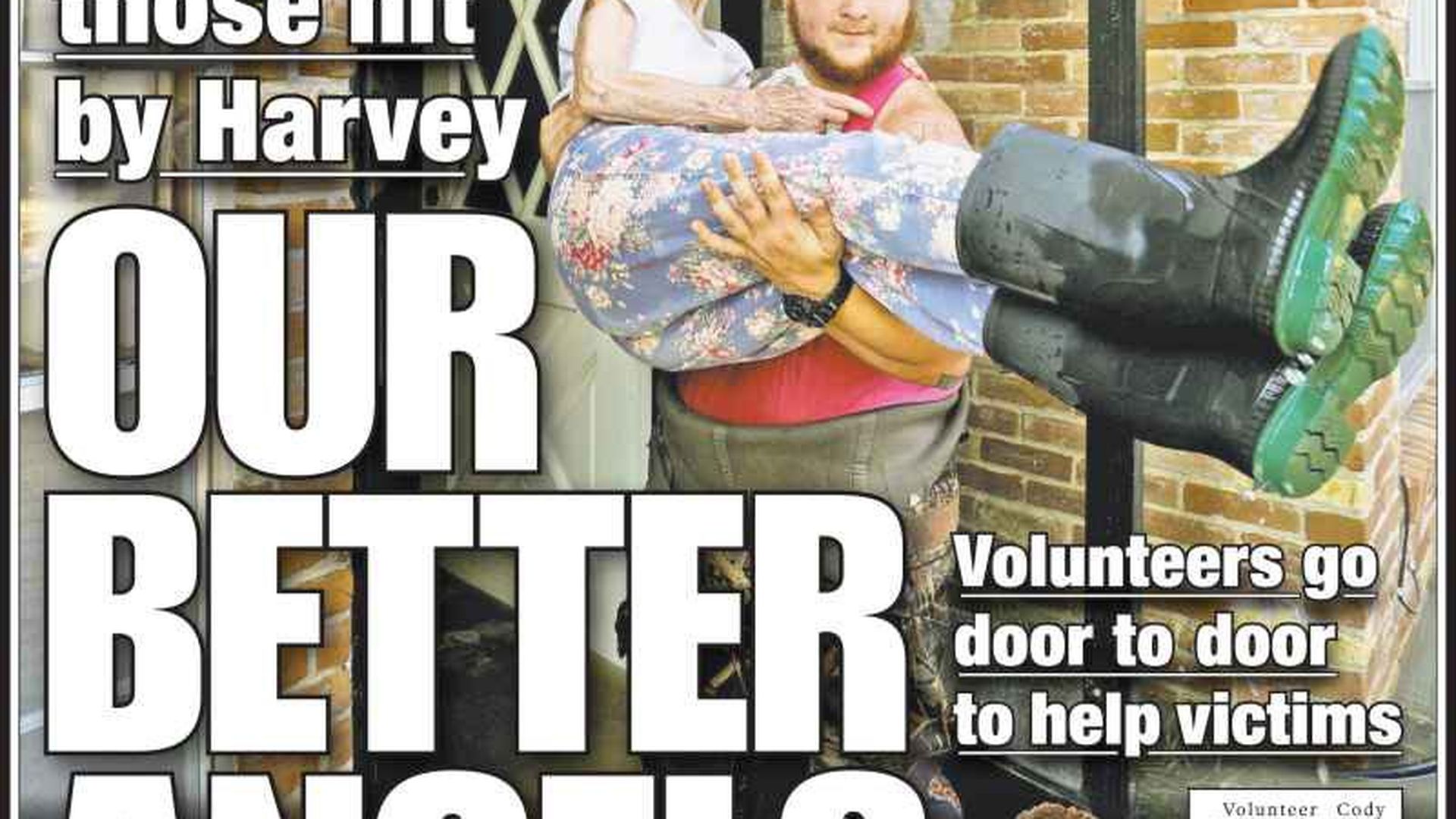 https://www.axios.com/newsletters/axios-am-09bd337d-adb6-4e60-8a16-876d0ea66169.html?chunk=4#story4
4. Palace intrigue: More chafing
Trump is miffed by the constraints Chief of Staff John Kelly has placed on his access to staffers and outside associates, CNN's Kaitlan Collins and Kevin Liptak report:
"Though the Oval Office once was abuzz with visitors who dropped by unannounced, those who want to speak to the President now must go through Kelly first, and Trump has privately complained that he has found out people tried to reach him only to be denied by Kelly."
"Kelly began screening all of the President's incoming calls on the White House switchboard, ... and either patches them through or declines their request."
"According to some people outside the White House, Trump has even stopped calling them from his cell phone — and started calling them from the switchboard."
"To contact the President, 'there used to be multiple lanes,' one staffer said. 'Now there's only one lane.'"
Trump lashes out at Chief of Staff Kelly, per N.Y. Times' Glenn Thrush and Maggie Haberman: Kelly told other White House staff members that he had never been spoken to like that during 35 years of serving his country. In the future, he said, he would not abide such treatment."
"[H]e is fully aware of the president's volcanic resentment about being managed, ... and has treaded gingerly through the minefield of Mr. Trump's psyche."
P.S. "Longtime Trump aide Keith Schiller to exit post as Oval operations dir end of Sept, I'm told. Lined up job in private sector that pays more," per Bloomberg's Jen Jacobs.
Jonathan Swan's thought bubble: "People close to Trump really do see Keith leaving as a big deal. And not in a good way. Trump will never feel as comfortable around any new aide as he does around Keith. The conversations he has with Keith — and the conduit Keith provides to his old life — can't be replicated."
https://www.axios.com/newsletters/axios-am-09bd337d-adb6-4e60-8a16-876d0ea66169.html?chunk=5#story5
5. Stat du jour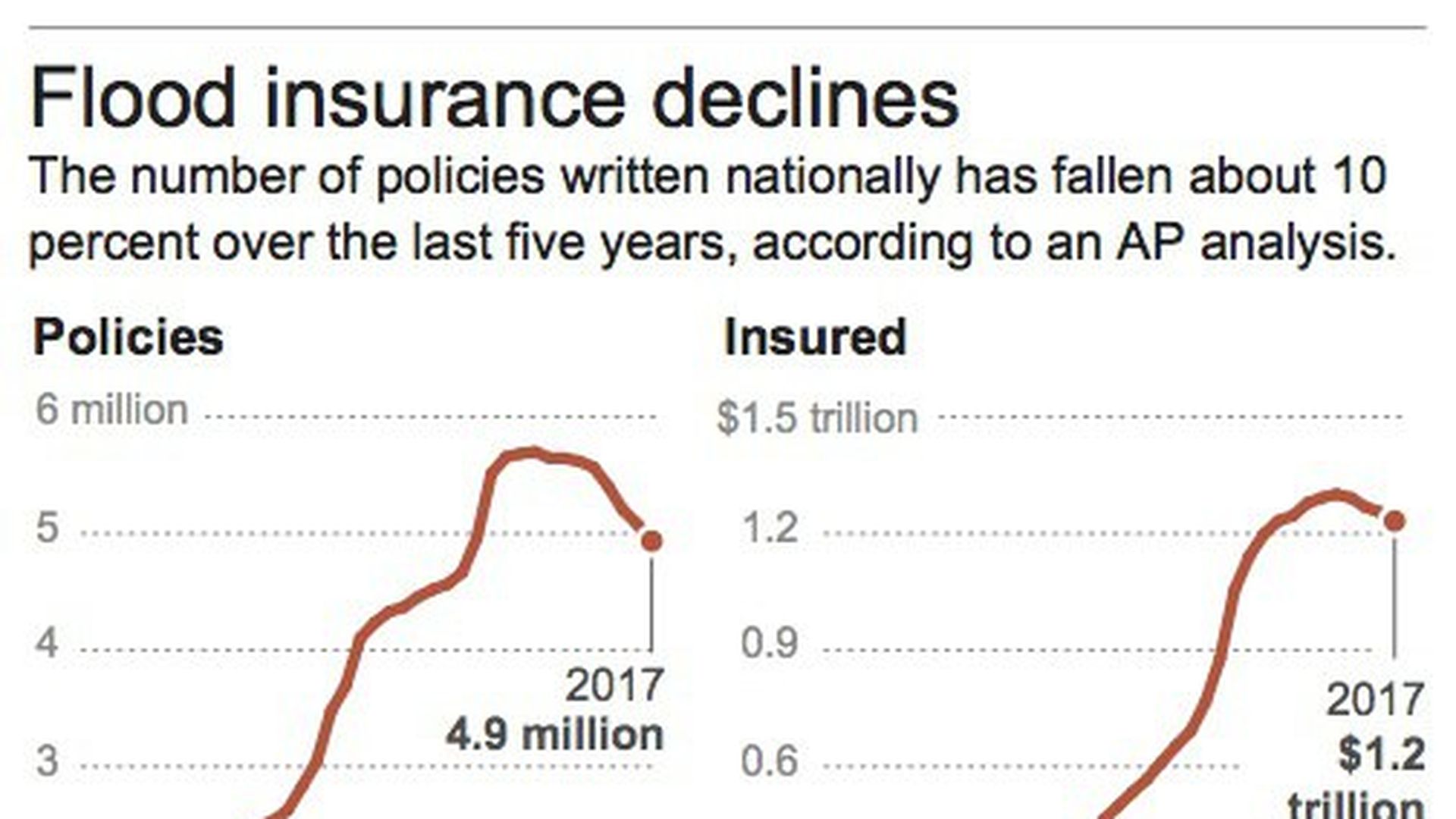 "The number of [flood-insurance] policies ... has fallen in 43 of the 50 states since 2012, dropping from almost 5.5 million to just under 5 million, a decrease of 10 percent," per an AP analysis:
"In only two states — Hawaii and South Carolina — are at least 50 percent of homes in flood hazard areas insured under the program.
Why it happened: "Congress approved a price hike, making premiums more expensive, and maps of some high-risk areas were redrawn. Banks became lax at enforcing the requirement that any home with a federally insured mortgage in a high-risk area be covered. Memories of New Orleans underwater in 2005 after Hurricane Katrina have faded.
Why it matters: "Without flood insurance, storm victims would have to draw on savings or go into debt — or perhaps be forced to sell."
https://www.axios.com/newsletters/axios-am-09bd337d-adb6-4e60-8a16-876d0ea66169.html?chunk=6#story6
6. The real scandal of 2016?
"Local, state and federal agencies have conducted little of the type of digital forensic investigation required to assess the impact, if any, on voting in at least 21 states whose election systems were targeted by Russian hackers," per NYT's Nicole Perlroth, Michael Wines and Matthew Rosenberg:
"The assaults on the vast back-end election apparatus — voter-registration operations, state and local election databases, e-poll books and other equipment — have received far less attention than other aspects of the Russian interference, such as the hacking of Democratic emails and spreading of false or damaging information about Mrs. Clinton."
"Yet the hacking of electoral systems was more extensive than previously disclosed ... Those attempts include combing through voter databases, scanning for vulnerabilities or seeking to alter data, which have been identified in multiple states."
NYT's Quote of the Day ... Michael Daniel, cybersecurity coordinator in the Obama White House, on 2016 Election Day irregularities: "We don't know if any of the problems were an accident, or the random problems you get with computer systems, or whether it was a local hacker, or actual malfeasance by a sovereign nation-state."
https://www.axios.com/newsletters/axios-am-09bd337d-adb6-4e60-8a16-876d0ea66169.html?chunk=7#story7
7. The talk of tech: Alexa v. Siri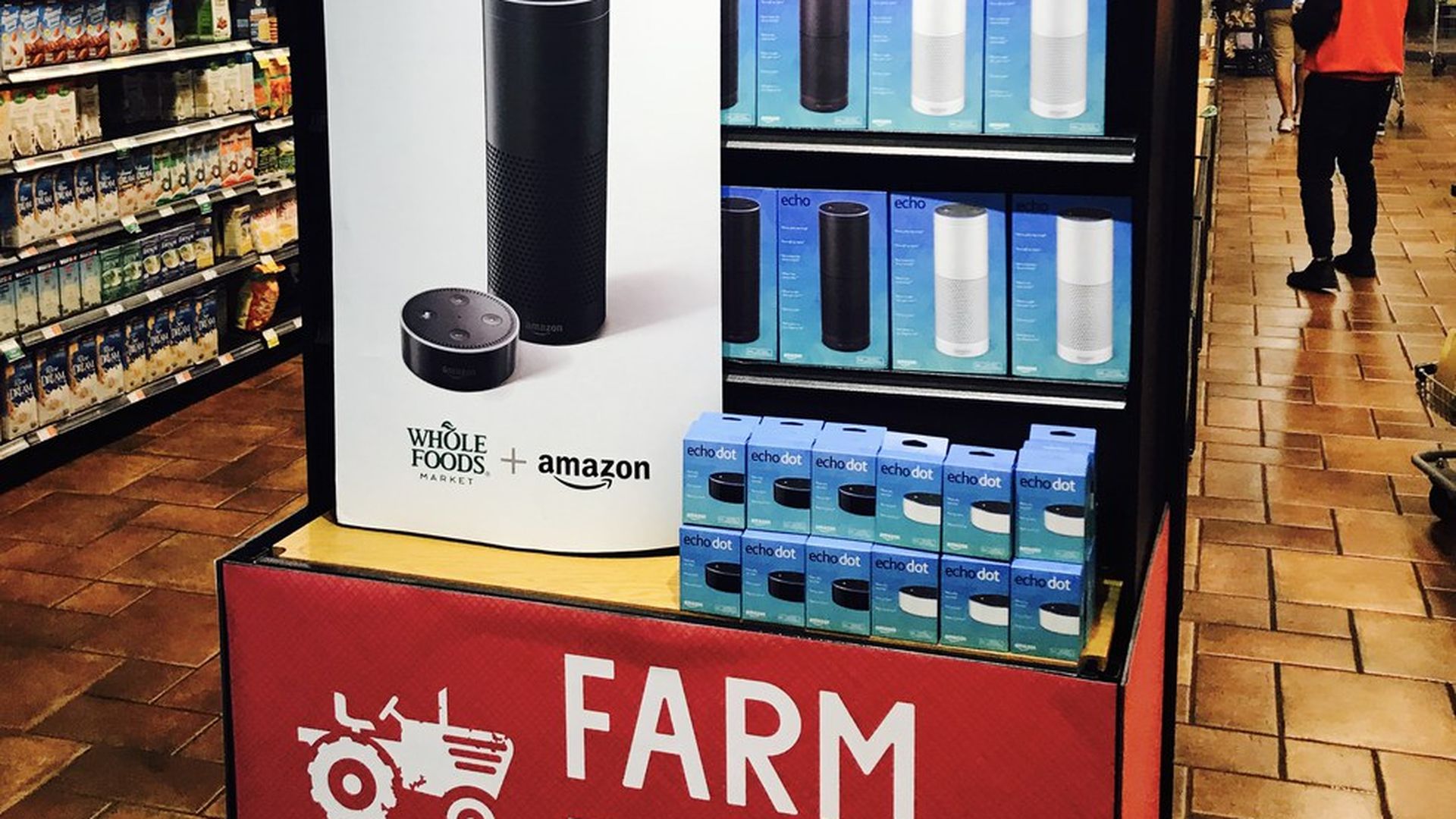 "Amazon, Google, Microsoft racing to make their virtual assistants more powerful and pervasive," per Wall Street Journal front-pager by Laura Stevens and Tripp Mickle:
"Amazon is adding hundreds of engineers to the Alexa program and giving it hiring preference over other divisions."
"Apple still has the greatest reach among voice assistants, with Siri accessed monthly on more than 375 million Apple devices across 36 countries."
Amazon also has been aggressively signing deals with other companies to add Alexa to products ranging from Ford Motor Co. cars to Sears Holdings Corp.'s Kenmore refrigerators."
"Google said this week that it would open its assistant to other speaker makers including Sony Corp. , and to appliance makers like LG Electronics Inc., to incorporate the assistant into dryers and vacuums."
P.S. "Apple is eyeing the studio where films from Gone With The Wind to The Matrix were shot, as the base for its big push into Hollywood production," per the Financial Times' Matthew Garrahan and Tim Bradford (subscription):
"The iPhone maker is in discussions to move its original content division to The Culver Studios, whose former owners include RKO, Howard Hughes and Cecil B DeMille."
Why it matters: "Apple's interest in a studio which has been central to Hollywood moviemaking for close to a century, comes amid an intensifying Silicon Valley battle for the best movie scripts and television projects."
https://www.axios.com/newsletters/axios-am-09bd337d-adb6-4e60-8a16-876d0ea66169.html?chunk=8#story8
8. Sound smart on stocks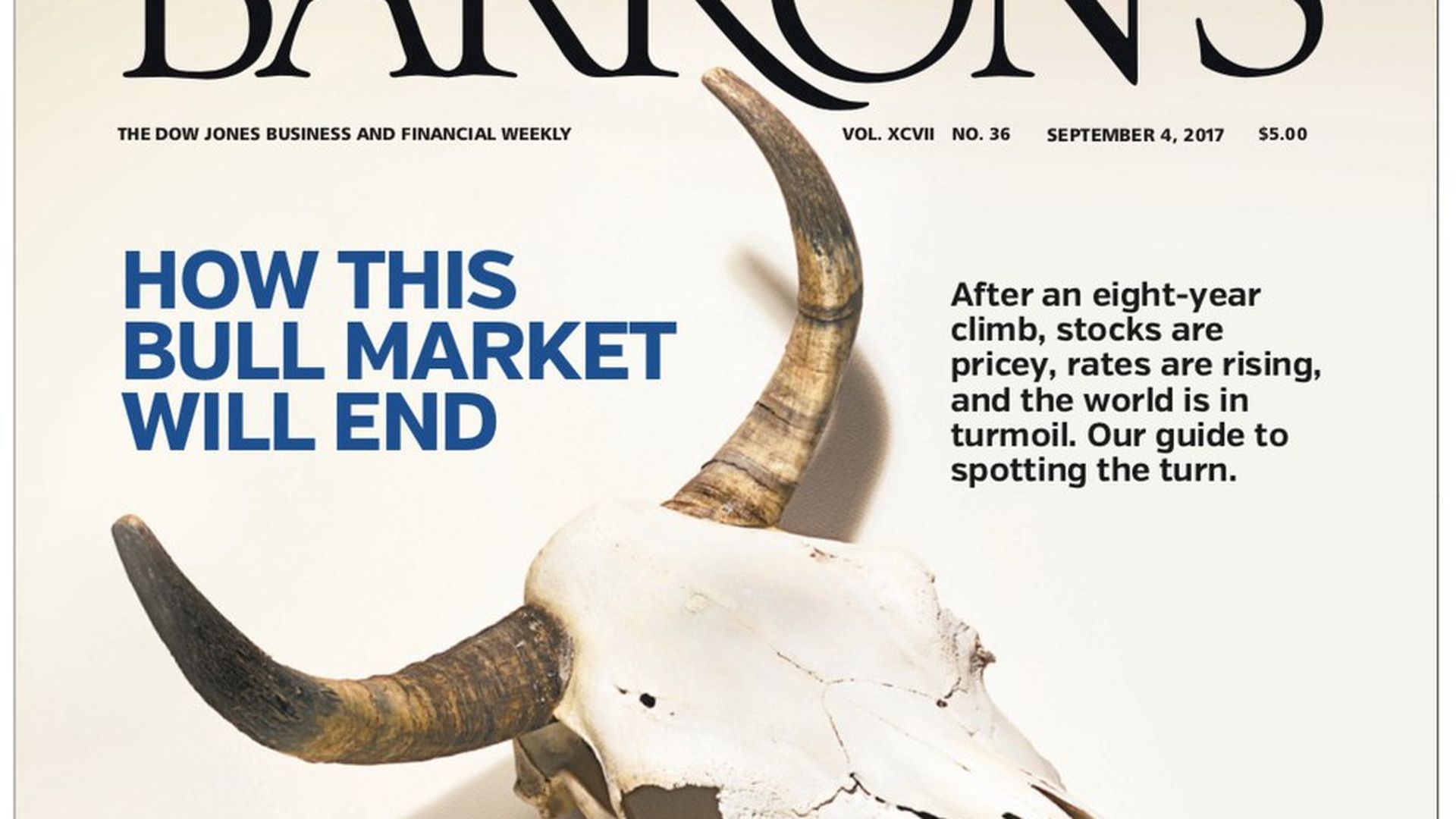 "Lights Out for Stocks: The bull's long gallop might be nearing an end," per Barron's cover story by Ben Levisohn:
What to watch for: "Neither longevity nor high stock prices, nor political turmoil usually are enough to send stocks into a protracted slide. The culprit in nearly every case is recession. The mystery is what will cause the next one."
Two possible triggers:
"The S&P 500 is trading at 17.7 times 12-month forward estimated earnings, near the highest price/earnings ratio since the dot-com boom. ... [B]ear markets almost never begin when stocks are cheap.
"At the same time, the Federal Reserve is normalizing interest rates. That, on its own, won't precipitate a bear market, but it could be a catalyst for one if the central bank hikes too much, too fast."
The takeaway: "Markets tumble all the time, but have a way of coming back, as long as the economy continues to grow."
https://www.axios.com/newsletters/axios-am-09bd337d-adb6-4e60-8a16-876d0ea66169.html?chunk=9#story9
9. The California conversation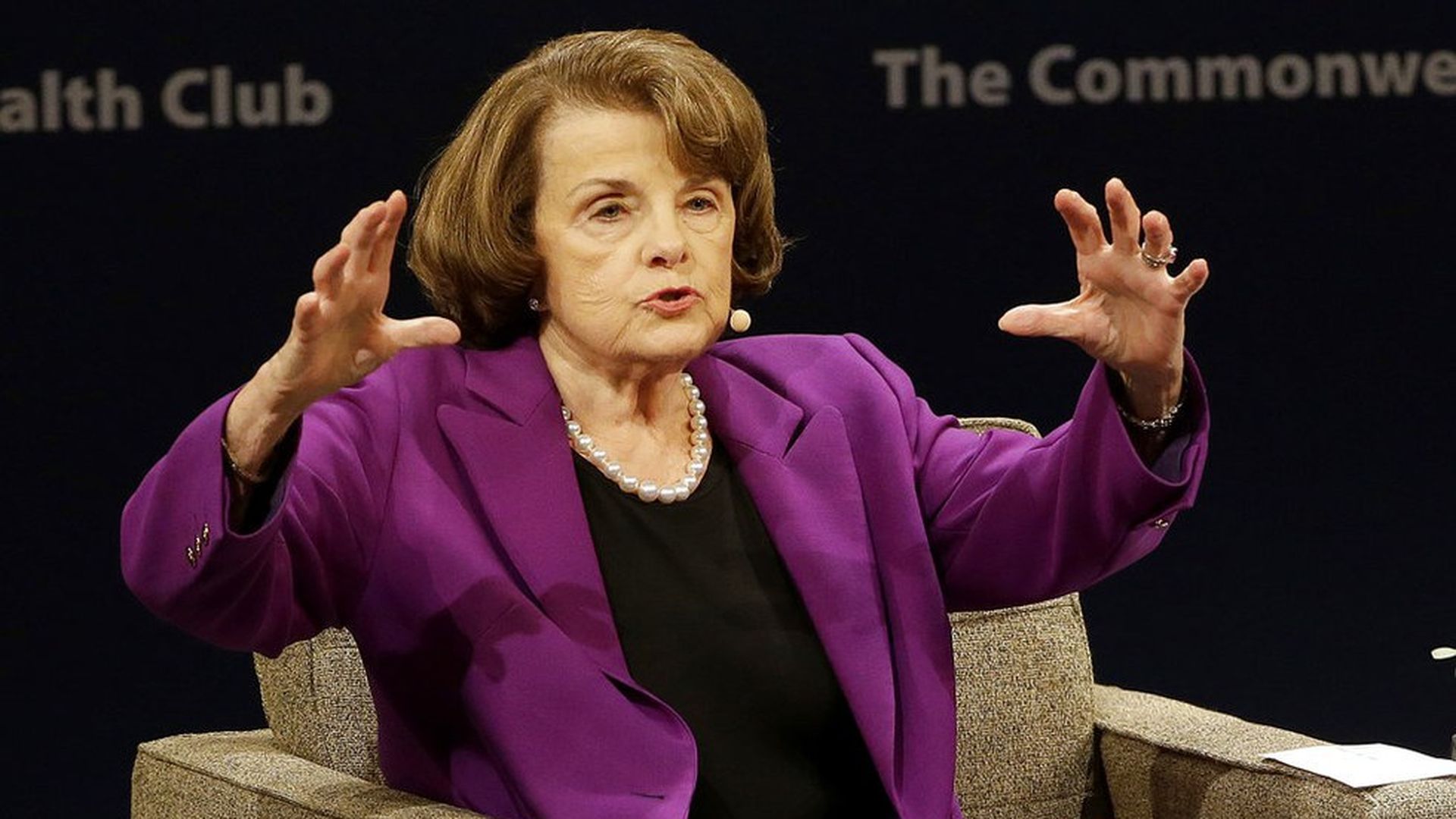 Sen. Dianne Feinstein (D-Calif.) faces liberal backlash for not backing impeachment of Trump, per L.A. Times' Seema Mehta:
"At a time when the Democratic base is more restive than it has been in decades ... Feinstein ignited a firestorm... when she ... called for 'patience' [and said] she believed he could be a good president if he learned and changed."
"The statements ... reflected a moderation and pragmatism that have been hallmarks of Feinstein's career
Why it matters: "[T]hese qualities, after proving politically advantageous for decades, could become an albatross because of the state's shifting demographics and political leanings as the 84-year-old decides whether to seek a sixth term."
Our thought bubble: In D.C., this was read as evidence she doesn't plan to run again.
https://www.axios.com/newsletters/axios-am-09bd337d-adb6-4e60-8a16-876d0ea66169.html?chunk=10#story10
10. 🎶 1 lit jam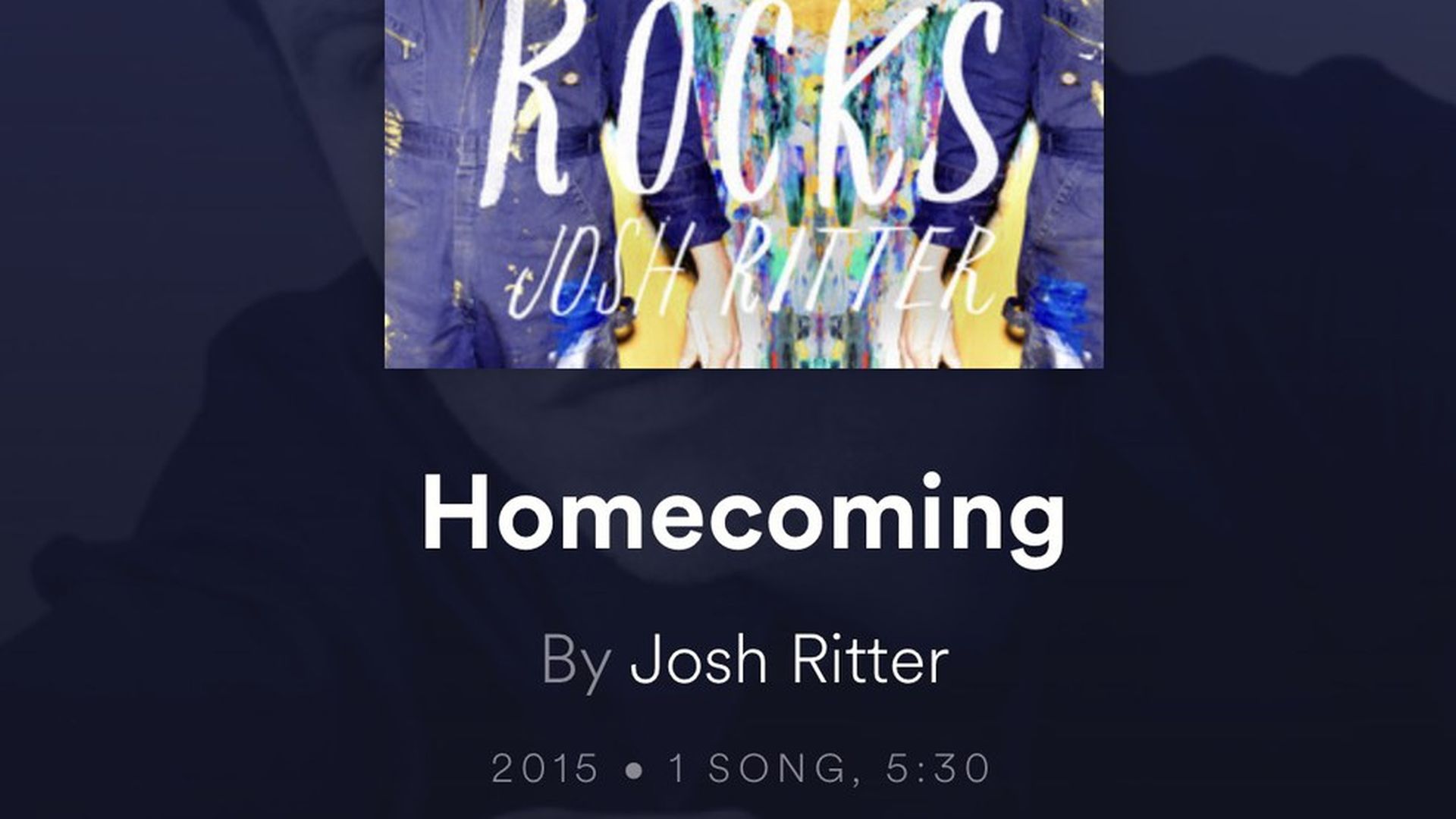 Celebrity guest star Molly Levinson closes out our summer of Saturday lit jams (which started with a valiant and much appreciated effort by the youths the Axios Newsdesk to step up my tune game) ...
There's this song, "Homecoming" by Josh Ritter, that is perfect for this weekend. I listen to it all the time when I'm running before the sun comes up, and trying to make sense of all the moving pieces in the world. It's about this time of the year, when there's a beautiful new chill in the air, and so much promise. As we welcome fall this weekend, Axions won't be able to stop listening to it.