Axios AM
August 24, 2017
1 big thing: Spoiling for a shutdown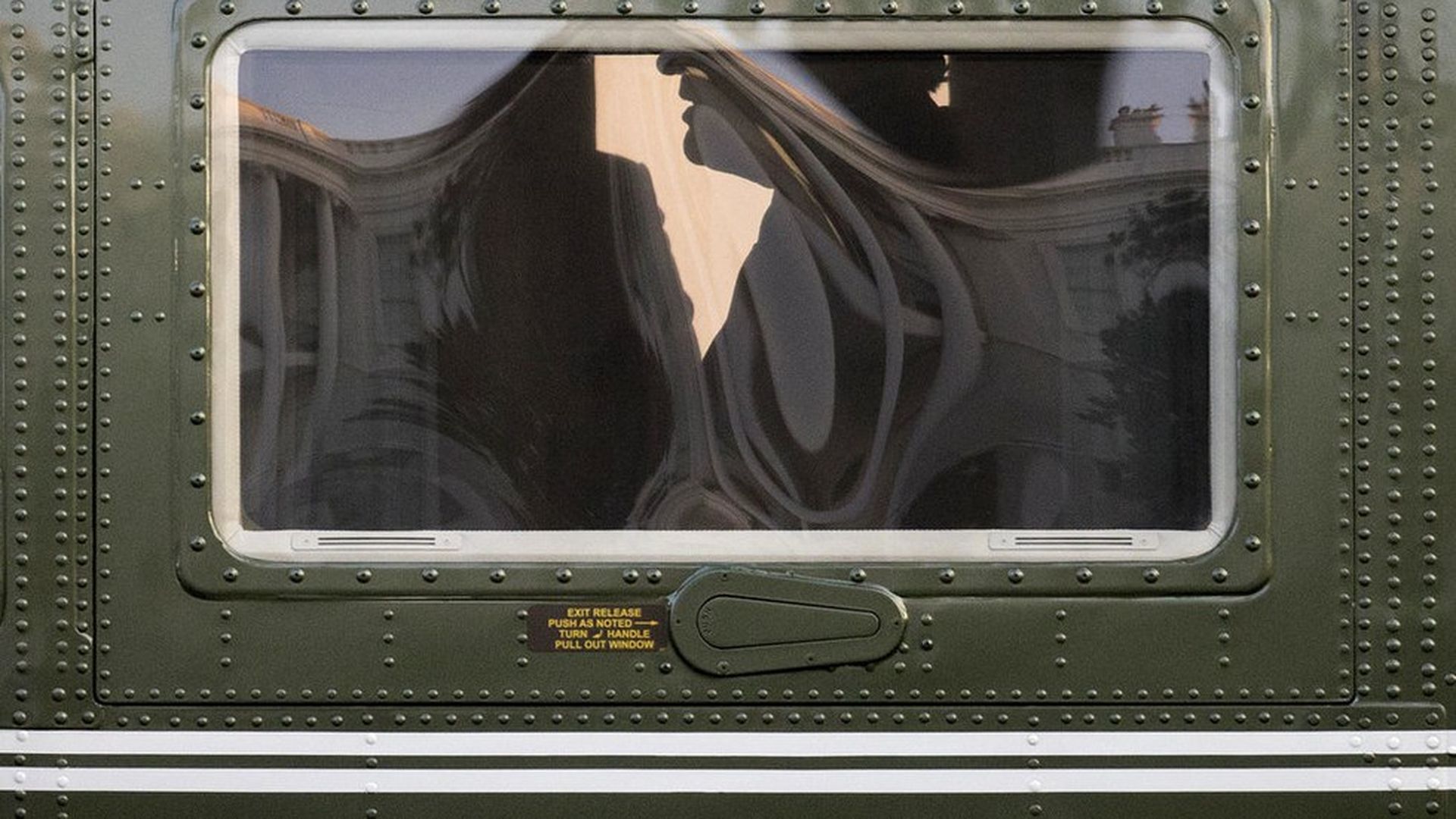 Top White House and GOP leadership officials tell us the chances of a market-rattling government shutdown are rising by the day — and were even before Trump threatened at his raucous Phoenix rally on Tuesday night to use a shutdown as leverage to get funding for a border wall.
Trump is dead serious about this fight, a senior administration source tells Axios' Jonathan Swan, and the president's talk is starting to spook markets.
Goldman Sachs, in guidance to investors last Friday, pegged the odds at 50/50. This strikes us as high, but the dynamics are ominous:
A top Republican source put the chance as high as 75%: "The peculiar part is that almost everyone I talk to on the Hill agrees that it is more likely than not."
This may all come down to Trump's mood. As Swan puts it: "Trump is spoiling for a fight and the [conservative House] Freedom Caucus haven't had a fight for a while. That's a dangerous dynamic."
Based on funding mechanisms, the showdown could come either in September or December — or both:
Officials at both ends of Pennsylvania Avenue who are up to their necks in tax reform think passage probably doesn't happen until early next year.
So a September shutdown could be better for tax reform than a Christmas shutdown, because it would allow conservatives and Trump to get it out of their system.
Democrats feel certain they have Trump boxed in, and see no reason to compromise/help:
Trump is at war with Senate Leader McConnell and several other Republicans, complicating communications and compromising trust.
Congressional leadership doesn't want a shutdown and can pass the fall bare necessities — continuing resolution / debt ceiling / Children's Health Insurance Program extension — using mostly Democratic votes.
But the Freedom Caucus will hammer Speaker Ryan for doing so, and conservatives in the Senate will hammer Leader McConnell.
Be smart: With the departure of Steve Bannon, Trump is surrounded more and more by conventional/mainstream folks, which could actually make him feel more compelled to buck them.
2. Our 50-50 nation trends 60-40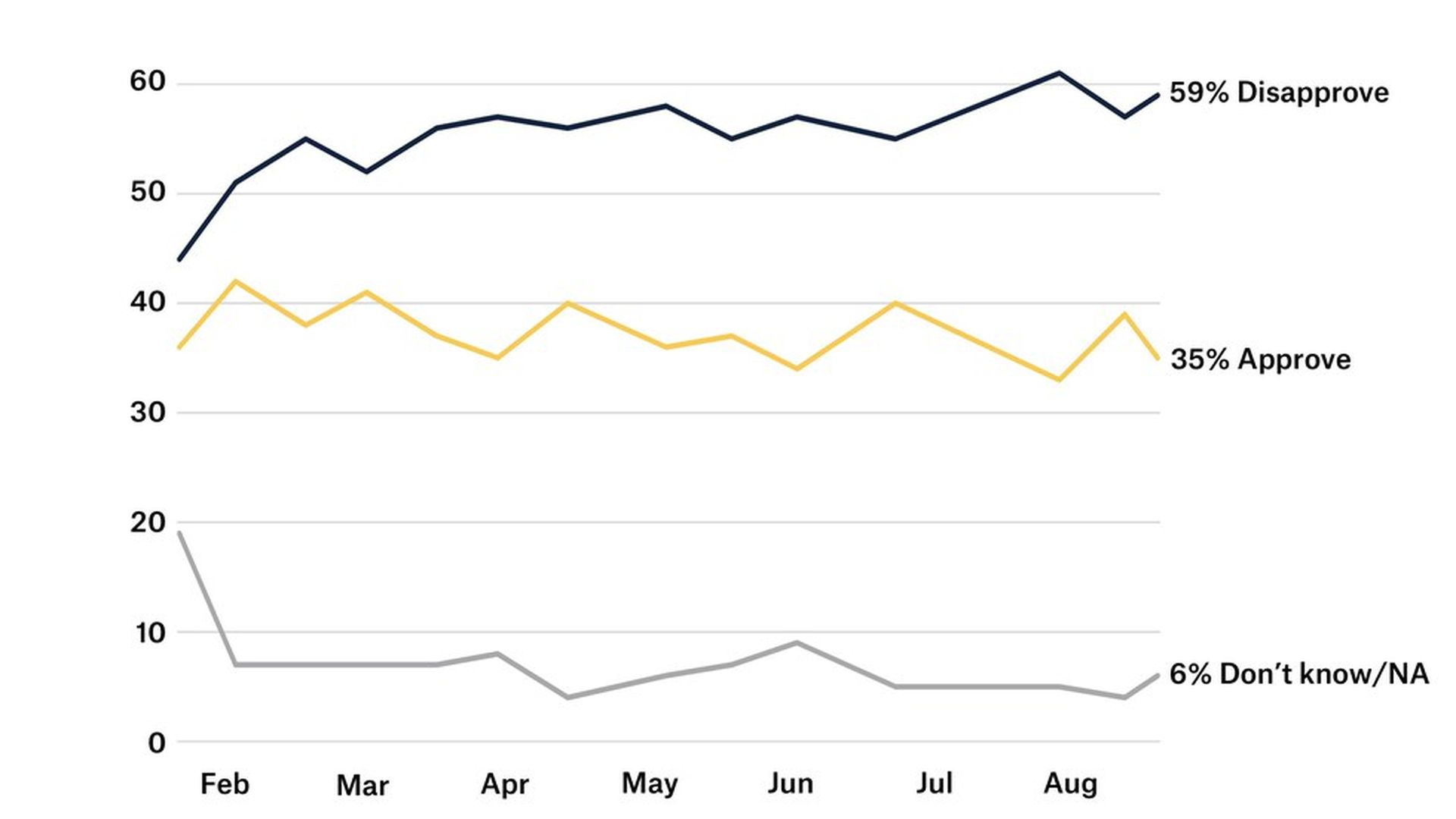 We've long been a 50-50 country. But when it comes to Trump, we're looking more like a 60-40 country.
I was struck by this rat-tat-tat series of findings in a new Quinnipiac University Poll (Aug. 17-22; 1,514 voters nationwide; margin: +/-3.1 points).
Why it matters: "Elected on his strength as a deal-maker, [Trump is] now overwhelmingly considered a divider."
59% think he has encouraged white-supremacist groups; 3% think he has discouraged them; 35% no impact.
65% think "the level of hatred and prejudice in the U.S. has increased" since Trump's election; 2% think it's decreased; 32% say it hasn't changed.
Too much prejudice in the U.S. today; 55%; too much political correctness: 40%.
62 - 31% think he's doing more to divide than unite the country.
62 - 35 % think he doesn't provide the U.S. with moral leadership.
60 - 32% disapprove of Trump's response to the events in Charlottesville.
61 - 36% think he is not honest.
61 - 37% think he does not have good leadership skills.
57 - 40% think he does not care about average Americans.
68 - 29% think he is not level -headed.
59 - 38% think he is a strong person.
55 - 43% think he is intelligent.
63 - 34% think he does not share their values.
54 - 36% trust the media more than Trump.
3. Where our troops serve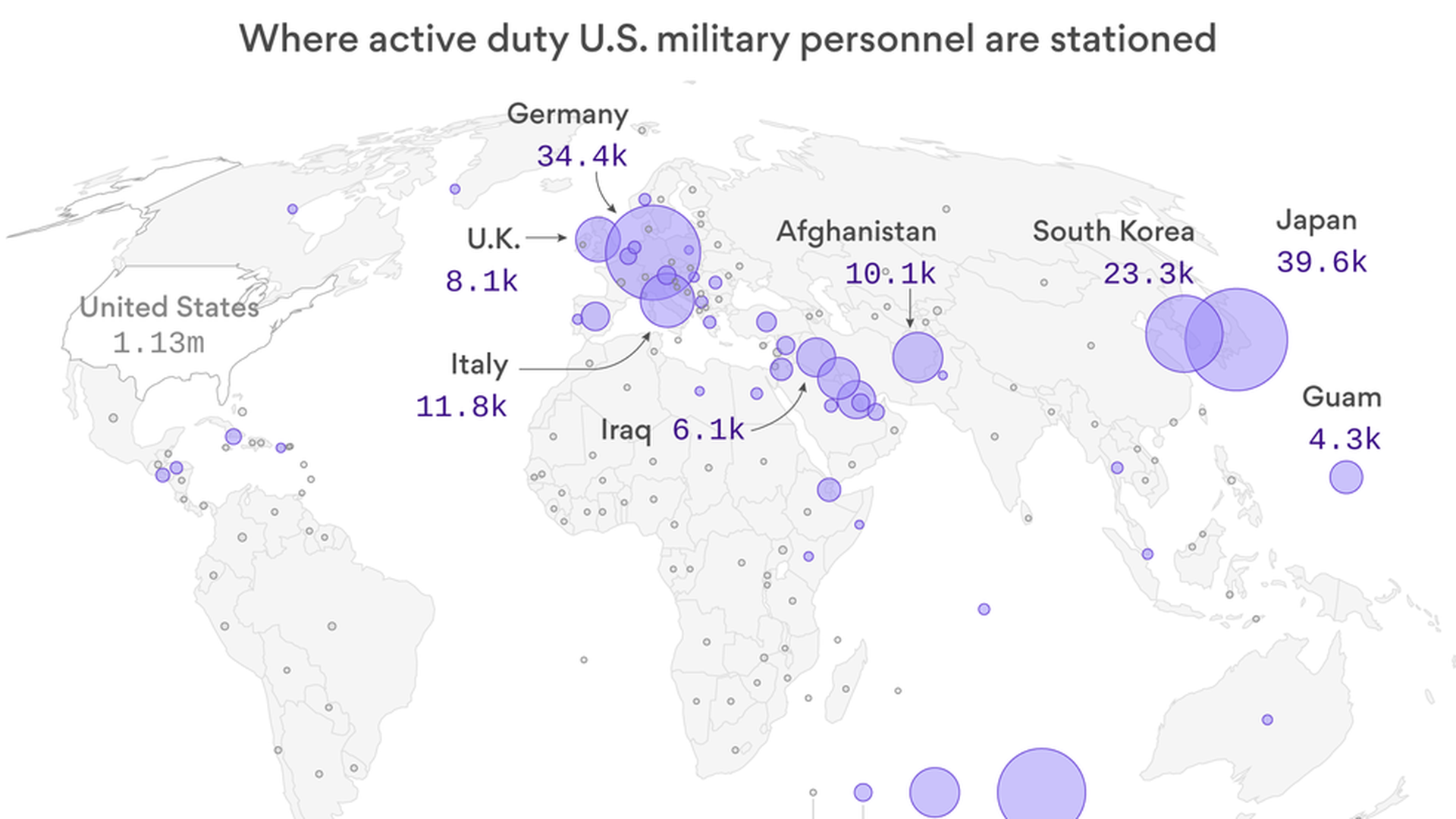 4. The omni-present campaign
"The permanent campaign has been a fixture of the modern presidency for more than a generation ... But ... Trump ... has scaled new heights," the L.A. Times' Mark Z. Barabak writes in the paper's lead story, "Trump wages a campaign without end":
"Trump filed the paperwork establishing his 2020 reelection committee the day he took office and has already started fundraising, years before his predecessors began raking in cash."
"He has trampled protocol and turned explicitly nonpolitical events, like the Boy Scouts' national jamboree, into replicas of his roisterous campaign stops."
Why it matters: "Trump has transformed the bully pulpit — the president's ability to rally the country in pursuit of his goals — into a sort of vanity project, staging events not to advance any substantive agenda but to vent and, as aides admit, bask in the adulation of supportive audiences."
5. "Maybe some speech isn't worth defending"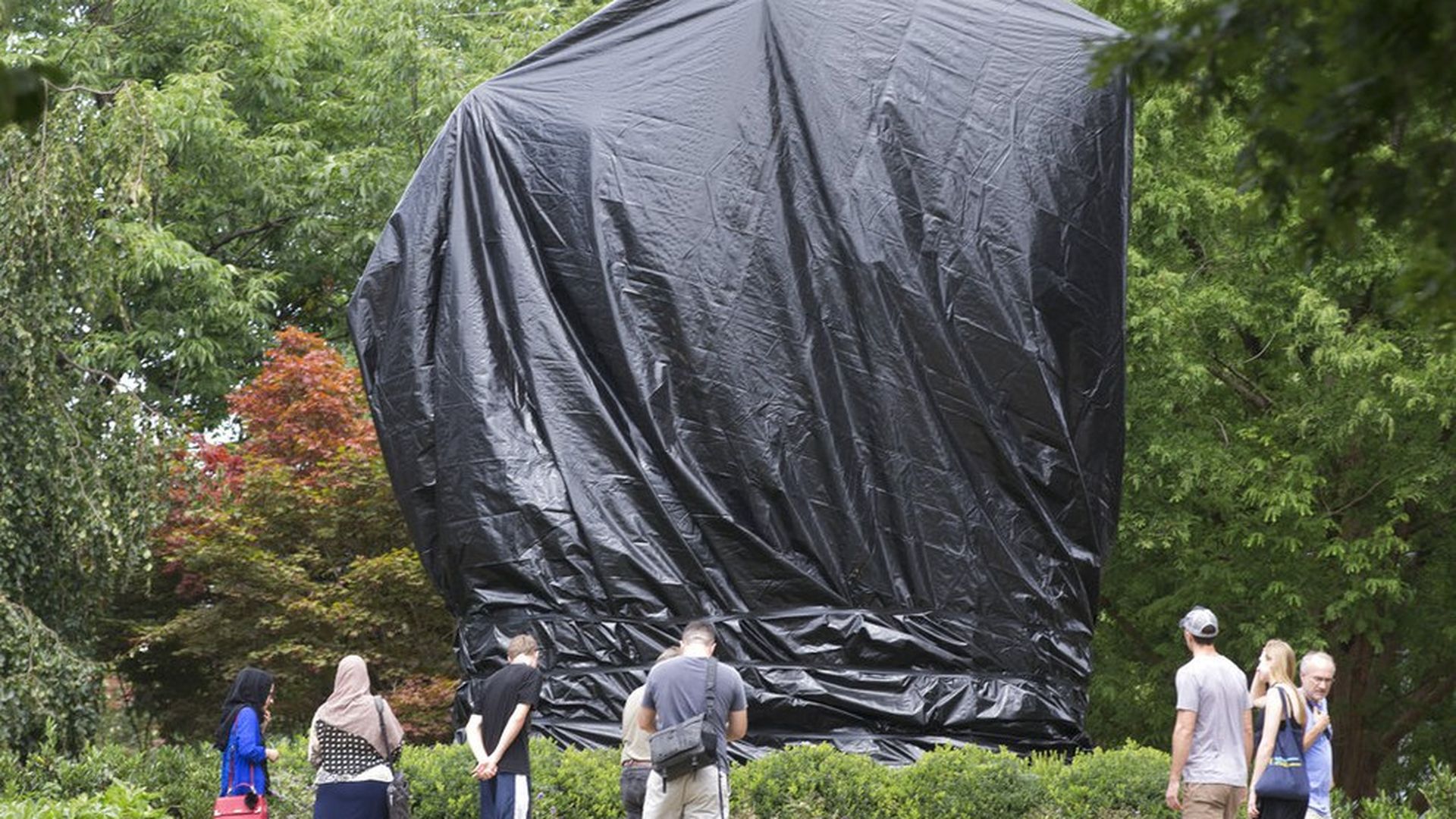 "Violence in Charlottesville leads to soul-searching at ACLU," by AP's Tom Hays and Larry Neumeister:
"Faced with an angry backlash for defending white supremacists' right to march in Charlottesville, the American Civil Liberties Union is confronting a feeling among some of its members that was once considered heresy: Maybe some speech isn't worth defending."
"Cracks in the ACLU's strict defense of the First Amendment no matter how offensive the speech opened from the moment a counter-protester was killed during the rally in Virginia."
"Some critics said the ACLU has blood on its hands for persuading a judge to let the Aug. 12 march go forward. An ACLU leader in Virginia resigned, tweeting, 'What's legal and what's right are sometimes different.'"
Why it matters: "The backlash [is] reminiscent of one that followed the ACLU's 1978 defense of a neo-Nazi group that wanted to march through Skokie, Illinois, a Chicago suburb with a large number of Holocaust survivors."
6. What's new in the iPhone 8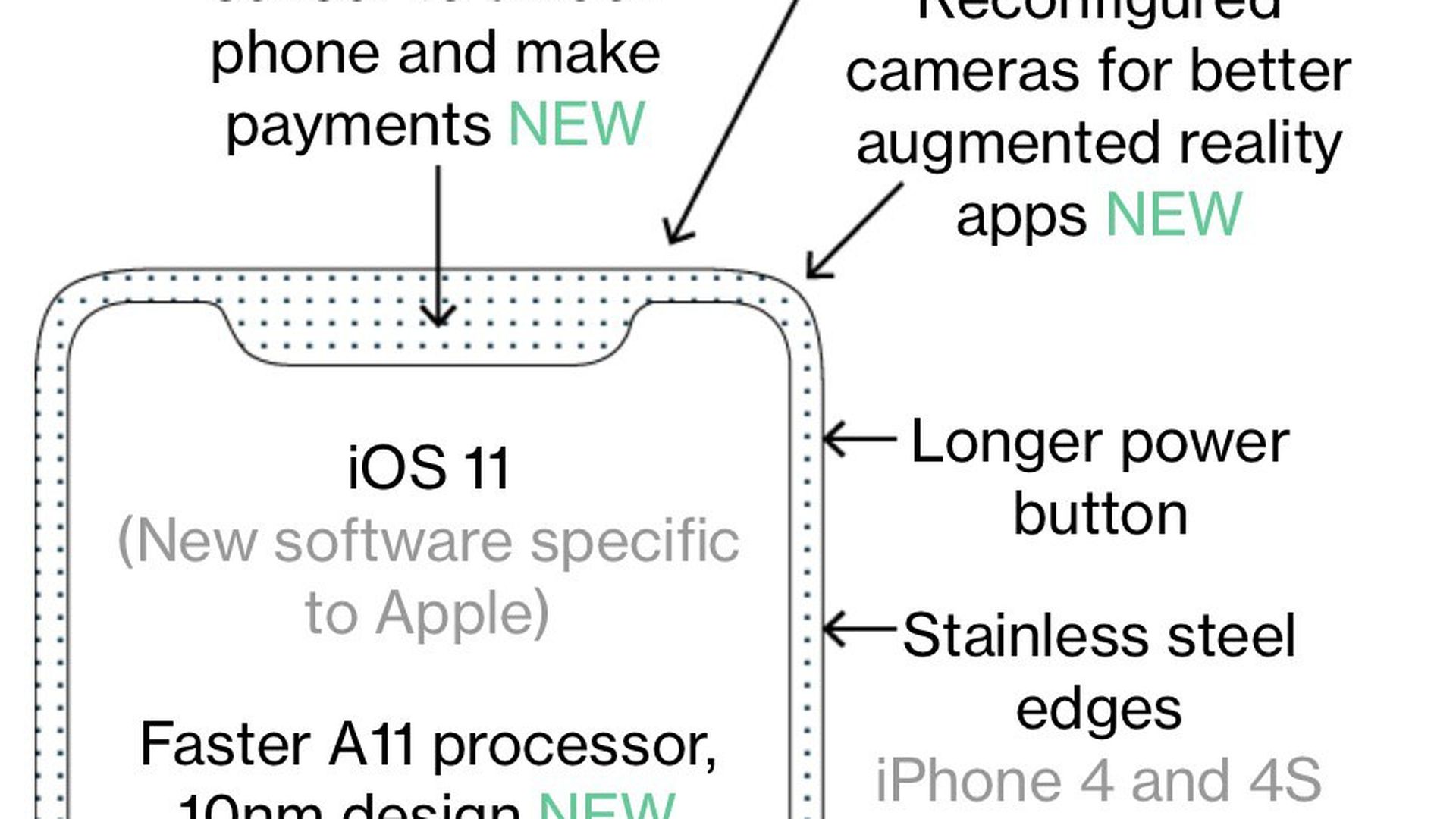 "Due out this fall, ... this is the 10th anniversary of the original iPhone," Bloomberg's Mark Gurman writes. "[T]he new iPhone won't be a case-study of innovation, more a matter of perfecting features that are already out there in rival devices. Time and again, Apple has followed this 'best, not first' philosophy."
7. Fun read
"Inside Waymo's Secret World for Training Self-Driving Cars: An exclusive look at how Alphabet understands its most ambitious artificial intelligence project," by The Atlantic's Alexis Madrigal:
"At any time, there are now 25,000 virtual self-driving cars making their way through fully modeled versions of Austin, Mountain View, and Phoenix, as well as test-track scenarios."
"As we pull into the parking lot, there are whiffs of Manhattan Project, of scientific outpost, of tech startup."
"[E]ngineers ... cook up and stage rare scenarios that might allow them to test new behaviors in a controlled way."
8. "World's Worst Humanitarian Crisis" ...
... is in Yemen, overrun by ISIS and al Qaeda, adjacent to Saudi Arabia in the tip of the Arabian Peninsula, across from the Horn of Africa. Text with a New York Times graphic that's worthy of your click:
"Repeated bombings have crippled bridges, hospitals and factories. Many doctors and civil servants have gone unpaid for more than a year. Malnutrition and poor sanitation have made the Middle Eastern country vulnerable to diseases that most of the world has confined to the history books.""The United Nations [last month] called the situation the world's largest humanitarian crisis, with more than 10 million people who require immediate assistance.""In just three months, cholera has killed nearly 2,000 people and infected more than a half million, one of the world's largest outbreaks in the past 50 years.""If infection numbers continue to rise, researchers fear that the cases could ultimately rival the largest outbreak, in Haiti, which infected at least 750,000 people after a devastating earthquake in 2010."Why it matters: "As the state fails, 'the manifestation of that now is cholera, but there could be in the future other epidemics that Yemen could be at the center of.'"
9. The markets: Possible slowdown till tax cut
Signs keep popping up that we're at the end of this long bull run ... Here's another warning shot: Analysts at the Wall Street behemoths HSBC, Citigroup and Morgan Stanley "see mounting evidence that global markets are in the last stage of their rallies before a downturn in the business cycle," per Bloomberg:
"[T]he breakdown of long-standing relationships between stocks, bonds and commodities, as well as investors ignoring valuation fundamentals and data, [mean] stock and credit markets are at risk of a painful drop."
"[L]ike they did in the run-up to the 2007 crisis, investors are pricing assets based on the risks specific to an individual security and industry, and shrugging off broader drivers, such as the latest release of manufacturing data."
Why it matters 1: "As traders look for excuses to stay bullish, traditional relationships within and between asset classes tend to break down."
Why it matters 2: "[A] classic late-cycle expansion -- an economy with full employment and slowing momentum -- tends to see a decline in corporate profit margins. The U.S. is in the mature stage of the cycle -- 80 percent of completion since the last trough -- based on margin patterns going back to the 1950s."
Be smart: A Bloomberg video points out that investors are looking for the "next piece of sugar," which could include progress on tax cuts.
10. 1 real thing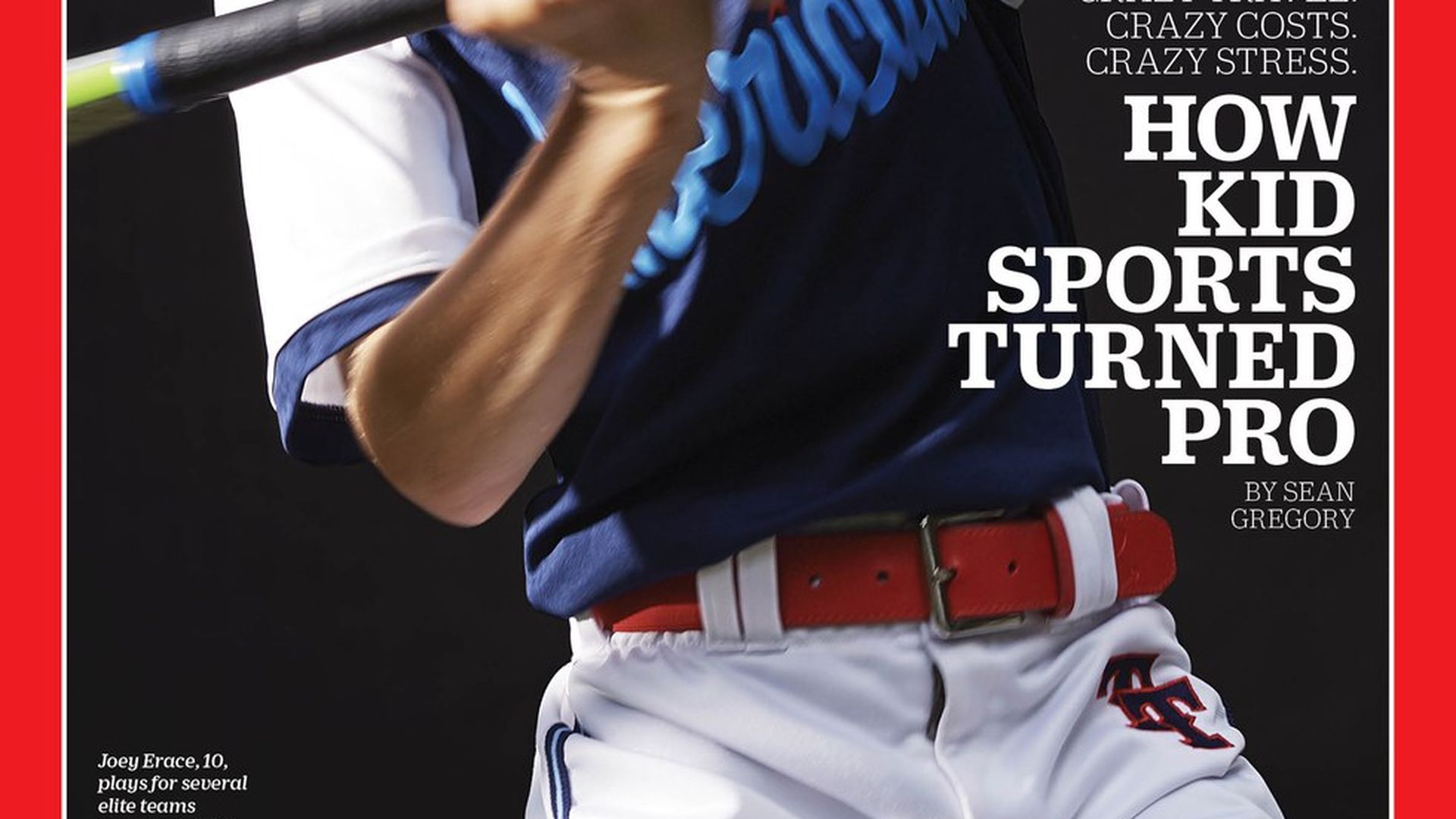 "Across the nation, kids of all skill levels, in virtually every team sport, are getting swept up by a youth sports economy that increasingly resembles the pros and at increasingly early ages," Sean Gregory writes in TIME's cover story:
"[L]ocal leagues have been nudged aside by private club teams, a loosely governed constellation that includes everything from development academies affiliated with pro sports franchises to regional squads run by moonlighting coaches with little experience."
"The most competitive teams vie for talent and travel to national tournaments. Others are 'elite' in name only, siphoning expensive participation fees from parents of kids with little hope of making the high school varsity, let alone the pros."
"2% of high school athletes go on to play at the top level of college sports,"
Why it matters: "As expensive travel teams replace community leagues, more kids are getting shut out of organized sports. Some 41% of children from households earning $100,000 or more have participated in team sports, according to the Sports & Fitness Industry Association. In households with income of $25,000 or less, participation is 19%."