Axios AM
October 21, 2018
☕️ Good Sunday morning.
📺 Situational awareness: "Axios" on HBO debuts two weeks from tonight! See the trailer.
1 big thing: The "fake news" fix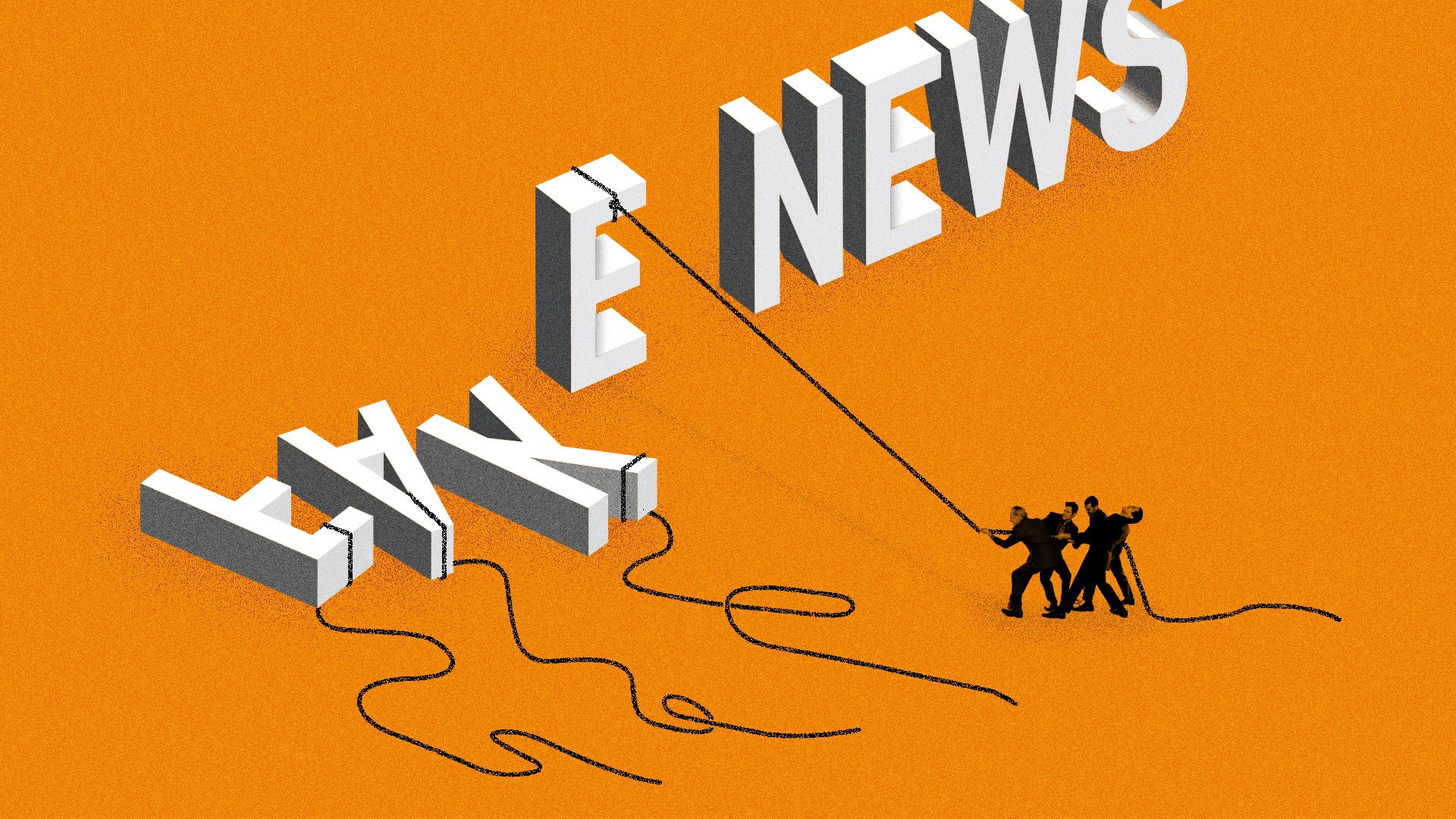 Axios CEO Jim VandeHei — speaking at his alma mater, University of Wisconsin-Oshkosh — was asked by several students how to restore faith and trust in media.
VandeHei offered four fairly provocative ideas — one each for politicians, social media, reporters and individuals. Here's the gist, adapted for Axios ...
Politicians: Stop using the term "fake news." The worst thing for a country is having people believe lies, or trust nothing. One day soon, something bad will happen, and it will take faith in information to fix it. You erode trust at our collective peril. 
Media: News organizations should ban their reporters from doing anything on social media — especially Twitter — beyond sharing stories. Snark, jokes and blatant opinion are showing your hand, and it always seems to be the left one. This makes it impossible to win back the skeptics. 
Social media companies: Radically self-regulate, or allow government regulation to stanch, the flow of disinformation or made-up news. Maybe it takes a new FCC of social media to force the same standards as expected from TV stations and newspapers. One thing is for sure: The current self-policing isn't cutting it.
You: We all want to fault others, but each of us is very much to blame. Quit sharing stories without even reading them. Quit tweeting your every outrage. Quit clicking on garbage. Spend a few minutes to verify the trustworthiness of what you read.
Be smart ... Remember: If your Facebook feed is filled with garbage, it means you were reading garbage in the first place. The algorithm simply gives you more of what you crave.
P.S. The Axios social media policy, which applies to all our colleagues, prohibits the sharing of political views or derogatory snark online: "Don't say anything on the internet that you wouldn't publish under your byline or say on TV."
2. The GOP's throw-it-all-at-the-wall plan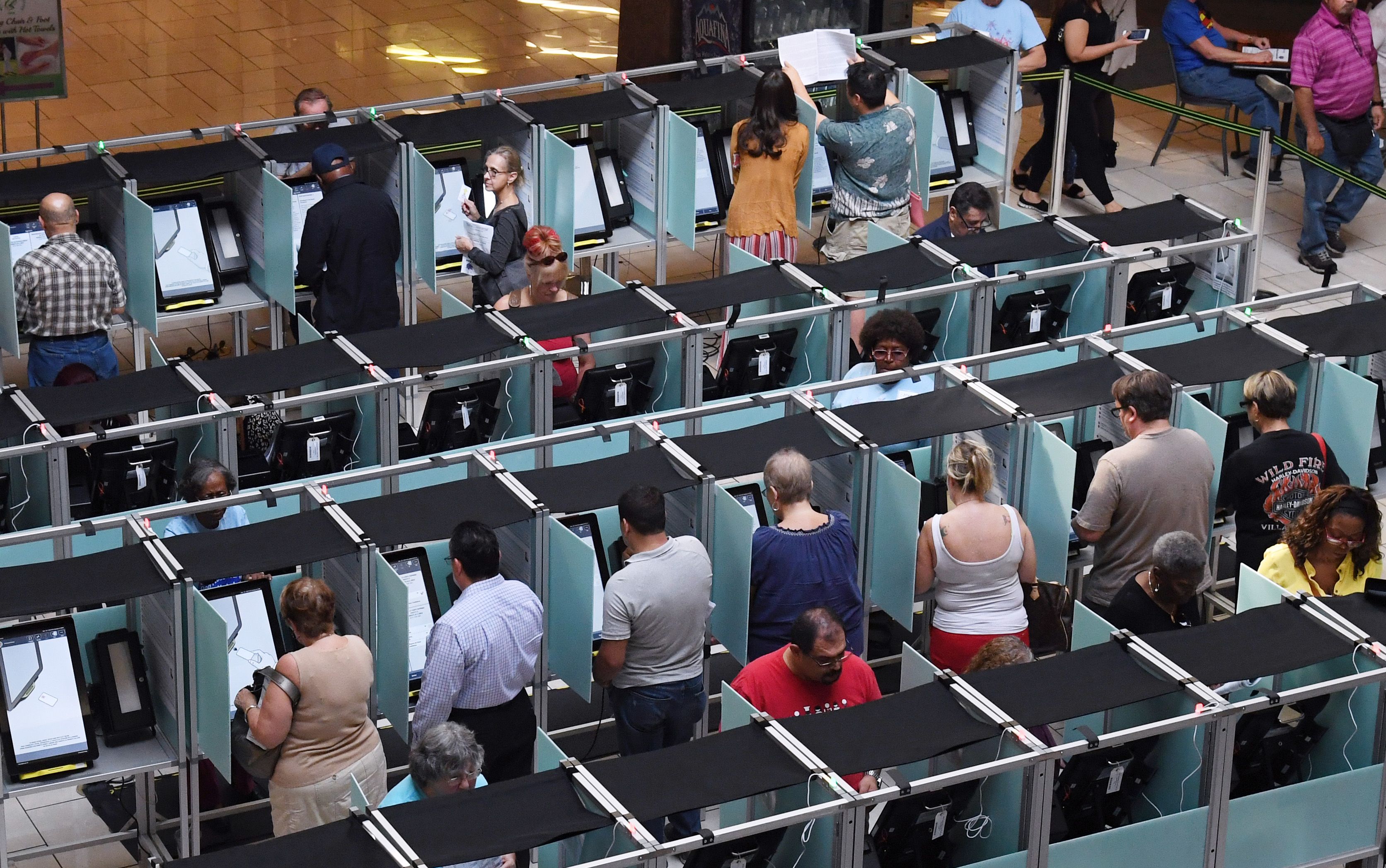 President Trump and top Republicans, concerned about huge House losses this fall, are tossing out new ideas by the day in hopes of saving their majority:
Trump told reporters in Nevada yesterday that he and House Republican leaders are working "around the clock" on "a very major tax cut for middle-income people. And if we do that, it'll be sometime just prior, I would say, to November." But Republicans on the Hill seemed to know nothing about it, and both chambers are out until after midterms.
Trump is keeping up his drumbeat of dire warnings about the "very tough criminal elements within the caravan" of Central American migrants — about 2,000 of whom made it into Mexico yesterday. Trump has suggested without evidence that the caravan was instigated by Democrats, and said the migrants are "not coming into this country": "I would call in military and I would seal off the border."
Trump rallies feature "FINISH THE WALL" signs, and House Majority Leader Kevin McCarthy this month introduced the "Build the Wall, Enforce the Law Act of 2018" to fully fund the wall, "bringing the total amount of funding to $25 billion."
Republicans warn of Democratic-incited violence, real and figurative, with Trump tweeting about "the Democrats new Mob Rule strategy," Senate Majority Leader Mitch McConnell decrying "mob behavior," and Republican groups and candidates invoking the "mob" online and on the trail.
Trump continues to milk passions around the confirmation of Justice Brett Kavanaugh, declaring at a rally Thursday night: "What they did to Brett Kavanaugh and his beautiful family is a national disgrace that will not be soon forgotten. Remember that!"
McConnell stresses the confirmation of conservative judges and justices as a key product of Republican strength.
Trump tweeted last night: "All levels of government and Law Enforcement are watching carefully for VOTER FRAUD, including during EARLY VOTING. Cheat at your own peril. Violators will be subject to maximum penalties, both civil and criminal!"
Be smart: A top Democratic aide told me Trump's sudden talk of a middle-class tax cut is an acknowledgement that the last tax cut is polling poorly. Republican candidates, the aide said, "are either running away from it or silent on it."
⚡️ Breaking: In Arizona, Democratic Senate candidate Kyrsten Sinema is endorsed by the Arizona Republic over Republican Martha McSally — the first time the Phoenix paper has endorsed a Dem for Senate since at least 2000.
3. Trump administration eyes eradication of transgender recognition
"The Trump administration is considering narrowly defining gender as a biological, immutable condition determined by genitalia at birth, the most drastic move yet in a governmentwide effort to roll back recognition and protections of transgender people under federal civil rights law," the N.Y. Times' Erica Green, Katie Benner and Robert Pear report:
"[T]he Department of Health and Human Services is spearheading an effort to establish a legal definition of sex under Title IX, the federal civil rights law that bans gender discrimination in education programs that receive government financial assistance."
"The department argued in [a] memo that key government agencies needed to adopt an explicit and uniform definition of gender as determined 'on a biological basis that is clear, grounded in science, objective and administrable.'"
From the memo: "Sex means a person's status as male or female based on immutable biological traits identifiable by or before birth ... The sex listed on a person's birth certificate, as originally issued, shall constitute definitive proof of a person's sex unless rebutted by reliable genetic evidence."
Why it matters: "The new definition would essentially eradicate federal recognition of the estimated 1.4 million Americans who have opted to recognize themselves ... as a gender other than the one they were born into."
Be smart: The move would most directly impact discrimination cases in terms of education, but would likely have a much wider effect on the civil rights and public acceptance of transgender people. 
Opponents of transgender rights would likely use a redefined Title IX definition as an impetus to roll back all manner of civil rights. 
The Times' unusually striking headline recognizes the broad impact this could have: "Trump Administration Eyes Defining Transgender Out of Existence."
Bonus: Pic du jour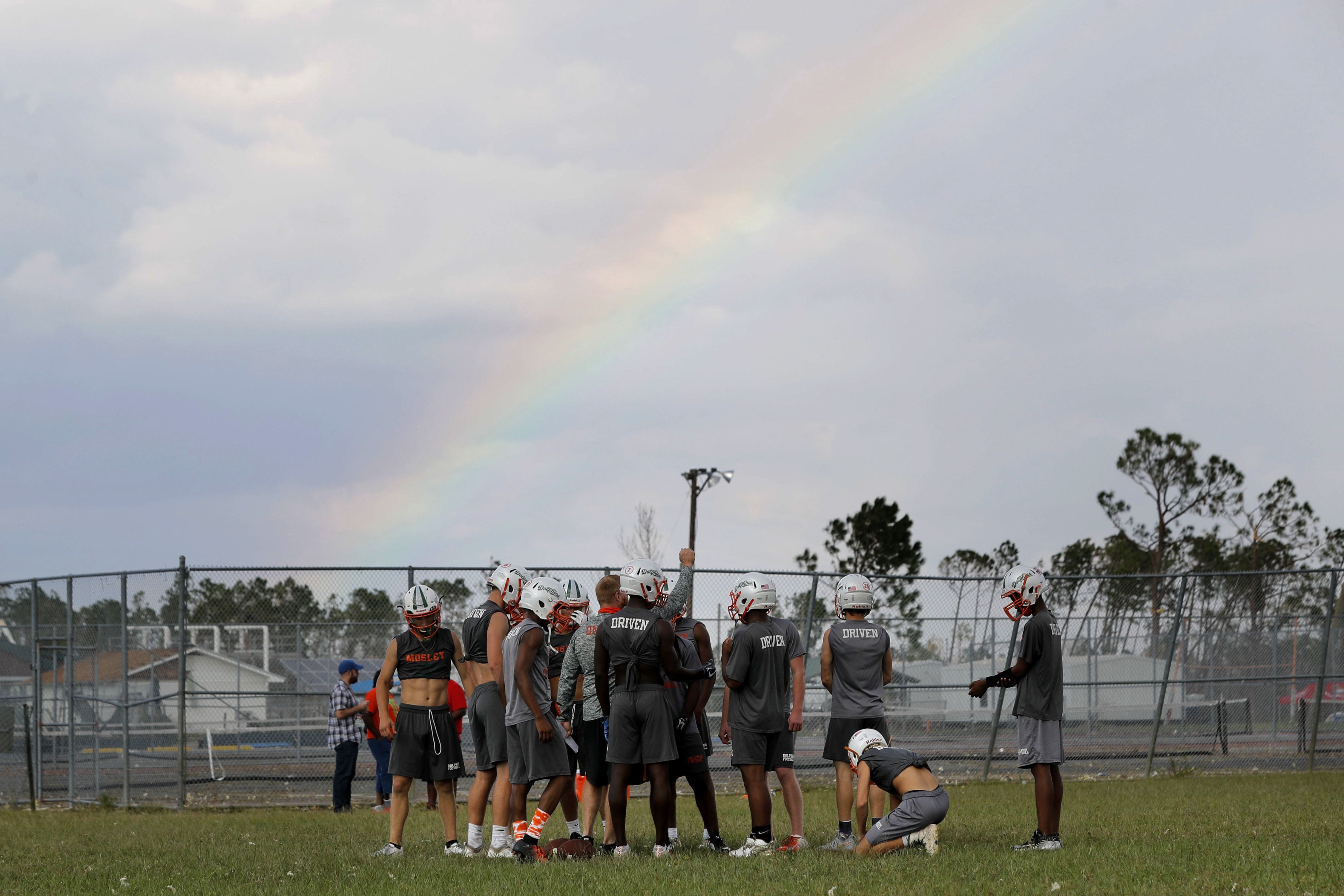 Above, Mosley High School football players practice Friday outside their heavily damaged school in Lynn Haven, Fla.
Ten days after Hurricane Michael, football offered a welcome escape for the Florida Panhandle, AP Sports Writer David Brandt reports:
"[A] small return to regular life had already begun. .... For a few hours, football was important again."
"From the higher seats of the stadium, the effect on Panama City was evident, with debris, utility crews and snapped pine trees as far as the eye could see."
During an emotional pregame speech, Mosley High coach Jeremy Brown said:
"We ain't got to hit nobody in the mouth in a couple weeks ... We ain't been able to practice because we ain't got no field because all our fields have nails and roof tacks all over them. But there ain't none of them out there on this field today. ... Hit them in the mouth!"
4. The Saudi scandal behind the Saudi scandal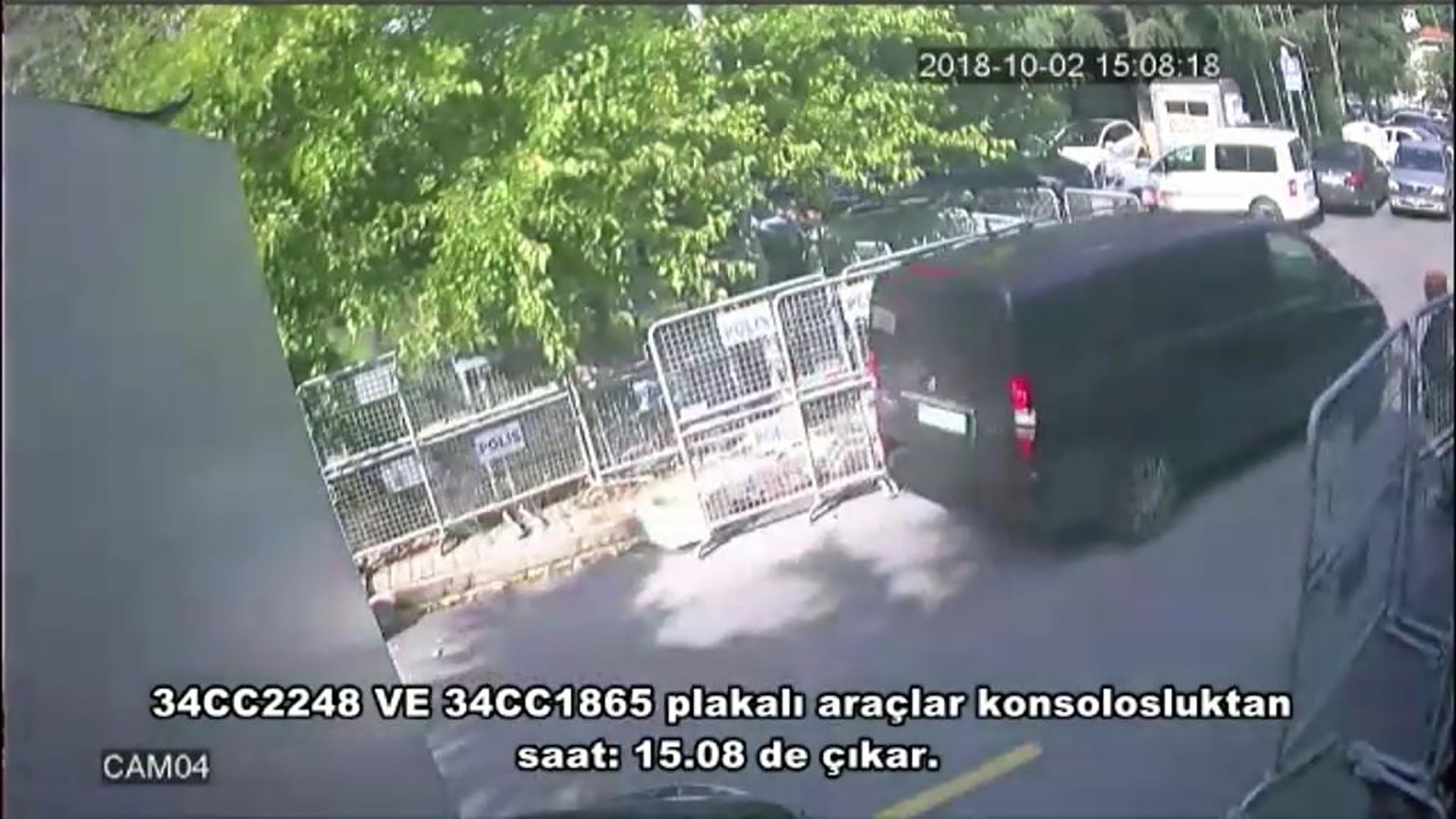 Hollywood, Silicon Valley, presidential libraries and foundations, politically connected private equity groups, P.R. firms, think tanks, universities and Trump family enterprises are awash in Arab money. The Saudis satisfy American greed, deftly playing their role as dollar signs in robes.
—
Maureen Dowd
P.S. Fox News announces an 11 a.m. interview by Bret Baier with Saudi Foreign Minister Adel al-Jubeir, who "will discuss the latest surrounding Saudi journalist Jamal Khashoggi including why the writer was killed by Saudi agents, along with [the minister's] meeting earlier this week with Secretary of State Mike Pompeo."
President Trump told the WashPost's Josh Dawsey that Crown Prince Mohammed bin Salman is "a strong person, he has very good control," but also said: "Obviously there's been deception and there's been lies ... Their stories are all over the place."
Washington Post publisher Fred Ryan said in a statement yesterday that the Saudi announcement "is not an explanation; it is a coverup. President Trump, Congress and leaders of the civilized world should demand to see verifiable evidence."
5. This image never gets old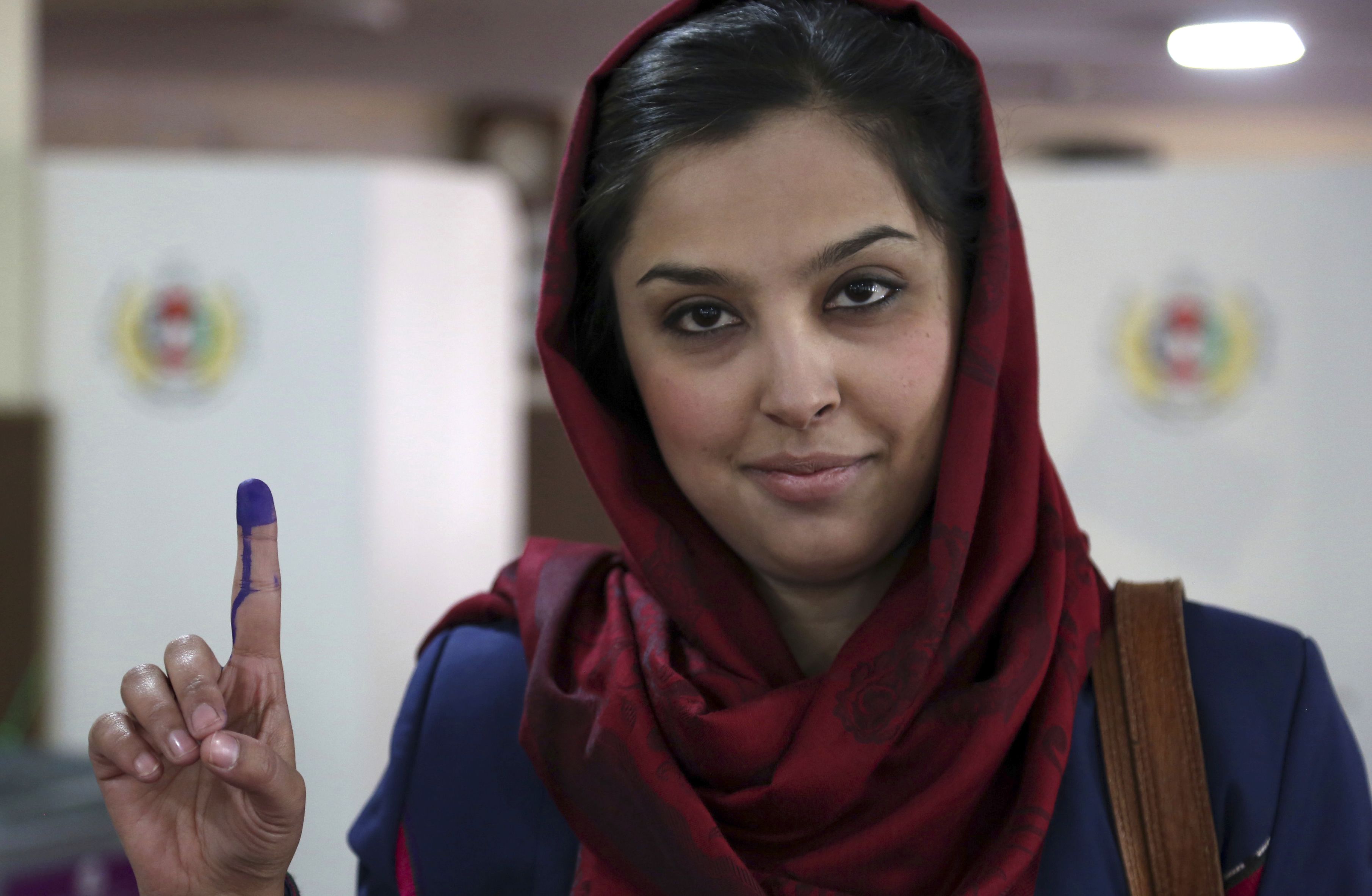 An Afghan woman shows her inked finger after casting her vote yesterday at a polling station during parliamentary elections in Kabul.
"The first parliamentary elections since 2010 are being held against a backdrop of near-daily attacks by the Taliban, who have seized nearly half the country," AP reports from Kabul:
"[M]ore than 3 million people out of 8.8 million registered voters cast their ballots on Saturday." Voting continues today.
"The results of the polling will not be released before mid-November and final results will not be out until December."
6. 1 ⚾️ thing
The World Series features the Boston Red Sox (favored) vs. the Los Angeles Dodgers, with Game 1 on Tuesday night at Fenway Park in Boston.
L.A. Times columnist Bill Plaschke: "After spending six months investing all their energy in returning to the spot that left them so empty, the Dodgers were rewarded with a second consecutive World Series berth after a 5-1 comeback victory over the Milwaukee Brewers in the deciding Game 7."
"After losing last year's World Series to the Houston Astros in Game 7, [the Dodgers] spent all season in search of redemption, and they finally earned that chance on a night of rich history and dazzling beauty."
Good times roll in Boston ... Globe's Chad Finn: "It's the fourth trip to the Fall Classic for the Red Sox since 2004, when they swept the St. Louis Cardinals to exorcise all ghosts and lift all curses. The Red Sox have been champions in '04, '07, and '13. The change in centuries really has worked out quite well for them."
"Since the 2001 Patriots ended a 15-year title drought in Boston sports by stunning the St. Louis Rams, ... 20-17, in Super Bowl XXXVI, this city hasn't just been the home of champions. It's been the home of contender after contender after contender, from the Patriots to the Red Sox to the Celtics and Bruins, across all seasons, for practically a full generation of fans now."