https://www.axios.com/newsletters/axios-am-0430e0ae-81a0-4348-a0b2-acb17895d4f3.html?chunk=0#story0
1 big thing: Trump calls Obama "Bad (or sick) guy!"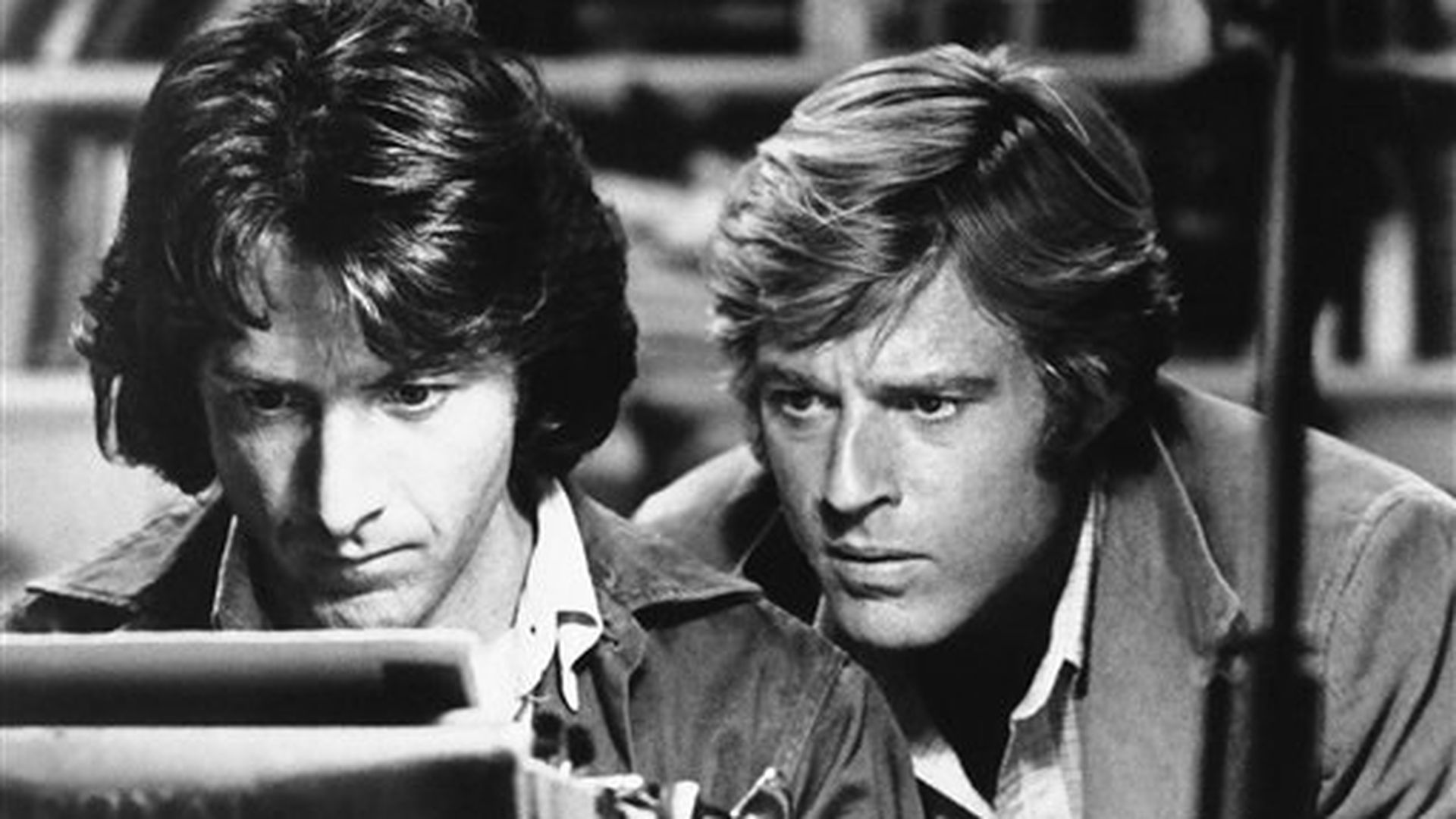 We have lost our sense of normality.
"TRUMP CLAIMS OBAMA TAPPED HIS PHONES IN 'NIXON/WATERGATE' OPERATION." Broadcast networks cut in, Congress stops everything to investigate, the wheels of government grind to a halt. AP might urgent: "President Trump today, inspired by the musings of a right-wing radio host, ... "
That's how "normal" once looked. Cue this morning: It's just Trump being Trump, waking up on a Saturday morning at Mar-a-lago with a slow schedule, and key advisers back in D.C.
And to 40 percent of America, it's plausibly true.
Trump's tweetstorm, in one graf, courtesy Justin Green: "The first meeting Jeff Sessions had with the Russian Amb was set up by the Obama Administration under education program for 100 Ambs ... Terrible! Just found out that Obama had my 'wires tapped' in Trump Tower just before the victory. Nothing found. This is McCarthyism! ... Just out: The same Russian Ambassador that met Jeff Sessions visited the Obama White House 22 times, and 4 times last year alone. ... Is it legal for a sitting President to be 'wire tapping' a race for president prior to an election? Turned down by court earlier. A NEW LOW! ... I'd bet a good lawyer could make a great case out of the fact that President Obama was tapping my phones in October, just prior to Election! ... How low has President Obama gone to tapp my phones during the very sacred election process. This is Nixon/Watergate. Bad (or sick) guy!"
The flurry looks like it was inspired by a Breitbart article yesterday by Joel Pollak: "Mark Levin to Congress: Investigate Obama's 'Silent Coup' vs. Trump."
Bob Costa tweets: "I've confirmed that several people at the White House have been circulating this Breitbart story."
The reaction ... N.Y. Times columnist Tom Friedman to Michael Smerconish on CNN: "Trump ... could as easily have woken up at Mar-a-lago this morning and said: "I saw a UFO fly over.' ... If you're going to make that allegation, you go to the head of the FBI, NSA, CIA and say: 'Here are the facts.'""
Word of the day: "besieged" ... Maggie Haberman: "Trump, according to his advisers inside and outside of the White House, has felt besieged by what he regards as a mostly hostile bureaucracy, consisting in part of Democrats and people who opposed his election who are now undermining his presidency with leaks."
"'That is the real story,' said Hope Hicks, a spokeswoman for Mr. Trump, when asked for comment on how the White House views the constant string of stories based on what they have called leaks."
https://www.axios.com/newsletters/axios-am-0430e0ae-81a0-4348-a0b2-acb17895d4f3.html?chunk=1#story1
2. You'll want to click
Jennifer Palmieri for WashPost, "The blessing inside my sister's Alzheimer's disease": "Last month my sister [Dana] passed away from early-onset Alzheimer's. She was 58 and probably had the disease for well over a decade."
"I had a hard time reconciling her optimistic attitude with the knowledge there was no hope for recovery. ... I eventually learned one of the gifts that came with this illness: It strips away your notions of how life is supposed to be and forces you to reassess what it means for a moment, a day, a life to have value."
"[F]or all those on this path, please know that it does not mean you must be robbed of your loved ones before they leave this earth. They are still there, and the time you spend with them can be a gift of grace you might otherwise never have known."
https://www.axios.com/newsletters/axios-am-0430e0ae-81a0-4348-a0b2-acb17895d4f3.html?chunk=2#story2
3. Article of the day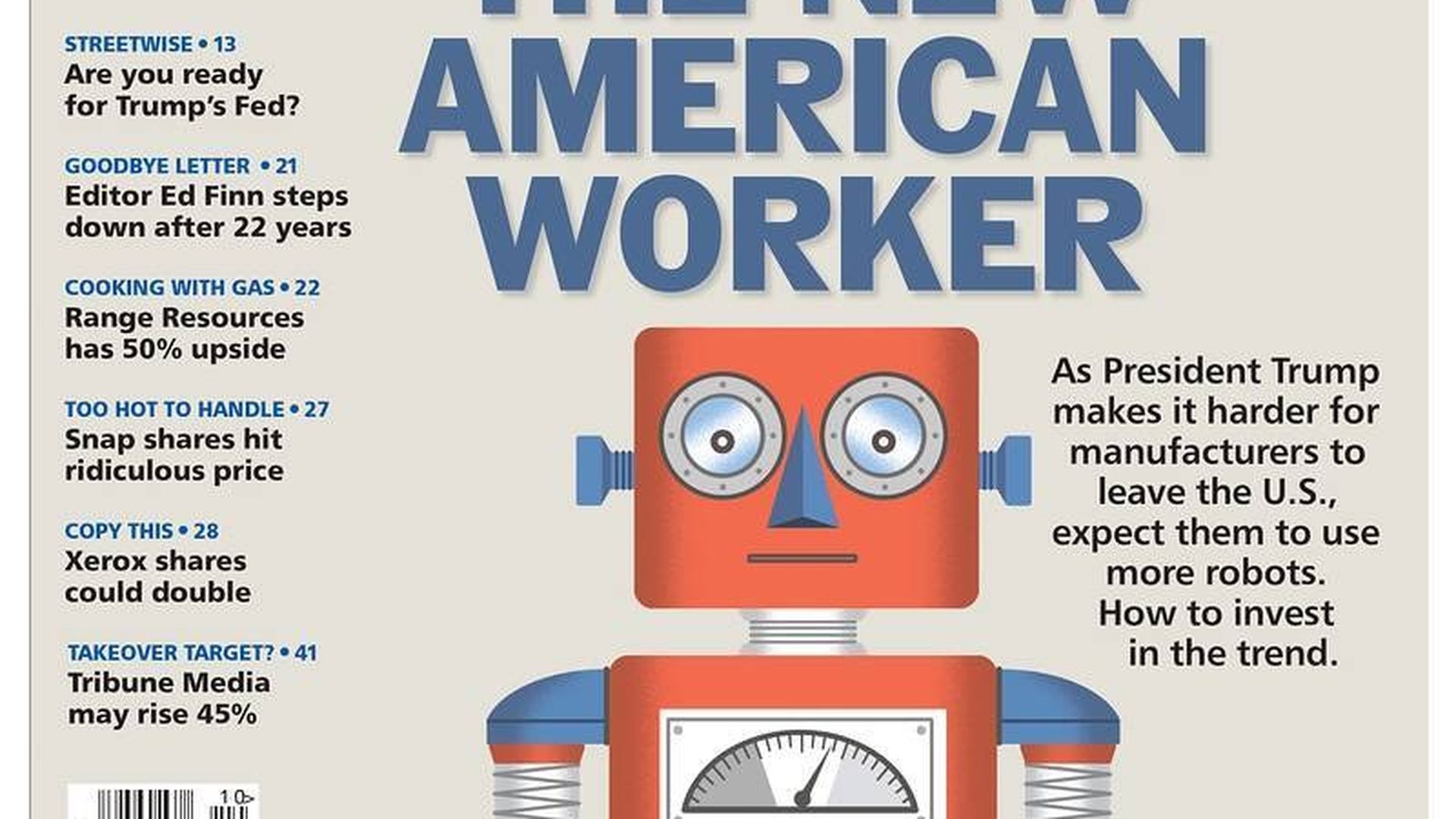 The cover of Barron's is a macabre sign of the times: how investors can profit off robots replacing workers: "If manufacturers are going to flourish in America, they'll need to buy a lot more robots. Here are six ways to play this hot trend."
The lead: "As President Donald Trump prevents manufacturers from leaving the U.S., expect them to use robots to keep labor costs down."
The strategy: "For long-term investors, robots could be one key to securing healthy corporate profit growth, and stock returns, even as wages rise."
"Factory robots look nothing like Rosie from The Jetsons, the nameless B9 model from Lost in Space, or the one on the cover of this magazine. Many are hulking arms with rotating joints and interchangeable tools that can weld, stack, paint, assemble, and more."
Unintended consequences? "One thing that could accelerate U.S. robot deployments is a corporate tax cut, which would reduce the overall cost of manufacturing in the U.S., but not the labor cost. Another is a border adjustment tax, which would reward exporters while penalizing importers. Accelerated depreciation on capital investments would give companies an immediate tax break on money spent to automate factories."
https://www.axios.com/newsletters/axios-am-0430e0ae-81a0-4348-a0b2-acb17895d4f3.html?chunk=3#story3
4. Huge battle ahead
The WashPost's lead story, "Import tax splits White House," by Damian Paletta (newly arrived from the WSJ as a senior economics correspondent, covering White House economic policy), sketches the West Wing positions in a fight, already consuming insider D.C., that could wind up splitting Trump and Ryan:
"White House chief strategist Stephen K. Bannon, senior adviser Stephen Miller and National Trade Council director Peter Navarro have all voiced internal support for the creation of a border adjustment tax or something like it. They believe it would incentivize companies to keep jobs in the United States and raise the cost of items that are imported.
"But Treasury Secretary Steve Mnuchin and National Economic Council Director Gary Cohn have raised concerns ... They are backed by a number of Senate Republicans who have told the White House they would block any bill that creates a new tax on imports."
https://www.axios.com/newsletters/axios-am-0430e0ae-81a0-4348-a0b2-acb17895d4f3.html?chunk=4#story4
5. Kellyanne: You need "bile in your throat"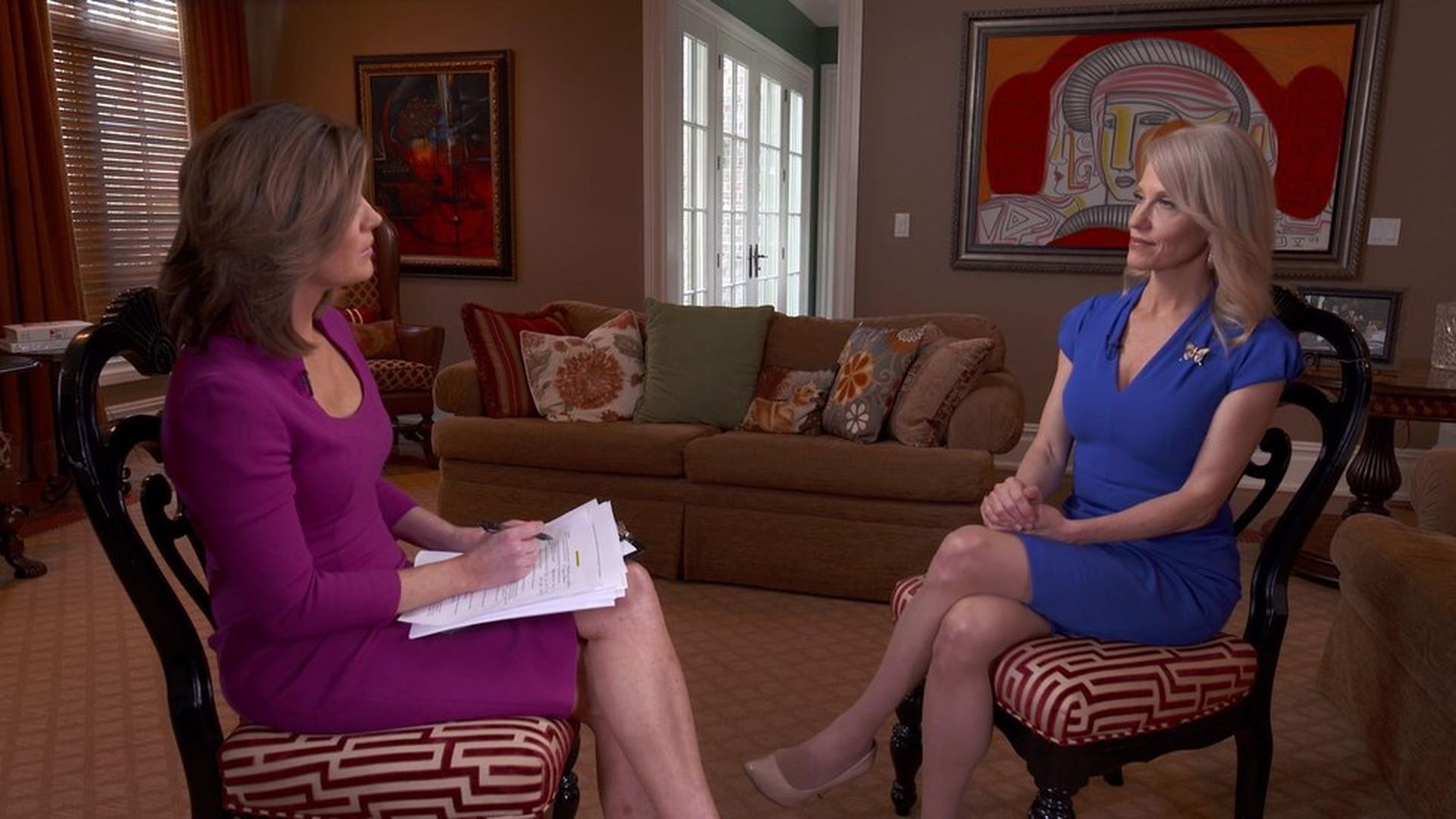 Sneak peek from "CBS Sunday Morning" ... Kellyanne Conway to Norah O'Donnell, on what would make her leave the White House: her children.
"They're having the hardest time with this ... They're great kids, but they're really the worst ages for a mom to be here and away from them, 12, 12, eight and seven. And 24/7 Secret Service protection is tough for them. It's tough for them to think about when I'm away from them and why does she have that.
"And so I don't — this is all new for us. This is not something I sought. I'm not a famous person on TV. ... [T]hey're struggling because it's just different to not have a mom there as much as they're used to even though I've always worked. This is an entirely different level."
https://www.axios.com/newsletters/axios-am-0430e0ae-81a0-4348-a0b2-acb17895d4f3.html?chunk=5#story5
6. Colbert's liberal surge
"Trump is late-night TV's muse and viewers are loving it," by L.A. Times' Stephen Battaglio:
"Colbert has become the most-watched show in late-night TV since the week of Trump's Jan. 20 inauguration. He has risen to 3 million viewers a night."
"HBO's Bill Maher and John Oliver and TBS' Samantha Bee ... are also experiencing significant ratings increases."
"[T]he unexpected shift in the political landscape plays to the Colbert's strength as a satirist and is giving him a distinctive voice that many believed had gone missing since he took over 'The Late Show.' In 2017, Colbert's audience is up 9% while NBC's Fallon is off 18% from a year ago."
"Based on data [Samba TV] collects from cable set top boxes, Colbert's audience of politically liberal viewers has doubled since the election, offsetting a decline in conservative viewers. The political makeup for the viewers of Fallon and ABC's 'Jimmy Kimmel Live'have remained the same as before the election."
https://www.axios.com/newsletters/axios-am-0430e0ae-81a0-4348-a0b2-acb17895d4f3.html?chunk=6#story6
7. Uber's rough week
Someone's out to get Uber, big time ... Axios' Kia Kokalitcheva distills "Uber's nightmarish week, in 8 headlines."
The latest ... N.Y. Times front page, above fold, "Uber Uses Tech to Deceive Authorities Worldwide: Secret Data Tool Allows Ride-Hailing Firm to Skirt Enforcement," by Mike Isaac in S.F.:
"The program, involving a tool called Greyball, uses data collected from the Uber app and other techniques to identify and circumvent officials who were trying to clamp down on the ride-hailing service. Uber used these methods to evade the authorities in cities like Boston, Paris and Las Vegas, and in countries like Australia, China and South Korea."
https://www.axios.com/newsletters/axios-am-0430e0ae-81a0-4348-a0b2-acb17895d4f3.html?chunk=7#story7
8. Instant tech lore: To tell your kids
L.A. Times front-pager, "Snap IPO has its unlikely winners, frustrated losers," by David Pierson and Paresh Dave ... How Saint Francis High School in Mountain View, Calif., turned $15,000 into $24 million:
"The Catholic school in the heart of Silicon Valley is celebrating a windfall ... One of the school's students is the daughter of Barry Eggers, founder of Lightspeed Venture Partners, Snapchat's first investor.
"Eggers urged the school to place a small bet on the fledgling Venice company, which is now called Snap Inc., after he saw how engrossed his children were with the app. When Saint Francis sold two-thirds of its shares at $17 apiece, it reaped a massive return on investment."
Andrew Ross Sorkin scoop: "NBC invested $500 million in Snapchat IPO as part of its ambitious investment in digital media."
https://www.axios.com/newsletters/axios-am-0430e0ae-81a0-4348-a0b2-acb17895d4f3.html?chunk=8#story8
9. The sports page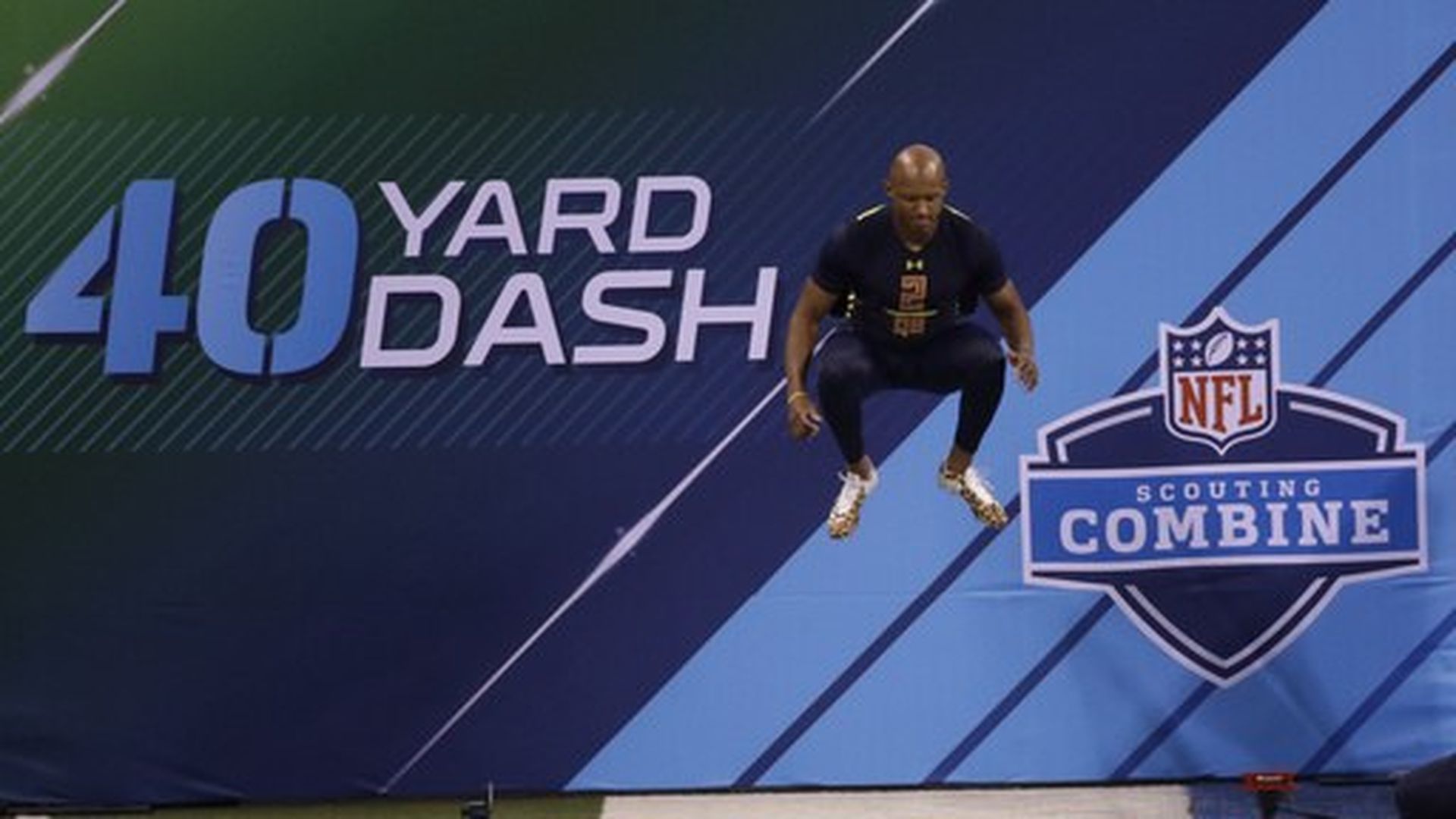 "NFL struggles to make sense of college video game stats," by AP's Mike Marot in Indianapolis, where the NFL Scouting Combine is under way: "It sounds strange in a league where numbers often dictate everything from a coach's fate to Pro Bowl selections to who gets drafted. The problem is that the rise of spread offenses , a longer schedule and the implementation of overtime has rendered some of the old measuring tools sticks obsolete."
What's next? "Many ... will be trying to learn more conventional offensive schemes. The routes, play calls and personnel all will be different and even seemingly simple things, like getting in and out of huddles, can become big obstacles."
https://www.axios.com/newsletters/axios-am-0430e0ae-81a0-4348-a0b2-acb17895d4f3.html?chunk=9#story9
10. 1 fun thing
"Confessions of a Postmates Addict ... how one places 705 [takeout] orders in under four years," by Mallory Rubin, deputy editor of The Ringer: "We've lived in Los Angeles for 1,254 days — and we've ordered food from Postmates, Caviar, or LAbite 705 times. ... During our New York days ... we remained content with ordering breakfast, lunch, and dinner from our neighborhood spots. If a restaurant was outside of our delivery zone, we'd eat there rarely or not at all ... Local dining establishments became key parts of the fabric of our lives. ...
"Postmates [offering delivery from any restaurant] opened Los Angeles to us in a way that nothing had before, which was both a wonderful and terrible thing, because the delivery fees stretch along with the distance, and surge pricing during peak hours (a la Uber) can send an already-steep total into the stratosphere. Choice is costly, but so far, we've been willing to pay. ...
"Sometimes, we want to wash down our meals with a snack, which is how we've come to place 10 orders from Jeni's Splendid Ice Creams in Los Felix."