https://www.axios.com/newsletters/axios-am-03cf9128-fa45-402d-9428-30c355d614bb.html?chunk=0#story0
1 big thing: America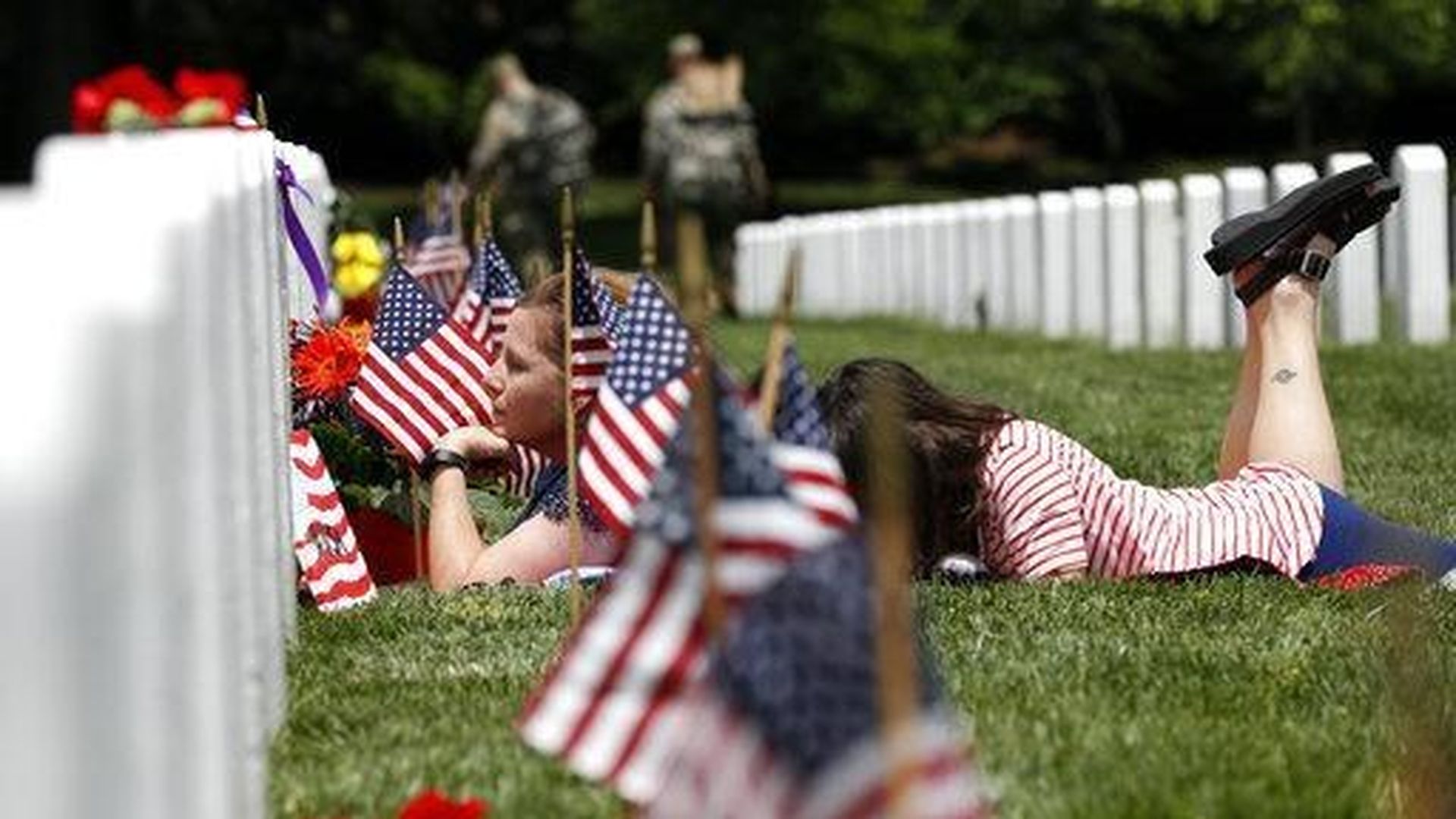 Good Monday morning, and wishing a peaceful, restful Memorial Day to you and yours. Pausing to remember a part of the beating heart of America that too often eludes us — the fallen, and the serving:
U.S. military casualties from Operation Iraqi Freedom: 4,411.
U.S. military casualties in Afghanistan, from Operation Enduring Freedom: 2,216.
U.S. military personnel: 2.1 million (active duty: 1.3 million; Reserves and National Guard: 800,000).
Deployed overseas: 200,000.
About 20 veterans a day commit suicide, per the Veterans Administration: "In 2014, the latest year available, more than 7,400 veterans took their own lives, accounting for 18% of all suicides in America. Veterans make up less than 9% of the U.S. population."
"The Pentagon reported [last year] that 265 active-duty servicemembers killed themselves last year, continuing a trend of unusually high suicide rates that have plagued the U.S. military for at least seven years."
The takeaway, from AP: "Veterans groups say a growing military-civilian disconnect contributes to a feeling that Memorial Day has been overshadowed. More than 12% of the U.S. population served in the armed forces during World War II. That's down to less than one-half of a percent today, guaranteeing more Americans aren't personally acquainted with a soldier, sailor, airman or Marine."
Why it matters: Are you?
https://www.axios.com/newsletters/axios-am-03cf9128-fa45-402d-9428-30c355d614bb.html?chunk=1#story1
2. Trump's momentous week
After a week abroad that gave him at least physical distance from the chaos in his West Wing, President Trump this week will confront decisions on three questions that will affect the rest of his term:
Whether to embrace the Paris climate accord, dial back U.S. commitments, or renounce it.
How to structure a crisis-communication apparatus to contain the Russia response, so it doesn't preoccupy the entire West Wing, and how it'll interact with legal and P.R. operations on the outside.
What additions to make to his senior staff, and whether anyone should go.
A ton of juice in a N.Y. Times front-pager, "Kushner's Role In White House Is Under Strain: Family Ties Tested as Russia Case Grows," by Glenn Thrush, Maggie Haberman and Sharon LaFraniere:"[T]he Trump-Kushner relationship, the most stable partnership in an often unstable West Wing, is showing unmistakable signs of strain.""The most serious point of contention between the president and his son-in-law ... was a video clip this month of Mr. Kushner's sister Nicole Meyer pitching potential investors in Beijing on a Kushner Companies condominium project in Jersey City.""In the following days during routine West Wing meetings, the president made several snarky, disparaging comments about Mr. Kushner's family and the visas that were clearly intended to express his annoyance ... Kushner did not respond, at least not in earshot."Trump, in a statement to The Times last night: "Jared is doing a great job for the country. I have total confidence in him. He is respected by virtually everyone and is working on programs that will save our country billions of dollars. In addition to that, and perhaps more importantly, he is a very good person."P.S. Merkel say Europe must go it alone:
N.Y. Times Quote of the Day ... Ivo H. Daalder, a former United States ambassador to NATO, on comments by Chancellor Angela Merkel of Germany saying that Europe can no longer rely on the United States: "This seems to be the end of an era, one in which the United States led and Europe followed."
What's behind this, from Jonathan Swan: Trump publicly lectured NATO allies that they must stop shirking their financial commitments and begin paying for their own defense rather than relying on the U.S. Trump's unmistakable message to Europe on his first foreign trip was that the days of unquestioning protection from the U.S. are over.
Quote of note, from Politico, quoting a senior EU official who was briefed on the closed NATO meetings in Brussels: "Like when there's a new strange kid in the class nobody likes ... You behave civilly when teachers [media] watch but don't spend time with him in private because he's so different."
https://www.axios.com/newsletters/axios-am-03cf9128-fa45-402d-9428-30c355d614bb.html?chunk=2#story2
3. JFK 100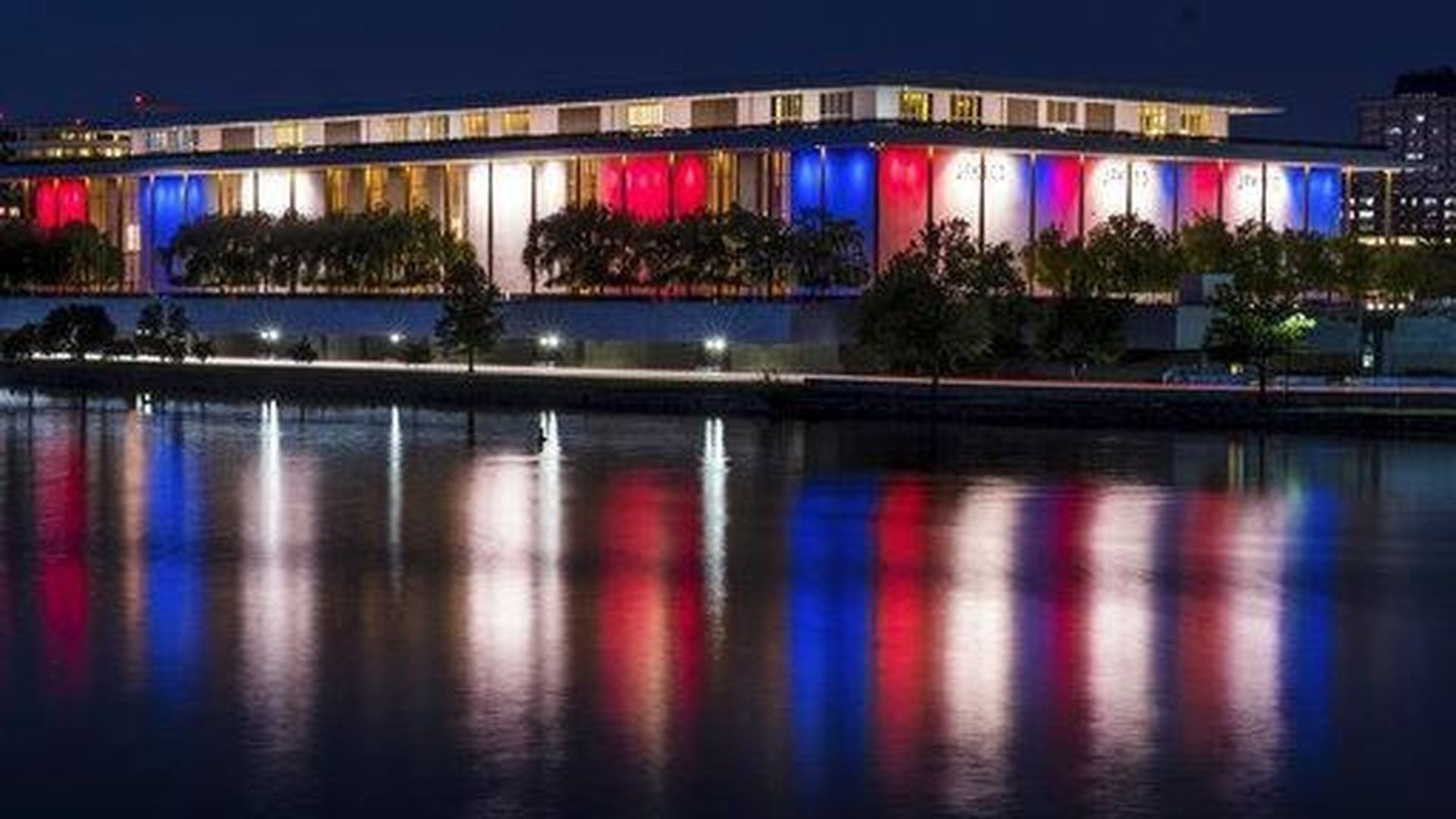 President John F. Kennedy was born 100 years ago today — May 29, 1917, in Brookline, Mass. He was 43 when he was elected, and lived 3 more years.
"JFK's life, legacy to be celebrated on his centennial," by AP's Crystal Hill in Boston: The Postal Service today will dedicate a new JFK postage stamp in Brookline ... "Joe Kennedy III, a great-nephew of JFK, will deliver the keynote at a ceremony at the birthplace and childhood home this afternoon. A wreath-laying ceremony will honor the 35th president at his gravesite at Arlington National Cemetery.
"New JFK exhibit offers a glimpse into the president's humanity," by Boston Globe's Andy Rosen: "The John F. Kennedy Presidential Library and Museum [in Boston] has included ... items like pencils from the Oval Office bearing bite marks, a childhood sketch of a tree on a hillside, and the suitcase he used during his presidential campaign give a glimpse into Kennedy's everyday life." Photos of items from the exhibit.
JFK's life, in 34 pictures.
https://www.axios.com/newsletters/axios-am-03cf9128-fa45-402d-9428-30c355d614bb.html?chunk=3#story3
4. Read of the day
BuzzFeed's Ruby Cramer pulls off a Hillary Clinton story that reminds her colleagues of Jimmy Breslin's classic on JFK's gravedigger — an unsung everyman, just off the grand stage ...
"The Place Where Letters To Hillary Clinton Go: At just 30 years old, Rob Russo has been one of Hillary Clinton's closest aides for a decade, organizing and drafting her political and personal correspondence. After the election, his job changed as thousands of strangers starting writing to Clinton. Now he's living through the end of an era, one letter at a time."
Interviews with Russo over the last three years — before, during, and after the campaign — depict a career spent producing the materials that, as he describes it, "neatly catalogue the experience" of Hillary Clinton's life. So he was not prepared, a few days after the blow of Nov. 8, for the letters that started showing up in P.O. Box 5256, the one listed on Clinton's website. They came by the hundreds, most from people his boss had never met — all about the loss.
https://www.axios.com/newsletters/axios-am-03cf9128-fa45-402d-9428-30c355d614bb.html?chunk=4#story4
5. Another America
From the forthcoming New Yorker ... "A Reporter at Large: The Addicts Next Door — West Virginia has the highest overdose death rate in the country. Locals are fighting to save their neighbors — and their towns —from destruction," by Margaret Talbot:
Half of those who began using heroin before 1980 were white; nearly ninety per cent of those who began using in the past decade were white. This demographic shift may be connected to prescribing patterns. A 2012 study by a University of Pennsylvania researcher found that black patients were thirty-four per cent less likely than white patients to be prescribed opioids for such chronic conditions as back pain and migraines, and fourteen per cent less likely to receive such prescriptions after surgery or traumatic injury.
But a larger factor, it seems, was the despair of white people in struggling small towns. Judith Feinberg, a professor at West Virginia University who studies drug addiction, described opioids as "the ultimate escape drugs."
She told me, "Boredom and a sense of uselessness and inadequacy—these are human failings that lead you to just want to withdraw. On heroin, you curl up in a corner and blank out the world. It's an extremely seductive drug for dead-end towns, because it makes the world's problems go away. Much more so than coke or meth, where you want to run around and do things—you get aggressive, razzed and jazzed."
https://www.axios.com/newsletters/axios-am-03cf9128-fa45-402d-9428-30c355d614bb.html?chunk=5#story5
6. 1 fun thing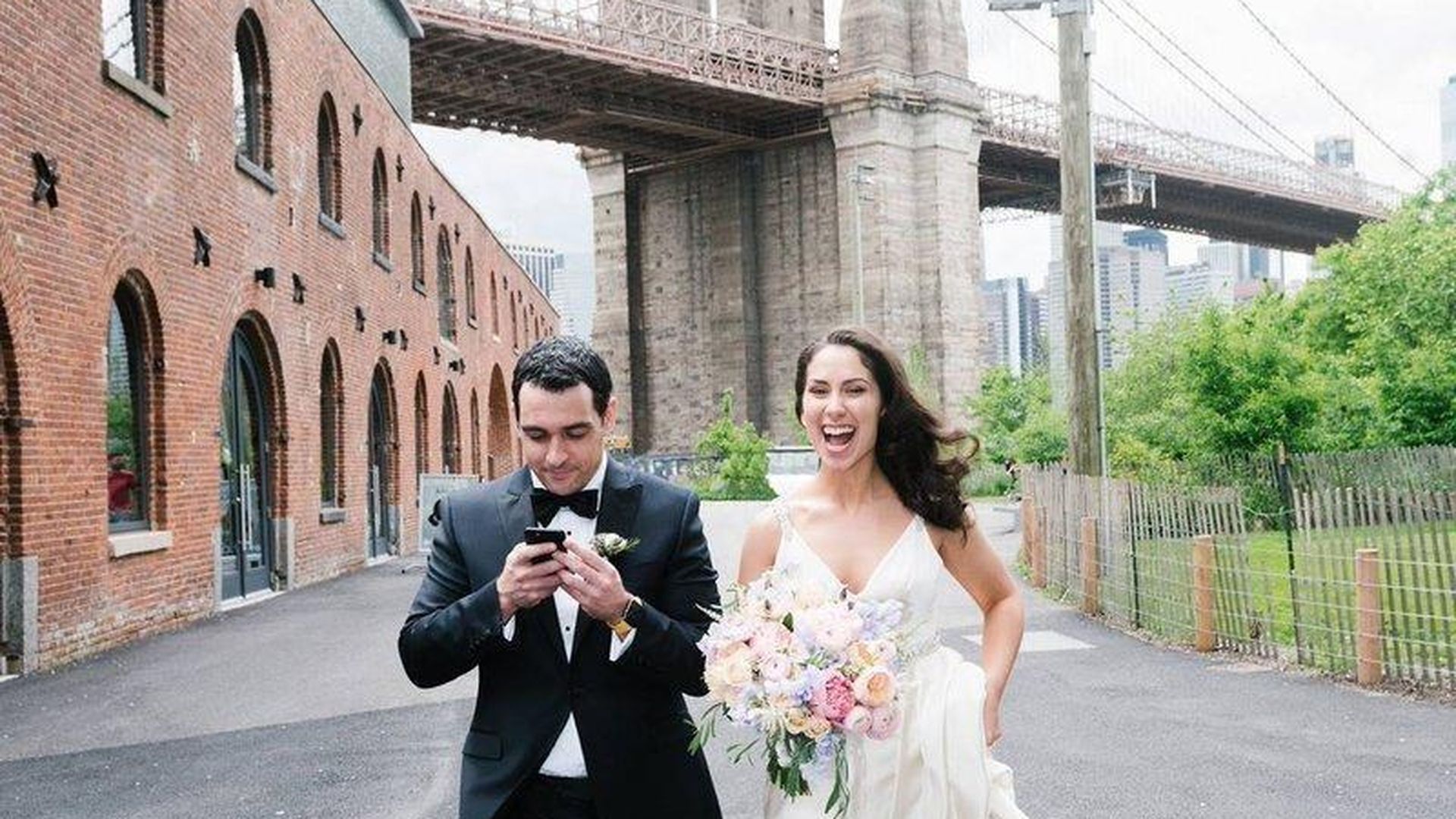 Caption contest winner: "Andrew, get off your phone."
Behind the frame: CNN senior media reporter Oliver Darcy had that memorable admonition for CNN colleague Andrew "KFILE" Kaczynski, spotted in Brooklyn on Friday afternoon at his wedding to Rachel Louise Ensign, a banking reporter at the Wall Street Journal.
Click du jour: Andrew yesterday (!) posted a montage of 33 classic Donald Trump front pages ("woods") from the N.Y. Post: "reminds me, one day in 2016 @natemcdermott [a KFILE reporter] went to @nypl and copied all the NY Post Trump covers from early 1990-1991."
Keepers: "MARLA RAGES!" ... "MR. BIG STIFF!" ... "DON JUAN!" ... "'BEST SEX I'VE EVER HAD.'"
And remember: The source for most of those covers was ... Donald J. Trump.