Axios AM
May 15, 2018
Good Tuesday morning. If you're in D.C., please join us at 8 a.m. for a chockablock Axios News Shapers: Larry Kudlow, at his first live event since becoming White House economic adviser ... media entrepreneur Steven Brill ... Sen. James Inhofe (R-Okla.) ... Del. Eleanor Holmes Norton (D-D.C.) ... and Austin Mayor Steve Adler. RSVP here.
Situational awareness: Primaries today in Pennsylvania, Idaho, Nebraska and Oregon.
1 big thing ... Scoop: Inside Trump's 2020 startup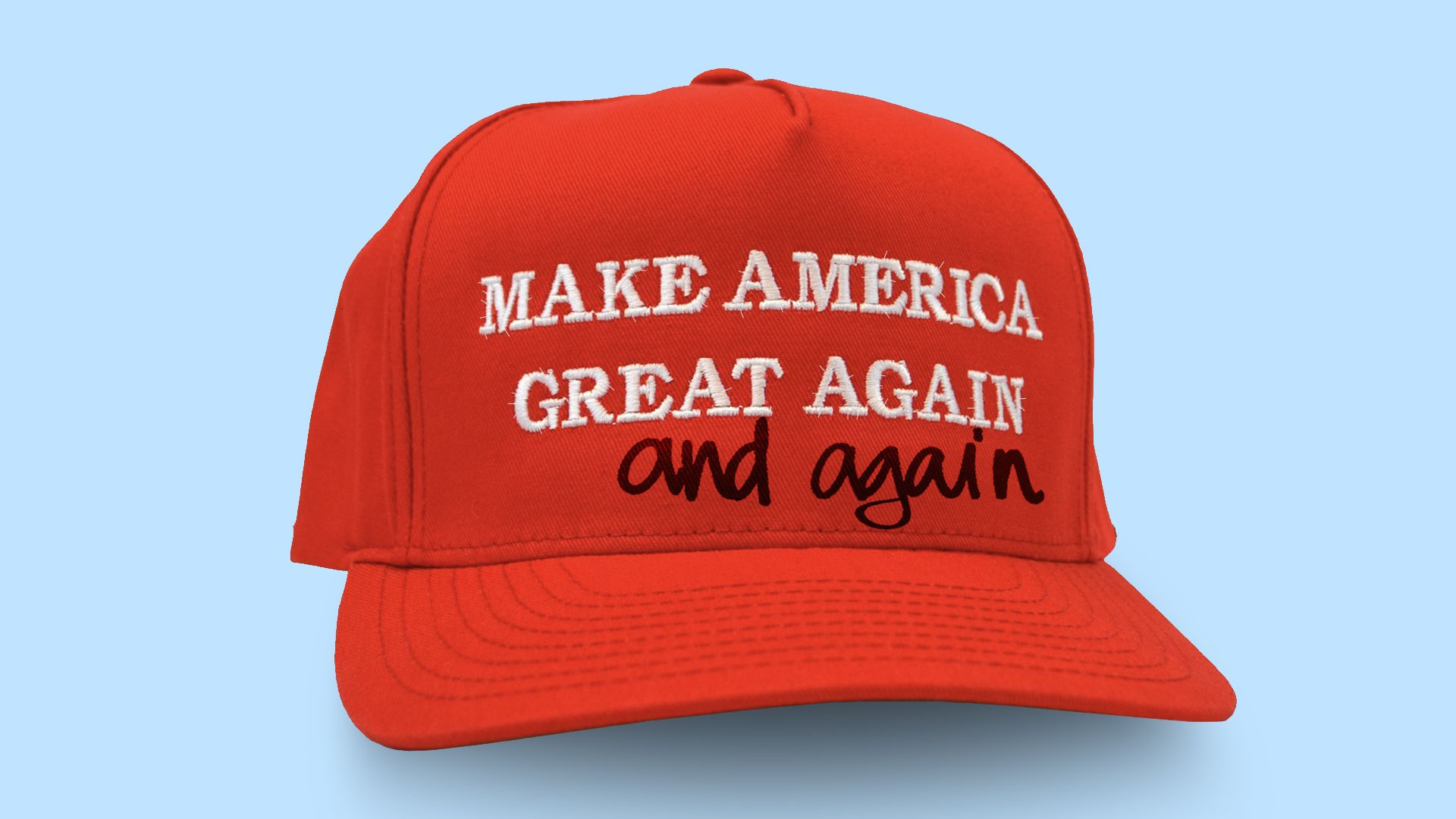 As President Trump's campaign aides quietly launch his reelection campaign, they're eyeing two states as possible pickups for 2020: Minnesota, where Trump came close in 2016 without even trying; and Colorado, where his hands-off approach to marijuana enforcement is a possible selling point.
The addition of those states is part of a plan that's coming together in a basement suite at the Republican National Committee, where the Trump campaign has moved from Trump Tower.
The campaign, now fewer than 10 people, eventually will number hundreds.
The reelection campaign will mostly work under the radar until after midterms, providing Trump assets (volunteers, fundraising, rallies) to other campaigns.
But Jonathan Swan and I got a first look at campaign manager Brad Parscale's plans to build what amounts to a massive marketing machine, selling the world's most prominent product.
Why it matters: In 2016, Trump Tower campaign staffers were proud of their pirate-ship ambush of the Republican establishment, then of the U.S.S. Clinton. But this time they won't have the advantage of surprise.
So the Trump team has to build a longer range, more systematic plan, without suffocating Trump's improvisational essence.
Parscale, who considers past presidential campaigns archaic, is emphasizing digital innovation, technological streamlining and corporate efficiency.
Parscale told us: "We're crushing it in prospecting."
What's new: It's a sign of the times — and a reflection of what worked for Trump — that the digital director of the 2016 campaign will be the boss of the whole 2020 campaign.
It's a fresh way of flouting campaign orthodoxy, and gives Trump the comfort of elevating one of his originals.
Why he matters: Parscale, 42, is a completely unconventional choice for campaign manager and one that has raised eyebrows inside the White House and among Republican campaign veterans.
Some inside the White House have told us they believe he "got lucky" by hitching his wagon to a candidate who won despite his campaign, not because of it.
Parscale had no history in politics before the 2016 campaign, and doesn't plan to work in politics beyond the 2020 campaign.
His connection is to the Trump family — and especially to Jared Kushner and Eric Trump.
Parscale launched the digital side of the Trump campaign from the San Antonio office of his firm Giles-Parscale, which grew to over 100 people as the campaign peaked, with revenues of $79 million for the cycle (much of which went to Facebook).
Some alumni of the last campaign say Parscale's role exceeded his title as digital director: In late August 2016, after the departure of Paul Manafort, Parscale moved to Trump Tower, with a hand in various parts of the operation, including finances and events.
Parscale sold his interest in Giles-Parscale in August, and moved to the Washington area about eight weeks ago. (He now works through a new firm, Parscale Strategy.)
The HQ: Trump 2020 will be squarely in the Swamp.
Like the George W. Bush reelection campaign of 2004, the campaign plans to be based in a close-in Virginia suburb — for proximity to the White House, and easy access to Dulles and DCA.
2. Scoop: Trump's "big data" plan for 2020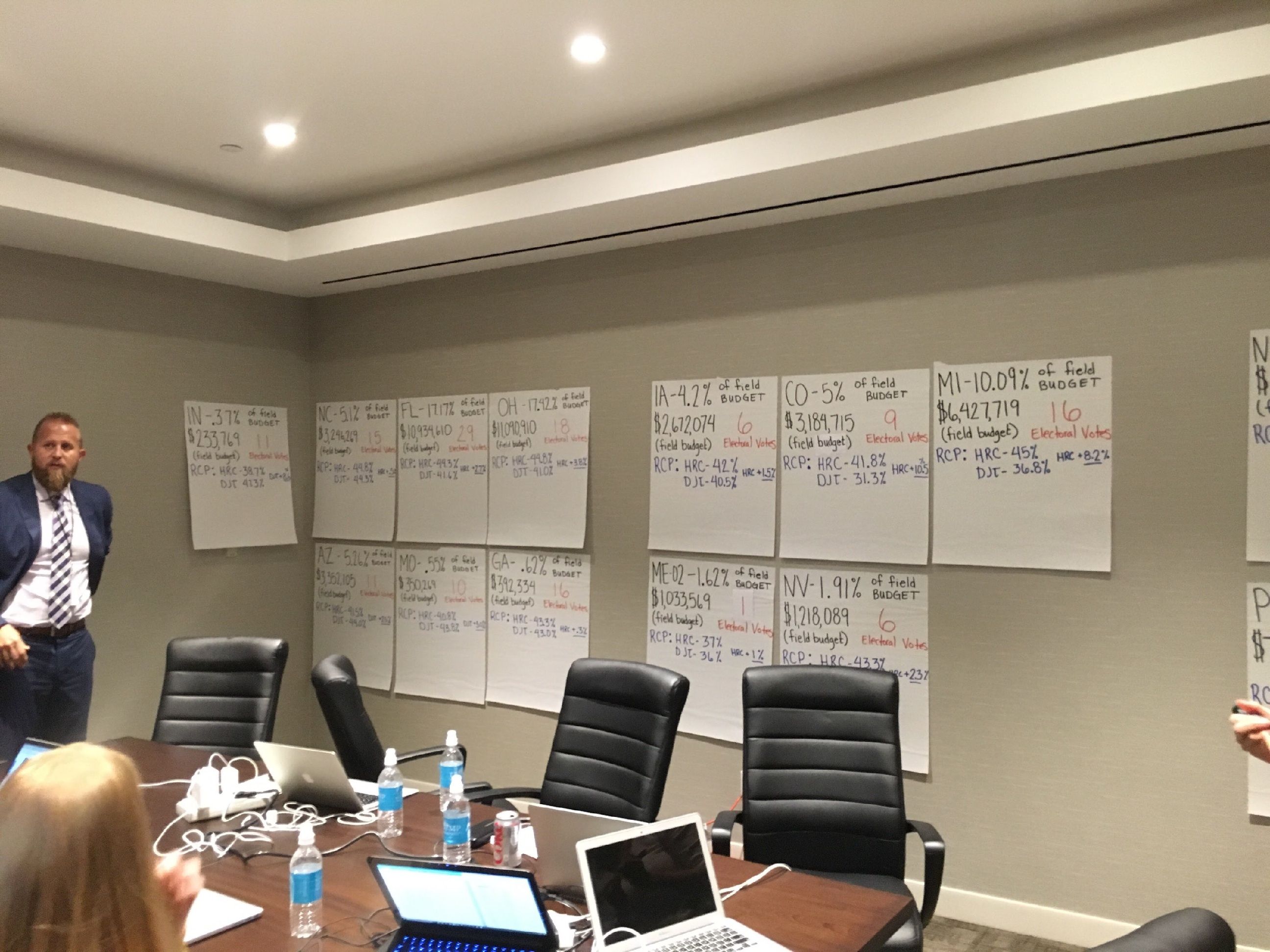 Trump reelection campaign manager Brad Parscale starts with 18 million email and phone numbers ("hard contacts") of likely Trump voters, and has a goal of doubling that that to 30 million to 40 million by Election Day 2020 — roughly half of the votes Trump needs. (He got 63 million in 2016.)
Parscale plans to spend $1 million per month for the rest of '18 on digital prospecting, with hopes to increase that next year.
The campaign says it has had great success recruiting Trump supporters with ads on AOL (an older, Trump-friendly demographic), Bing, Facebook, Google and conservative news sites.
The tech: Using the language of digital prospecting, Parscale talks about moving from a softer contact like a Facebook profile, to an email address, to an action like donating, volunteering or declaring support.
Why it matters: Parscale, the campaign's digital director in 2016, wants to bring that sensibility to the entire 2020 operation, talking about applying just-in-time and other logistics management tools. The campaign will perform traditional functions like knocking on doors and staging rallies, but he wants to make it more efficient by adding a digital layer.
What's new: Parscale showed us screenshots of project-management software he's developing to improve campaign efficiency: making it possible, for instance, to get internal approvals online rather than going office to office, and to spot staff bottlenecks.
Parscale wants to be able to use big data in real time — for instance, knowing what part of a city is optimal for a visit by a candidate or surrogate, and what issues are biggest there.
He'd like to be able to send push notifications to staff about what to tweet, so they don't have to dig through emails to find instructions.
Inside the machine: As an example of a Parscale technique, people who attend a Trump rally have to give a phone number (with a maximum of two tickets per number), deterring fraud and harvesting valuable SMS text contacts.
The message: Based on polling, the campaign's early messaging will emphasize economy, security and — wait for it — change.
That's a pretty tough sell from Air Force One. Parscale says one way of pulling it off is emphasizing "Democratic obstruction."
Parscale meets with Trump frequently in the White House residence and on the road, and they talk often on the phone.
The campaign manager has been showing Trump polling that shows the president's disapproval numbers have gone down.
Parscale's theory: Moving voters to neutrality is the first step toward eventual acceptance — as with a product or a personal relationship.
3. Quiet Pence flexes political muscle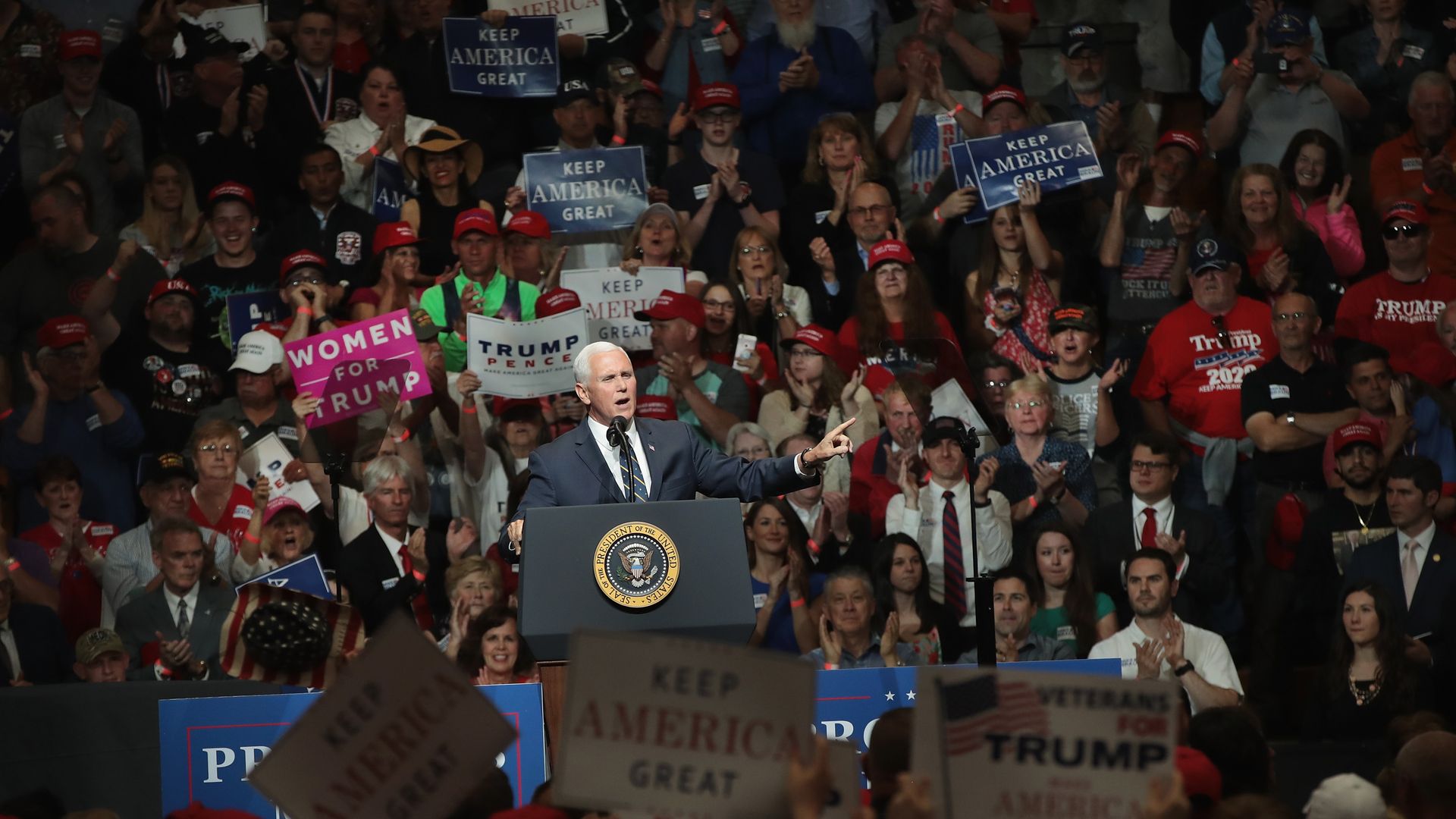 The president "is mostly uninterested in the mechanics of managing a political party. ... So Mr. Trump's supremely disciplined running mate has stepped into the void," the N.Y. Times' Alex Burns, Jonathan Martin and Maggie Haberman write:
"Republican officials now see Mr. Pence as seeking to exercise expansive control over a political party ostensibly helmed by Mr. Trump."
Why it matters: "Even as he laces his public remarks with praise for the president, Mr. Pence and his influential chief of staff, Nick Ayers, are unsettling a group of Mr. Trump's fierce loyalists who fear they are forging a separate power base."
"Trump and Mr. Pence remain on good terms personally, and the president has largely welcomed the vice president's political guidance, according to people close to both men."
A great scene: "Pence ... joined Mr. Trump for the meeting where the president

told Brad Parscale ...

that he would manage the 2020 race. Mr. Pence stood behind Mr. Parscale, rubbing his shoulders, as Mr. Trump spoke."
Corey's back: "Pence allies sought to tamp down any suspicions of disunity by circulating word via Fox News that Corey Lewandowski, Mr. Trump's first campaign manager, was signing on as an adviser to the vice president's political committee."
Bonus: Headline of the day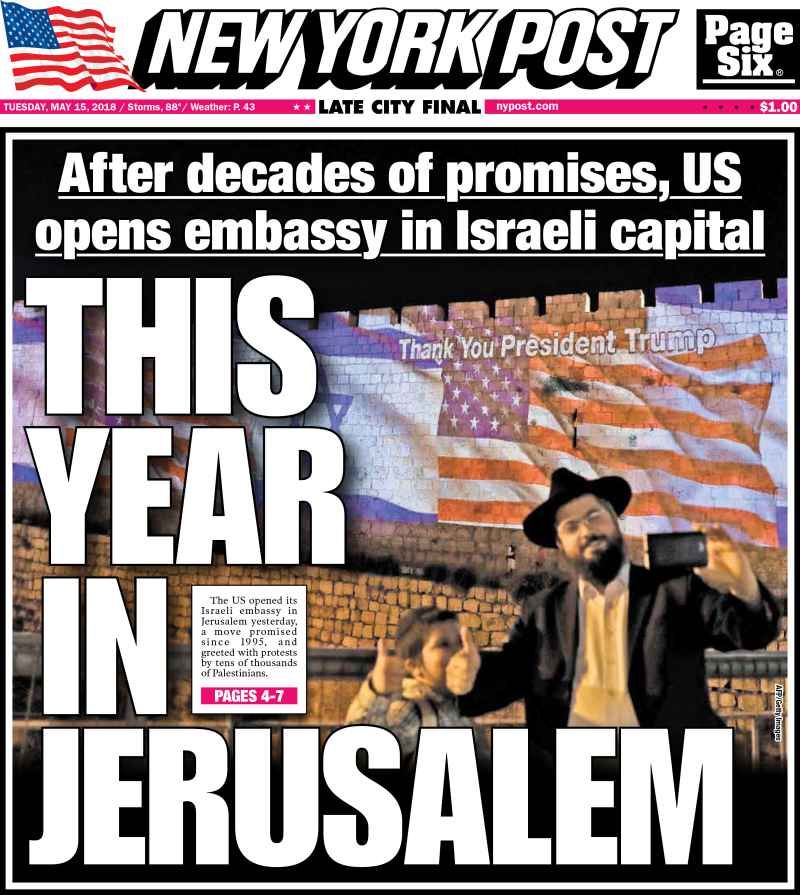 4. Fury and festivity: 50 miles, and a world away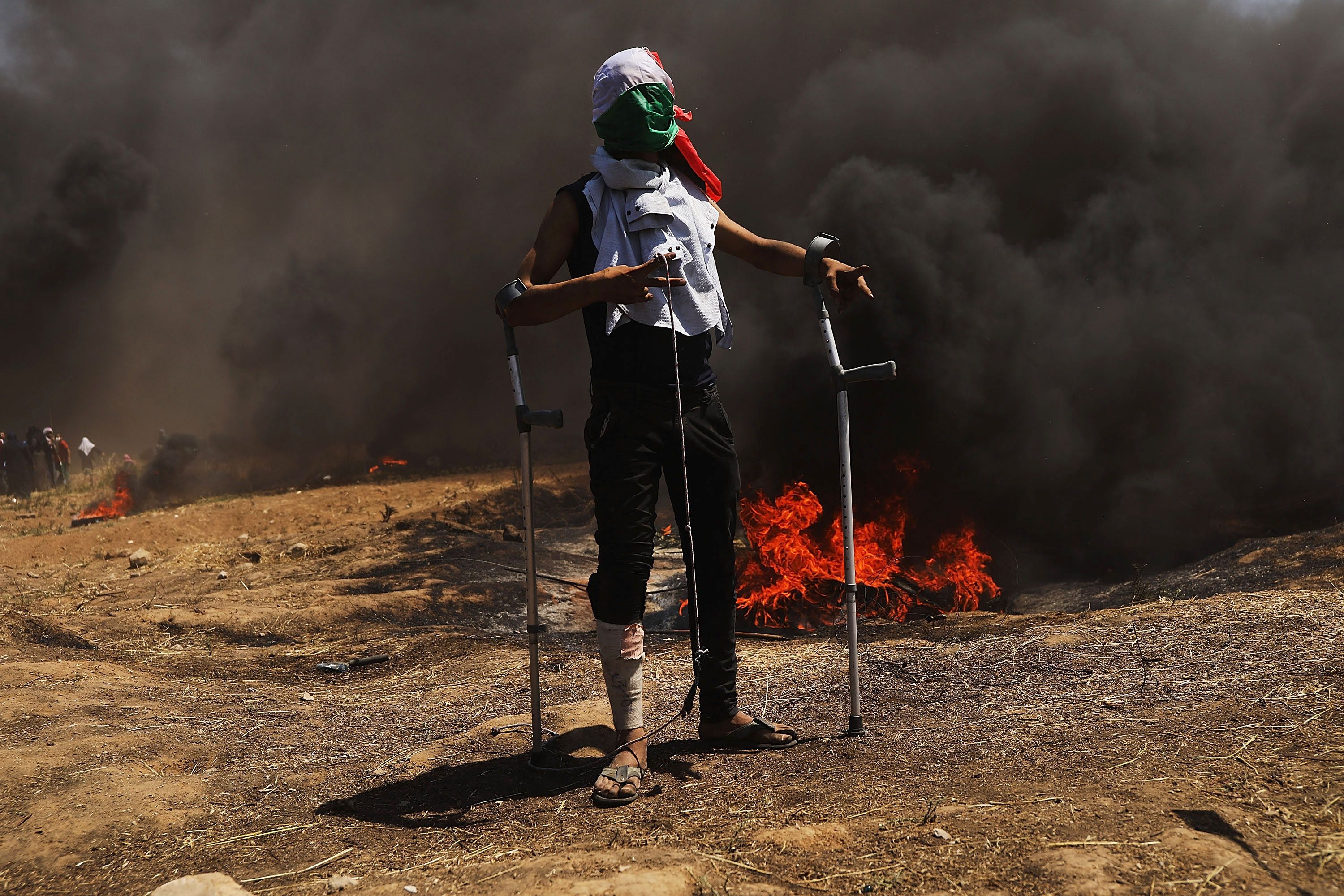 Overnight latest ... "Palestinians observed a strike [today] to mourn dozens killed by Israeli troops in a mass protest on the Gaza border — the single deadliest day there since a 2014 war," AP reports:
"Israeli forces killed 58 Palestinians, most by gunfire, and injured more than 2,700, Gaza health officials said."
"In jarring contrast, the U.S. held a festive inauguration ceremony for a new U.S. Embassy in contested Jerusalem just a few miles away."
N.Y. Times Quote of the Day ... Aaron David Miller of the Woodrow Wilson International Center for Scholars, who has advised Democratic and Republican presidents on the Middle East:
"Instead of taking Jerusalem off the table, they have made Jerusalem the table."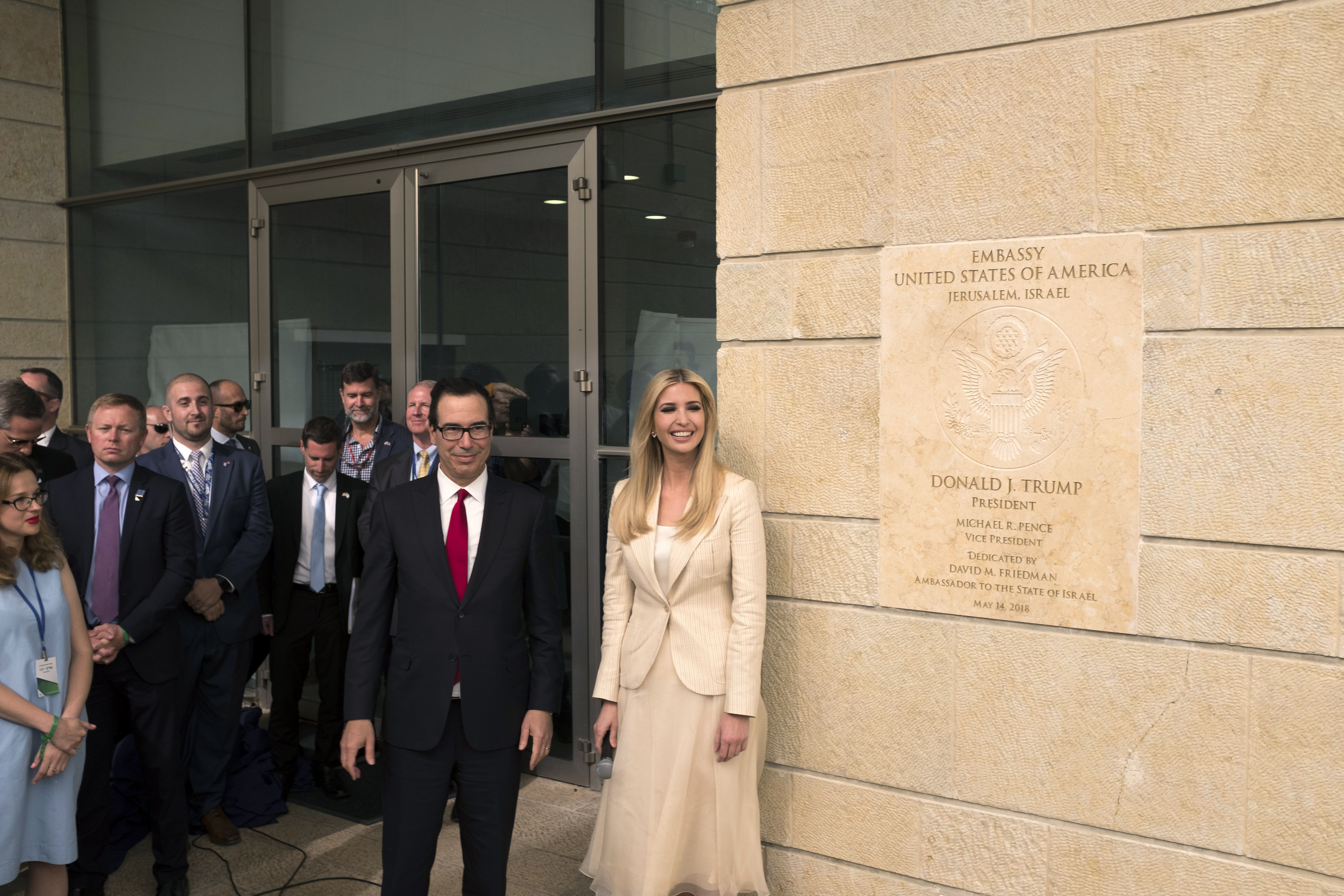 5. Bite of the day
The White House's Kellyanne Conway, to Fox's Martha MacCallum, on whether she expects personnel changes as a result of the McCain leak:
"I do. Actually, yes I do."
6. ⚡️Breaking Uber news
In a surprise move, Uber said today that it is changing its long-standing policy of mandatory arbitration to exempt employees, drivers, and riders in cases of sexual harassment and assault, Axios' Kia Kokalitcheva reports:
Why it matters: Mandatory arbitration clauses for employees and customers have been criticized (including by Uber whistleblower Susan Fowler) because companies can use them to keep victims silent and hide potentially illegal activities.
Victims will now have the choice of venue to pursue their claims of sexual harassment or assault — mediation, arbitration, or open court.
7. Casino stocks soar as Supreme Court clears sports wagers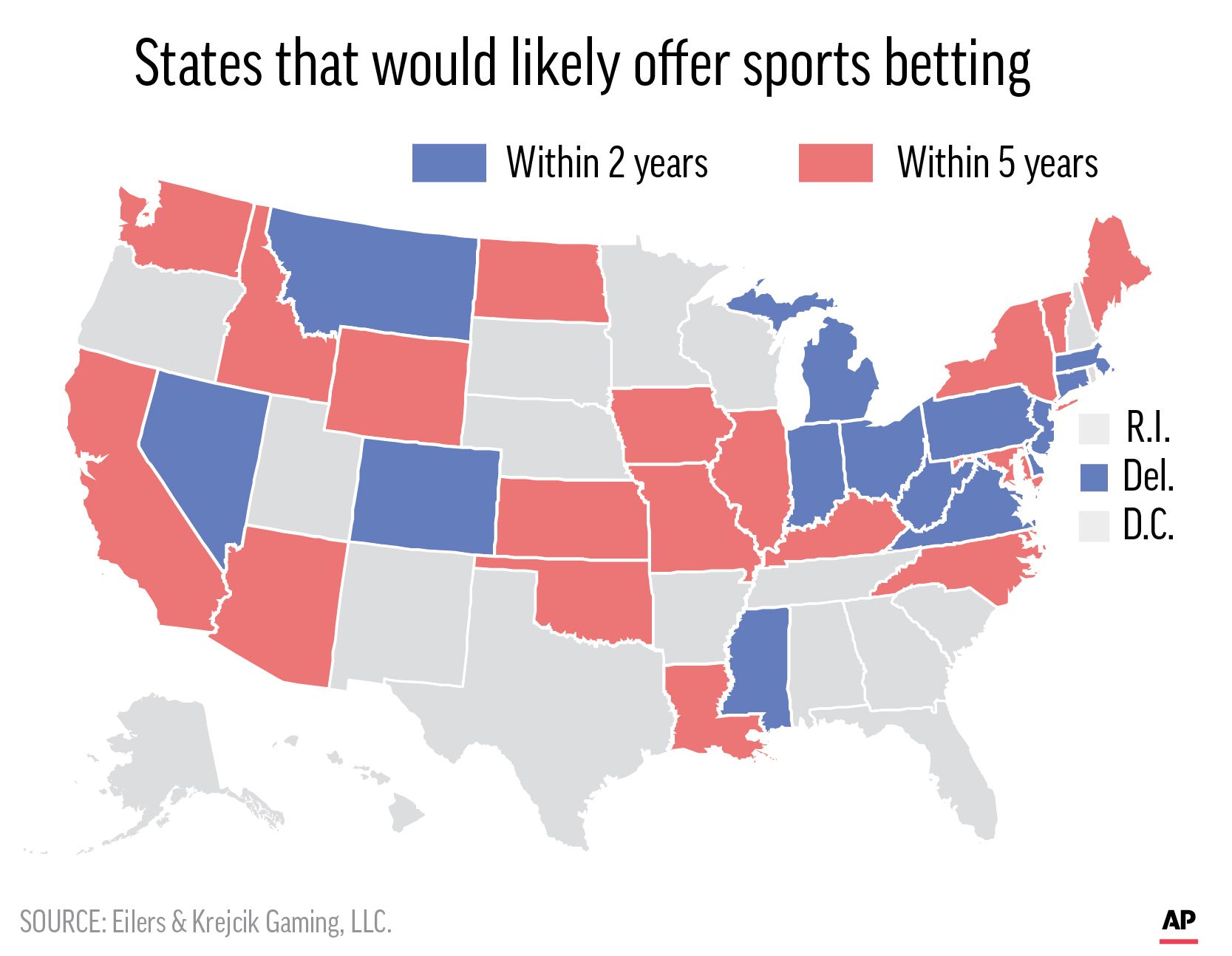 The Supreme Court's ruling freeing states to legalize gambling on sporting events unleashes "a race to attract billions of dollars in wagers," Bloomberg's Greg Stohr reports:
"Sports gambling could begin in a matter of weeks in casinos and racetracks in New Jersey, which instigated the legal fight by repealing its gambling ban."
"Mississippi, Pennsylvania, New York, Delaware and West Virginia could follow soon.
"[T]he number of states might reach double digits by the end of the year."
Why it matters, from WashPost: "The decision ... could revolutionize spectator sports, with some envisioning real-time wagering at baseball stadiums on whether the next pitch will produce a hit or an out."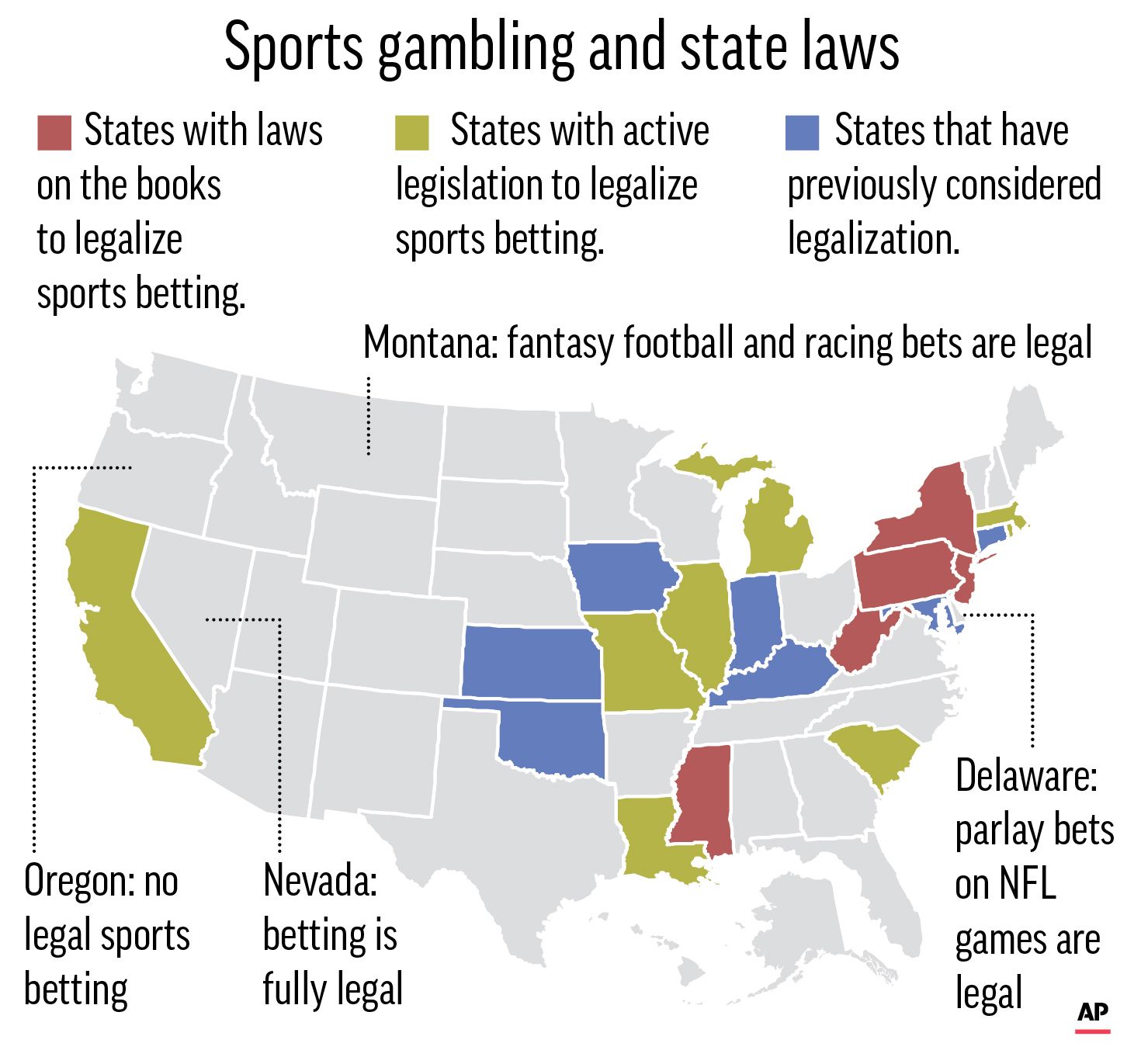 8. Navigating the robot revolution
"Automation is leading to job growth in certain industries where machines take on repetitive tasks, freeing humans for more creative duties," The Wall Street Journal's William Wilkes reports (subscription):
The holy grail: "In which industries does automation help both employer and employee?"
"The companies that may have cracked the code are those that can assign repetitive, precise tasks to robots, freeing human workers to undertake creative, problem-solving duties that machines aren't very good at."
Where it works: "manufacturing, the food sector and service sectors such as billing, where timetable spreadsheets can be automated, freeing up workers to do higher-value tasks."
"With demand for [auto parts manufacturer] Bosch ... steering controls high, the company has used automation to increase its output, leading it to hire more people to perform" tests and inspections: "We looked for 20,000 new hires last year."
A great case study ... "BMW ... automated some of the physical labor at the Spartanburg plant in South Carolina while retaining tasks involving judgment and quality control for workers":
"Since BMW introduced this and other automated processes over the past decade, it has more than doubled its annual car production at Spartanburg to more than 400,000."
"The workforce has risen from 4,200 workers to 10,000, and they handle vastly more complex autos — cars that once had 3,000 parts now have 15,000."
9. Worth the click
"These Are the Facebook Ads That Russians Targeted at People Like You":
A cool N.Y. Times project by Keith Collins lets you choose age, region and interest (African-American issues, LGBT issues, Muslim issues, conservatism or liberalism), then displays Facebook and Instagram ads from Russia-linked accounts.
10. 1 fun thing: Spotify dating
"How the Entire Internet Became a Dating Site" — Wall Street Journal A-hed by Emma Court (!):
"Disenchanted or just plain turned off by online dating, people are finding love and romance in other corners of the internet. Platforms designed for networking, gaming, blogging, answering questions and even making lists are doing unintended double duty as matchmakers."
"Musician Jacoby Jennings ... created [a Spotify playlist], inspired by music from the movie 'Drive,' attracted followers, including one he found especially intriguing. ... 'The thing that caught me is she was into the Cure, one of my top three bands, she has blue hair, she was posing in a DeLorean in her Facebook picture' ... They now live together in Michigan."
Owning it: "Ligia Carrion and ... Khalil Delmonte ... first started talking on Twitter ... Their 2013 wedding was Twitter-themed, using its bird logo on decorations and the platform's signature blue color ... [A]s wedding favors, they gave out little crocheted birds."