https://www.axios.com/newsletters/axios-am-02208619-1745-4357-bc4a-b70e8cee3846.html?chunk=0#story0
1 big thing: Operation Normal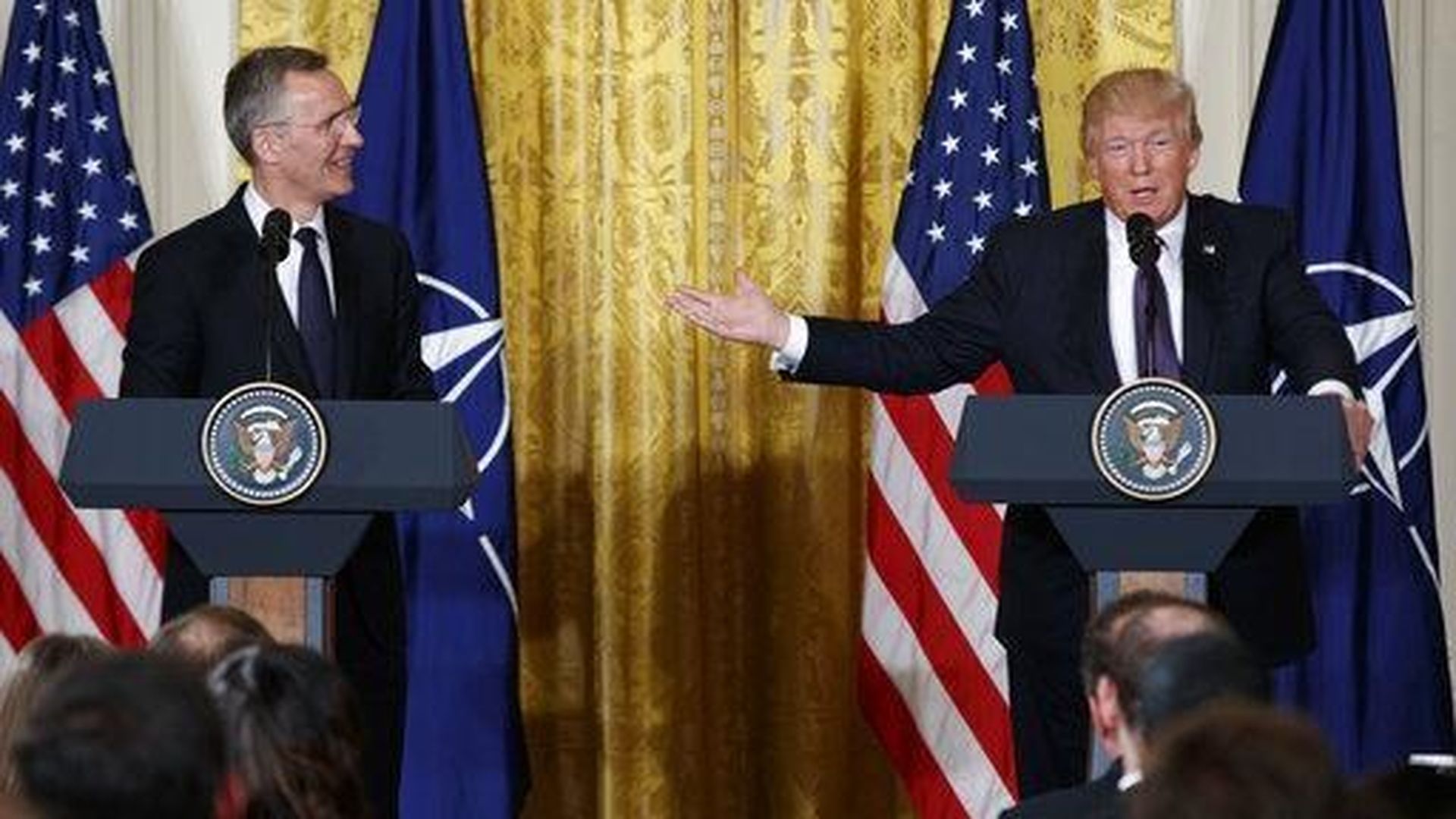 Operation Normal
achieved supremacy yesterday — and a new phase of Trump's presidency begins:
Centrist forces led by Jared Kushner and Ivanka Trump were ascendant, now are dominant.
Trump's salvo in the N.Y. Post was an invitation for Steve Bannon to change his approach, or resign.
Trump changed his stances on NATO, Chinese currency and the Ex-Im Bank. (White House officials say he's not reversing himself — these targets are hearing his concerns and coming his way.)
SecState Rex Tillerson was finally in the spotlight.
All this follows the successful Xi meeting at Mar-a-Lago, and the Syrian intervention over Bannon's objection.
Sound smart: Conservatives should have seen this coming. Trump goes where the applause is loudest. If that means being a full-throated birther, fine! If that means inciting hysterics about Mexicans, game on! If that means hugging NATO or smiling at corporate cronyism, Trump's your man! It would be a hoot if he came full circle and morphed into Michael Bloomberg.
Where all this could lead ... Nicholas Burns, former Under Secretary of State, to Brian Williams on MSNBC: "If you think back, Brian, to Henry Kissinger's famous triangulation in 1972, the opening to China: It was strengthening our relationship with China in order to leverage the ... Soviets, in many ways."
"Time after time in the last few days, we've seen very tough rhetoric by Rex Tillerson against the Russians ... So, a very tough line against Russia. A very soft, friendly, conciliatory line against China. ...
"I think Trump feels he's got an opening with China and really not much business to do with Putin at this time."
The coverage: N.Y. Times front page, "Wall Street Wing Seems to Be Edging Populists" ... WashPost front page, "Trump backs off fiscal pledges and adopts centrist policies that he once fought" ... Wall Street Journal p. A6, "Trump Voices NATO Commitment ... President makes sharp break in rhetoric from his campaign."
https://www.axios.com/newsletters/axios-am-02208619-1745-4357-bc4a-b70e8cee3846.html?chunk=1#story1
2. Trump's 🌎ist reinvention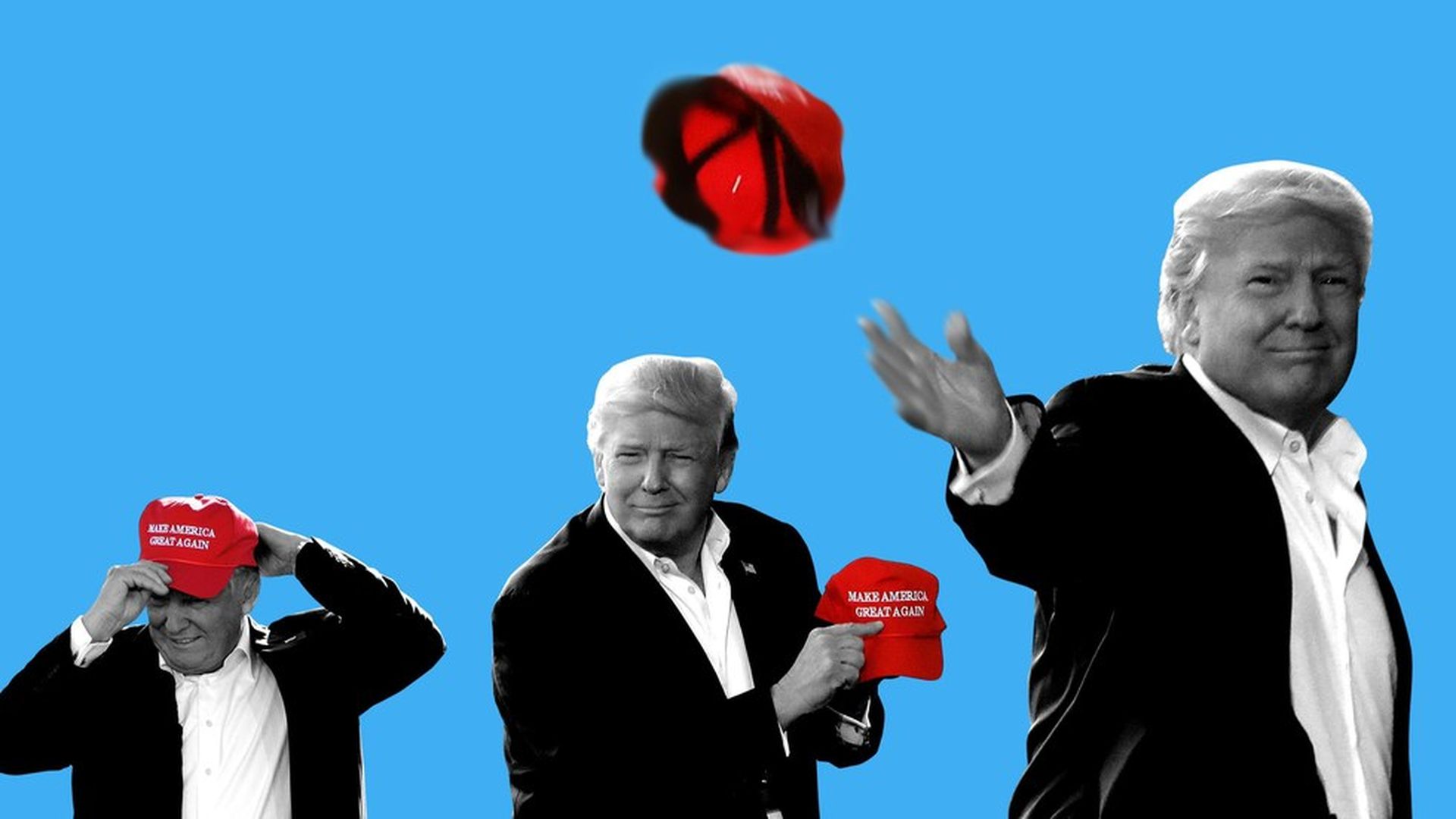 How we got here ... Trump campaigned as an ardent and unapologetic nationalist, but in less than a week Trump has morphed into a guy who could almost be mistaken for a conventional Republican president, Axios's Jonathan Swan points out.
Trump appeared in the East room yesterday and gave remarks that could've come from the mouth of George H.W. Bush. In the past six days, President Trump has:
Fired 59 Tomahawk missiles at a Syrian government airbase to respond to Bashar Assad's chemical weapons attack on his own citizens.
Belittled Steve Bannon in an interview with the New York Post.
Stood in the White House next to the Secretary General of NATO and declared the alliance is "no longer obsolete."
Hosted China's President Xi at Mar-a-Lago and said they had great "chemistry" and "bonding."
Told the Wall Street Journal he no longer plans to label China a currency manipulator, despite repeated campaign promises to do so "on day one." ("They're not currency manipulators," Trump said.)
Promised to repair the world during his presidency, not just America: "The world is a mess," Trump said in the East Room press conference Wednesday. "By the time I'm finished, it's going to be a lot better place to live in because, right now, it's nasty."
Talked with deep feeling about a foreign humanitarian crisis.
Jettisoned Vladimir Putin, whom he'd resisted criticizing until now. "We might be at an all time low with Russia," Trump said on Wednesday.
Cautionary note: Trump has been all over the policy map when it comes to issues he hasn't given much thought to (social issues, healthcare, Ex-Im Bank). But nationalism has been consistent in his speeches since the late 1980s. He's talked about foreign countries ripping America off, and even in his NATO appearance he gently ribbed the Secretary General about getting the other nations to pay up. Nationalism is one of the few things Trump's been consistent about for 30 years, those instincts are as hard-wired as anything in his make up; let's see how long this version of Trump lasts.
https://www.axios.com/newsletters/axios-am-02208619-1745-4357-bc4a-b70e8cee3846.html?chunk=2#story2
3. Jeff Bezos' annual letter: Be Day 1
Making quick decisions and obsessing on customer outcomes are keys to keeping companies in a psychic start-up mode, CNBC's Anita Balakrishnan says in her writeup of Amazon CEO Jeff Bezos' annual shareholder letter:
Bezos compares "Day 1" companies — companies that are at the beginning of their potential — with "Day 2" companies. "Day 2 is stasis. Followed by irrelevance. Followed by excruciating, painful decline. Followed by death. And that is why it is always Day 1."
And to hammer his point about Day 1, Bezos attached a copy of his original, 1997 shareholder letter, which Business Insider founder Henry Blodget calls "still a playbook for building a great company.
https://www.axios.com/newsletters/axios-am-02208619-1745-4357-bc4a-b70e8cee3846.html?chunk=3#story3
4. If you read only one thing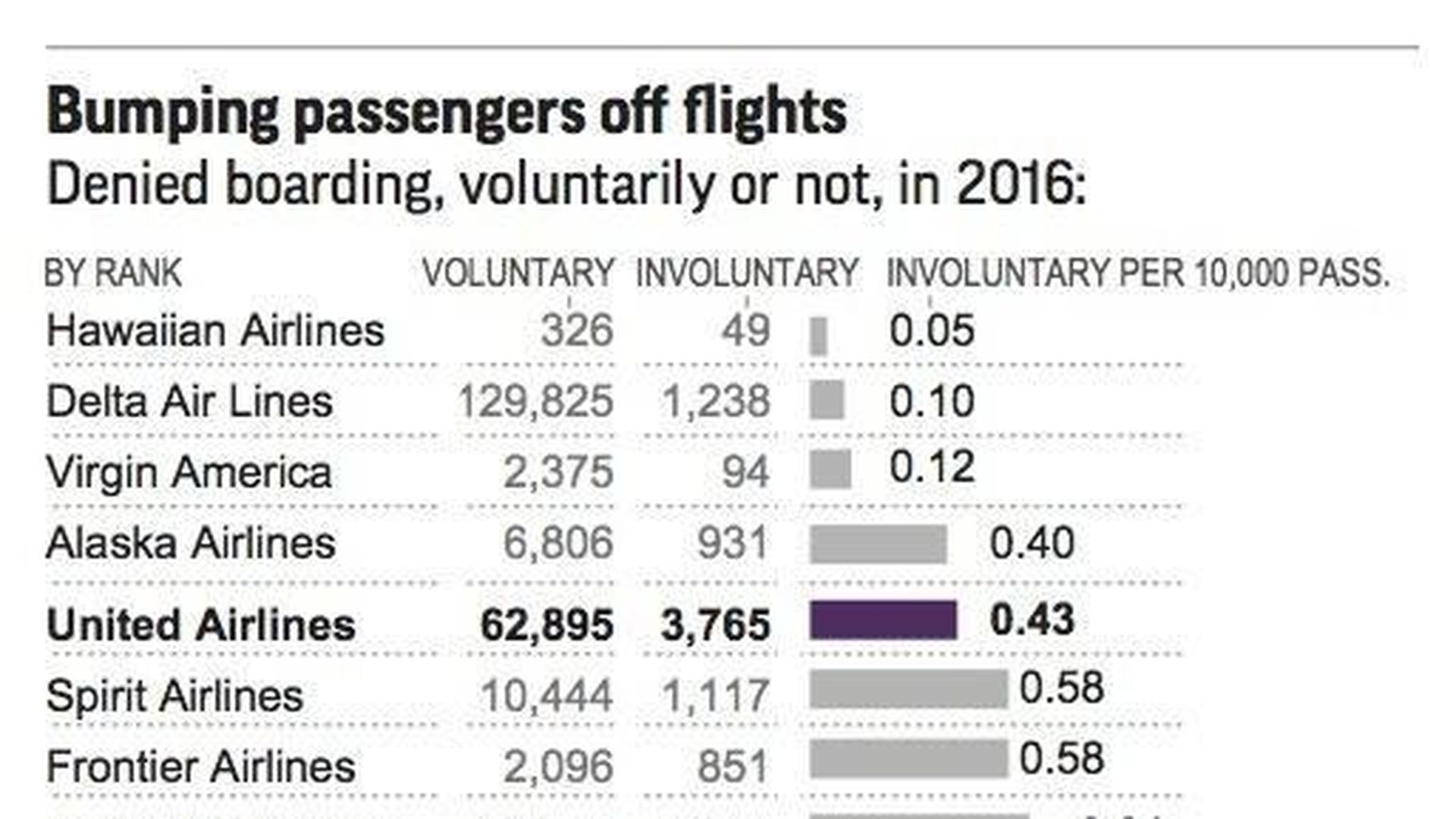 Vital sentence for anyone who heads a team or organization: I'd read this to your leaders, then have a conversation for how your brand is perceived, and how you can avoid this ...
L.A. Times consumer columnist David Lazarus: "I've received many, many recollections of indignities large and small suffered by United passengers. The unifying thread to all of them is a seeming disregard on the airline's part to how its customers are treated and whether the passengers would ever use the carrier again."
https://www.axios.com/newsletters/axios-am-02208619-1745-4357-bc4a-b70e8cee3846.html?chunk=4#story4
5. Beyond the Beltway: Early warnings
"Suburban G.O.P. Voters Sour on Party, Raising Republican Fears for 2018," the N.Y. Times' Alex Burns and Jonathan Martin write atop column 1, with dateline of Alpharetta, Ga.: "Early missteps by President Trump and congressional leaders have weighed heavily on voters from the party's more affluent wing, anchored in right-of-center suburbs around major cities in the South and Midwest. Never beloved in these precincts, Mr. Trump appears to be struggling to maintain support from certain voters who backed him last year mainly as a way of defeating Hillary Clinton."
The takeaway: "Interviews with Republican-leaning voters in four suburban districts — in Georgia, Kansas, Minnesota and New Jersey — revealed a sour outlook on the party. These voters, mainly white professionals, say they expected far more in the way of results by now."
Shot fired: "[A]lready, Republicans have strained to prop up their candidates in a pair of special House elections in the areas around Atlanta and Wichita, Kan., both in districts that have voted overwhelmingly Republican in past congressional races."
Why it matters: "Should Republican voters remain so demoralized — and Democrats so fired up — it could imperil dozens of congressional seats that are usually safe."
https://www.axios.com/newsletters/axios-am-02208619-1745-4357-bc4a-b70e8cee3846.html?chunk=5#story5
6. What the West Wing is saying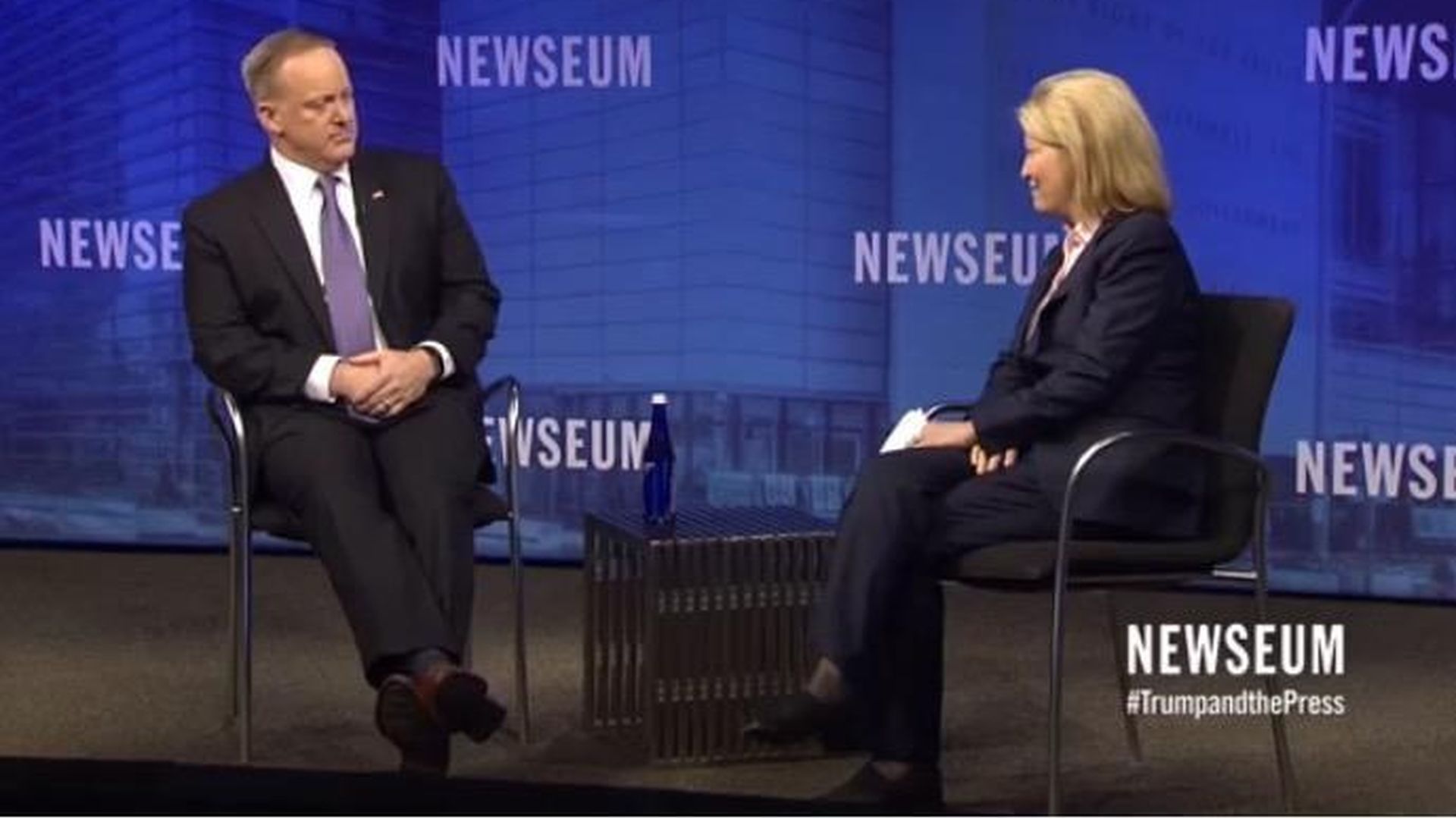 Sean Spicer to Greta Van Susteren at yesterday's Newseum extravaganza, "The President and the Press: The First Amendment in the First 100 Days":
"Sometimes we'll have an event in the Oval Office or in a particular room, and there will be four or five people there, and I'll get a call from a reporter that said: 'We have six sources who said ... .'"
Kellyanne Conway to Michael Wolff: "There is this quest to make interviews go viral now, where one has to wonder is the interview being conducted to inform the viewers or the larger population or an electorate more broadly, or is the interview being done in a way that's meant to entertain other journalists or impress advertisers or executives?"
"Some in the media want to prove that they have been right about him all along."
https://www.axios.com/newsletters/axios-am-02208619-1745-4357-bc4a-b70e8cee3846.html?chunk=6#story6
7. Massive issue in media: Who can I trust?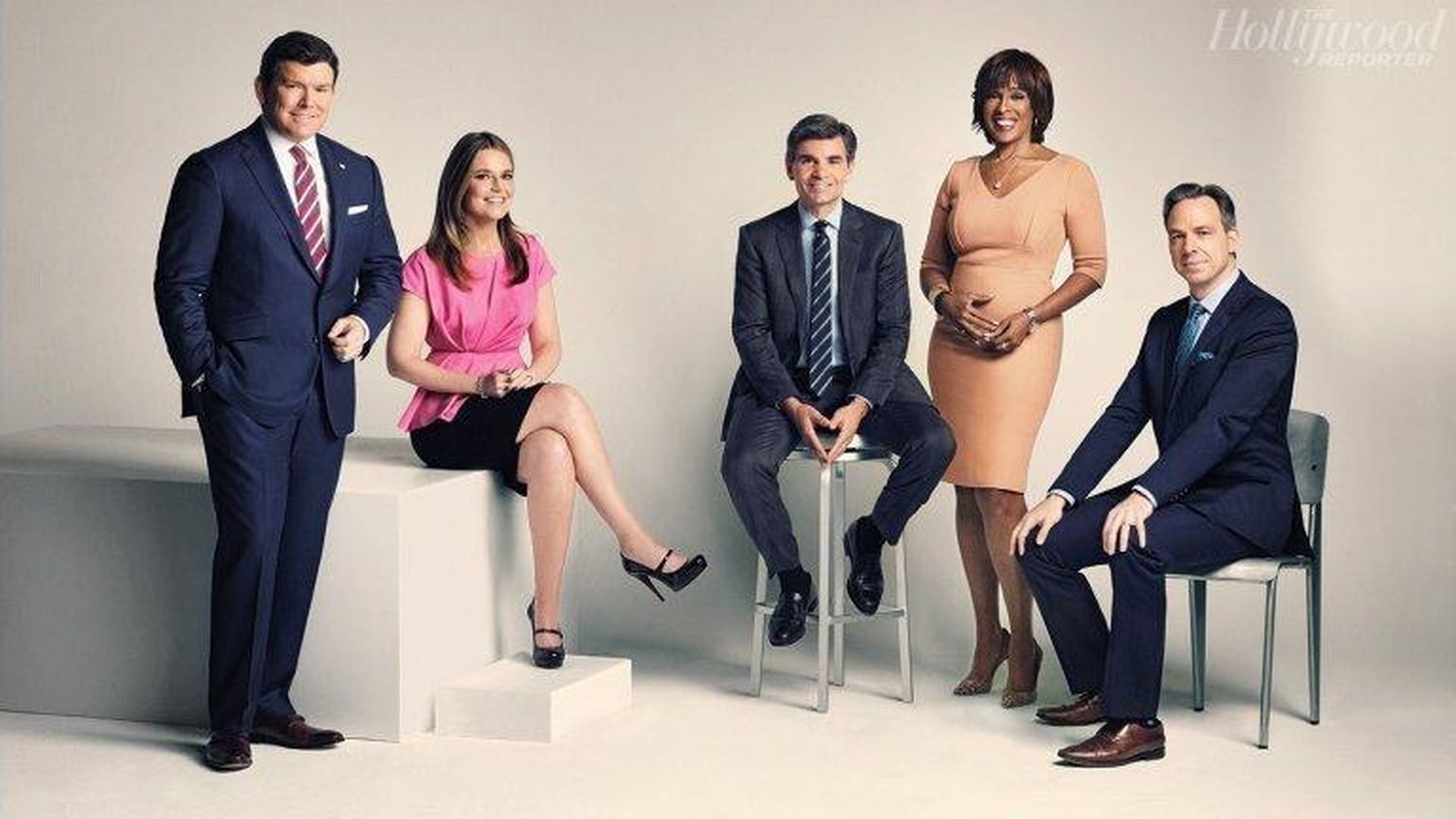 The Hollywood Reporter is out today with its New York Issue, including an "Anchor Roundtable" by Marisa Guthrie, who asked: "What is the biggest crisis facing journalism in the 21st century?
ABC's George Stephanopoulos: The fact that so few people believe us. That they're looking for narratives that reinforce their beliefs rather than challenge them.
Fox's Bret Baier: Trust.
NBC's Savannah Guthrie: Credibility.
Baier: People want to turn to someplace they feel they can get the straight scoop. There's so much online that is bombarding people every day.
CNN's Jake Tapper: There are news sources that are just out-and-out lies coming from Europe, coming from other parts of the world …
CBS's Gayle King: … coming from people's basements. [They] are putting things out that have no resemblance to reality.
https://www.axios.com/newsletters/axios-am-02208619-1745-4357-bc4a-b70e8cee3846.html?chunk=7#story7
8. Hot spots to watch this weekend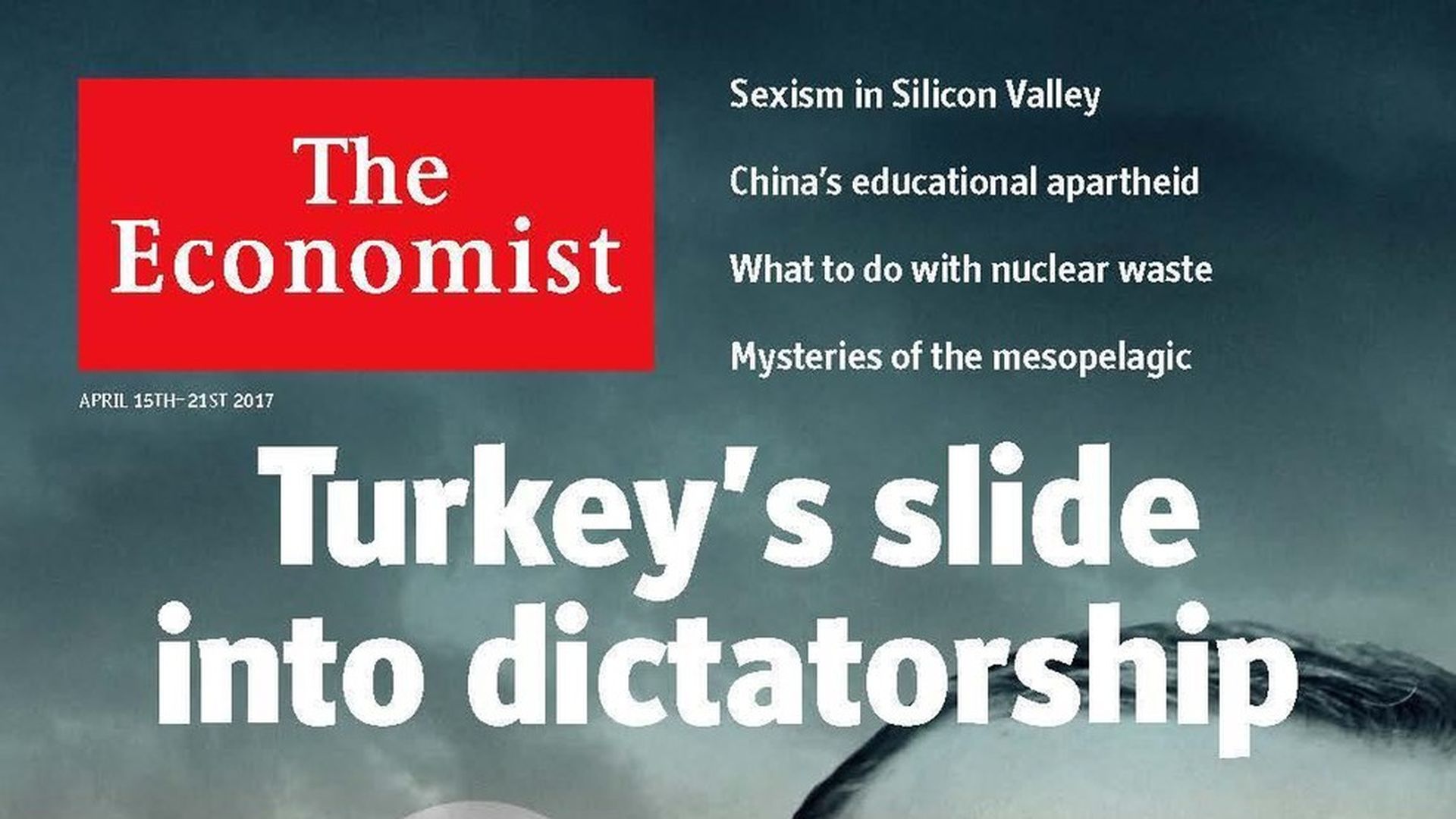 "Turkey is sliding into dictatorship: [President] Recep Tayyip Erdogan is carrying out the harshest crackdown in decades. The West must not abandon Turkey," The Economist writes in its cover leader (editorial):
Why it matters: "Turkey matters not just for its size, but also as a bellwether of the political forces shaping the world. ... [I]t is a test case of whether democracy can be reconciled with political Islam."
What's happening: On Sunday, "Turks will vote in a referendum over whether to abandon their parliamentary system for an executive presidency."
What's likely to happen: "A Yes is likely, but far from certain. ... A Yes would condemn Turkey to the elected dictatorship of President Erdogan. A No might just let Turks constrain him."
https://www.axios.com/newsletters/axios-am-02208619-1745-4357-bc4a-b70e8cee3846.html?chunk=8#story8
9. The talk of Wall Street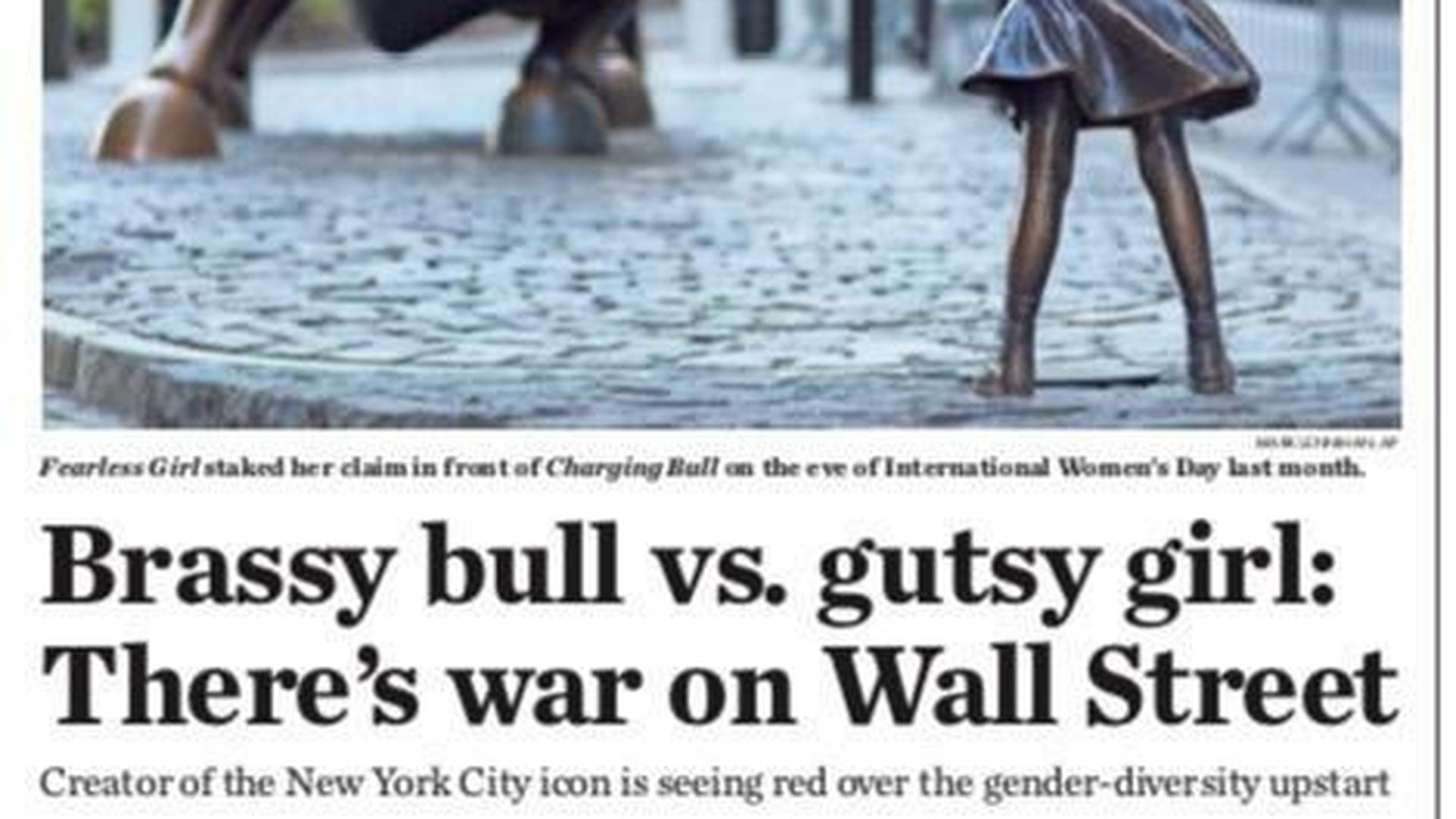 The sculptor who created the iconic "Charging Bull" statue in New York's financial district says the city and an investment company violated his rights by installing the newly popular "Fearless Girl" statue near his creation without permission for what amounts to a commercial ad campaign, USA Today's Mary Bowerman and Kevin McCoy report:
"Fearless Girl," with hands confidently placed on hips, was installed in front of the bull on the eve of last month's annual commemorations of International Women's Day. Boston-based State Street Global Advisors has said it commissioned the new artwork as part of its call ... to ensure that corporate governing boards feature diversity.
https://www.axios.com/newsletters/axios-am-02208619-1745-4357-bc4a-b70e8cee3846.html?chunk=9#story9
10. 1 fun thing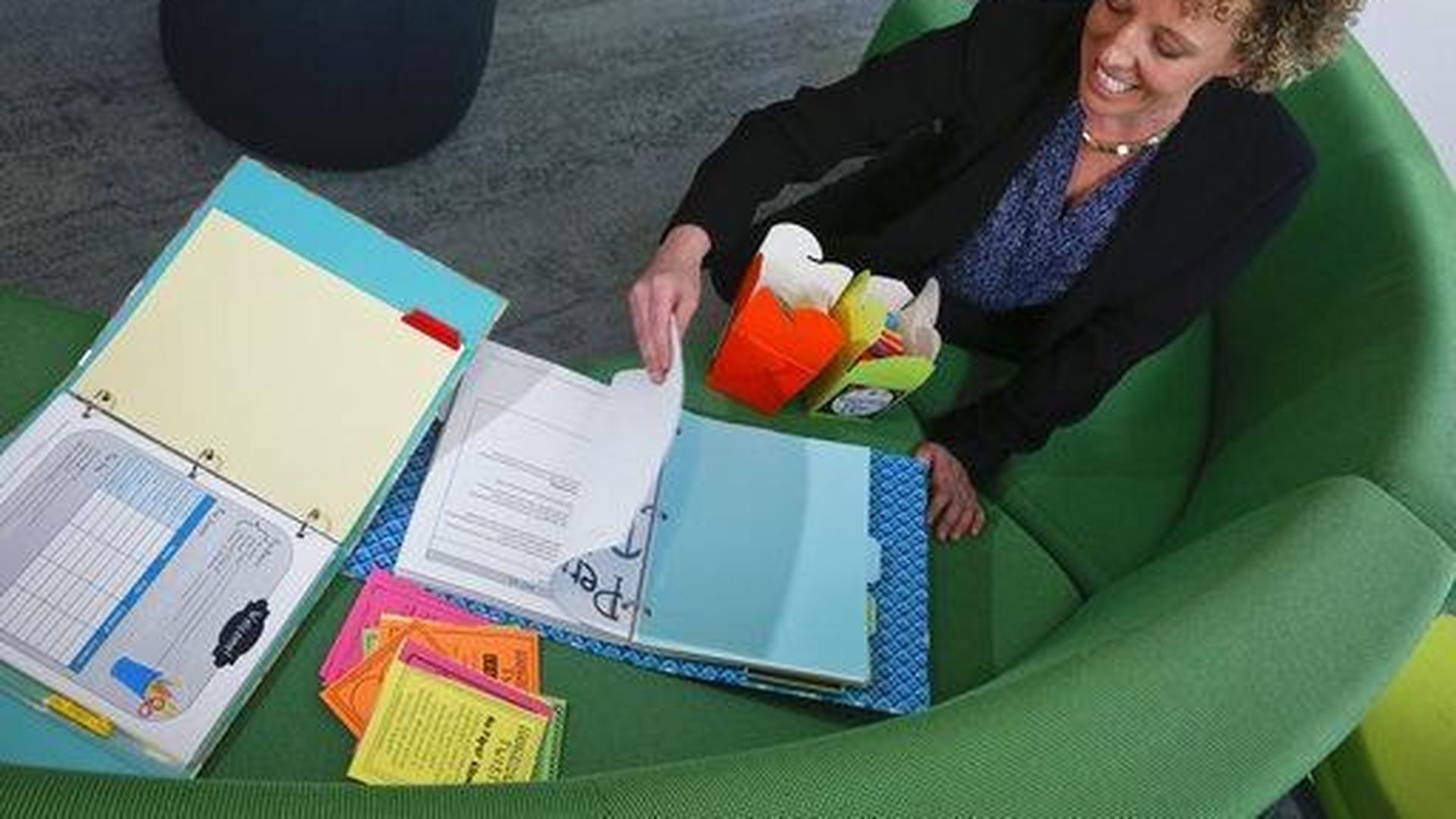 Teachers selling lessons to other teachers online has become a booming business. It's a trend driven by higher standards and teachers willing to pay out of their own pockets for classroom-tested material, AP's Buffalo-based Carolyn Thompson reports in "Million Dollars Lessons":
Teachers Pay Teachers contends that it hit a milestone last year, when its 80,000 contributors earned more than $100 million, and that at least a dozen have become millionaires since the site launched a decade ago. Other major sites including Teachwise and Teacher's Notebook, and recently such corporate players as Houghton Mifflin Harcourt and Amazon, have launched sites of their own. ...
[S]ome educators worry the increasing monetizing of lessons will stifle the longstanding practice of teachers freely sharing their ideas. And legal experts question whether teachers actually have ownership of the lessons they are selling. For teachers buying the materials, however, it's a major time saver, allowing them to reclaim the nights and weekends otherwise spent starting lessons from scratch.