Body scans could be Washington's new status symbol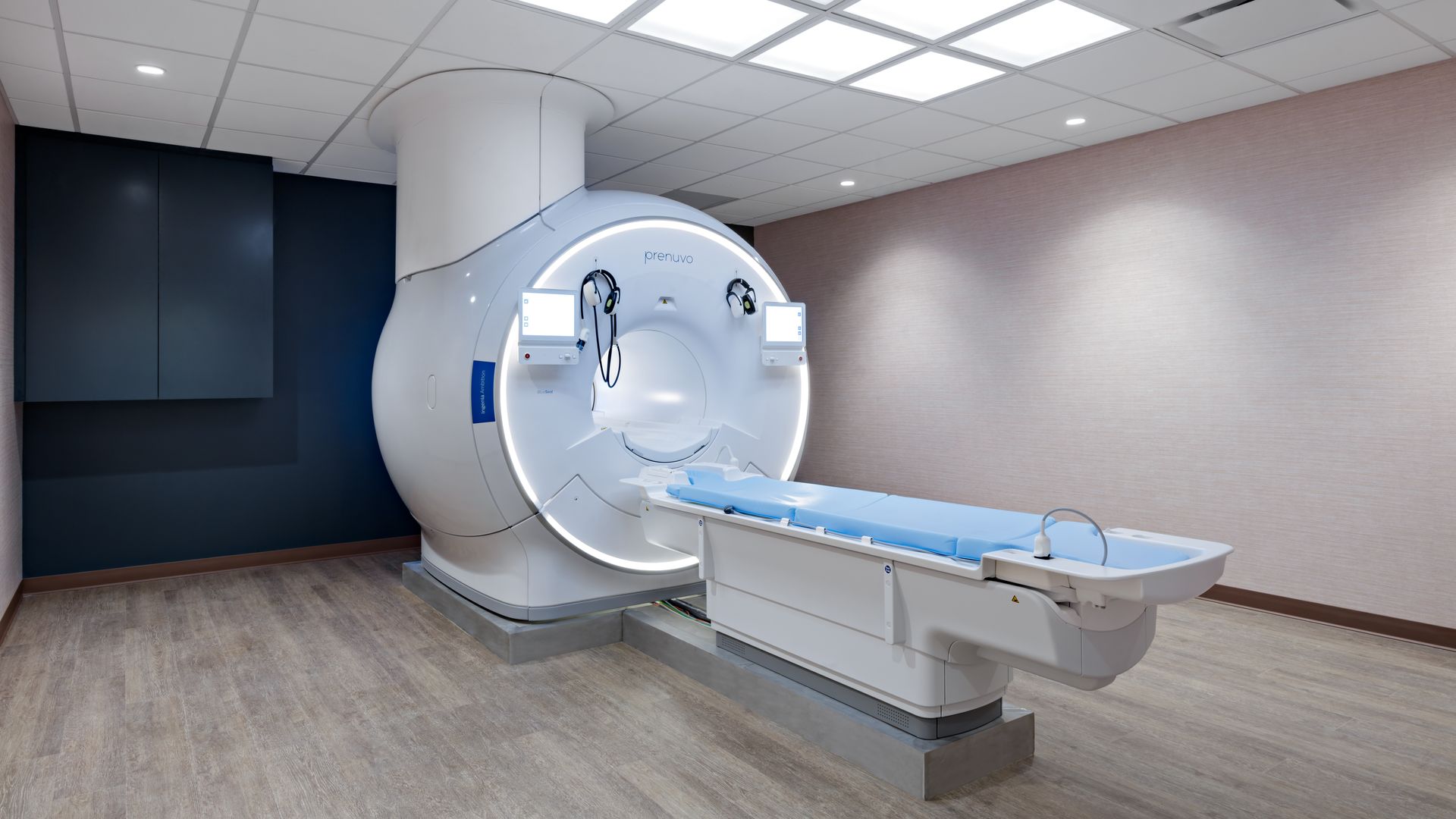 Watch out, Washington: We might have a new status symbol.
Driving the news: MRI group Prenuvo recently opened its first local clinic in Bethesda, where scans cost between $999 and $2,499 and search for over 500 conditions, including early-stage cancer.
Why it matters: Prenuvo is part of a wave of tech-forward startups aiming to disrupt the country's health care system — and its scans are attracting fanfare from celebrities and social media (the #prenuvo TikTok tag has over eight million views).
What they're saying: Prenuvo's made it easier and faster to get this type of MRI imaging, positioning its scans as a proactive elective treatment in a medical world overwhelmingly focused on treating people only when they're already sick.
Founder Andrew Lacy tells Axios only about 4% of users discover something life-threatening, mostly early-stage cancer or aneurysms.
"Our job is to inform you so you can go and advocate for your care."
When Prenuvo offered to host Axios D.C. for a free full-body scan, I volunteered as tribute.
I'm young and healthy — I wasn't that worried about the results, but a tiny part of me wondered if it would uncover something awful. (My friends posited it would provide proof of their long-held suspicion that I was of extraterrestrial origin. Thanks, y'all!)
Plus: I wanted to see whether the scans warranted Hollywood's support — Cindy Crawford is an investor, and users include Kim Kardashian and Maria Menounos, who detected stage 2 cancer via Prenuvo.
Reality check: The scans are expensive and aren't covered by insurance, and Prenuvo recommends annual visits. Plus, the medical community has expressed doubt about the efficacy and necessity of this type of screening.
The American College of Preventive Medicine doesn't recommend full-body scans for asymptomatic patients, saying it's wasteful and can lead to unnecessary follow-up testing that could be harmful or expensive. The American College of Radiology also issued a similar statement this year.
Such screenings often capitalize on the medical fears of those who can afford them, says GW professor of medicine and radiology Brian Choi. "Being wealthy and having some anxiety around your health are not the risk factors I might pick [to precipitate elective screening]."
Instead, Choi advises sticking to proven screening measures like mammograms and colonoscopies.
The other side: "These tests are very good at distinguishing benign findings from things that are concerning," says Lacy. "And, of course, not 100% of the time when you do a follow-up are your worst fears confirmed, and I think that's a good thing."
The company is aiming to bring down costs and increase accessibility. Prenuvo plans to offer a $500 scan in the next few years via scaling the company and the use of AI, says Lacy.
How it works: Since it's an MRI machine, Prenuvo doesn't use radiation or contrast.
You fill out a detailed medical history report beforehand and fast for four hours.
The Bethesda office is very One Medical-core: Think minimalist Scandi-cool furniture and a fridge stocked with seltzer and the kind of healthy snacks with labels featuring cartoons of cheerful anthropomorphic edamame pods.
Everyone gets a cozy changing room with a chair and chargers for your phone where you put on scrubs and store all your jewelry.
Then it's time for the scan: A technician straps you into the tube-shaped machine, where you lay supine for about an hour (yes, you can watch Netflix).
I asked for a home design show because the only thing worse than watching a sex scene with your parents is watching a sex scene with your MRI technician.
This is not for the claustrophobic — I felt a little like Ham the Astrochimp in his 1960s space capsule. But Prenuvo offers sedatives for those who need them.
Personally, the hardest thing for me was holding my breath, which you have to do several times to remain still for the imaging.
Post-scan, a radiologist assessed the images and then walked me through the findings and scans via Zoom.
In my case, everything was normal: Some typical wear-and-tear, plus a little patchiness in my lungs thanks to a recent cough.
Thought bubble: It was fascinating and a little unsettling to peer closely at my spine and the whirls of my brain — an interesting reminder that we're all just mortal flesh bags.
Also, I want to stress that my radiologist said my brain was "very normal" — flagging this for my partner and therapist! Plus, I'm happy to report there is no sign of me being an extraterrestrial life form.
The bottom line: While the doctors I spoke with don't recommend elective screenings like Prenuvo, if you're dead-set, consider it just part of a larger screening toolkit, says family medicine provider Ernest Brown.
"This is not de facto, and never should be the answer for everything," he says.
More Washington D.C. stories
No stories could be found
Get a free daily digest of the most important news in your backyard with Axios Washington D.C..