Town Talker: D.C.'s VIP drivers rack up speeding tickets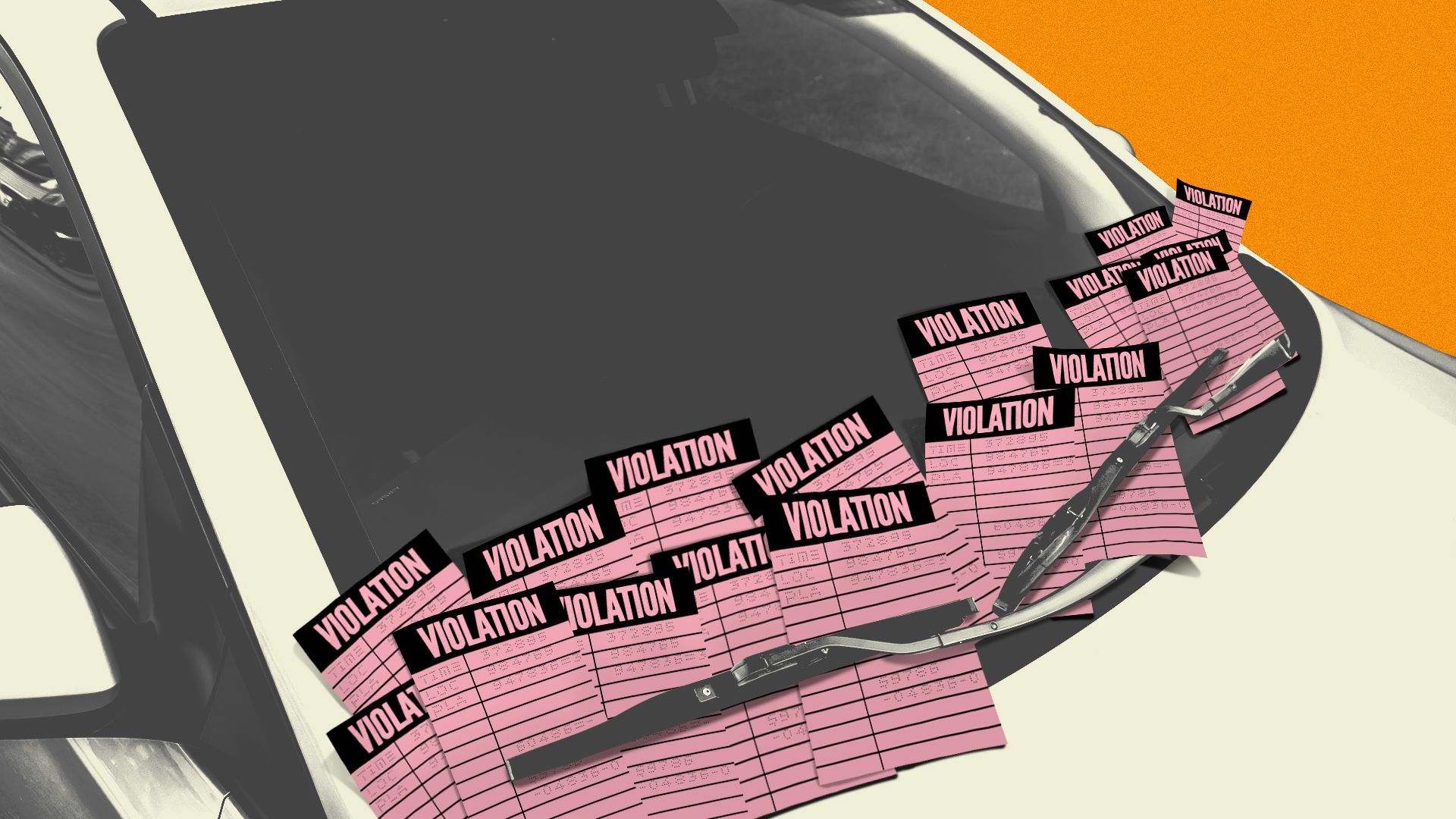 Cars bearing D.C.'s coveted VIP license plates have racked up at least $38,000 in speeding and parking fines over the past several years, per Axios' search of city records.
Why it matters: The bumper status symbol — think plates in the single to triple digits — is handed out by the mayor and D.C. Council members.
Zoom in: D.C. plate 363 has notched $3,750 in fines, according to my search of the DMV's payment database in late July. One ticket was for going 21-25mph over in a 25mph zone on Branch Avenue in Southeast.
Tag 146 was cited for $2,580 in violations.
And numero 322 belongs to a "vehicle that is currently booted or towed." Its tab — $1,240 — runs back to 2020.
The lowest plate on the hook for fines — Tag 8 — owed $80.
How it works: To catch the scofflaws, I inputted tag numbers 1 through 500 into the database. And found 11 plates that owed at least $1,000 each.
It's worth noting that some of the tickets were pending challenges, while others were labeled "paid or ineligible for adjudication." (Anyone who has contested a parking ticket knows that process can last a while.)
Be smart: The tags are functionally useless other than for bragging rights. Their owners are apparently a city secret — my public records request came back redacted. (City Paper had better luck a few years ago.) But the lower your number, the tighter you must be with the mayor.
Proximity to power yields exclusive plate designs, too, ranging over the years from cherry blossoms to Bowser's "We Are Washington, D.C." logo.
Flashback: Bowser bestowed tag 420 on Adam Eidinger in 2015, after he led the campaign to legalize marijuana.
State of play: A vehicle is eligible to be booted if it has two or more parking and/or photo enforcement tickets that are more than 60 days old.
But D.C. has struggled to boot tens of thousands of eligible cars, as NBC4 reported in May.
Unsolicited design suggestion: A "How am I driving?" hotline stamped on the reserved-number plates.
✍🏼 Humblebrag: In seven years of driving, zero speed cam tickets. It can be done! Town Talker is a weekly column on local politics and power. If you want to save me from carpel tunnel and engineer a bot to auto-track tickets tied to the powerful and famous, drop me a line: [email protected].
More Washington D.C. stories
No stories could be found
Get a free daily digest of the most important news in your backyard with Axios Washington D.C..