Backstage at Echostage with GM, VIP handler Ben Lek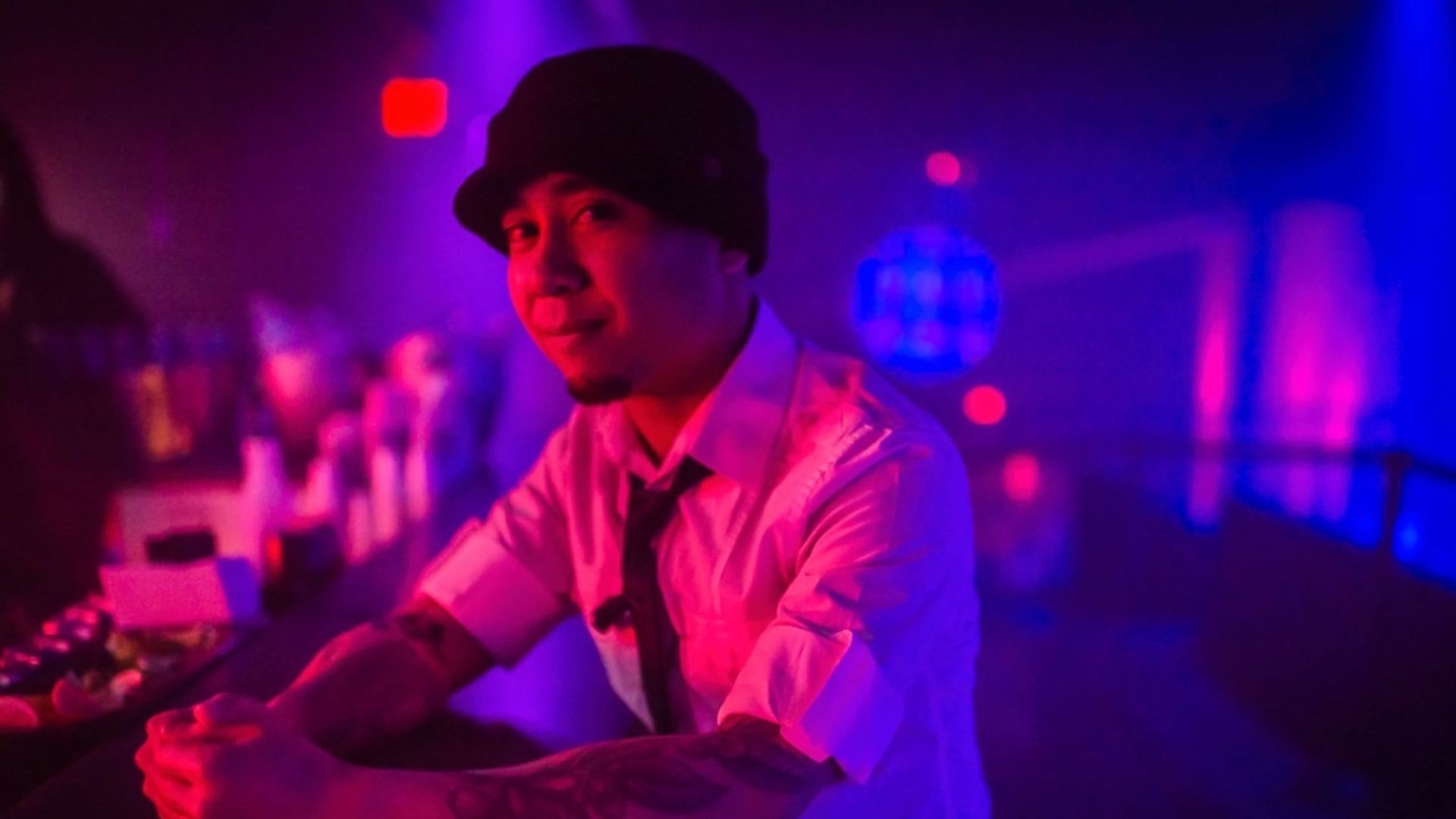 Welcome back to The Sunday Scene, our series for going behind the curtain with interesting D.C. people who live big weekend lives.
Ben Lek is the general manager and oversees VIP handlers at Echostage — the 3,000-person mega-music venue in Northeast D.C. that DJ Magazine crowned the top nightclub in the world, and that's headlined DJ Tiësto and Miley Cyrus.
Lek, 41, isn't a club kid. In fact, he's a former marketing consultant who switched careers and climbed the club-world ranks, running tables into the thousands and catering to celebrities.
"The thing about Echostage that I love is that every day I walk in and it's a new show. It's a new adventure."
Here's how the D.C. native gets it done:
⏰ Early bedtime: As in, 8am. "On show days, I may be in the office at 10am and there through the whole night, to make sure everything is good. Last Sunday we didn't close the doors until four."
💰 The bribes: Table bumping — bouncing groups for the highest dollar — is club currency. Not at Echo, says Lek. Still, people try: Cash. Favors. Bitcoin ("I should have taken that.").
Or name drop. "People walk up and say, 'I know Ben Leek personally.'" As in, the vegetable. "As much as I would love to be that guy — and most places will take your money — we want to treat everybody the same."
🥩 Craziest ask (denied): "One artist was part of PETA, and very adamant that you cannot eat meat anywhere around [them], or have the smell. We have barbecue places that run next to us, and we were like, well, we can't control that."
😱 Craziest ask (granted): An artist wants something beyond the menu's $7,000 Louis XIII cognac? No prob. Or a framed picture of Nickelback's Chad Kroeger in the green room? I'll raise ya.
"We printed out [his face] and made the whole wall a giant picture of Chad Kroeger. We like to fulfill those funny requests so they [artists] know Echostage is a place where they can have fun."
☕ Energy source: "Coffee, black. And the tears of my haters."
🎶 Go-to playlist: You'd think EDM. Wrong. "I listen to whatever I'm in the mood for, and that's usually NSYNC or [South Korean girl group] Blackpink."
❌ Toughest job: "When it's a tour show, sometimes we have to be in at 5am when the show the previous night ended at 4. We're completely flipping the place. Every show is different as far as production. It's not just plug and play."
✨ Star-struck moment: Lek sees Commanders, Caps, and Cowboys. But "I do not fanboy." He almost lost his cool with Zack de la Rocha from Rage Against the Machine. And the first time he met Snoop Dogg. "I just internally shed tears of joy."
🐂 Favorite shows: No shows. "My whole job is to essentially babysit 3,000 people. I would prefer not to be in a crowd. I'm a giant adrenaline junkie, so I'd rather go skydiving or run with the bulls in Spain."
🚲 Wind down: "Very long bicycle rides. I love Korean dramas." Also: cooking. "I'm Cambodian, and I'm trying to learn everything my parents made. My knowledge is how to microwave things and how to make instant ramen, so it's hard."
More Washington D.C. stories
No stories could be found
Get a free daily digest of the most important news in your backyard with Axios Washington D.C..