The origin of the DC Defenders beer snake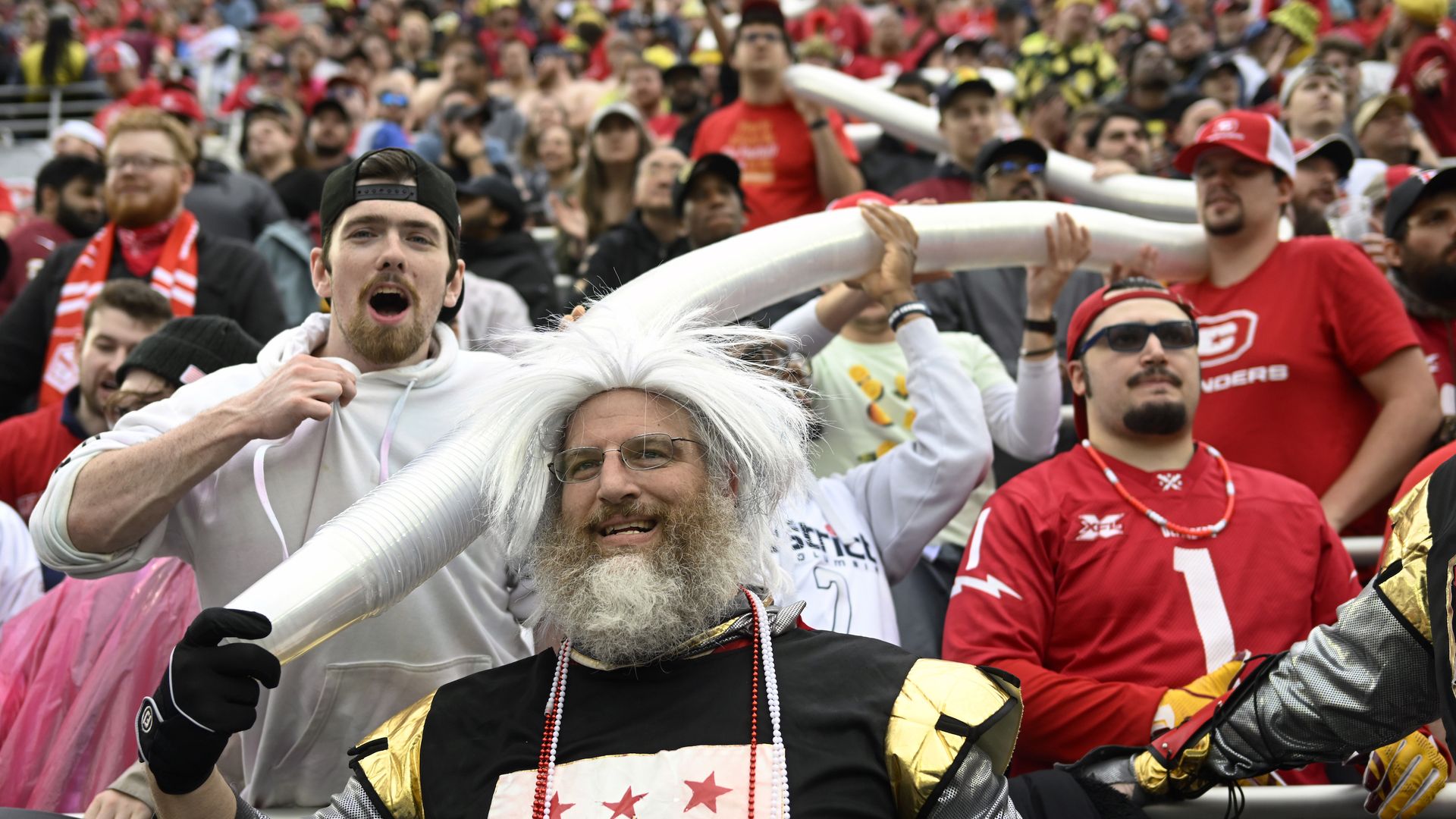 D.C. sports fans have created wild personas over the years (e.g. The Hogettes, terrifying) but none have captured national attention and team spirit like the DC Defenders' "beer snake."
Why it matters: The Defenders head to their first-ever XFL Championship game on Saturday. Everyone, even XFL co-owner Dwayne "The Rock" Johnson, is talking about D.C.'s winning football team and the "best fanbase" in the league (thanks in part to the beer snake).
What is the beer snake, you ask? Fans create it every home game at Audi Field by stacking hundreds of emptied beer cups.
The intrigue: ESPN estimates that "12 Pack" (yes, it has a name) can:
Grow beyond 60 feet in length
Consist of more than 1,400 cups
Cost over $17,000 thanks to those pricey $12 stadium beers
Our thought bubble: Adults who keep snakes raise questions — Where does it come from? Is it legal? Why, Just, Why? Ditto for adults who make beer snakes.
And so, we took a dive into the suds serpent's den.
Flashback: Defenders fans didn't invent the beer snake. The first recorded sighting was in 1969 at Wrigley Field in Chicago. Beer snakes have hatched everywhere from Australian cricket matches to Minnesota baseball games, though some stadiums have banned them (RIP, Winnipeg winder).
Yes, but: Defenders fans are skilled beer snake handlers, and 12 Pack is like a mascot.
A star is born: The beer snakelet slithered onto the scene during the Defenders' first season in February 2020 (aw, just a baby). It quickly grew, spanning 25 rows with over 1,200 cups.
The XFL was dissolved shortly after due to Covid — and, no surprise, people stopped packing together to make snakes out of dirty drinkware.
A star is reborn: 12 Pack returned with a vengeance along with the XFL this February — perhaps too much vengeance. Security confiscated the now-massive serpent, which can stretch the length of a five-story building.
When life pelts you with lemons: Release the beer snake. The Defenders officially welcomed the beer snake back with some obedience rules and restricted its habitat to sections 136 and 137.
The bottom line: 12 Pack is ready to strike against the Arlington [Texas] Renegades on Saturday in San Antonio. Good luck in the championship, Defenderssss.
More Washington D.C. stories
No stories could be found
Get a free daily digest of the most important news in your backyard with Axios Washington D.C..