Three D.C. budget fights we're watching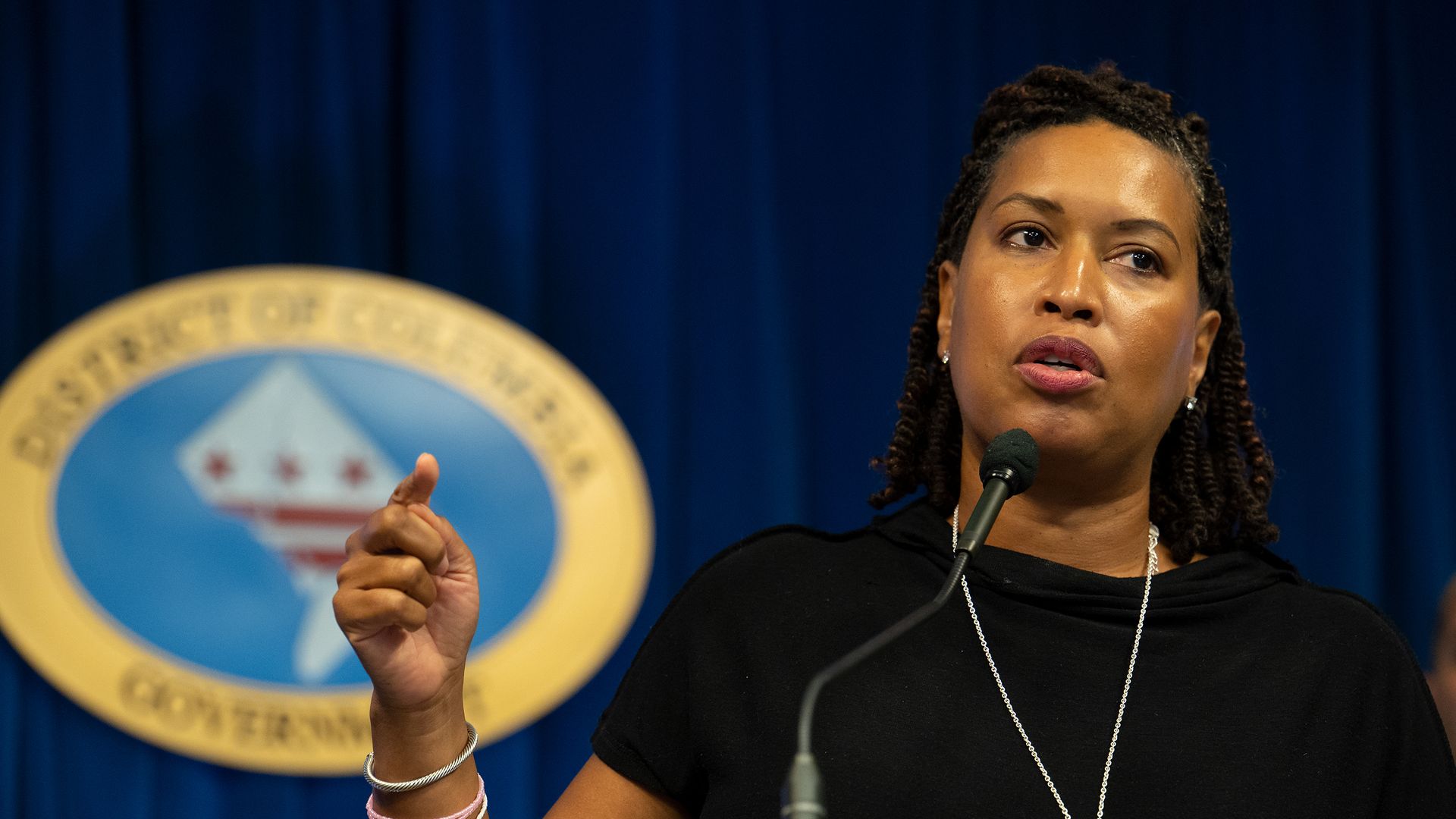 Now that Mayor Bowser has released her budget, the D.C. Council will spend the next several weeks tinkering with the plan before a final vote.
Yes, but: With a slowing economy, it will be harder than before to fund some ambitious programs.
What's next: The council is expected to hold a final budget vote at the end of May.
Here are three budget fights we're watching:
Free Metrobus
D.C. has a bumpy path toward becoming the largest city in the nation to make public buses free.
Driving the news: Bowser's budget proposal did not set aside money for the program, leaving the D.C. Council to look for funding.
Catch up quick: The free public transit idea was spearheaded by council member Charles Allen along with chair Phil Mendelson. But getting it done is complicated.
There's some dispute over how much it will cost. Eliminating fares for Metro buses in D.C. and creating 24-hour service on some routes will cost about $45 million annually, according to the chief financial officer's estimate from last December.
But the mayor's office believes the real cost will be higher.
Buses were initially supposed to become free this summer, but lower-than-estimated city revenues threw a wrench in that plan.
What we're watching: Allen and Mendelson are still optimistic about finding funding to eliminate bus fares later this year.
Domestic workers
The D.C. Council last year passed a bill that would extend workplace protections to domestic workers, including gardeners, nannies, cleaners, and personal assistants. But a lack of funding in the mayor's budget threatens its implementation.
Catch up quick: The bill would require employers to provide D.C.'s estimated 4,000 domestic workers a written contract before the first day of employment.
The contract would include a start date, location of work, a schedule, information on paid and unpaid leave, whether a car is needed, salary, and pay schedule.
Yes, but: The estimated cost of implementing and enforcing the new regulations is $2.5 million through fiscal 2026. Bowser's budget left out the funding after the chief financial officer last year said there wasn't enough money for it.
Without funding, no part of the law can be implemented.
What they're saying: "You all passed a lot of legislation subject to appropriations, and we couldn't fund it all," Bowser told the council in late March in relation to the domestic workers bill.
Baby bonds
Bowser's budget has no continued funding for D.C.'s "baby bonds" program — once heralded as a major investment in ending intergenerational poverty.
Catch up quick: In 2021, D.C. approved $32 million over four years to implement a program that would provide a trust fund to eligible children born to low-income D.C. families. The fund would receive an initial $500 deposit and then annual $1,000 deposits until the child turns 18.
Yes, but: The mayor's budget, which doesn't include funding for the program beyond fiscal 2023, is "effectively ending the program before the government was able to launch this support," the DC Fiscal Policy Institute writes in a blog post.
The other side: D.C.'s chief financial officer said last November there are enough funds to fund the legislation through fiscal 2026.
More Washington D.C. stories
No stories could be found
Get a free daily digest of the most important news in your backyard with Axios Washington D.C..