New debate emerges over D.C.'s Height Act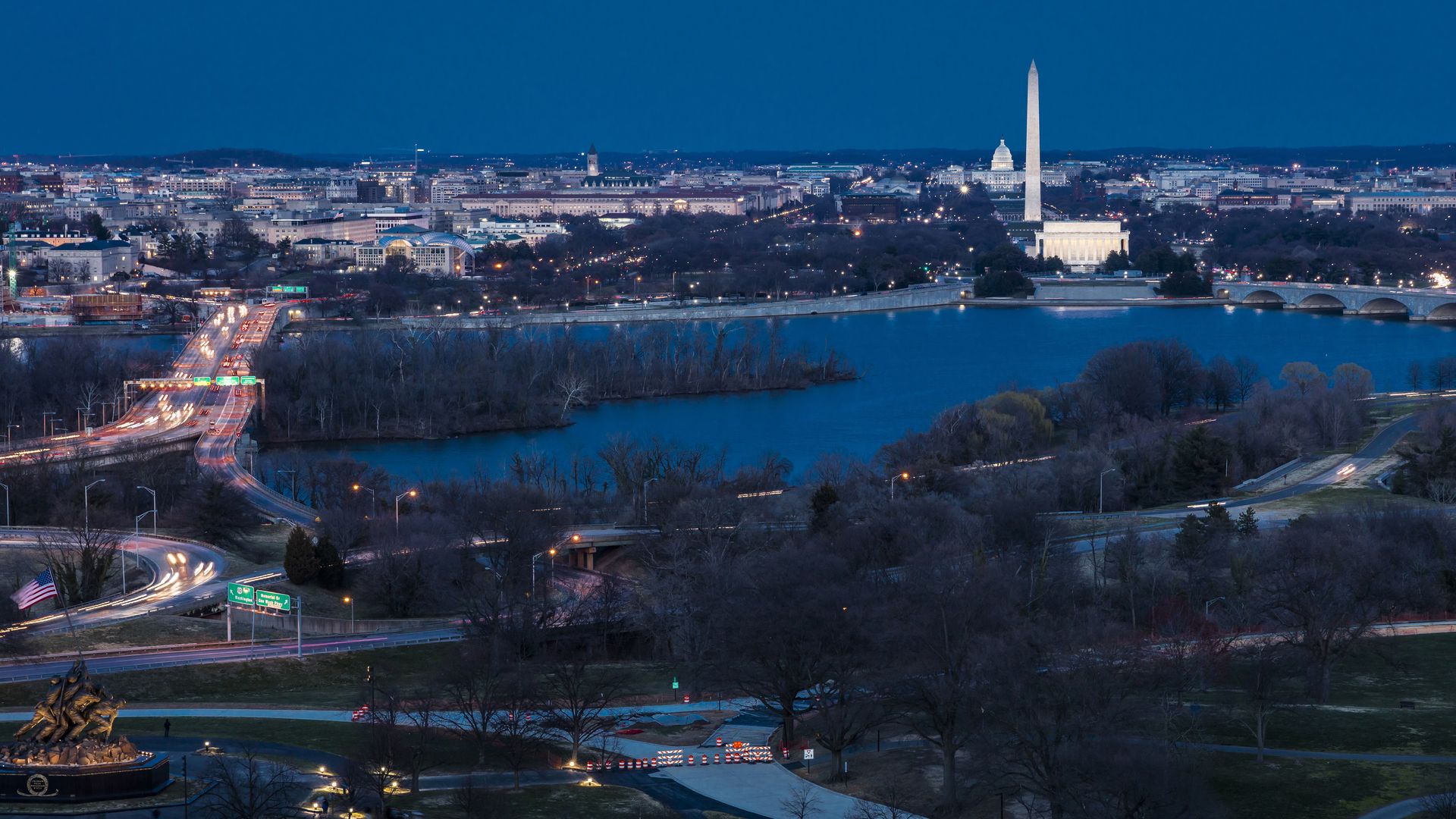 There is new talk of tinkering with D.C.'s Height Act, the federal rule that limits most D.C. buildings to about 13 stories.
Why it matters: Depending on whom you ask, that 113-year-old rule protects the sanctity of monumental Washington — or imposes a boxy, banal skyline.
Driving the news: The topic is back on officials' minds after Mayor Muriel Bowser proposed raising the height limit in some corridors from 130 feet to 160 feet. The urgency comes with her goal to reimagine downtown by attracting 15,000 new residents by 2028.
Former D.C. planning director Ellen McCarthy wrote a paper this month tying the issue to local self-governance, arguing that the lack of statehood handcuffs the city's ability to plan for itself.
What they're saying: "It is difficult to imagine any city or state in the Union agreeing to let Congress impose a limitation on the buildings constructed within its boundaries," McCarthy, a Georgetown University professor, wrote for the think tank Statehood Research DC.
One example: In Friendship Heights, buildings on the Maryland side can reach 180 feet. But across the street in D.C., "no matter how well-designed, no building can be taller than 130 feet," McCarthy writes.
The other side: D.C. Council Chair Phil Mendelson, a key voice in the debate, says it's a "really bad idea to change the Height Act."
In 2013, Mendelson — to the surprise of home rule advocates — lobbied Congress against giving local D.C. leaders more power over building heights.
"I met an architect from Paris, which has a similar height requirement, who agreed that the height of the city is a defining characteristic," Mendelson told Axios. "We're the nation's capital and there's no reason we shouldn't be on par with a city like Paris."
Del. Eleanor Holmes Norton spokesperson Sharon Nichols tells Axios that "decisions about the Height Act should be left to local D.C. leaders without federal involvement."
💭 Cuneyt's thought bubble: Congress would need to act on the Height Act. D.C. is unlikely to gain any home rule victories in the next two years with Republicans in control of the House.
On the other hand, this issue could actually garner the sympathies of the GOP House, if they act on their business-friendly sensibilities to raise the Height Act and back the mayor and real estate sector.
More Washington D.C. stories
No stories could be found
Get a free daily digest of the most important news in your backyard with Axios Washington D.C..