D.C. to end mask mandate Monday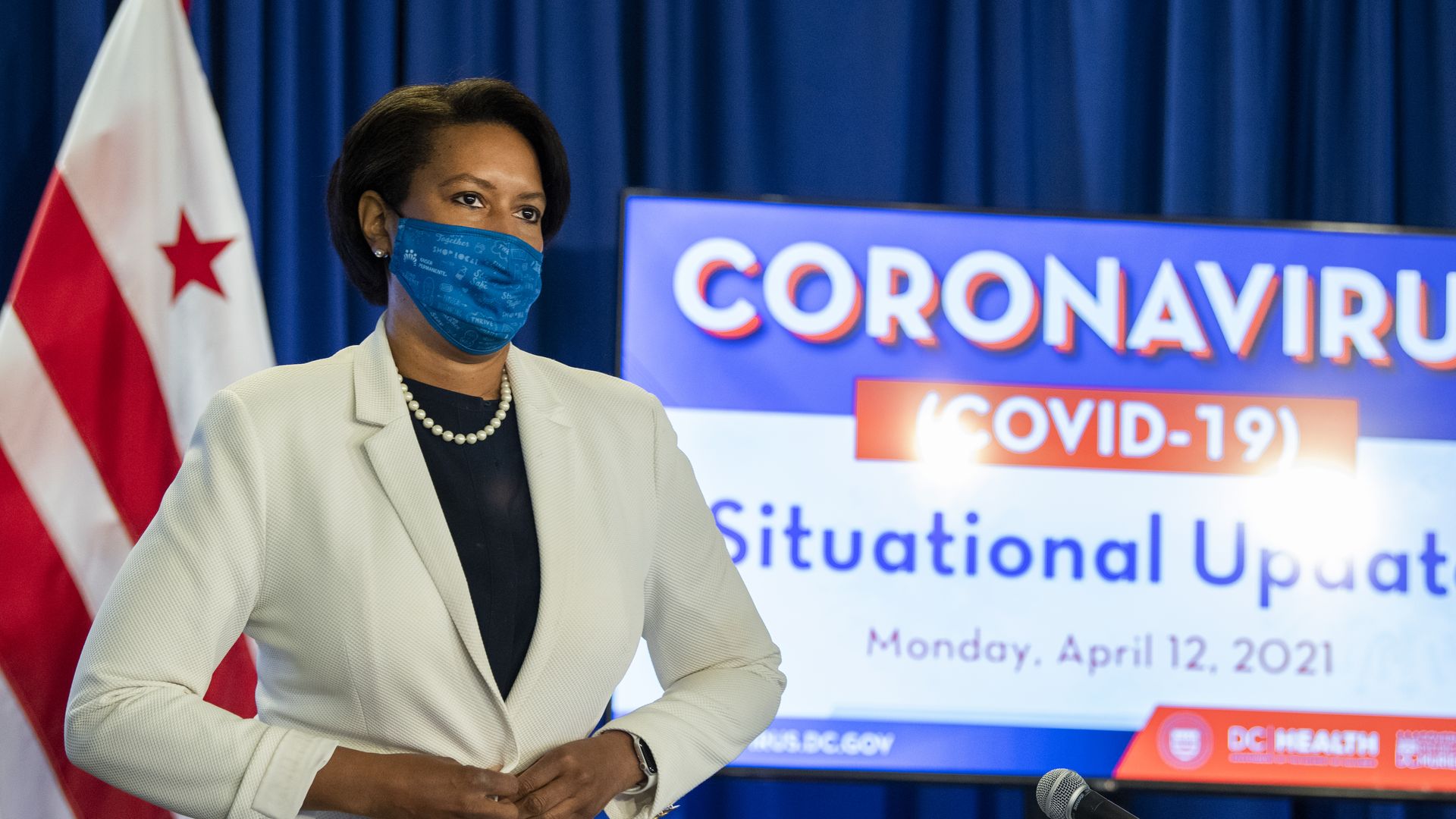 Mayor Muriel Bowser announced D.C. will lift its current mask mandate next Monday, citing the effectiveness of vaccines in preventing most hospitalizations and deaths.
Details: Masks will still be required in schools and public transportation, and private businesses are free to implement their own mandates.
Congregate facilities such as nursing homes, and D.C. government facilities where workers are directly working with the public will also still require masks.
Why it matters: D.C. joins other jurisdictions in the DMV region that no longer require masks to be worn in most indoor settings, but comes as Montgomery County reinstates its mask mandate.
Montgomery County, which has tied its mask mandate to CDC transmission metrics, dropped its mandate last month but said it would be reinstated if the county had 7 days of "substantial COVID" transmission, or more than 50 cases per 100,000 people in the past seven days, per CDC data. Tuesday was day 7.
Montgomery Co. officials on Tuesday night said the mask mandate would resume on Saturday at 12:01 a.m.
When asked yesterday about Montgomery Co., Bowser said she doesn't work for the county and "doesn't know what they're doing."
Yes, but: D.C. is also in substantial transmission, according to CDC Data.
Bowser said Tuesday that DC Health continues to monitor the pandemic, and public health mitigation strategies may change as cases or hospitalizations change, but did not offer any specific metric that would re-trigger the mask mandate.
What they're saying: DC Health Director LaQuandra Nesbitt said D.C. is moving towards seeing COVID-19 as endemic.
"We've moved away from this goal of getting to zero cases of SARS-CoV-2 or COVID-19 in our community," she said.
Nesbitt also pointed out that nearly 100% of all COVID-19-related hospitalizations in the past few weeks have been among unvaccinated people.
"The world is not necessarily set up for the unvaccinated anymore," she said.
By the numbers: 88.6% of all D.C. residents have received at least one COVID-19 dose, the mayor's office said Tuesday.
98.5% of all D.C. residents 65 and older have received at least one dose.
61% of 16- and 17-year-olds have received at least one dose and 64% of 12- and 15-year-olds have received at least one dose.
So far, 6.7% of children ages 5 to 11, who recently became eligible for the Pfizer pediatric vaccine, have gotten at least one dose.
63.1% of all D.C. residents are fully vaccinated, DC Health data shows.
Go deeper: Vaccination rates, however, vary across the District, according to DC Health data, with Wards 1, 2, 3, and 4 reporting fully vaccinated rates of just over 50%, Ward 4 with 49% fully vaccinated, and Wards 7 and 8 with 37% and 31% of people fully vaccinated, respectively.
When asked about children under the age of 5 who cannot get vaccinated, Nesbitt said Tuesday they are only a small portion of the population and families must take precautions.
What's next: D.C. is moving towards a "risk-based" COVID-19 response, Bowser said, with risk levels tied to vaccination status.
D.C. will also be updating its metrics dashboard to include the CDC's reporting metrics, which reflect weekly case counts alongside D.C.'s own reporting of daily case counts.
D.C. will also publish the percentage of COVID-19 cases resulting in hospitalization.
Nesbitt also said contact tracing will prioritize high-risk cases, which includes people at risk of severe illness or hospitalization due to medical conditions, age, or where they work.
"We want to make sure that we can direct them to therapeutics like monoclonal antibodies," Nesbitt said.
Bowser additionally held to her previous position that D.C. will not mandate vaccines in some indoor settings, such as restaurants, and will instead leave it up to private businesses to implement their own vaccine mandates.
More Washington D.C. stories
No stories could be found
Get a free daily digest of the most important news in your backyard with Axios Washington D.C..