MPD crash data is incomplete, study finds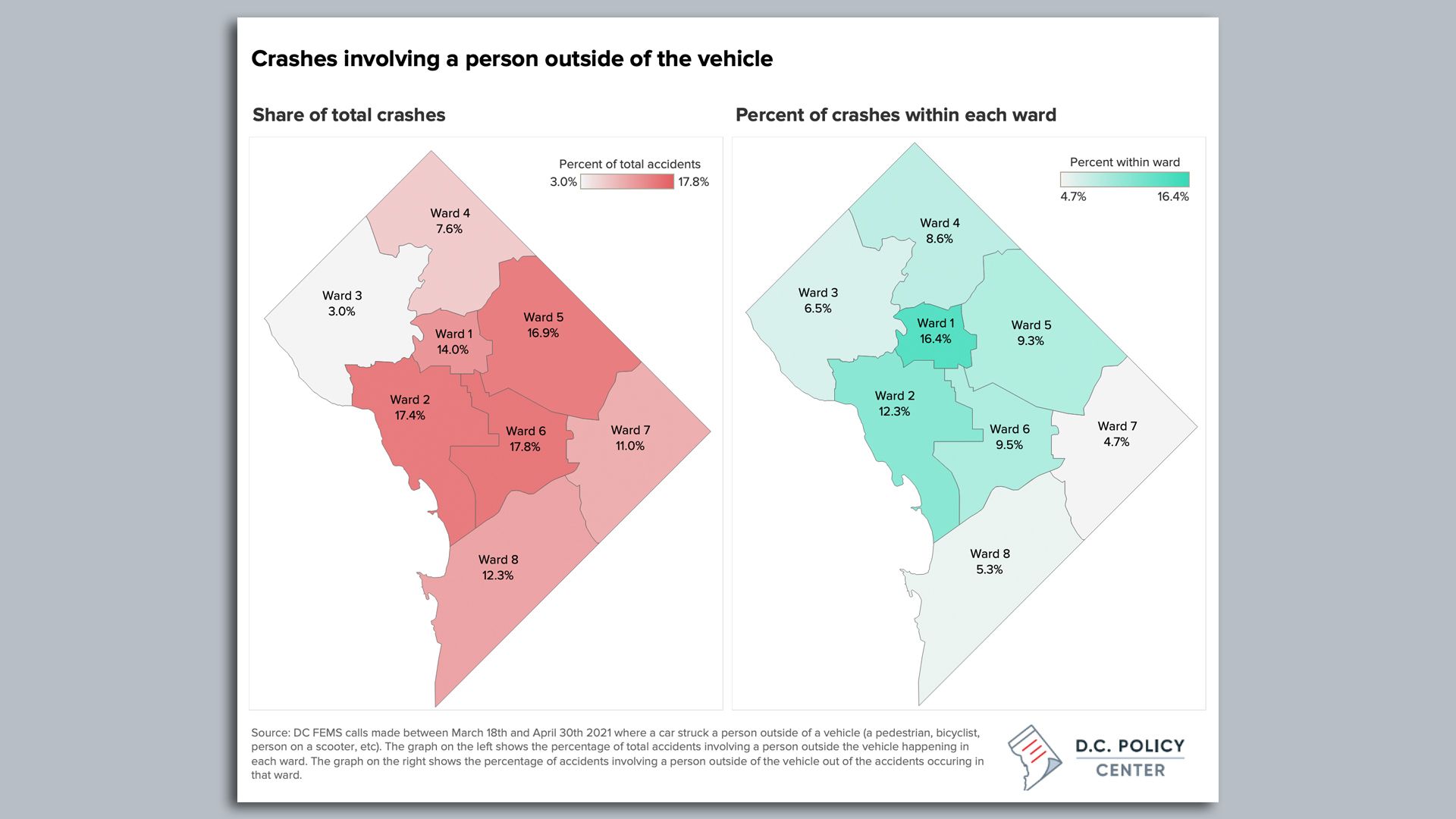 A third of crashes during a six-week period where a driver hit a cyclist or a pedestrian was not publicly reported by police, a new report by the D.C. Policy Center found.
Why it matters: DDOT relies on public crash data provided by MPD to make infrastructure decisions meant to improve safety. But the analysis out Tuesday shows this public data is incomplete.
D.C. Policy Center Researchers Emilia Calma and Charlotte Jackson say the data might indicate a pressing need for a bike lane, sidewalks, or a stop sign.
By the numbers: Calma and Jackson drew from 911 calls made between March 18 and April 30 and matched them to public MPD crash reports.
In that time period, there were 2,802 collisions called into Fire & EMS and/or reported by police.
Out of 2,566 crashes involving only cars, 10% were called in to 911 but didn't have a police crash report. The majority of these occurred in Wards 2, 7, and 8.
Out of 236 collisions involving a person outside a vehicle — such as a pedestrian or cyclist — 30% were called into 911 but didn't have a police crash report.
Over a third of crashes took place in Wards 7 and 8 and it was these wards, along with Ward 2, that saw the most unreported crashes.
A majority of unreported crashes occurred east of Rock Creek Park, the report found.
Researchers say the pattern likely reflects the fact that 1-295 runs through Wards 7 and 8.
Be smart: There may be a number of reasons why crash data is incomplete, Calma and Jackson write, including:
A lack of MPD jurisdiction at the location, such as if the crash occurred on National Parks Service land.
Parties leaving the scene of the crash or refusing medical attention, since MPD policy is not to file a report with no cooperating victim.
The incidents analyzed showed 21 instances, out of 71 crashes, where the person injured at the scene refused treatment or left the scene.
Some crashes had no corresponding 911 call, which researchers say may be because injuries were not severe enough or the crash involved a pedestrian who was not filing for an insurance claim as they would with a car crash.,
What they're saying: "There was speculation for a long time that the public crash data was not capturing the full extent of crashes in the District," Calma tells Axios' Chelsea Cirruzzo.
If this data is being used by DDOT to make policy decisions, she adds, it must be complete.
"Knowing exactly where all the crashes are happening is, I think, step one, in determining what kind of transportation infrastructure you need," to make the city safer, she says.
What's next: The D.C. Policy Center says it's continuing to collect data on crashes in the city and hopes to look at whether crashes occurred at specific intersections or are at certain times of the day.
To have a more complete data set, Calma and Jackson say DDOT should coordinate with DC Health and Fire & EMS to find out where people are being injured.
More Washington D.C. stories
No stories could be found
Get a free daily digest of the most important news in your backyard with Axios Washington D.C..