A look inside the Twin Cities' training camp for snowplow drivers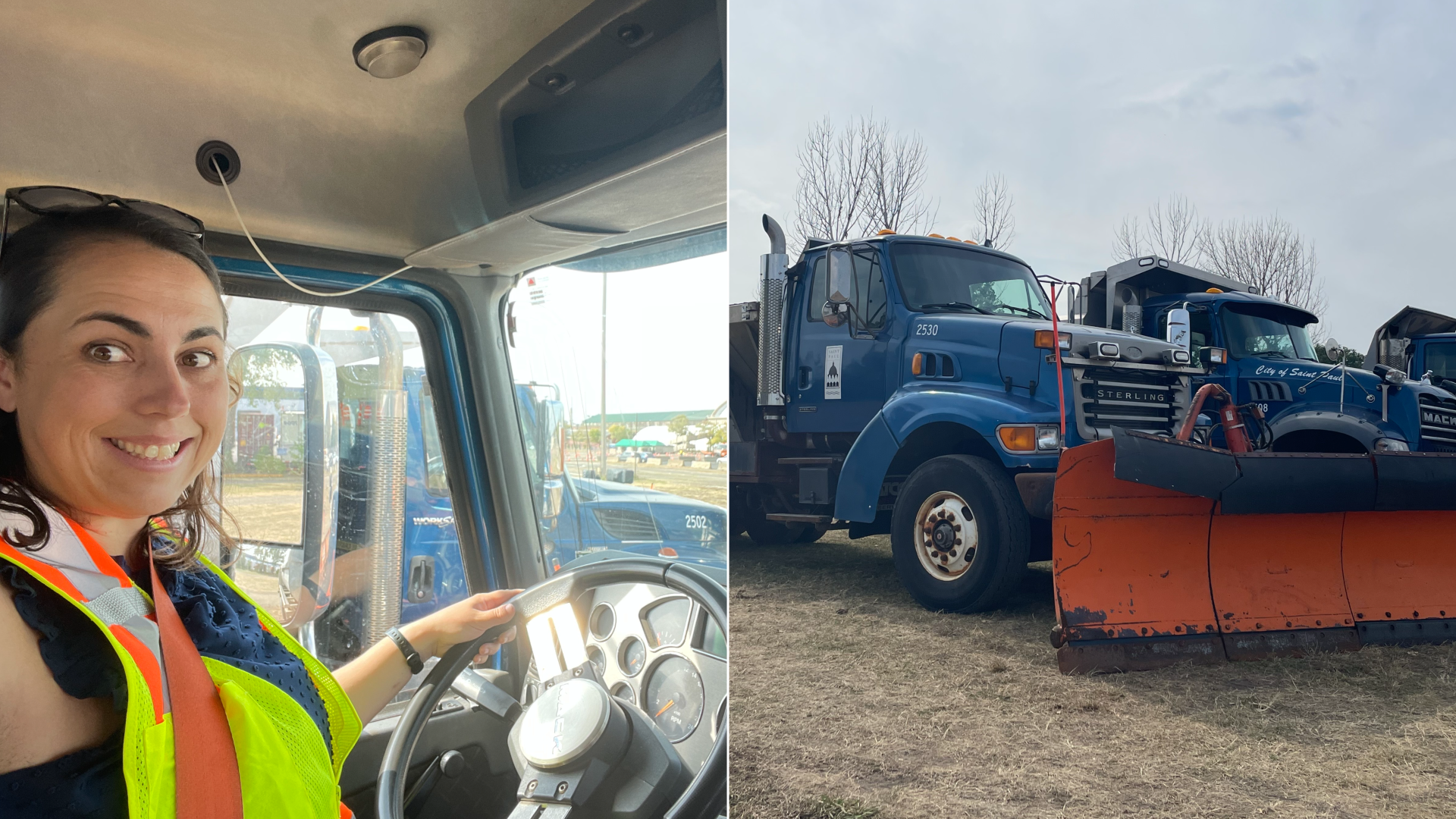 A fleet of snowplows was out in force at a parking lot near the Minnesota state fairgrounds last Thursday, driving laps around bone-dry pavement under the blazing sun.
Driving the news: Dozens of drivers gathered this week and last for the annual Snow Plow Operators Training "roadeo," a required hands-on course run by public works agencies across the Twin Cities metro area.
Why it matters: Plows seek to keep our roads passable and safe during winter's worst weather and road conditions.
Yes, but: Learning to maneuver the machinery takes practice. Recruiting and training operators now ensure they'll be ready to hit the road when inclement weather arrives.
What they're saying: "We want them to enhance their skills ... and give them seat time to really get comfortable with their truck," Ramsey County highway maintenance supervisor Doug Heidemann said at a presentation last week. "That gives us a safer driver once the snow starts flying."
How it works: New drivers get a mix of classroom and behind-the-wheel instruction. At St. Paul's orange cone-lined course, trainees practice making sharp turns, lifting the plow up and down, and backing up around a corner.
Participants, who must have commercial driver's licenses, are graded on dozens of maneuvers and safety checks, ranging from seat belt use to signaling with a horn before backing.
Once comfortable behind the wheel, drivers head out on a nearby road to practice in actual traffic.
Between the lines: Hosting a local training camp allows drivers to practice skills specific to plowing city and county roads — like backing into an alley to turn around.
The hope is that experience will reduce costly and potentially dangerous accidents come winter, said Heidemann.
My thought bubble: I had a chance to drive a plow through the course at the invitation of St. Paul Public Works. My top-line reaction: Holy blind spots!
The cab of the 12-footer had me perched far above normal cars, obstructing my view of the road below on either side. Once the plow is down, you can't even see the passenger-side edge of the blade.
Even on a clear day — and without everyday hazards of the job like cars or snow drifts — maintaining a sense of my surroundings and gauging the space between the edge of the cone-lined "road" and the plow took tons of focus and mental energy.
And don't even get me started on backing up a 30,000-pound truck around a corner without a rearview mirror.
What happened: Thanks to the coaching of my seasoned instructor, I learned to keep my bearings using the truck's four side mirrors along with the top edge of the driver's side of the plow.
Yes, but: I "brushed" — aka ran over — at least four cones. My instructor kindly told me that was pretty good for a first try.
The bottom line: The experience gave me a new appreciation for why it's so important to give plow operators space when the weather is bad.
More Twin Cities stories
No stories could be found
Get a free daily digest of the most important news in your backyard with Axios Twin Cities.