Delano's Landscape Structures builds some of the biggest playgrounds here and abroad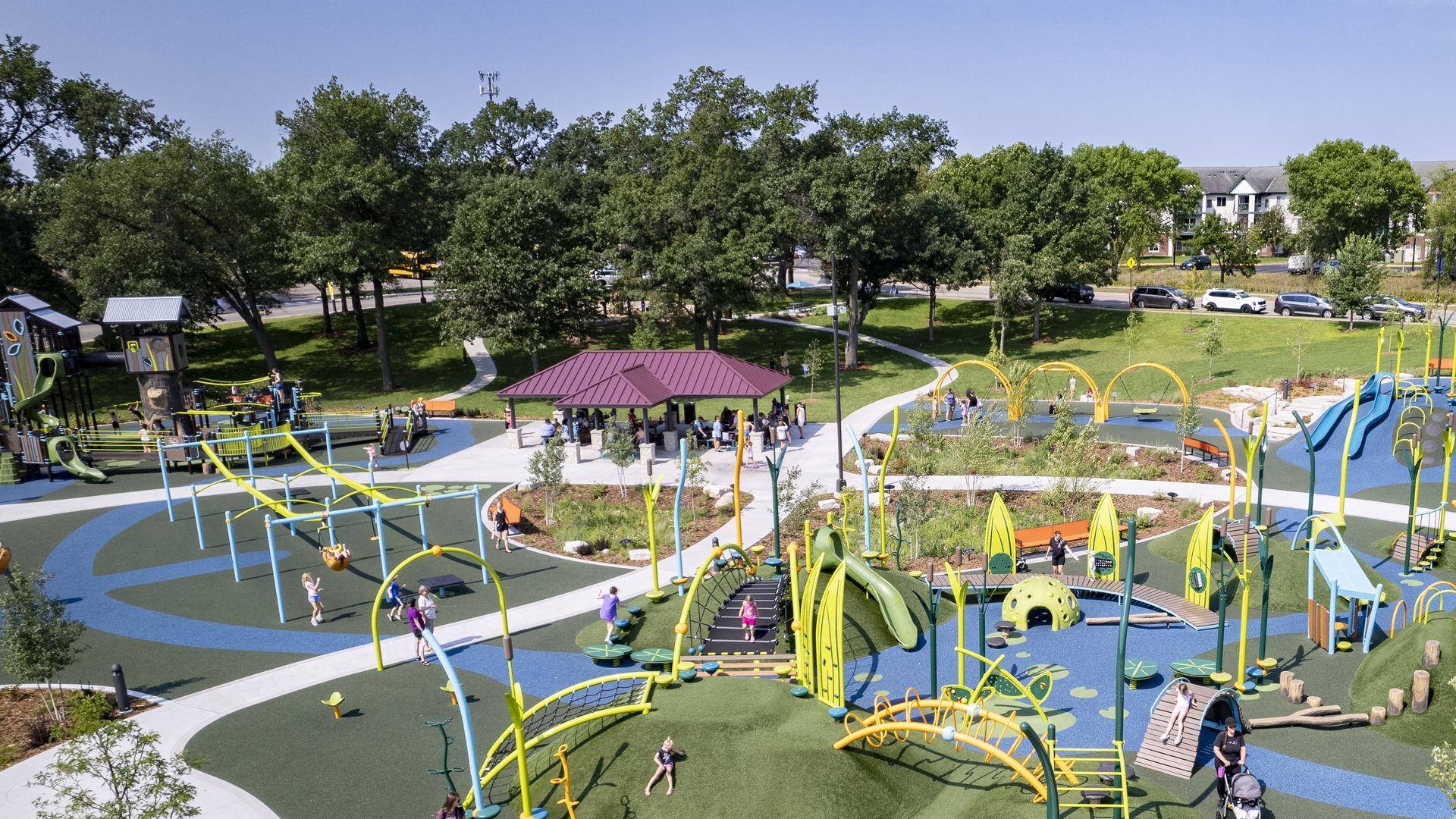 When Landscape Structures creates a new piece of playground equipment, the staff invite a group of kids to the company's sprawling Delano headquarters to try it out.
After 45 minutes, they conduct the pizza test.
"We bring in fresh, hot pizza," creative director Scott Roschi told Axios. "If the kids don't stop what they're doing to come get the pizza, we know we have something because it's a true tell of how much fun they're having."
Why it matters: Landscape Structures' (LSI) local staff of around 500 — plus a select group of Twin Cities test kids — have shaped the way children play, from Shoreview to Brooklyn, N.Y., to Singapore.
By the numbers: LSI builds 1,500 to 2,000 playgrounds a year for cities, schools, and private companies across the country and internationally. They can range from tens of thousands of dollars for small pocket parks to millions for destination playgrounds.
Locally, some of the company's biggest playgrounds include the raved-about new Shoreview Commons; Maple Grove's Central Park; Madison's Place in Woodbury; and Minneapolis' Wabun, Nokomis, and Harriet parks.
Driving the news: Nick here. I recently toured the company's headquarters and factory, where Roschi met me in the lobby after gliding down a slide from his second-floor desk.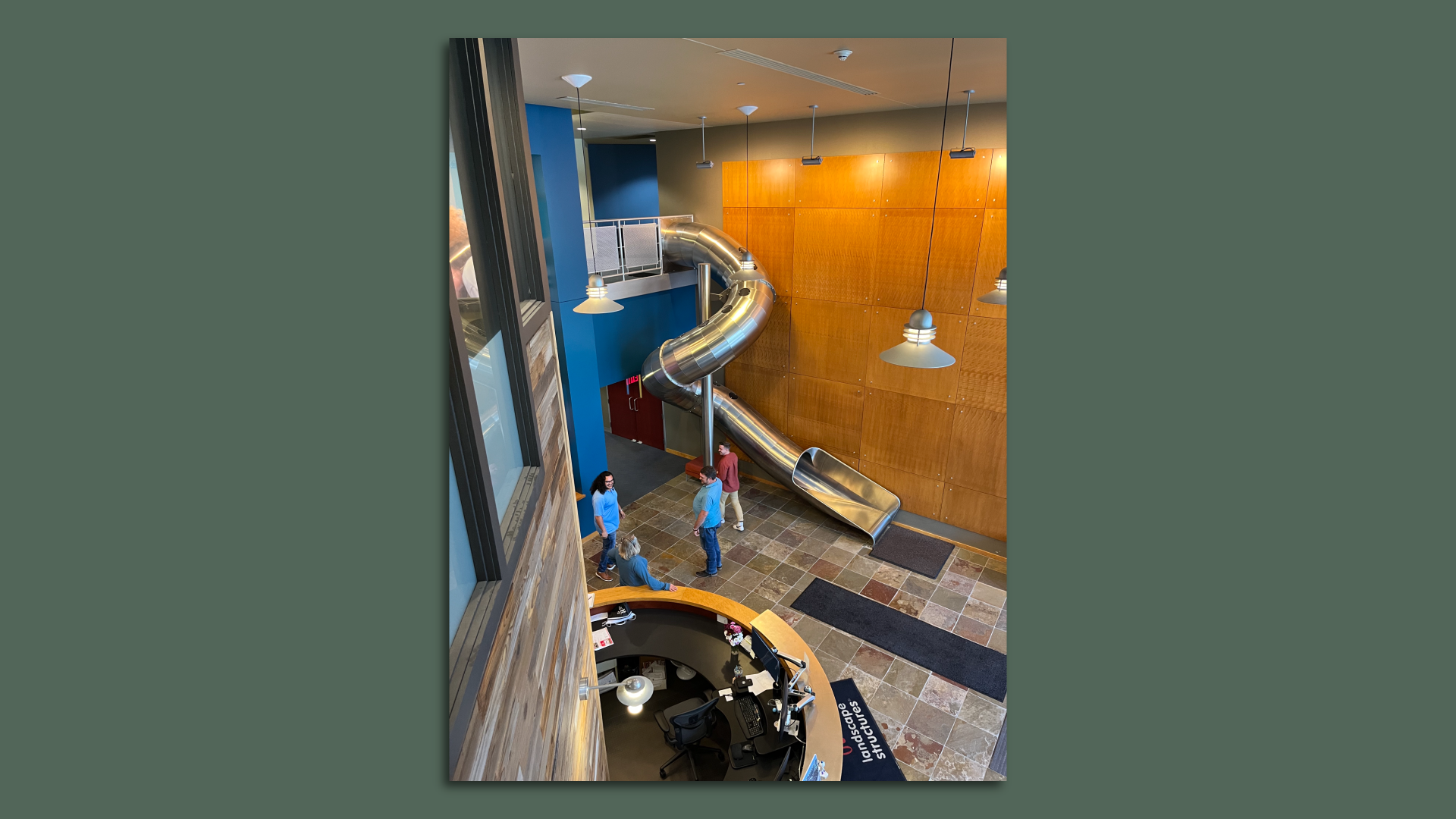 Business is booming at the plant, Roschi said as we walked past large pieces of steel being welded together and then painted (though the company declined to provide annual revenue numbers).
When the pandemic hit and parents and their kids were relegated to the outdoors, cities again saw the value in playgrounds, he said.
The intrigue: I asked Roschi to see the building where the pizza tests happen. That was a hard no. He said the industry is rife with copycats who steal LSI designs.
LSI has applied for at least 19 patents since 2020, including its We-Go Swing which debuted in 2021, according to the U.S. Patent and Trademark Office.
That swing allows people who use wheelchairs to play alongside other kids, which is a big emphasis in the industry — kids with disabilities shouldn't have to play on separate equipment.
What's ahead: The next big local project LSI is working on is in Chaska, where city officials are planning a destination playground.
The changing look of playgrounds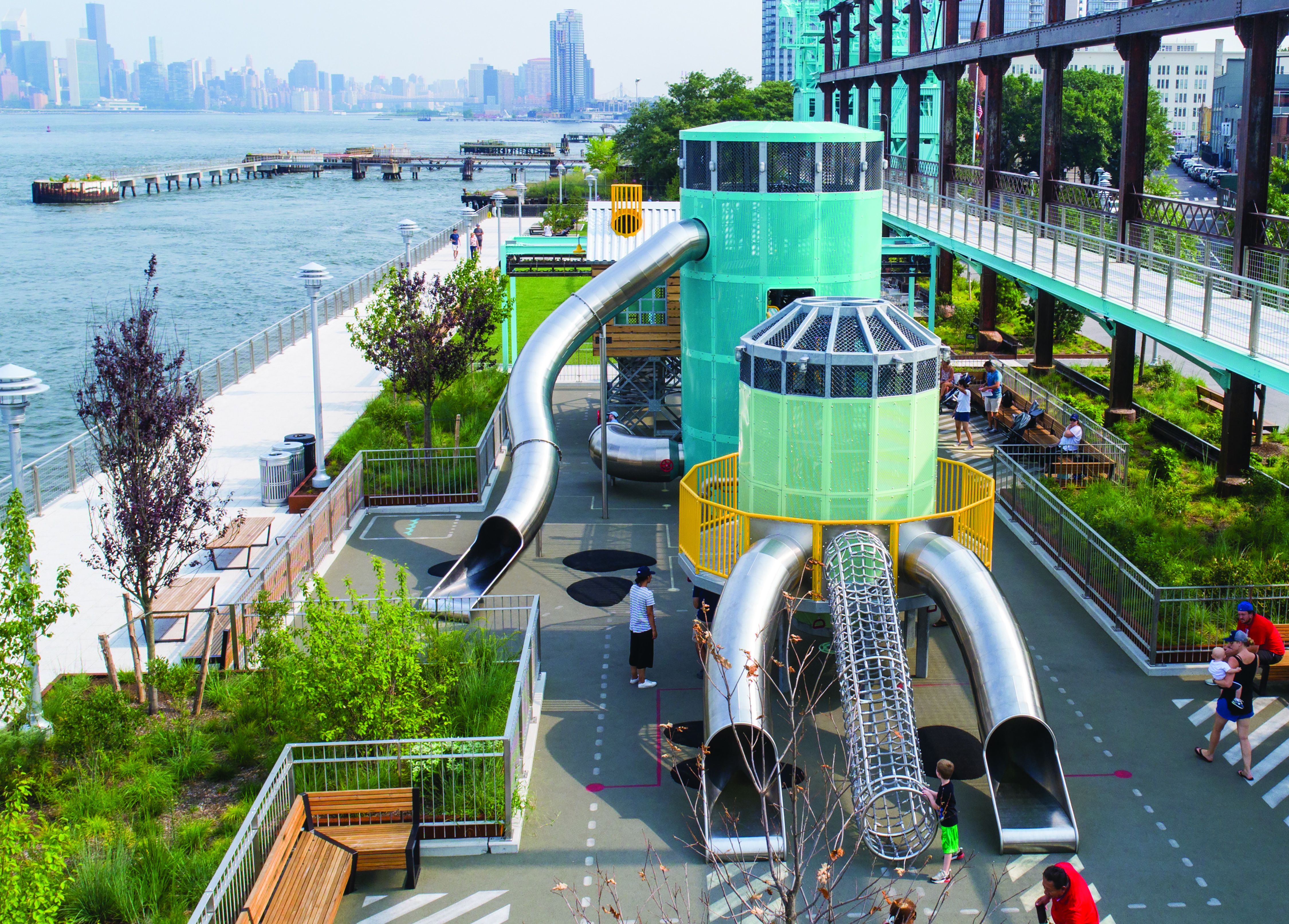 As most parents know, playgrounds have changed significantly in the past two decades, and they continue to morph.
I asked Roschi about some of the latest trends.
Flooring: Playground users beg cities to splurge on rubber flooring. Rubber is more accessible for people in wheelchairs and it's better for older adults chasing around little kids. But there are a couple of drawbacks.
It's about 50% more expensive upfront, though Roschi notes that the main alternative — wood chips — have longer-term costs because they should be replaced every year and cleaned regularly.
Rubber shouldn't be mixed with sand because the grains seep into the rubber and make it less squishy. That means some new playgrounds bypass sandboxes, which are important to some kids, especially those with autism, who might prefer the sensory benefits of sand.
Height: In Europe, which Roschi noted is less litigious, tall towers have been much more popular on playgrounds. But LSI and other companies have found ways to make towers safer by enclosing them and making sure they're designed so that kids never drop too far in the middle. The reality is that kids like stuff that seems dangerous.
A new playground in Brooklyn on the East River, pictured above, showcases LSI's tower designs.
Colors: Roschi said two things draw a kid to a playground: the shape of the equipment and the color. A lot of the new ones have earthier and natural colors, while a lot of the older ones have brighter colors.
He said that's by design at LSI because studies show that older kids in the 5 to 12 range want fewer saturated colors.
Swings: They take up a lot of space, and for cities with limited land, they are getting nixed more often from plans. However, Roschi added that studies show that swings keep kids at playgrounds longer.
Editor's note: This story has been corrected to show the new playground in Brooklyn is on the East River, not the Hudson River.
More Twin Cities stories
No stories could be found
Get a free daily digest of the most important news in your backyard with Axios Twin Cities.