Giant pencil sculpture to get birthday sharpening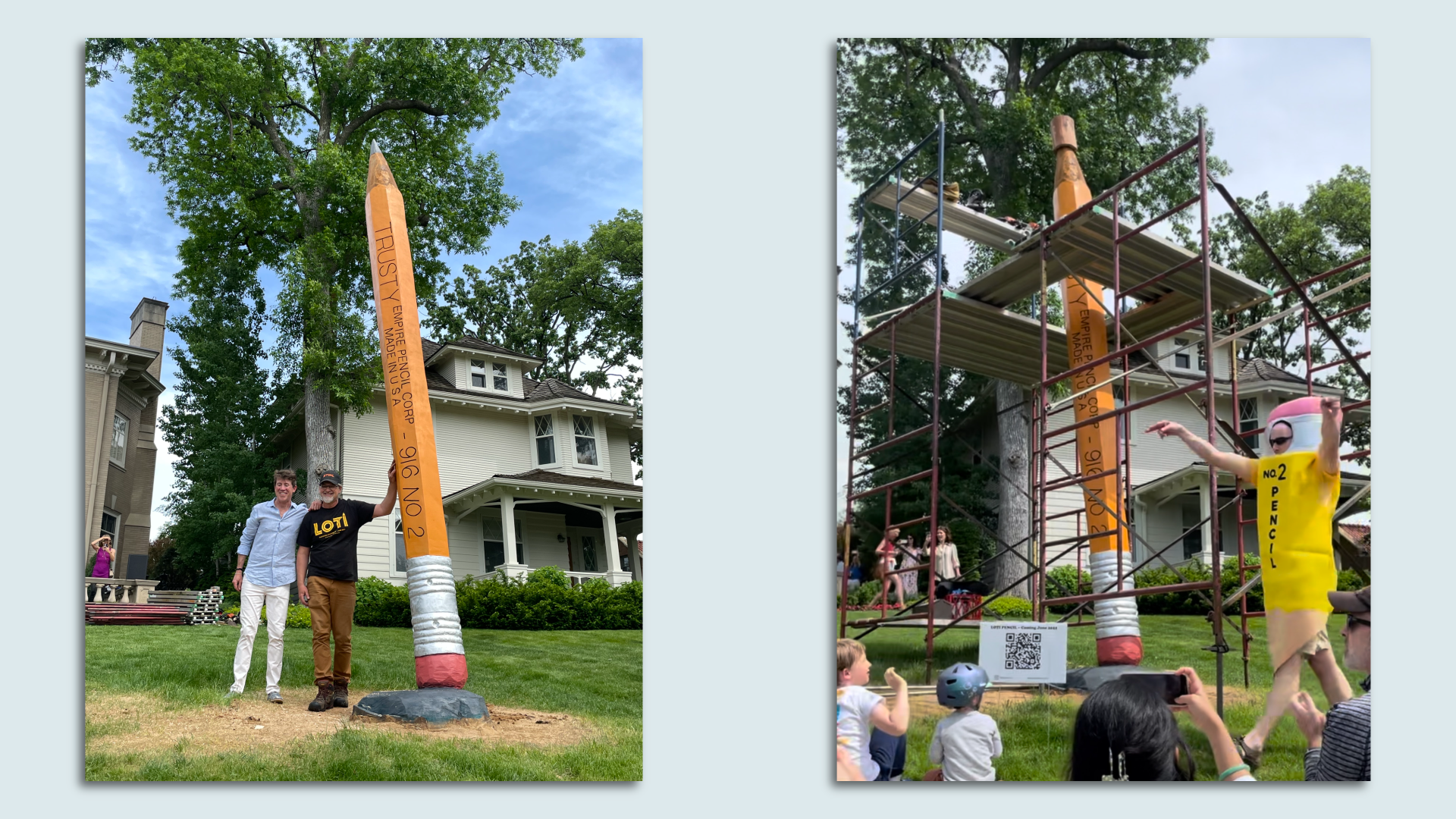 A Lake of the Isles homeowner is hosting a birthday party this Saturday for an unusual honoree: a giant No. 2 pencil.
Why it matters: From enormous pinecones to 1,200-pound cherries, we have some unique public art — but an anniversary party to celebrate and sharpen a giant pencil that claims to be sentient is a one-of-a-kind highlight of the Twin Cities art scene.
Catch up quick: In 2022, Minneapolis resident John Higgins hired chainsaw sculptor Curtis Ingvoldstad to carve a 180-year-old wind-damaged bur oak tree in his front yard into "Loti Pencil", an enormous public art piece that the two hoped would become the next Spoonbridge and Cherry.
The unveiling last June drew hundreds of visitors and featured a marching band, human pencils and inaugural "sharpening" by professional pencil sharpener David Rees.
The pencil has drawn tens of thousands of viewers since its debut — from 50 to 200 a day, Higgins estimates — and will receive its "No. 2 sharpening" on June 3 1-3pm at 2217 E. Lake of the Isles Parkway, Minneapolis.
Details: Audrey caught up with Higgins and Ingvoldstad to learn more about their plans for the party.
The event will kick off with a live trivia contest, giveaways, drum and bugle corps, ice cream truck and music before Rees and Ingvoldstad begin the ceremony.
The tip will be shaved down 3-4 inches to keep it a "living sculpture," changing and evolving like a real pencil does during use, Higgins said.
For the occasion, Ingvoldstad carved a 4-foot-long handheld pencil sharpener that weighs more than 100 pounds, though he declined to share details on exactly how it will be used.
The big picture: The project started as a fun way to give an oak tree a new life, but the community's energy for the pencil has exceeded all expectations, Higgins said.
"People have found so much joy and happiness in this carving. We could have manufactured a pencil and put it out in the yard, but it just wouldn't have the same feeling," Ingvoldstad added.
💭 Audrey's thought bubble: The inaugural sharpening was one of the most unusual events I've ever attended in the Twin Cities. If you're in the area, it's worth a stop.
📝 Bonus: In its own words
When I reached out for this story, Loti Pencil's Instagram account, which claims to be run by the pencil, told me the pencil would also answer any questions via spokesman Sam Buck.
In the spirit of journalistic integrity, I had to interview the sentient creation itself. This interview has been edited for style and brevity.
🤕 Does the sharpening hurt?
"My tip isn't really 'living' — the 'nerves' in that part die back a foot or so, so it's like getting a haircut."
🥄 Thoughts on Spoonbridge and Cherry?
"I see him around from time to time. Very nice. We connected recently about the new crop of goslings and played some pick-up basketball."
🎂 What do you want for your birthday?
"Attention, mostly. It would be nice to have some good weather, too."
More Twin Cities stories
No stories could be found
Get a free daily digest of the most important news in your backyard with Axios Twin Cities.