Here's how to (and not) chase the northern lights in Minnesota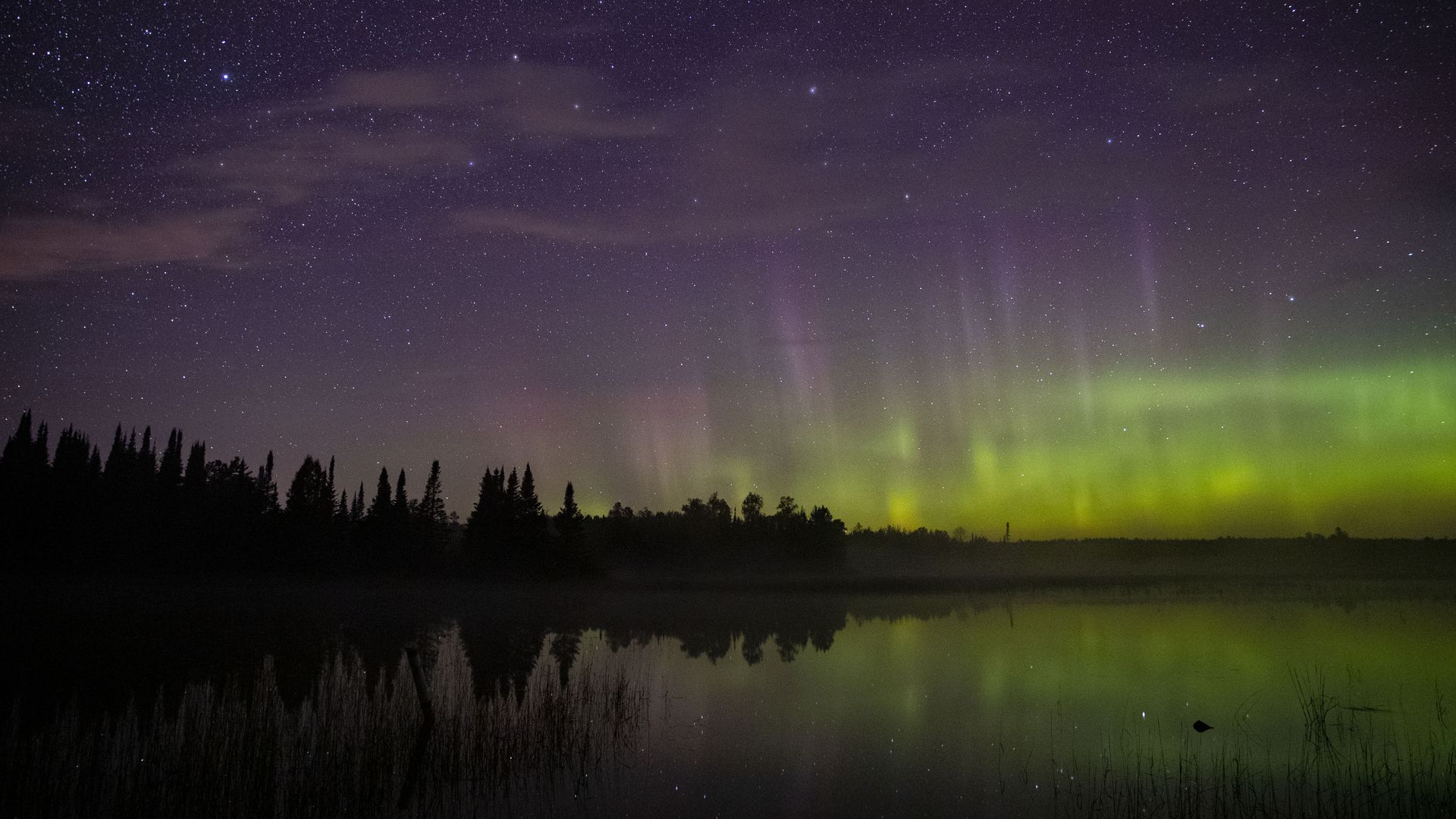 I only have one item on my bucket list: See the northern lights. You'd think that it would be easy.
Not only are they occasionally visible in northern Minnesota, but a major solar storm brought them to the Twin Cities in late March.
Why it matters: The northern lights are a rare and spectacular phenomenon we were lucky to see from home — unless, like me, you slept through it last month. It hurt to see everyone living my dream.
What I did: When I heard another solar storm would make them visible again last Sunday, I refused to make the same mistake. I was going on the hunt.
I frantically refreshed meteorologists' Twitter accounts for aurora updates, studied multiple dark-sky maps and consulted the internet for the best viewing spots in Minnesota.
Then, I grabbed my snacks and drove 4.5 hours round trip to chase my dream.
What happened: I did not see them. It's still painful to talk about, but learn from my mistakes:
🧭 Check multiple sources: I was so eager to get going that I didn't do enough research. Northern Minnesota's forecast showed lots of clouds, so I went southwest for clear skies.
Turns out, the forecast I saw was a few hours old and my clear dark-sky area was actually blanketed by clouds. Meanwhile, people could see the lights in Blaine.
👯‍♀️ Bring a friend: Weather changes fast, and you can't check NWS Twin Cities while driving. Having someone else around to monitor forecasts and social media would have saved me from continuing the wrong way.
Plus: When I've hunted with other people before, it felt like a fun adventure, no matter the outcome.
🥱Wait it out: I got frustrated and left my viewing point at 10:30pm. Of course, the skies in southwest Minnesota reportedly cleared around 11:00pm.
If you've already driven for hours, what's an extra 30 minutes?
Overall: I missed the northern lights this time, but that's just part of the chase. Send me your tips at [email protected]
Of note: I chugged a large McDonald's iced coffee at 9:30pm to keep myself going through the night. Don't do that. I was up until 3am.
Where the dedicated hunters go
The good news is, this likely won't be my or your last chance to see the aurora.
Earth is going to be in the maximum phase of the sunspot cycle, which means we'll see more solar activity for the next several years, according to The Washington Post.
Where to start: The Twin Cities Aurora Chasers Facebook group is very beginner friendly and rich with resources, including apps, maps and photography tips.
Here are some commonly recommended spots.
🌳 Baylor Regional Park: Trust the experts — Minnesota Astronomical Society is headquartered in this park just 45 minutes west of the Twin Cities.
🐟 Fish Lake County Park: If you want to head north, this Harris, Minnesota park is also 45 minutes away and has a large parking lot with clear views over Fish Lake.
🌑 Outside of Mille Lacs State Wildlife Management Area: No need to enter this park 1.5 hours north of the Cities. Several chasers reported that the roads around it have expansive views over the area.
Note: Check park hours and rules before heading out!
More Twin Cities stories
No stories could be found
Get a free daily digest of the most important news in your backyard with Axios Twin Cities.