Get to know longtime Twin Cities artist Ta-coumba T. Aiken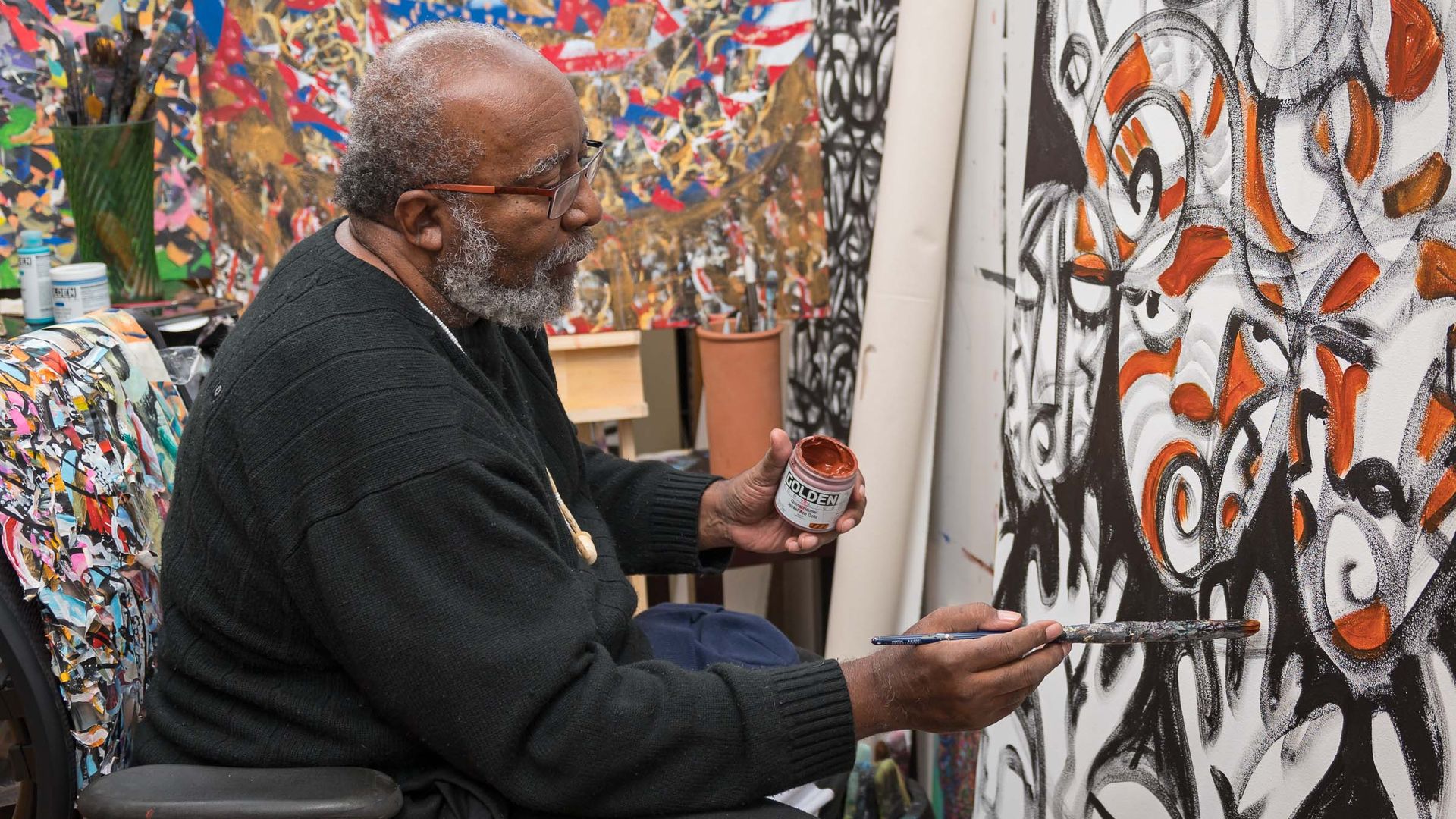 Ta-coumba T. Aiken has been a painter, muralist, educator, art administrator and community activist in the Twin Cities since 1969.
He's also been an advisor on the arts for both Minneapolis and St. Paul city governments.
The latest: Last year, Aiken was the first Black person from Minnesota to be awarded the prestigious Guggenheim Fellowship in the fine arts category. He is currently working on a series of paintings called "Descendant of Giants."
What they're saying: "[It comes from] the last thing my mother told me before she died on my 20th birthday,"Aiken said. "[She said] African people were descendants of giants, and I think she meant that literally because my grandfather was 7-foot-2; but Black people have also been figurative giants in art, music, sports and a lot of different industries."
Of note: We spoke with Ta-coumba about his work up to this point and what he aspires to do in the future. The interview has been edited for clarity.
How do you define art?
Art is a vehicle for telling stories and history, and it can also give us a window into a person's mood or sense of spirituality.
What local artists do you really admire?
Seitu Jones, my collaborative partner since 1972. We started doing murals in the 70s and we both bring awareness to social justice issues.
Where do you draw inspiration from?
I call my style "superlative realism." Like the dream catcher from Native American heritage, my work is woven from different memories based on what I've seen in nature, the community, how I view the future and influences from other artists and musicians.
How does living in the Twin Cities impact your work?
I treat winter as my quiet time and a "hibernation" period where I can create more paintings. I work during the summer, but I like to be outside and to see what's going on in the community.
What is one of your dream projects?
I'd like to create some free-standing sculptures and artwork that give people something to discuss.
Either that or paintings on the light rail that represent each neighborhood and connect to each other when one train passes another at a station.
Go deeper: Aiken's artwork.
More Twin Cities stories
No stories could be found
Get a free daily digest of the most important news in your backyard with Axios Twin Cities.