A meat-eater and a vegetarian try vegan Jucy Lucys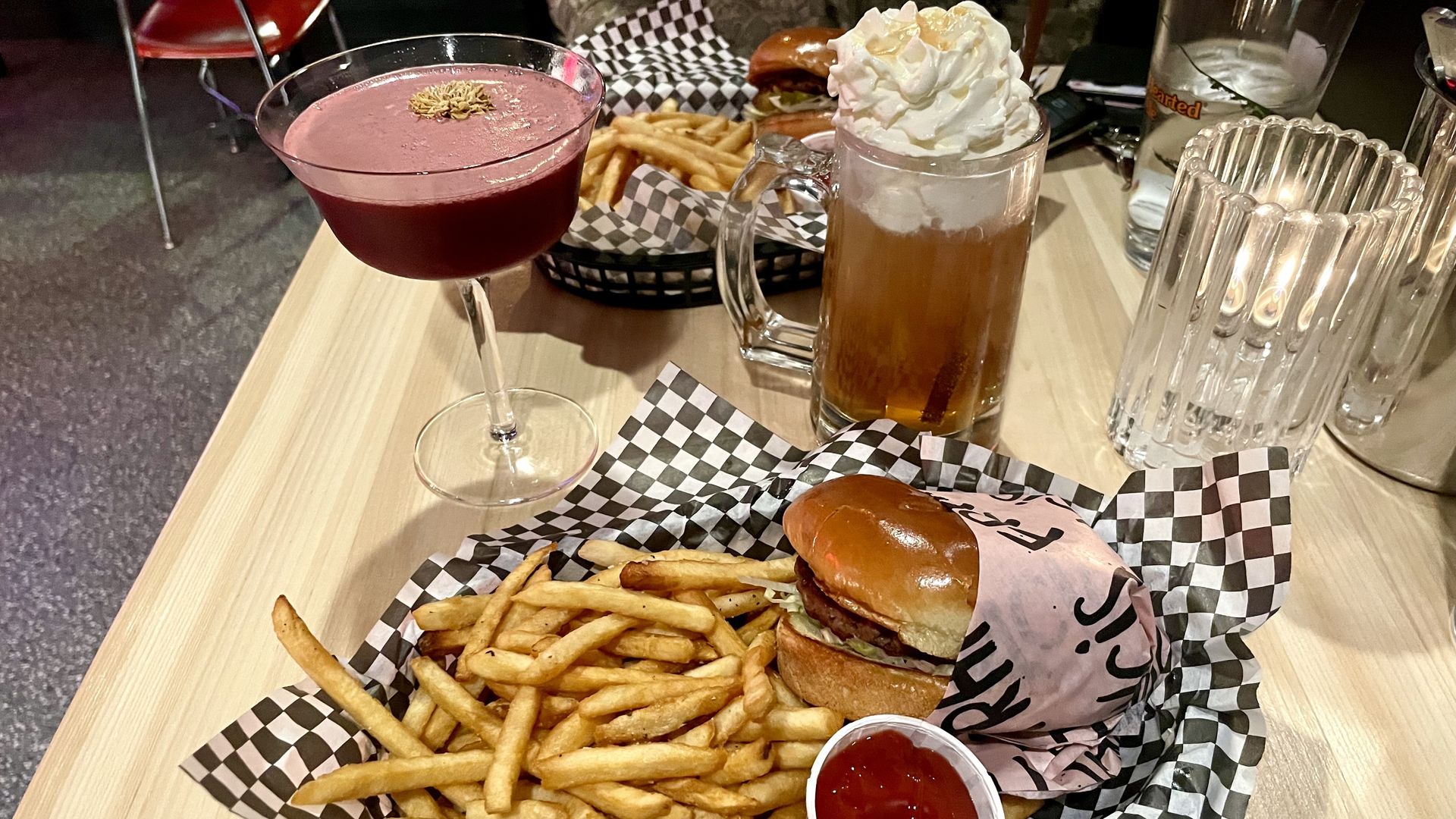 I'm a big fan of Jucy Lucys, but I haven't strayed from Matt's Bar in years.
When I heard the new all-vegan restaurant Francis Burger Joint in Northeast Minneapolis had a Jucy Lucy on the menu, I brought my friend Halle, a long time vegetarian who rarely eats cheese, with me to try it out.
What to expect: The "Juicy Lucy" ($16) is available with an Impossible patty or as a bean burger. Unlike Matt's version, it comes with plenty of toppings and fries.
We ordered the Impossible Lucys, beet juice cocktail Schrutes and Ladders ($14), and the Frosty Tip ($11), a boozy root beer topped with "whipped cream" made from tonka beans.
Our thoughts: Halle called the Jucy the best Impossible burger they'd ever had, and I have to agree. The patty was enormous and perfectly cooked — the crispiness and flavor made it feel like a real burger with a slightly softer texture.
The generously portioned Schrutes and Ladders was heavy on the beets and Halle's dream drink. I stuck with my vodka root beer; bean whipped cream is delicious.
Yes, but: Though Halle's burger had plenty of "cheese" inside, I didn't hit any until halfway through my patty. Even then, the pub sauce overwhelmed it.
Overall: Both the vegetarian and meat-eater were impressed. Halle declared Francis their new favorite burger spot, and while I didn't think anything could pull me away from a beef Jucy Lucy, Francis was a strong competitor.
I'd gladly accompany a vegetarian/vegan friend, but I might try one of Francis' other burgers.
📍 Visit: 2422 NE Central Ave, Minneapolis. Open daily for dine-in and takeout.
More Twin Cities stories
No stories could be found
Get a free daily digest of the most important news in your backyard with Axios Twin Cities.