Updated Sep 24, 2022 -

News
Feeding Our Future: Walz's call for investigation into judge sparks dispute over court's role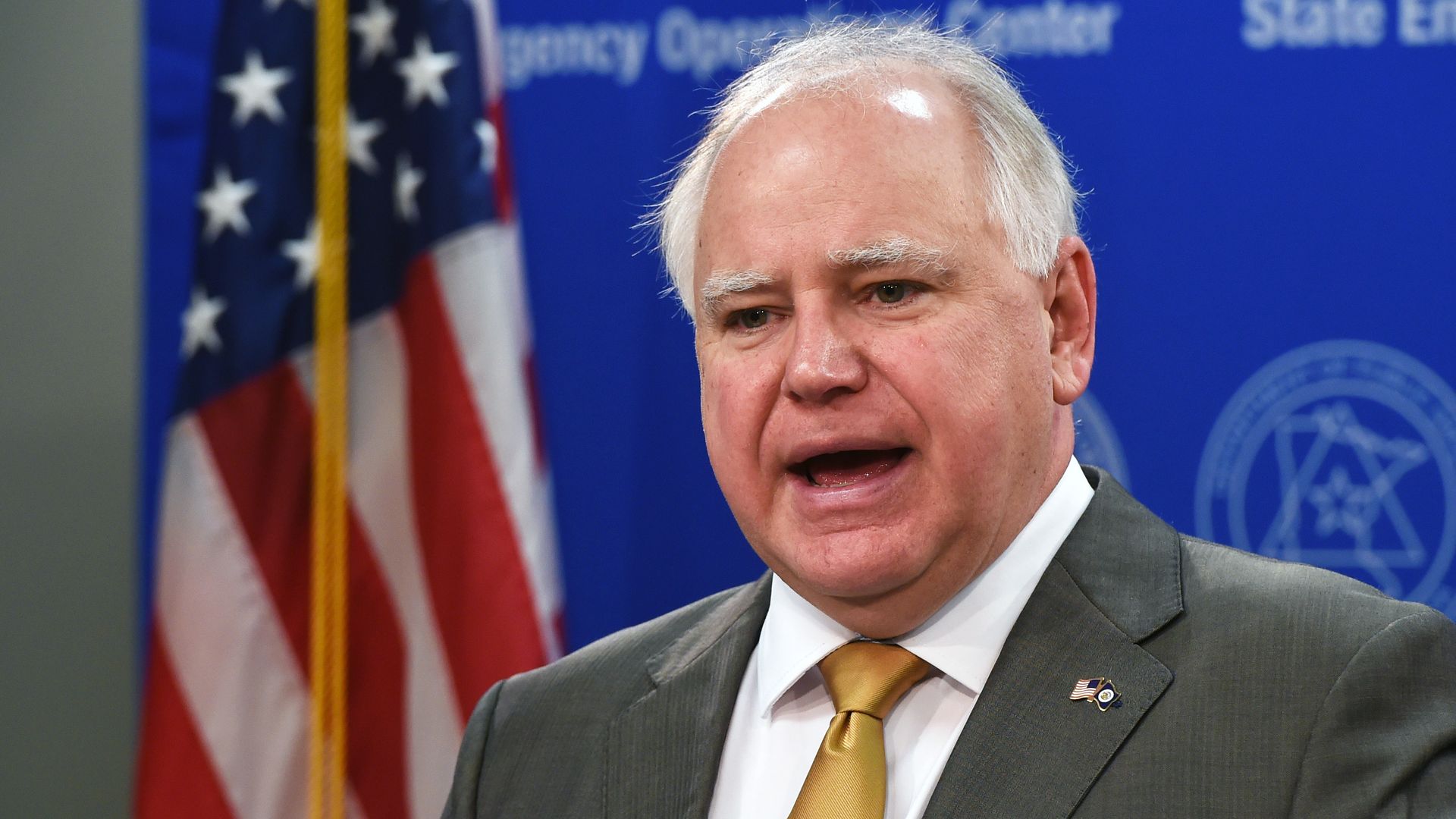 Minnesota Gov. Tim Walz said Thursday he was informed "early on" about concerns of fraud connected to Feeding Our Future, but a court ruling and legal considerations related to the FBI's investigation tied the state's hands.
Driving the news: This week's bombshell announcement of federal charges against 48 individuals accused of stealing $250 million in federal funds meant to feed needy kids has fueled fresh questions and political attacks about the Department of Education's role in the scandal.
Republicans have criticized the state's response, saying the agency and top DFL elected officials could have done more to catch and stop the fraud.
Context: The Department of Education has said it first raised concerns about Feeding Our Future in early 2020, but efforts to slow or stop payments were stymied by a lawsuit filed by the nonprofit.
State officials have said a judge ordered the state to keep paying the embattled nonprofit in the spring of 2021. The agency said it informed the FBI of its concerns in April 2021.
Feeding Our Future's executive director, one of 48 people indicted this week, has denied fraud allegations. She pleaded not guilty.
What he's saying: Walz told reporters Thursday that he would "hope there would be an investigation" into Ramsey County Judge John Guthmann's decisions, saying his education commissioner "was threatened with jail if [the agency] did not pay, by contempt of court."
"I was speechless... did not really know what to say," he said. "Obviously we had to honor it. But it was at that point in time I said, 'We have got to continue to push the federal government, the FBI to do the investigation.'"
The DFL governor said once the FBI began investigating, the state was limited in what it could say or do.
Yes, but: The judge issued a rare public statement late Friday disputing how state officials and news outlets have characterized his actions. His statement, released via a court spokesperson, said the MDE's "food reimbursement payments to [Feeding Our Future] were made voluntarily, without any court order."
"As the public court record and Judge Guthmann's orders make plain, Judge Guthmann never issued an order requiring the MN Department of Education to resume food reimbursement payments to FOF," the statement read.
The other side: In a statement, the Department of Education said "the court made it clear that if the MDE were to continue the legal fight to withhold payments, MDE would incur sanctions and legal penalties."
A spokesperson pointed to a transcript from an April 2021 hearing and a June 2021 order in which the judge held the department in contempt of court for not promptly processing the nonprofit's applications for new meal sites.
The June order directed the state to pay Feeding Our Future a $35,750 fine and an additional $11,000 to cover attorneys' fees.
Of note: Walz walked back his earlier comments on Friday, saying he wants a review of "how this fraud was allowed to continue, including lies the defendants told the court," the Star Tribune reports.
Between the lines: Walz's comments also suggested that a desire to keep aid flowing to hungry children during the pandemic may have been a factor. He said the state had to balance providing the federal funding for "legitimate folks and trying to separate these folks out."
"Our concern, too, was to the disruption that this would cause," he said. "There were people out there that said if you follow through with this and you pull back there are some legitimate folks [who are] going to get caught up in this and children are going to go hungry."
The intrigue: Republicans have questioned why MDE didn't file an appeal or pursue other legal avenues as large sums of cash continued flowing to the nonprofit.
State Sen. Roger Chamberlain (R-Lino Lakes) said the blame still lies with the Walz administration. "Lax oversight allowed bad actors to commit massive fraud," he said in a statement.
Legal expert Joseph Daly told Sahan Journal that Walz's remarks about the judge could broach separation of powers doctrine. He said the appropriate response to concerns would have been an appeal.
Situational awareness: Walz told reporters he could not recall when he was first informed about the Feeding Our Future concerns.
A spokesperson later told Axios that the governor was "aware of issues and concerns related to the program in 2020" and that he was briefed "on the full extent of the FBI investigation" the day before search warrants were released in January.
Editor's note: This story has been updated with Guthmann's response, additional comments from MDE and Walz, and additional details and context about the court's actions.
More Twin Cities stories
No stories could be found
Get a free daily digest of the most important news in your backyard with Axios Twin Cities.