How Minneapolis mayoral candidates would address homelessness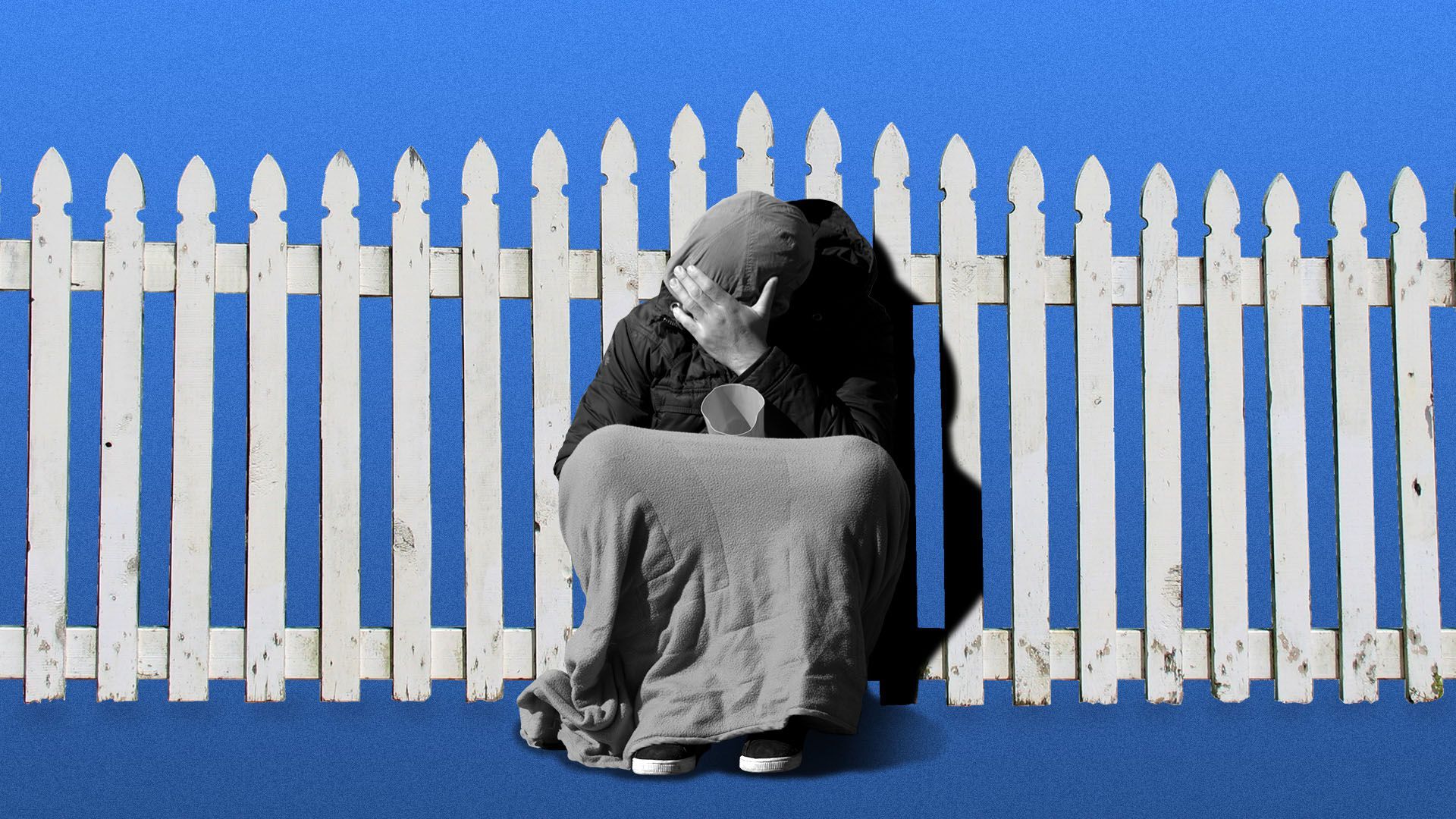 The coming winter is bringing renewed attention to Minneapolis' homeless crisis.
What's happening: The number of people living outside increased nationwide during the pandemic. In Minneapolis, advocates and city officials are once again working to connect people with stable housing before the temperatures drop.
Local efforts to clear large encampments, meanwhile, have created tension between the city and people living outdoors.
With less than a week before the election, we are sharing interviews we conducted with top mayoral candidates about what they would do to address encampments and provide stable shelter for those in need.
Sheila Nezhad has vowed to end evictions from encampments on city-owned property, arguing that forcibly removing people will "merely move the problem from one area of the city to the next."
She'd focus on providing more services to encampment residents and seek to "rapidly expand" housing options. That would include facilities that are "accommodating to folks who are opioid users" — a move she says would encourage more people to accept open beds or units.
"We're in a situation right now where there are people living outside and there are empty shelter beds," she said. "So we have to ask why that's the case, and that's because our existing shelter system is not meeting the needs of people who are staying outside."
Mayor Jacob Frey said he'll continue to close encampments that pose a safety risk to people living in them and the surrounding community. He cited concerns about trafficking and propane fires in the winter.
Frey said while he supports a "housing-first approach," he's concerned that drug-friendly dwellings could run afoul of funding restrictions.
Of note: Frey made ending chronic homelessness within five years a centerpiece of his 2017 campaign.
He defended his record, citing investments and new approaches and programs, but said the issue requires more regional solutions.
Kate Knuth didn't give a direct answer on whether she'd clear encampments but said the sites "are not safe for the people living [in] them and for the community around so we do need to address it."
She plans to focus on ramping up housing capacity and wants to "be very intentional in building the relationships with people who are doing direct service" to help connect people in need with resources to address addiction, mental health and other barriers to stable housing.
AJ Awed told us he'd take a compassionate approach to connecting people with housing but that "under my administration, I don't plan on having any encampments."
"When it gets to a point of encampments, the city's leadership already failed," he said.
He doesn't support the idea of allowing drug use.
Between the lines: Depending on where they are located, some encampments fall under the jurisdiction of the Minneapolis Park and Recreation Board or Hennepin County, not the mayor.
The city, county and park board often work together on encampment responses.
Catch up on where the rivals stand on housing issues here. Candidates were selected for interviews based on August fundraising reports.
More Twin Cities stories
No stories could be found
Get a free daily digest of the most important news in your backyard with Axios Twin Cities.