Sen. Tina Smith takes on SCOTUS expansion, climate push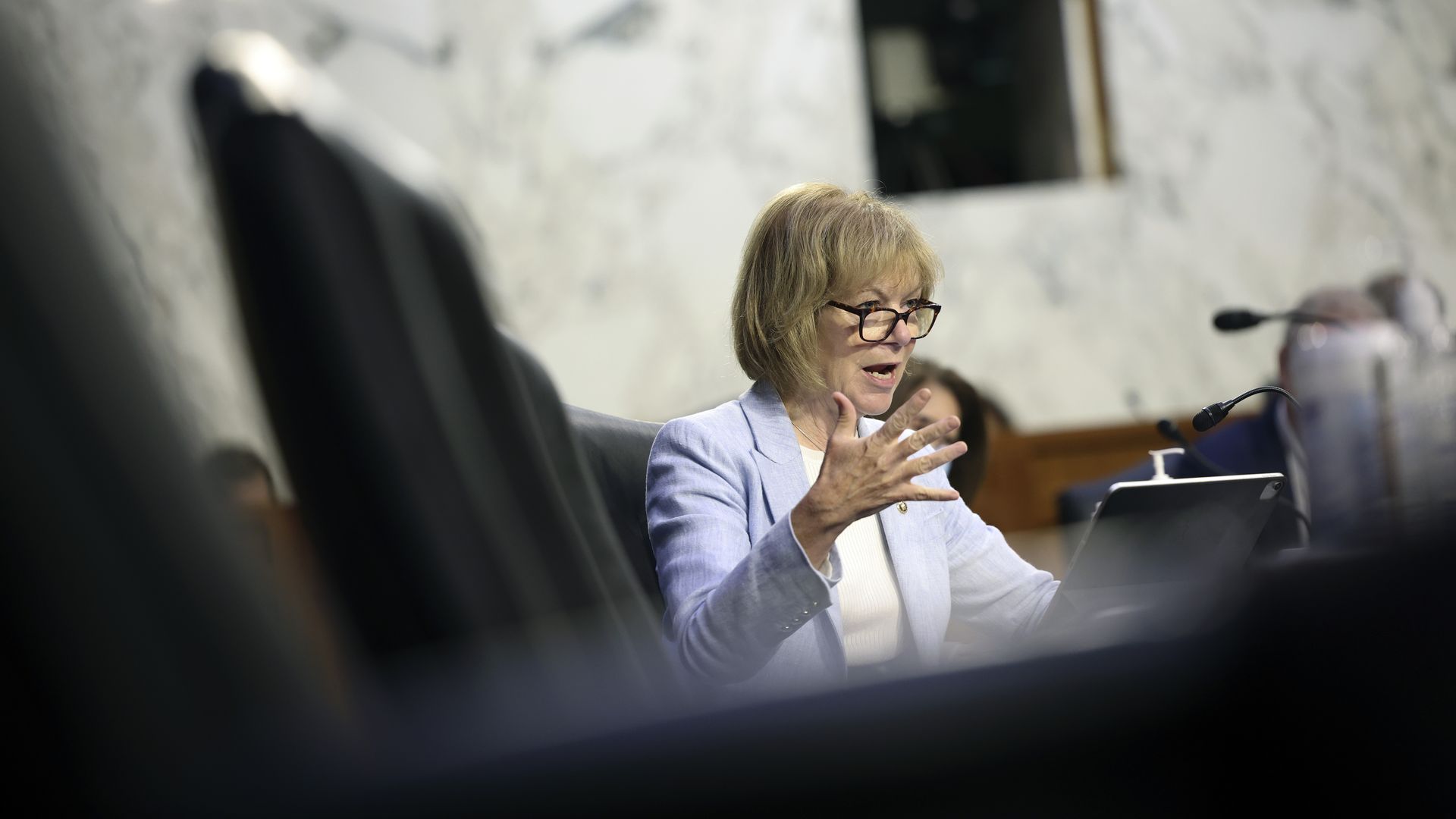 This time last year, in the midst of her re-election bid, U.S. Sen. Tina Smith declined to take a position on whether to expand the size of the U.S. Supreme Court.
Fast forward 12 months and the Minnesota Democrat is the first Senate co-sponsor of a bill to do just that.
Driving the pivot: Smith told Axios that events of the last year, including Justice Amy Coney Barrett's confirmation just before the 2020 election, persuaded her that adding justices "to restore balance to the court becomes the most sensible and reasonable thing to do."
"The Texas case was really the final straw for me," Smith added of the court's recent decision against blocking the state's new abortion restrictions.
The big picture: Nine months into her first full, six-year term, Smith is taking bolder and, in some cases, more liberal positions than she did in her first three years in Washington. Other examples include:
What we're hearing: To some DFL insiders, the senator's current public and political persona feels more authentic than the more reserved approach the junior senator took during her first three years in Washington.
What she's saying: Smith, a longtime political operative and former lieutenant governor whose deal-making skills earned her the nickname "The Velvet Hammer," downplayed any talk of a political realignment.
"I wake up the 'real Tina' every day. I try to act like the real Tina every day. But I think what's changed is that I've now been in the Senate for three years and I have learned what is working in the Senate and what isn't," she said.
Yes, but: Democratic majorities in Washington are also a factor, she acknowledged.
"[Late former Sen.] Paul Wellstone used to say, 'Now is no time for tippy toe politics,'" she said. "And I love that because it gets at the point that … this is a moment where you have to be willing to kind of go big."
The other side: Smith's shifts have already attracted attacks from Republicans.
In a statement, Republican National Committee spokesperson Preya Samsundar accused the DFL lawmaker of supporting a "radical agenda" after she "pulled the wool over voters' eyes in 2020."
Between the lines: It isn't unusual for lawmakers to take more political risk and develop a stronger voice in their second and subsequent terms. And Smith faced back-to-back elections in 2018 and 2020 because she was appointed — then elected — to fill out the remainder of former U.S. Sen. Al Franken's term.
"Now she's unencumbered without the campaign staring her down ... She gets a little more runway to actually be a senator," said DFL Party Chair Ken Martin, who sees Smith as "more vocal and more visible" this year.
What to watch: Smith, a Minneapolis resident, has yet to take a position on Question 2, the police charter amendment dividing progressive and moderate Democrats in Minnesota and beyond.
She told Axios last week that she's still evaluating the measure.
More Twin Cities stories
No stories could be found
Get a free daily digest of the most important news in your backyard with Axios Twin Cities.