10 things to do around the University of Minnesota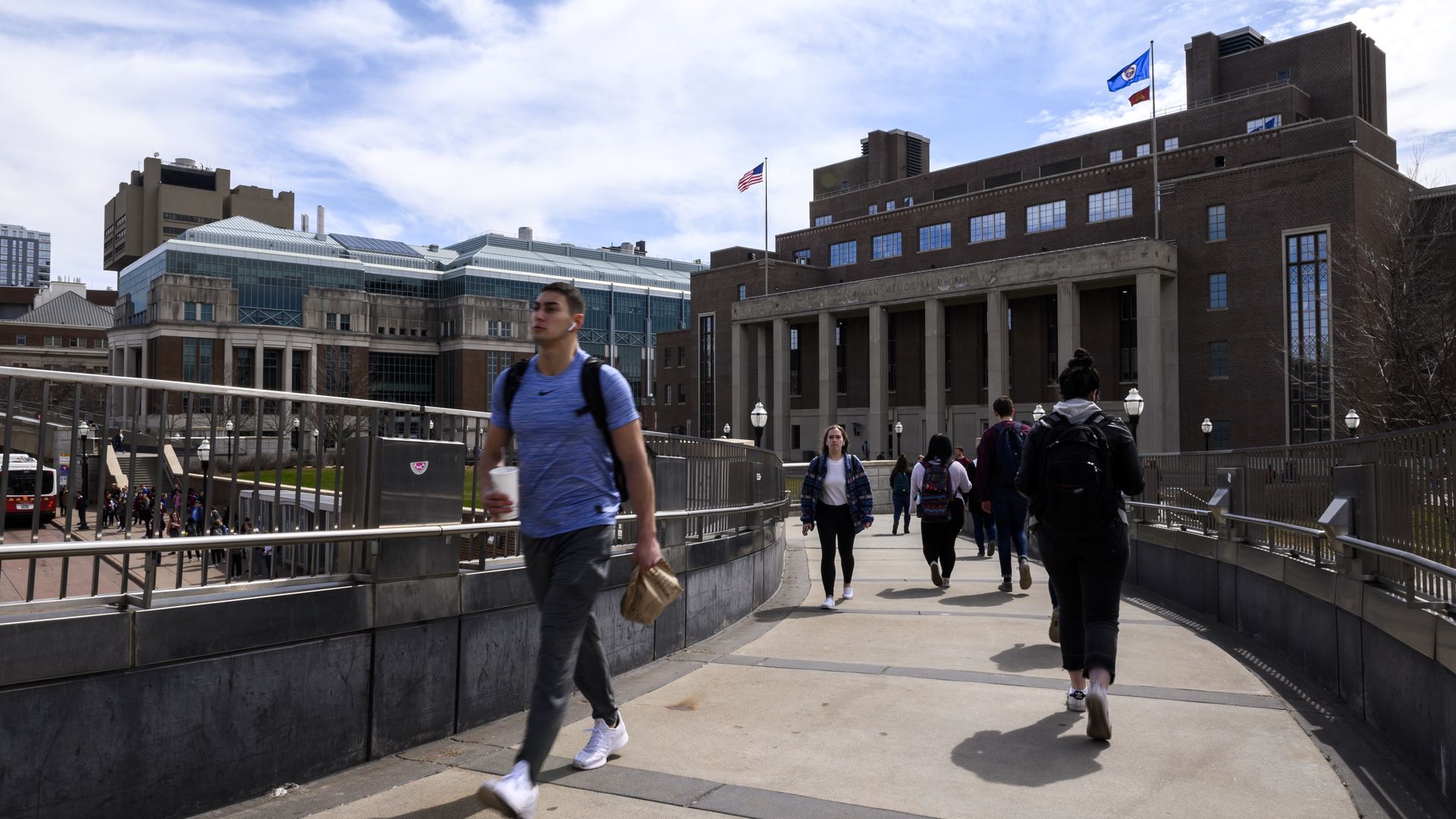 The University of Minnesota is welcoming droves of Golden Gophers to its campuses over the next several days.
What's happening: The school's Welcome Week starts Wednesday, and thousands of new students will move into their dorms and apartments this week.
Are you a parent staying in the Cities for a few days? A student new to campus who wants to ditch the semi-mandatory school spirit sessions?
We rounded up 10 things to do near East and West banks and the St. Paul campus.
But first, a brief explainer to help you get your footing around town:
East Bank: What most people are referring to when they talk about the Twin Cities campus. It's the largest area of campus and has a little bit of everything.
West Bank: This part of the university is west of the Mississippi River and closest to downtown Minneapolis. It's primarily arts and social science buildings and the West Bank light rail station is right in the middle.
Dinkytown: The historic student neighborhood directly north of East Bank. Some of the area is under construction, but it's mostly made up of large student apartment buildings, bars and restaurants, plus the only Target within walking distance.
Como: The quieter neighborhood northeast of Dinkytown, primarily large houses occupied by students and families. The entrance is a little over a mile from the center of campus, but city busses go through most of the area.
Stadium Village: Another neighborhood that begins east of Oak Street on East Bank. Named after the multiple stadiums in the area, including Huntington Bank. The East Bank light rail station is located here.
St. Paul campus: The U's smaller campus primarily accessible via city and free campus busses. Mostly holds farming and agricultural buildings.
🚍 Tip: University of Minnesota students who pay the Transportation and Safety Fee, which is $73 for the 2023-2024 school year, get unlimited rides on the light rail and most regional busses.
How to kick off the semester:
🏙 See the sights: St. Anthony Main is a short walk from Dinkytown and has stunning views of the Minneapolis skyline and Mississippi River, plus an entrance to the Stone Arch Bridge.
😋 Grab a bite: Dinkytown may be small, but it has a great international food scene. Try Korean hot dogs at CrunCheese, Mediterranean cuisine at Wally's Falafel and Hummus, Vietnamese sandwiches at Bahn Appetit, Hong Kong-style desserts at Mango Mango, and bubble tea at Tiger Sugar or Kung Fu Tea.
💰 Get a great deal: If you need a desk, chair, supplies or anything else the U doesn't have use for, the university's ReUse Center in Como sells old campus equipment to anyone for cheap.
We've spotted computers, couches, clothing, bikes and odd laboratory equipment. The center posts current inventory on its Facebook page.
🖼 Visit a museum: St. Paul has plenty of museums just steps from the light rail or bus, including the Bell Museum (free for students) on the UMN St. Paul campus, the Science Museum of Minnesota downtown and the Minnesota Museum of American Art.
🚲 Go for a ride: Looking for an easy bike ride? The Dinkytown Greenway bike path is just 1-mile-long and runs through West Bank, Dinkytown and East Bank, ending at Huntington Bank Stadium.
🌳 Explore a park: Head south on the Blue Line to explore Minnehaha Park, a 193-acre city park known for the Minnehaha Falls near the entrance.
Tip: Minnehaha Park's seafood restaurant Sea Salt Eatery is one of the best in the Cities.
🥞 Dine at a campus staple: Al's Breakfast, a Dinkytown institution that's also the narrowest restaurant in Minneapolis at 10-feet-wide, is also a must-try.
Prepare to wait in line to squeeze onto one of the 14 stools, but it's worth it just for the experience. It's cash only.
🏈 Cheer for your team: Walk, bike or take public transportation to one of the many sports games around the Cities. All the major stadiums, like Allianz Field and U.S. Bank Stadium, are next to light rail stops.
🎭 See a show: Check out live performances at one of the many venues within walking distance of campus. Try Varsity Theater in Dinkytown and Cedar Cultural Center on West Bank for music.
🌸 Walk the gardens: The Como Zoo and Conservatory has everything: beautiful year-round botanical gardens, a zoo and Como Town, a family amusement park with nearly 20 rides.
It's a short bus ride from East Bank and free to all.
Editor's note: This story was originally published August 2022 and updated August 2023.
More Twin Cities stories
No stories could be found
Get a free daily digest of the most important news in your backyard with Axios Twin Cities.