The best and the worst of Minnesota State Fair food this year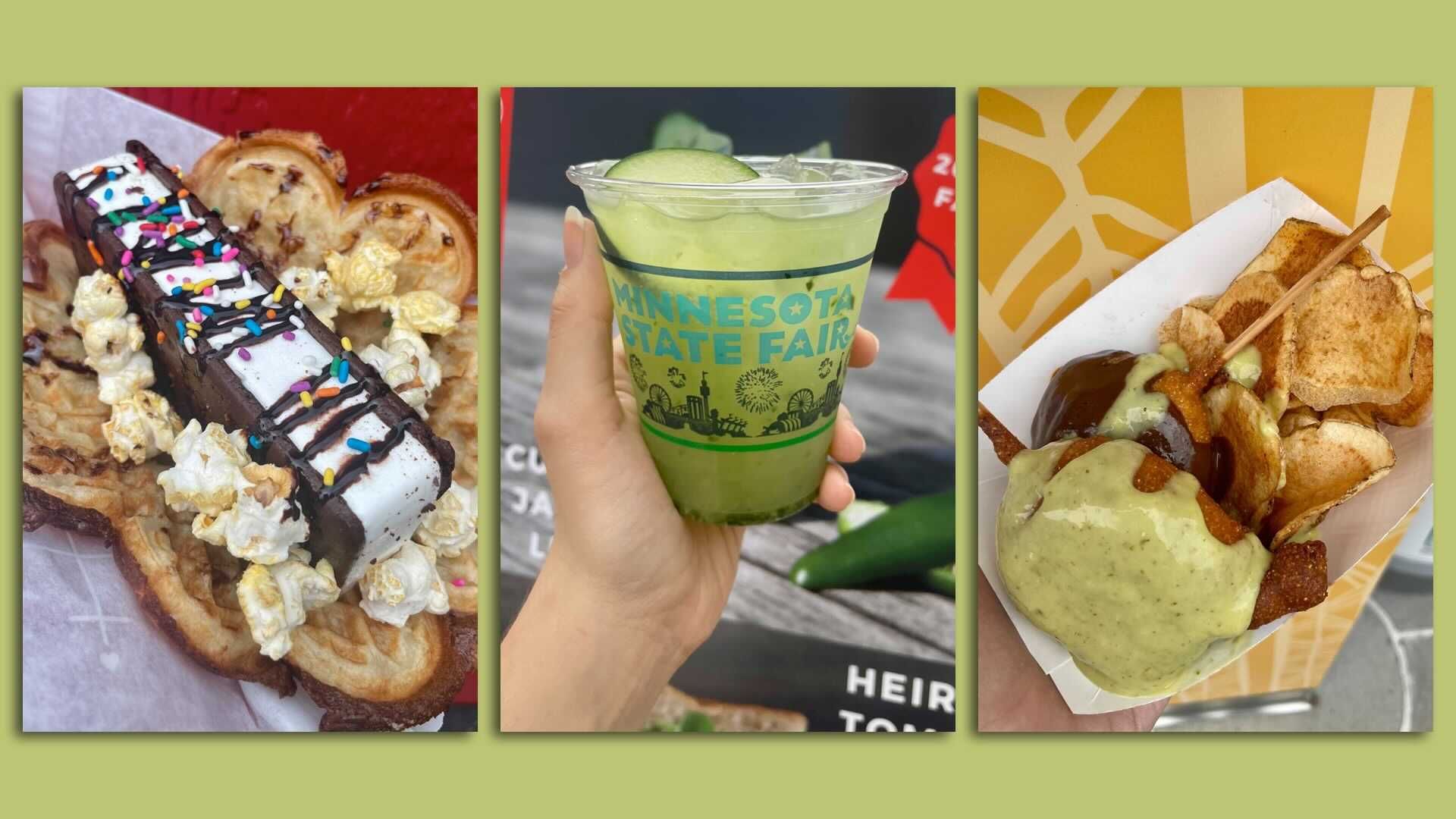 I set out on a journey to the state fair's opening day with a detailed map and a dream: Try at least 10 of the 30 new fair foods.
And while I succeeded, my body hates me for it.
Here's some of the best, worst and weirdest things I tried this year:
Best concept: Nordic Waffles' "Chicken and Macaroni" and "I-Scream" wraps.
The former is a spicy drumstick on a bed of mac and cheese, wrapped in a nordic waffle. The latter: An ice cream sandwich on top of a waffle, drizzled with chocolate and topped with kettle corn. It's outrageous and delicious, but very hard to eat.
Biggest surprise: Vegan ChoriPops from Midtown Global Market's Andy's Garage.
It was an impulse decision, but the balls of chorizo (sourced from Minneapolis' Herbivorous Butcher) are dipped in corndog batter and deep-fried on a stick. Plus, avocado salsa drizzled on top. So good, and you would never guess it's vegan.
Most disappointing: The cucumber jalapeño limeade from Farmers Union Coffee Shop.
If you want to drink cucumber pulp with a hint of lime and a lot of spice, maybe it's for you?
Favorite sweet(s): A tie between Auntie M's gluten-free apple crisp funnel cake and Spinning Wylde's "Purple Rain," which is sour grape cotton candy, made with organic cane sugar and topped with sprinkles.
I'm not gluten free. I just wanted to try Auntie M's to see if it's as good as the real thing. (It was!)
Audrey's favorite: The Greek stuffed ravioli from Dino's Greek.
Crispy on the outside, stuffed with cream cheese, tzatziki, mozzarella, gyro meat and seasoning on the inside. I was eight foods in when I ordered this, but I still ate the entire thing. (Granted, it's only four ravioli.)
Also: I tried the Mike's Harder Lemonade slushie (9/10), blue raspberry vodka hand pie from Sara's Tipsy Pies (7/10) and sashimi tuna tacos from Scenic 61 (3/10).
Thought bubble: I'm very thankful for my fellow taste-tester Natalie, who helped me avoid throwing out a lot of food. But I don't think I can eat anything but vegetables for a week.
One last observation to go: I was there from 9:30am-2pm, and most of the fair only seemed half-full. Also, no lines anywhere, even at Sweet Martha's.
More Twin Cities stories
No stories could be found
Get a free daily digest of the most important news in your backyard with Axios Twin Cities.