Minnesota ROKKR esports team heads to the championships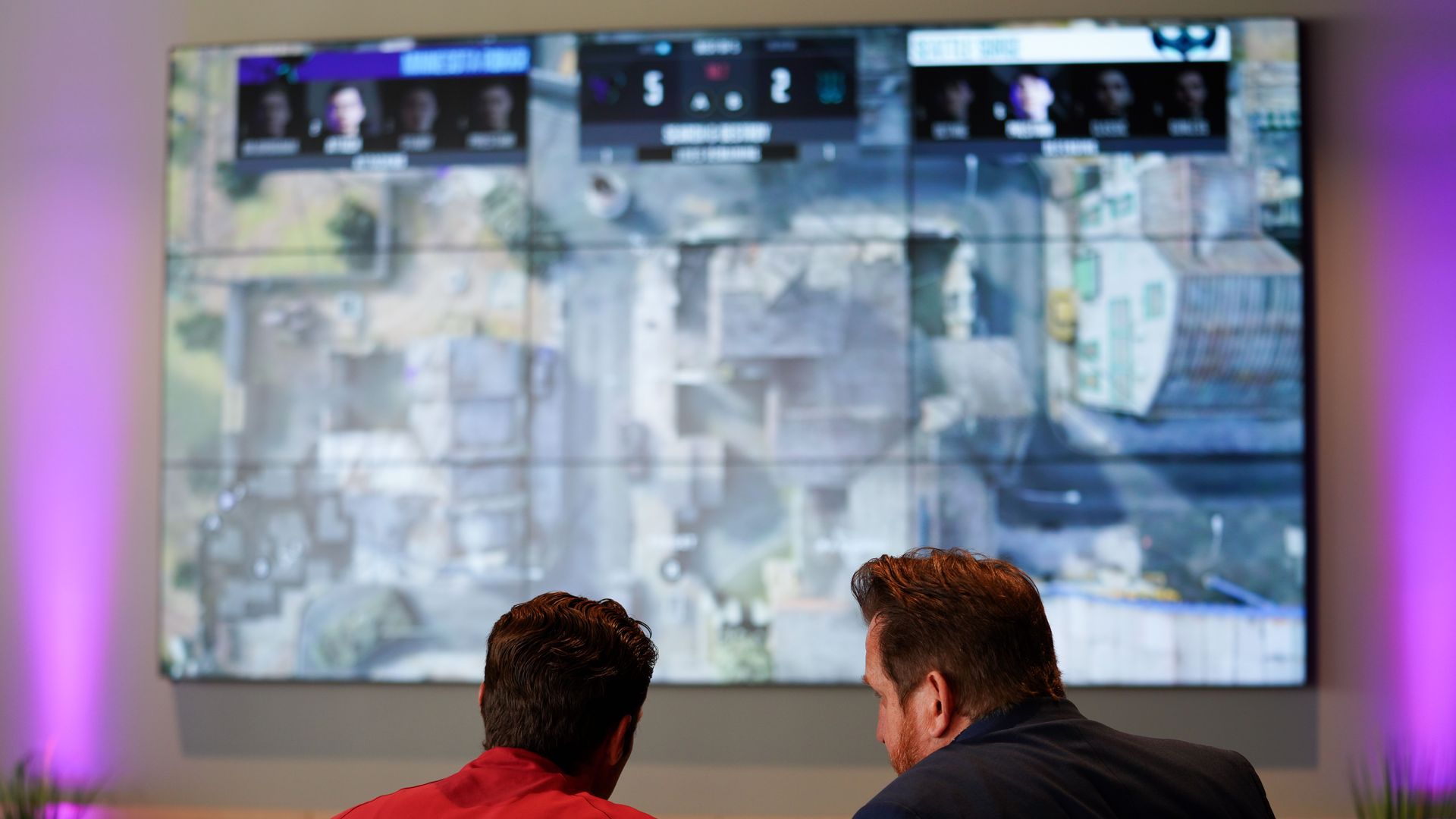 There's more than $1 million in prize money on the line this weekend for one of Minnesota's more successful sports teams — but these players might not be on your radar.
Driving the news: Minnesota ROKKR, a professional Call of Duty esports team, is gearing up to take on the Dallas Empire in its first match of the league championships Thursday.
The team's latest win against the Toronto Ultra — which earned the team $200,000 and secured its spot in the championships — has been lauded as the "greatest Call of Duty comeback ever." Don't believe us? Just watch this crowd at Minneapolis arcade bar Up-Down go wild.
How it works: The Call of Duty esports season runs January through August, with five tournaments and one final championship where teams compete for a first-place prize of $1.2 million. There are 12 teams in the league and each game is four versus four.
ROKKR players train 8 hours a day, six days a week, and get all the benefits of traditional sports players: coaches, nutritionists, personal trainers and a brand new 11,000-square-foot facility in Eagan, adjacent to the Vikings' training facility.
Because a new version of the game is released each year, there's frequent roster turnover. ROKKR dropped its entire 2020 team and signed players Attach, MajorManiak, Priestahh, Standy and Accuracy for 2021.
In non-pandemic times, all the players are in one room on the same local area network (LAN). At the moment, they're primarily playing apart on different networks.
Fun facts: ROKKR, which started in 2019, is owned by the Wilfs, the same family who owns the Vikings.
The team's name comes from Old Norse and roughly translates to "Twilight of the Gods" — a subtle nod to the Vikings, COO Brett Diamond told us.
Zoom out: While ROKKR is a Minnesota team, its audience — and its players — go far beyond the Midwest.
Around 50% of its fans are from states other than Minnesota, a number that has increased since its recent win, Diamond told Audrey.
And most of the league's players, including ROKKR, live in Dallas. The city has the fastest servers in a game where milliseconds mean everything. (ROKKR players will eventually relocate to Minnesota.)
Yes, but: The goal is to make ROKKR a Minnesota brand first, while keeping national relevance, according to the team's content director and longtime pro player Ashley "MiDNiTE" Glassel.
It's planning on launching partnerships with local high school leagues, and hosting watch parties at Twin Cities bars as well as tournaments at its Eagan headquarters.
"We're considering this a long-term investment, not dissimilar from traditional sports. We think it's the future of sports and entertainment," Diamond said.
Thought bubble: Deep-pocketed investors have been buying into esports for years, but it's far from a sure thing, Axios Gaming reporter Stephen Totilo tells us.
It costs tens of millions of dollars to launch a team in the new Call of Duty League.
And those involved are having to navigate challenges from the pandemic, in addition to recent advertiser skittishness due to workplace controversies at parent company Activision Blizzard. (Go deeper with our Axios Gaming colleagues.)
What's ahead: ROKKR's first championship match Thursday begins at 2pm, and it'll be live-streamed on Youtube.
In-person watch party dates and times will vary depending on how ROKKR does in the championships. But each location will have free beer and T-shirts for fans.
O'Donovan's Irish Pub in Minneapolis will stream ROKKR games on Thursday-Sunday. All ages allowed.
Up-Down Arcade Bar in Minneapolis will have 21+ watch parties for any matches on Saturday and Sunday.
More Twin Cities stories
No stories could be found
Get a free daily digest of the most important news in your backyard with Axios Twin Cities.