Service fees pick up steam at Minneapolis restaurants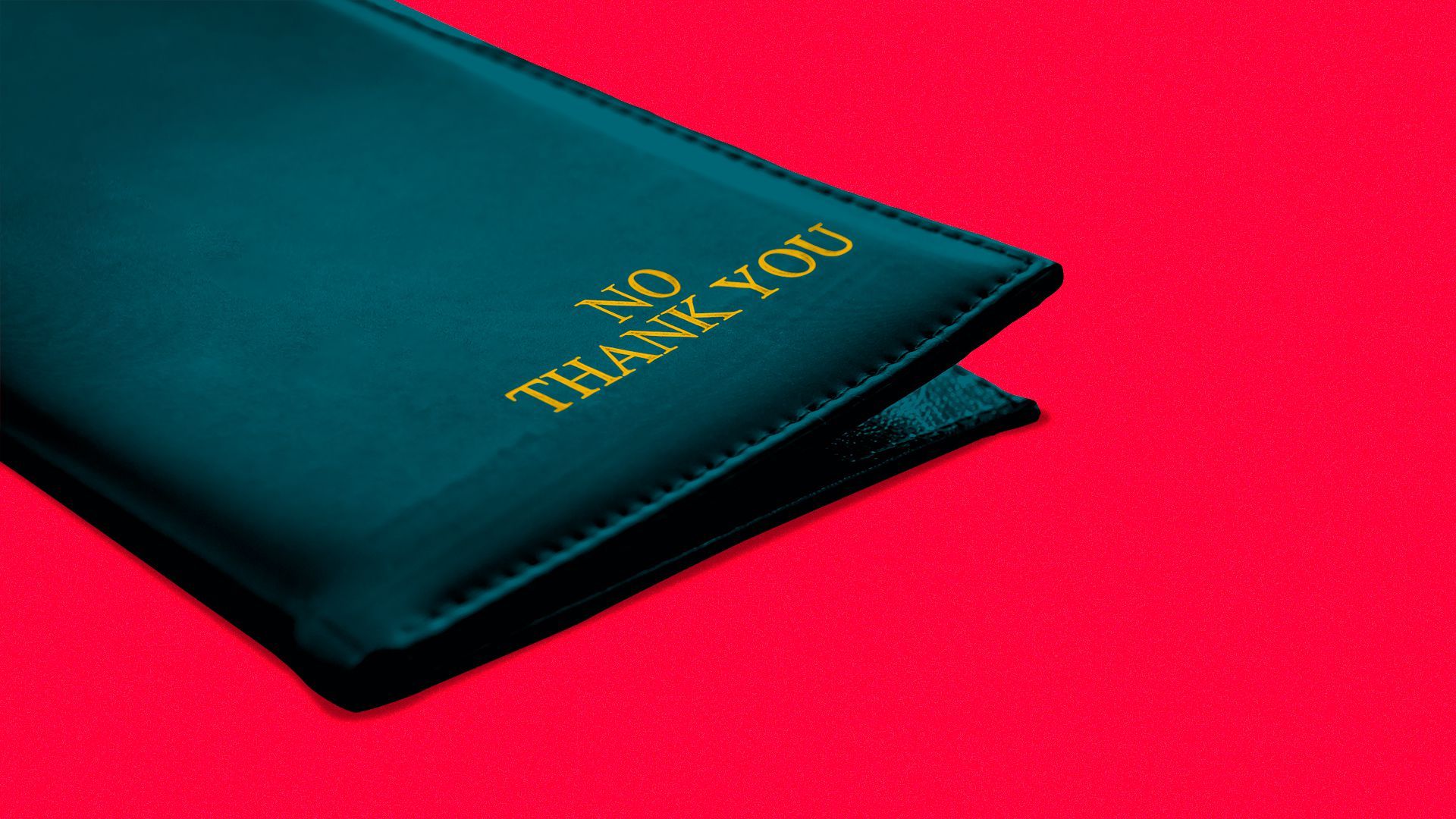 Diners returning to their favorite restaurants after the long COVID winter are noticing a new item on the menu: a service charge with a note about a no-tipping or tipping-not-expected policy.
Why it's happening now: It's essentially a reset for a lot of eateries across the area as they spin back up and try to find new workers.
Charlie Broder, the second-generation co-owner of Broder's Restaurants in Southwest Minneapolis, said the pandemic disruption was a "watershed moment" for restaurants to change their model.
How it works: Several Minneapolis restaurants have instituted service fees of 15% to 21% that they say go toward their employees' wages and benefits.
Broder's, for example, will use the fees to pay all employees at least $16 an hour and then split 5% of its revenue among all employees, said Broder. Diners can still tip on top of the 15% "equity and service fee."
"We're trying to create a compensation structure that looks different than it did before the pandemic ... and strive for pay equity between front-of-house and back-of-house service members," Broder told Nick.
Among other restaurants instituting such fees: Hola Arepa, Hai Hai, Tilia, Sea Salt Eatery, Surly and Alma. Revival will do no tipping at its new Smokes Meats restaurant in Minneapolis.
Yes, but: No-tipping restaurants are still relatively new, and it remains to be seen what this will do to servers' wages.
Since not all restaurants are going tip-free and there's an apparen labor shortage, servers who believe they can make more in a tipped establishment could create movement in the industry.
Between the lines: Most of the restaurants adding service charges are in Minneapolis, where the minimum wage is building toward $15 an hour.
Some owners have no choice but to increase wages, and a service fee is one way to handle that added cost.
The other side: While a service fee may not make much of a difference to customers who already tipped 20%, Wade Luneburg, political director of the UNITE Here Local 17 union, argued diners should know where that money goes.
"Our concern is around transparency, not just for workers but also for consumers," he said. "If you are a consumer, this is redistributing the gratuity."
More Twin Cities stories
No stories could be found
Get a free daily digest of the most important news in your backyard with Axios Twin Cities.