Learn about the chupacabra panic and other myths at HistoryMiami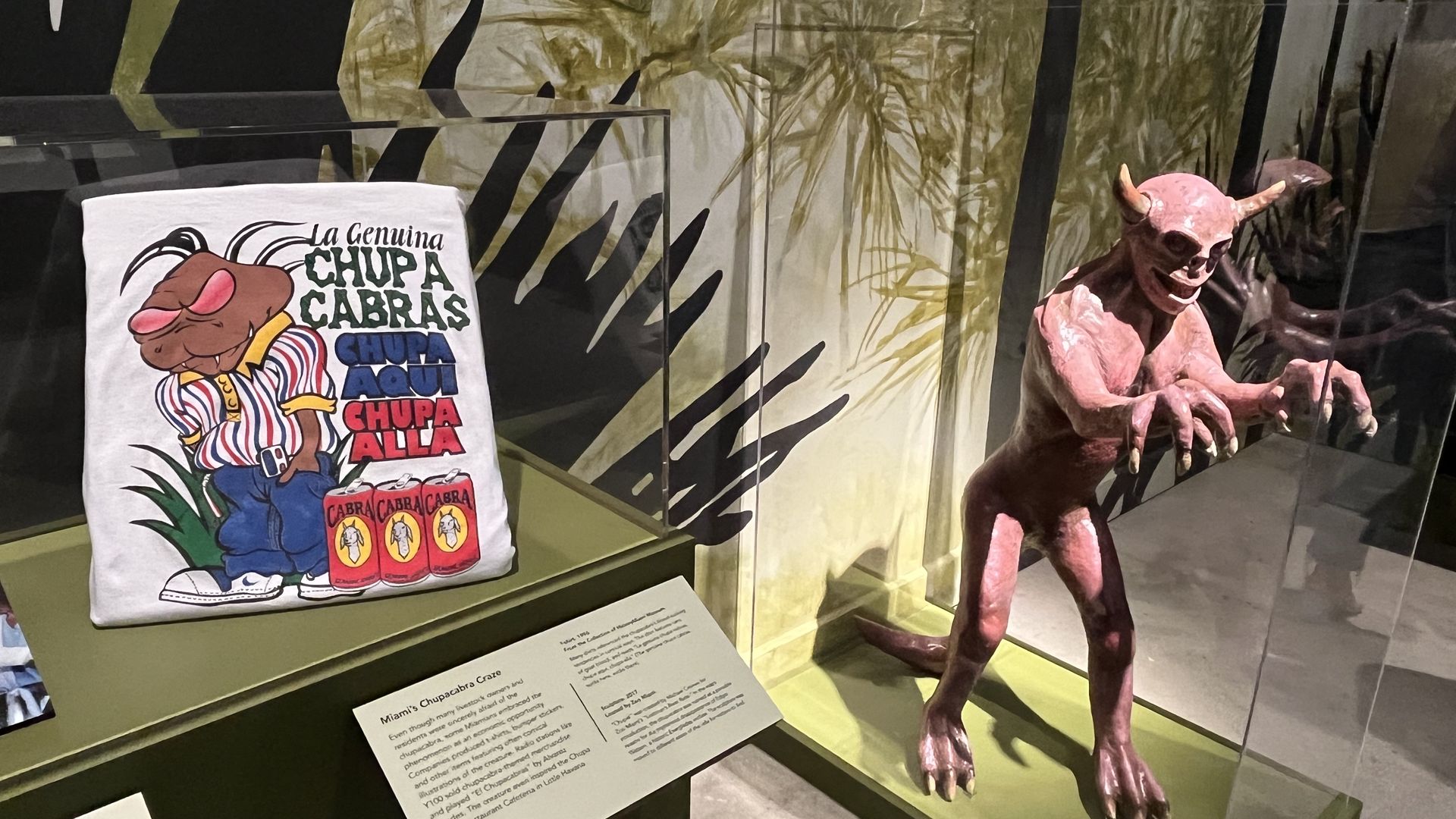 Stories of dragons, giants and mermaids might call to mind Greek or Chinese mythology — but we also have our own storied history with otherworldly creatures.
Driving the news: A new exhibit from HistoryMiami, "Mythic creatures: Dragons, Unicorns & Mermaids," explores local tales of the chupacabra and skunk ape.
It opened over the weekend and runs through next March.
Why it matters: Miami is home to much of the folklore and myths of the Caribbean and Latin America because so many immigrants moved here, exhibit co-curator Jason Katz tells Axios.
Mythical creatures are "a way into the culture and the people," he says.
Details: The traveling exhibit, organized by the American Museum of Natural History, features replicas of the pegasus, kraken and other large beasts, along with depictions of mermaids and examples of mythical imagery in global currency and art.
It includes witness interviews, archival video footage and even a hair sample.
Through fossil records and interactive displays, the exhibit details how misidentification and imagination may have led our ancestors to believe in the mythical creatures whose legends endure to this day.
Zoom in: "Mythic Miami," the local portion of the exhibit curated by Katz, delves into the 1996 chupacabra hysteria that consumed the city after dozens of farm animals were slaughtered in Sweetwater.
The alleged culprit — a reptile-like creature with an oval head and red eyes that walks upright — had been blamed for similar attacks in Puerto Rico the prior year. (The name translates to "goat sucker.")
Miami police and animal experts concluded a large dog was responsible for the attacks, going as far as televising a necropsy of a dead goat, but pandemonium had already taken over.
Residents reported seeing the chupacabra, radio station Y-100 ran a week-long search with a $1,000 prize, and there were chupacabra T-shirts and songs.
Meanwhile, "Mythic Miami" also highlights the story of Florida's Bigfoot — the skunk ape — which is rumored to call the Everglades home.
The musky half-man, half-ape has been the subject of eyewitness accounts, documentaries and a askunk ape research center in Ochopee that sells merchandise.
The bottom line: Katz, publisher of the folkloric arts magazine Islandia Journal, says he tends to believe his neighbors who say they have seen mythic creatures. Though he also acknowledges Miami has a flair for drama.
"Who are we to call people quacks?"
If you go: Tickets: $15 for adults, $10 students/seniors and $8 for children.
Katz will give a tour July 27 as part of an Islandia Journal issue release party.
More Miami stories
No stories could be found
Get a free daily digest of the most important news in your backyard with Axios Miami.