5,000-mile-long seaweed belt heading toward Miami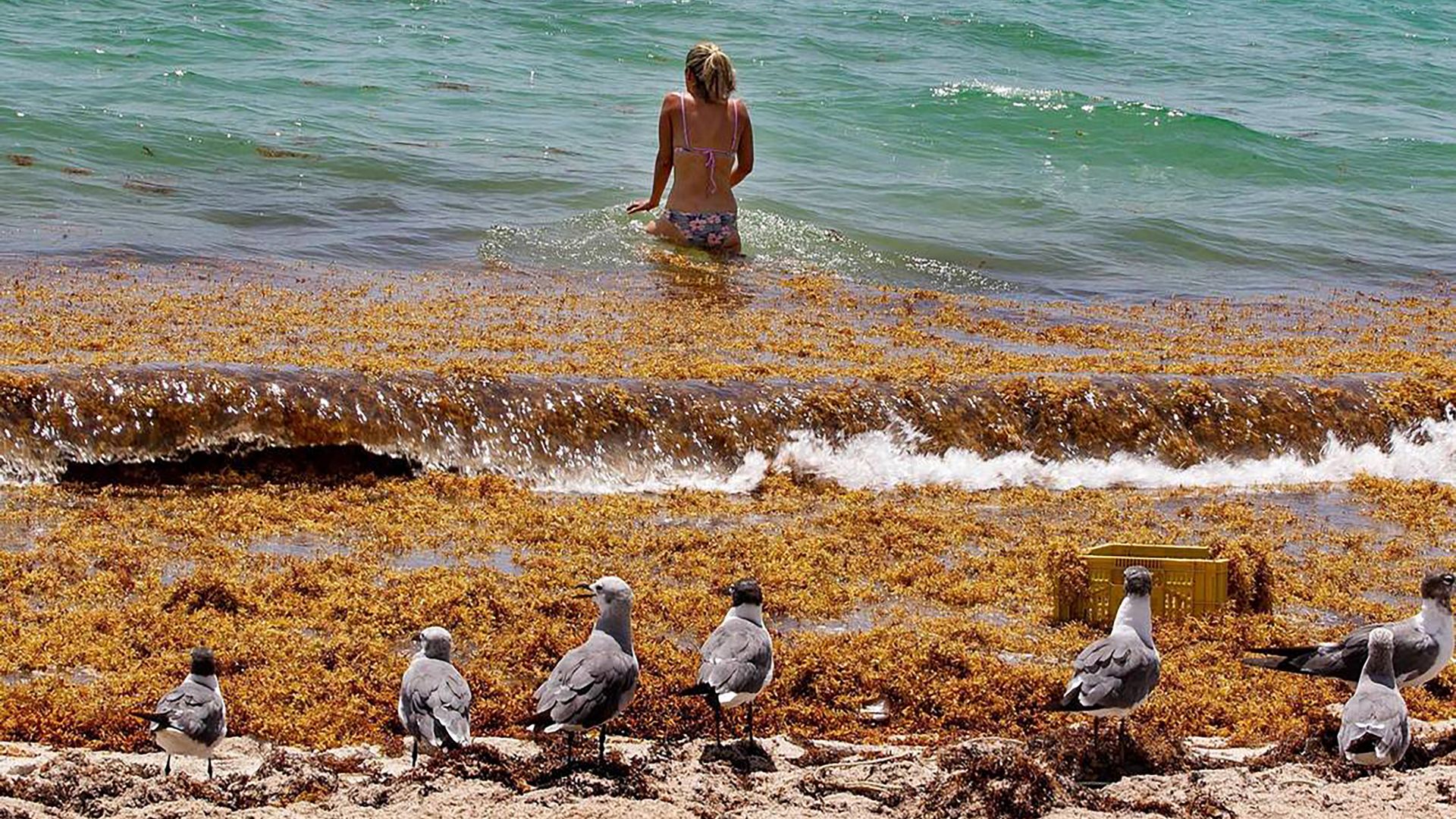 A 5,000-mile-long cluster of seaweed might spoil your summer beach plans as it inches across the Caribbean to Miami.
What's happening: A sargassum bloom weighing an estimated 12 million tons — roughly half the record-setting total found across the Atlantic Ocean last year — is already washing up along Florida beaches from Key West to Fort Lauderdale.
But the peak of the bloom will impact Miami's beaches between May and June, University of South Florida assistant research professor Brian Barnes tells Axios.
Why it matters: Sargassum provides critical habitat for marine life in the open ocean between the Gulf of Mexico and West Africa. But once it washes ashore, it can muck up beaches and deter tourists.
When it hits the beach, sargassum emits a gas that smells like rotten eggs and the sea life that resides within can cause skin irritation.
It costs Miami-Dade County millions of dollars a year to clean up seaweed from its beaches.
The big picture: Large floating sargassum blooms like this one — which can be seen from space — have become an annual occurrence since about 2011. While this year's bloom has drawn national media attention, it's on par in size with some of the larger blooms recorded in recent years, Barnes tells Axios.
The phenomenon has been linked to nutrient runoff, the burning of fossil fuels and deforestation.
What they're saying: Florida International University coastal science professor Stephen Leatherman tells Axios it feels like a "flotilla of boats headed our way."
"It's coming, the invasion is coming," he said.
Yes, but: Only a "tiny portion" of the massive belt will impact any one beach, Barnes said.
As for the rest of Florida, he said the west coast should not be impacted. Neither should the northeastern portion of the state north of around Cape Canaveral, he said.
The Panhandle may see impacts around the same time as the Florida Keys and Miami do, he added.
The intrigue: In Miami-Dade, county contractors remove the seaweed from certain beaches and use blade-mounted tractors everywhere else to cut sargassum and integrate it into the sand.
But some beaches in Mexico use floating barriers offshore to keep the seaweed at bay. The idea has also been proposed for Key West.
Leatherman said Miami's coastline is likely too vast to install barriers, which typically work best in pocket beaches bookended by rock formations.
The bottom line: "Everybody's just kind of hoping this thing would go away," he said.
More Miami stories
No stories could be found
Get a free daily digest of the most important news in your backyard with Axios Miami.