Good morning and welcome back to Generate! After all kinds of wind up, President Trump will sign an executive order today that attacks Obama's climate policies head on. We've got plenty on that below, or just skip the first few items if you're at risk of executive order fatigue, because there's plenty more happening too.
What Trump's big energy order can and can't do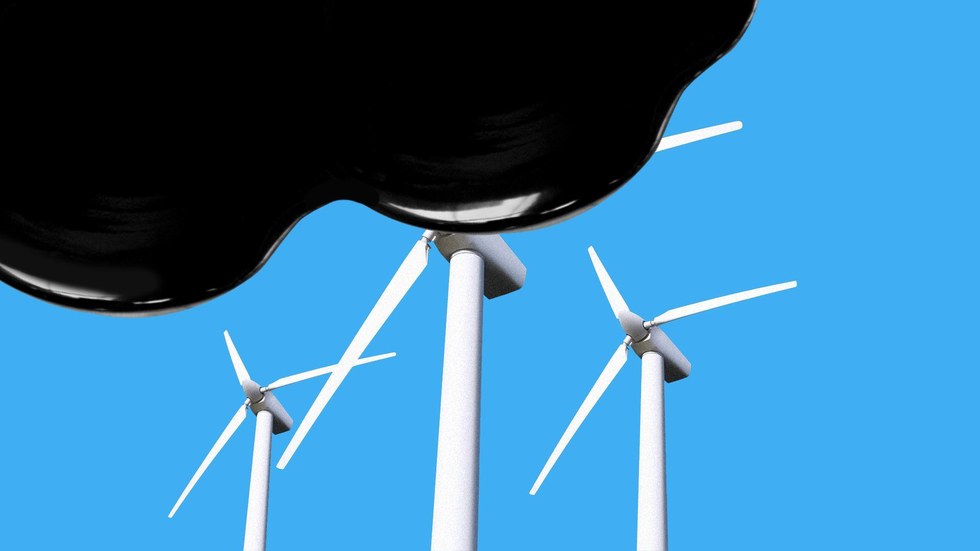 Rebecca Zisser / Axios
The arrival of the executive order is a good time to take stock of Trump's environmental and energy push after two busy months.
Before today, Trump had killed an Interior Department regulation on coal mining waste, approved the Keystone XL and Dakota Access pipelines, signaled he'll ease auto mileage rules, and called for faster infrastructure permitting overall.
So two months into his presidency, how much impact is he having? Easing environmental protections can affect how industry operates, but not necessarily how much it operates. Fossil fuel production is pretty resilient to policy shifts unless they really mess with the underlying market fundamentals. I've got a story over on the Axios stream that explores why rolling back regulations can nudge energy markets but probably can't fundamentally alter them. Check it out here.
Here's Trump's plan
Giphy
The White House walked reporters through the energy and climate order last night.
Why it matters: The order is the clearest sign yet of how aggressively Trump is attacking Obama's regulations on fossil fuel development and coal-fired power generation, which Republicans call economically burdensome.
According to the White House, the order will . . .
Begin the long process of overturning EPA carbon emissions standards for existing and newly constructed power plants.
Scuttle a White House directive that required agencies to consider climate change when reviewing energy, infrastructure and other proposed projects under the National Environmental Policy Act.
Target oil and gas regulations. It directs the EPA and the Interior Department to review rules — clearly with an eye toward rolling them back — including EPA's methane emissions rules for new sources and Interior's rules governing fracking on federal lands.
. . . and a whole lot more, which you can read about
here
.
Hitting the brakes on emissions cuts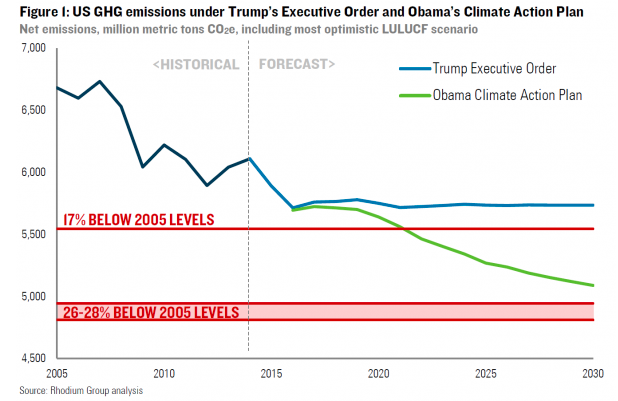 Rhodium Group
One more thing about Trump's climate change order. The Rhodium Group consultancy circulated a research note last night that takes stock of what would happen if everything in the order actually comes to pass.
Their bottom line?
If you compare U.S. greenhouse gas emissions under Trump's policy versus what would happen if Obama's policies stayed intact, they start to diverge beginning in a couple of years. Continued declines under Obama's plan will be replaced with a leveling off under Trump's rollbacks, stabilizing at about 14 percent below 2005 levels.
"That level holds through 2030, however, leaving the U.S. pretty far from the 26-28 [percent] Paris commitment in 2025 and nowhere close to what is considered necessary to meet global climate goals in 2030," they write. However, their analysis adds that if some optimistic assumptions don't hold, the emissions decline could even be reversed and start ticking back up.
Aramco gets a tax cut
Yesterday brought a new wrinkle in what could be the biggest IPO ever. Saudi Arabia is cutting the tax rate for state oil giant Saudi Aramco in preparation for next year's offering. The new rate is 50 percent, down from 85 percent.
The New York Times offers some context:
"The tax rate is a vital piece in a puzzle the Saudis need to work out with investment bankers to determine the value of Saudi Aramco, the world's biggest producer of crude oil. Current valuation estimates, ranging from $400 billion to $2 trillion, depend on various calculations of the worth of operations, projections of commodity prices, and costs including taxes."
The kingdom plans to sell 5 percent of the company next year.
Meeting Africa's energy needs with renewables
Wind and solar energy can become economically competitive ways to help meet rising energy demand in Africa, but planners need to consider location, location, location, according to new Lawrence Berkeley National Laboratory research.
"[W]ith strategic siting of the renewable energy resource and with more energy trade and grid interconnections between countries, the total system cost can be lower than it would be if countries were to develop their resource in isolation without strategic siting," Ranjit Deshmukh, one of the lead authors, said in a summary of the findings.
The whole paper is available here.
Blockchain's oil market beachhead
The Financial Times has a look at how commodities traders and a French bank are testing out blockchain technology for deals in U.S. oil markets.
Why it matters:
"The technology could ease the cumbersome process of exchanging contracts, letters of credit, inspection and other paperwork by email or fax when one company sells oil to another," the paper reports.
Rick Perry goes nuclear
The energy secretary made an unannounced visit to the long-proposed, long-delayed Yucca Mountain nuclear waste repository in Nevada yesterday, a project the Obama administration abandoned that Trump's crew wants to revive.
Perry met with Gov. Brian Sandoval, who opposes the project. Perry said in a statement that they had a "frank and productive discussion."
The Trump administration is asking Congress for $120 million to re-start the licensing process for the decades-old plan that faces stiff opposition from Nevada politicians.
Sandoval said in a statement that he and Perry are longtime friends, but "the storage of high-level waste at Yucca Mountain is not something I am willing to consider."
That's all for today, but please watch the Axios stream for more coverage. I'll be reading other Axios newsletters this morning, because they're really good. You can sign up for all of them here. Thanks for checking out Generate, and your feedback and confidential tips are always welcome at ben@axios.com. See you tomorrow.