Enter Oakland-based Gateway, a startup accelerator that invests in cannabis-related startups with potential for high growth. The accelerator just graduated its second class of startups, which range from those that make their own marijuana edibles to hardware companies focused on developing better plant trimmers and vaporizers, to Field, a software startup looking to match growers with workers who know how to trim marijuana plants, a high-demand and hard-to-find skill.
For its first $2 million fund, Gateway gave companies $30,000 in exchange for a 5 percent stake. A new fund, which has yet to close, will offer $50,000 in exchange for the same 5 percent stake. It also runs a co-working space near Jack London Square in Oakland. Like traditional technology accelerators, Gateway aims to pair founders and mentors, offer business coaching, and help startups go from an idea into a real business.
"Although it is a huge and growing industry, there aren't a lot of the normal resources like there are for traditional tech startups," Gateway co-founder Carter Laren told Axios at its demo day, held Tuesday at the Palo Alto office of law firm Morgan Lewis. There, investors heard brief pitches and had a chance to hear more about the companies, ask questions and, in a couple cases, sample the wares.
One potential investor was particularly intrigued by Somatik, which aims to blend cannabis with coffee, partnering initially with Ritual, a popular San Francisco company, on a cold brew. "Whenever I smoke I always drink a shot of expresso," the investor said into his cell phone just outside the event.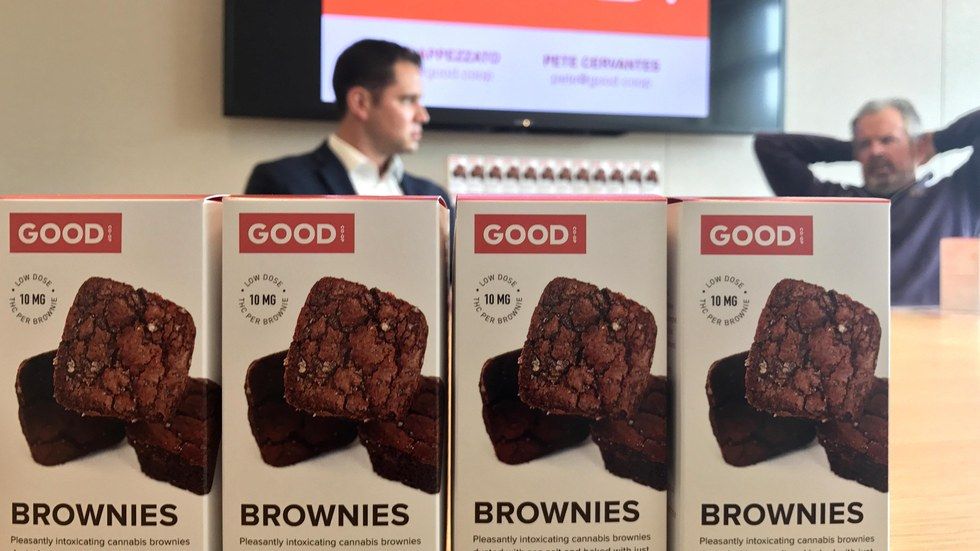 Good Co-op aims to offer edibles with consistent, low doses and a taste that rivals non-enhanced baked goods.Ina Fried/Axios
The downside: In addition to the usual risks with investing in startups, cannabis companies face the added risk that marijuana remains illegal at the federal level nationwide, with the current administration seemingly less inclined to look the other way. For a great look at all the complications, I'd point you to John Oliver's recent Last Week Tonight segment on this topic.