"Natural" means nothing on a cosmetic label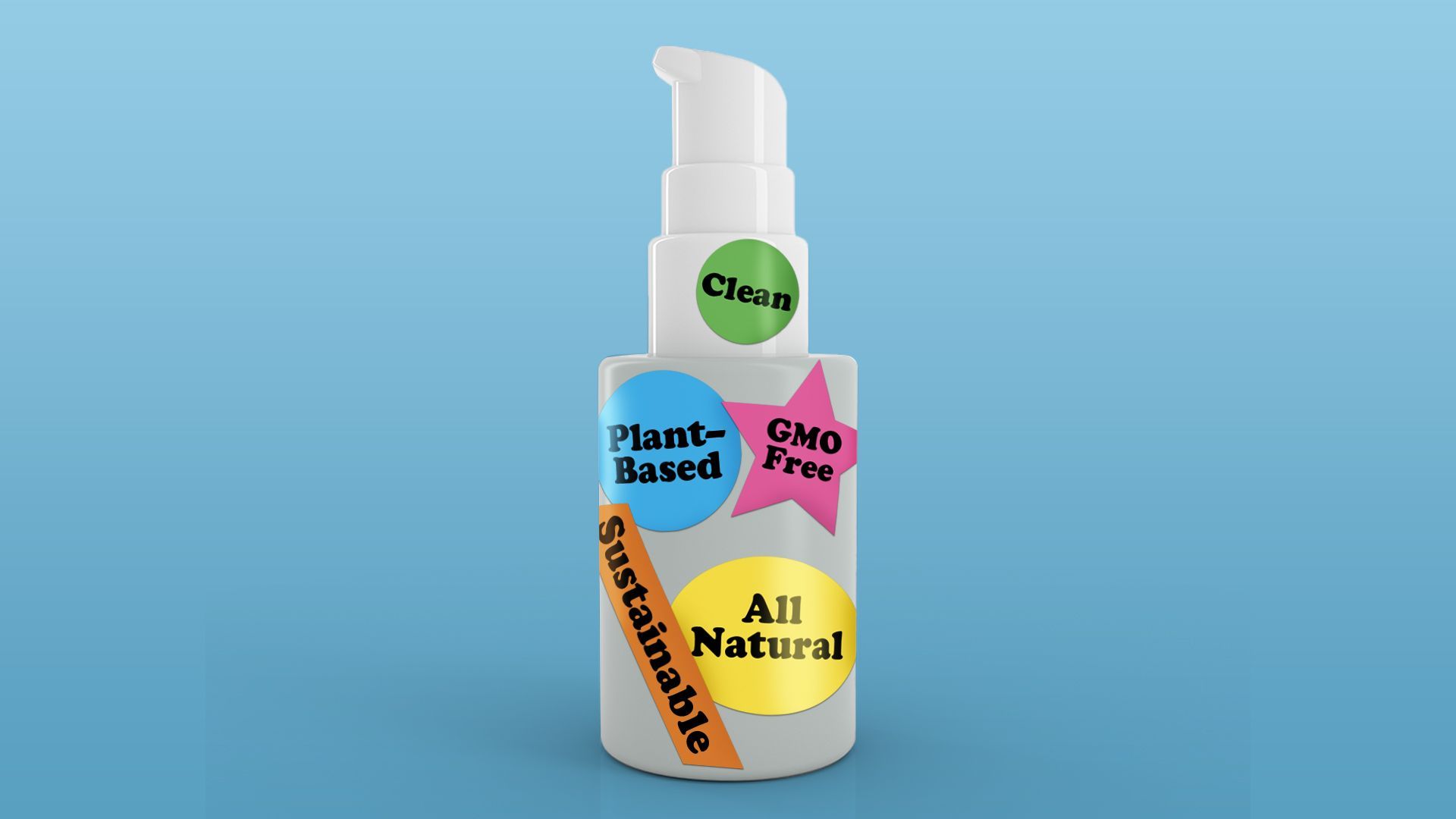 The words "clean" and "natural" might look appealing on cosmetic labels, but those adjectives mean squat when it comes to what's in the product and how it's made.
Why it matters: There's little stopping manufacturers and marketers of cleansers, makeup and other grooming products from using misleading language to sell to consumers concerned about harmful ingredients and the environment.
The big picture: As national interest in shopping sustainably grows, so does consumer concern over the existence of "forever chemicals" and ingredients considered potential endocrine disruptors in personal-care products.
Yet there's not much oversight with respect to safe ingredients and manufacturing processes for U.S. cosmetics.
The Food and Drug Administration doesn't pre-approve cosmetics and labeling, so responsibility rests on consumers to select appropriate products.
Context: Last December, Congress passed the Modernization of Cosmetics Regulation Act (MoCRA), which expands the FDA's authority to regulate cosmetics.
The law will require cosmetic companies to clearly label allergens and to report serious adverse reactions — which could lead to product recalls.
What they're saying: "An aspect of MoCRA that fell short [is] it's silent on specific ingredients that can be in cosmetics," says Lisa Bronner, consumer educator and granddaughter of soapmaker Dr. Bronner.
As it stands now, the Federal Trade Commission's Green Guides — which are "due for an update anytime now," Bronner says — do the most when it comes to regulating what environmental claims a label can make.
But patchwork regulation from the FDA, the FTC and other groups over personal care and cleaning product labels "is complex and inconsistent," Bronner says in her new book that covers ingredients and label wording.
For one, the word "clean" in cosmetics has no definition.
When you hear that word, "you always have to ask more questions," Bronner says.
"Do they mean that it's free of phthalates? Do they mean that it's free of undisclosed fragrance? Do they mean that it's free of formaldehyde releasers? ... The word is a free-for-all," she says.
And the word "natural" means nothing by itself on a label.
"To get into a jar of cream safely, ingredients all need to go through extensive processing, so in a sense everything in a beauty product is pretty unnatural," says cosmetic chemist Michelle Wong in her skin care book.
Neither the FDA nor the FTC has clearly defined "natural," however the FTC has gone after companies that advertise products as "all natural" or "100% natural" but contain synthetic ingredients.
"Green" can be deceptive, too, because it's unregulated.
According to the FTC, the words "green" and "eco-friendly" "convey a broad range of attributes [and] almost no product could have them all."
So you don't fall for product greenwashing, Bronner recommends looking for legitimate certifications on cosmetics (which are different from artwork that just looks like an eco-friendly seal).
"Chemical-free" is another meaningless marketing word.
"Everything is a chemical that is in a cosmetic.… Soap is a chemical produced from a chemical reaction," Bronner says.
Other words that don't say much about what's actually in a product: "paraben-free," "dye-free," "fragrance-free," etc.
Be smart: Instead of relying on marketing terms, look at where chemicals fall on an ingredient list (the main ingredients should be listed at the top) — and if you can, sample products and pay attention to how you react to them.
Yes, but: There's a lot of debate over which ingredients are safe to use in cosmetics.
A number of studies assess the safety of cosmetic ingredients, but results can be framed differently, depending on the group sharing the findings — and their potential competing interests in deeming something safe or unsafe.
"Most ingredients that get fear-mongered about on social media are actually very safe, according to science," Wong tells Axios.
Among the ingredients in question are these that start with P:
Parabens, which are commonly used as preservatives in cosmetics.
Some advocacy groups share concern that parabens can cause skin irritation and disrupt hormones in the body. The FDA says that right now "we do not have information showing that parabens as they are used in cosmetics have an effect on human health."
Phthalates, "plasticizers" that can be found in fragrance and nail polish.
Certain groups link them to concerns like cancer risk and endocrine disruption, but the FDA cites reports, including one from the CDC, that failed to establish an association between the use of phthalates and a health risk.
Per- and polyfluoroalkyl substances (PFAS), which can be used in cleansers and makeup to help skin appear shiny.
Laws banning these ingredients in cosmetics have passed in a few states, including...
California, which bans some parabens, phthalates and PFAS.
Washington, which bans phthalates and PFAS.
What's next: Next June, the FDA is expected to release a list of allergens that manufacturers need to clearly label on their cosmetics, as part of MoCRA.
That could encourage manufacturers to forgo certain ingredients in their products.
Go deeper