With Braid remake, an influential indie returns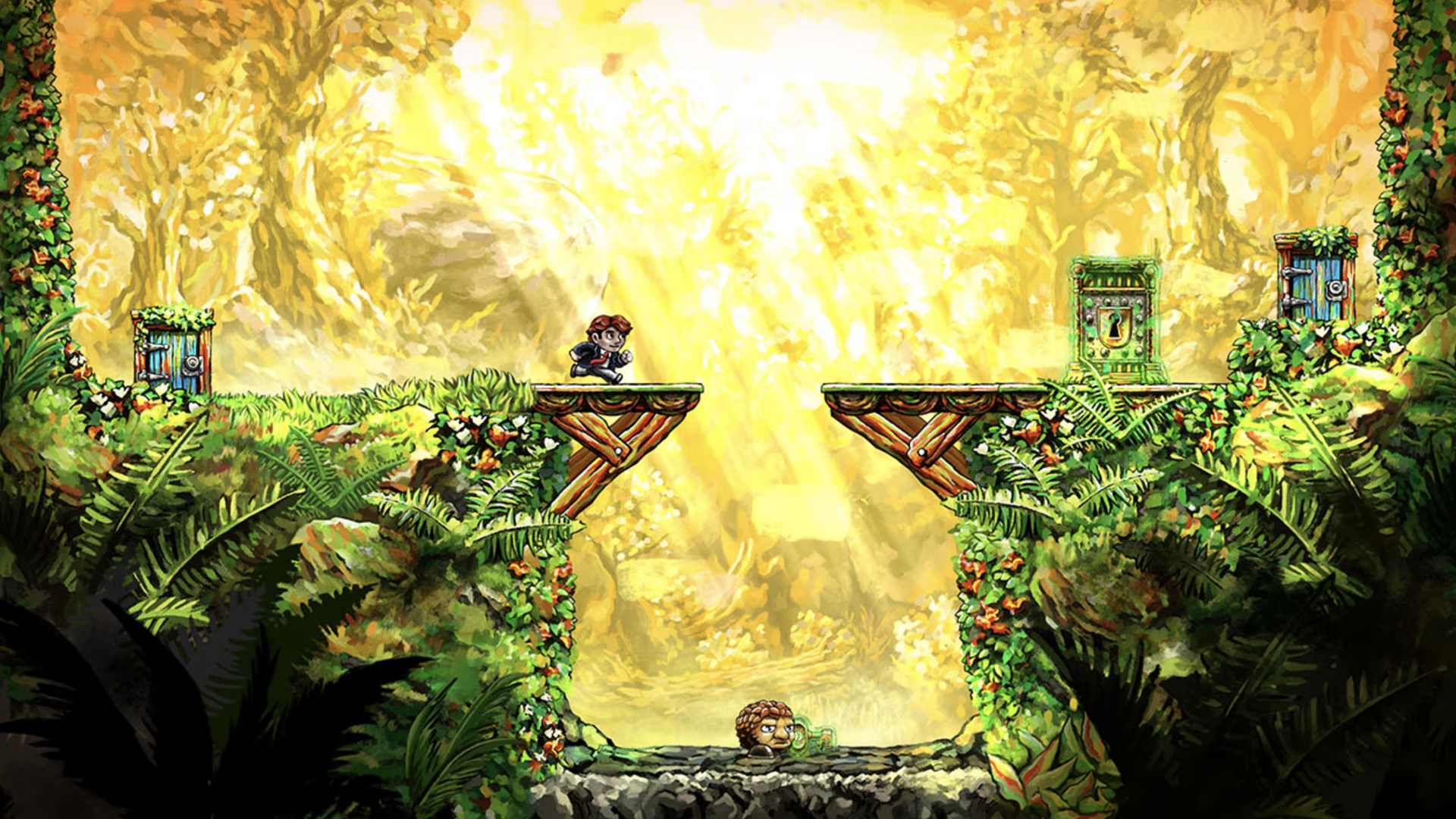 Acclaimed and occasionally controversial developer Jonathan Blow is preparing to launch a commentary-filled "anniversary edition" remake of his 2008 game Braid.
Why it matters: Braid was a breakthrough indie game that helped make Blow something of a celebrity among developers. Blow hopes that the re-release will help explain how it came to be.
The 2008 game is a side-scroller, à la an old Super Mario Bros., with a series of puzzles involving different systems for the flow of time, (in some levels, for example, time advances when the character moves forward; rewinds when they back up).
The remake, set for release on April 30, will include repainted art, remixed music, new original puzzles as well as 15 hours of audio commentary threaded throughout, Blow says.
What they're saying: Blow tells Axios that he has been disappointed at the lack of commentary tracks offered in video games and the limits of what's made it through. "You don't get candid information. You just get these extremely rehearsed things."
His solution before the anniversary edition's mid-2020 announcement: "long-form interviews with other people who understand game design and art."
But COVID lockdowns made in-person chats impossible, and Braid's remake was on the back burner for years, Blow says.
In the meantime, he and his team at Thekla Inc. have mostly worked on a still-secret project. "It's the biggest single-player puzzle game that anybody's ever made," he says.
Between the lines: Many game developers work in anonymity, but Blow became a star 15 years ago, featured in the documentary Indie Game: The Movie and the subject of mainstream magazine profiles.
In 2015, he told Vanity Fair: "A lot of games today are only interested in making players feel smart, rather than have players actually be smart."
Blow has largely been out of the press since he released another acclaimed puzzle game, The Witness, in 2016.
But some of his social media posts since then have stirred controversy, including 2017 tweets about the lack of women in programming.
Blow bristles at all that now, saying he is frequently misunderstood. On that topic, he says, "When we hire people, I very much believe in just hiring the best person for the job, because it's just so hard to make games. And we've hired quite a few women because they were the best people for the job."
What's next: Blow says he's trying to keep more of his non-gaming opinions to himself these days, saying he doesn't think they move the discourse one way or the other.
"But if I make a new game that's very different from other games, that changes the field of those games quite a lot. And so, yeah, I prefer to just stick with that."
Sign up for the Axios Gaming newsletter here.
Go deeper