What's behind the surge in catalytic converter thefts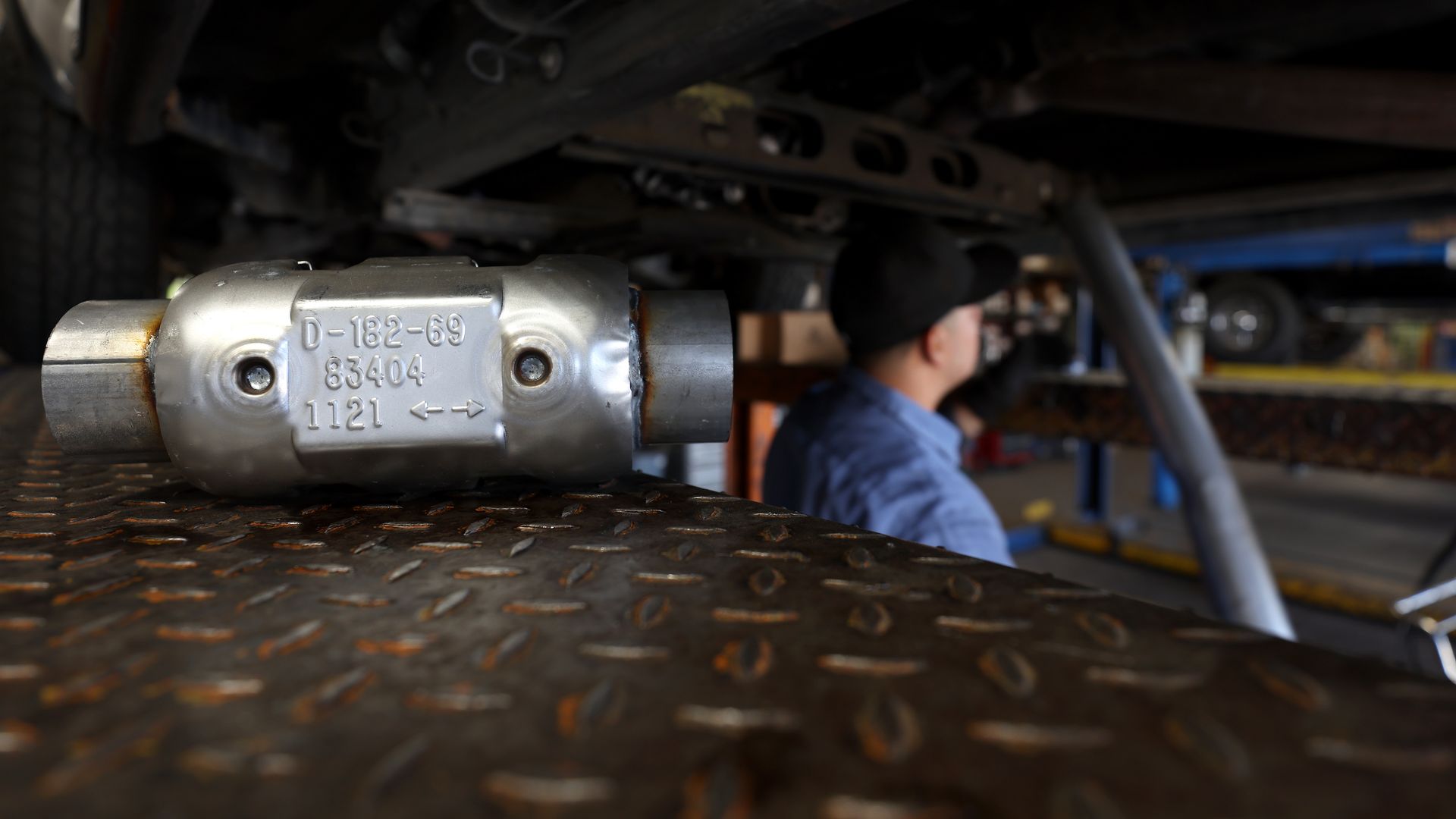 Catalytic converters are a hot commodity.
Why it matters: The anti-pollution device located underneath cars — packed with rare precious metals — has been stolen in record numbers over the past few years.
While thefts are down so far in 2023 after a nationwide surge last year, they're still almost 21 times higher than in 2019, per an August report from BeenVerified.
Lawmakers across many states are aiming to combat the phenomenon with legislation and enforcement.
Catch up quick: From Minnesota, to Colorado, Virginia, Texas and beyond, catalytic converter thefts skyrocketed in the U.S. during the coronavirus pandemic.
The National Insurance Crime Bureau recorded 64,701 insurance claims for converter thefts last year, up significantly from 16,660 claims in 2o20.
That's probably an undercount. The bureau's reports leave out other thefts reported to law enforcement or thefts from uninsured vehicles.
In 2022, the Justice Department said they had taken down a $545 million catalytic converter theft ring and made searches, arrests and seizures across at least nine states.
Here's a breakdown of some reasons behind catalytic converter thefts:
Why catalytic converters are stolen
Catalytic converters are made up of precious metals such as rhodium, platinum and palladium, making them highly valuable.
The metals from these converters can be recycled and resold.
With only tiny portions of these metals inside each converter, there is more value in stealing dozens at once, per Vox.
Despite the decreasing price of these precious metals in a post-pandemic world, the metals inside the converters remain among the most rare and valuable on Earth.
Thefts are hard to track
Tracking stolen converters has proven difficult. A New York Times investigation found that stolen catalytic converters "pass through middlemen, smelters and refineries in the United States and overseas."
The unknown origins of the stolen converters leaves the thefts' beneficiaries with "plausible deniability and little incentive to stop them," per the Times.
Plus, the converter can be sawed off beneath a car in only minutes.
How to protect your catalytic converter
If the catalytic converter on a car has been stolen, the vehicle will make a very loud noise once started.
To better protect against these thefts, BeenVerified recommends installing a catalytic converter anti-theft device or motion alarm.
Parking in a locked garage, well-lit area or any place with high pedestrian traffic can also help deter thefts, according to BeenVerified.
Go deeper: Philly tow company snared in catalytic converter theft ring
Go deeper