Recycled car interiors are the new chic luxury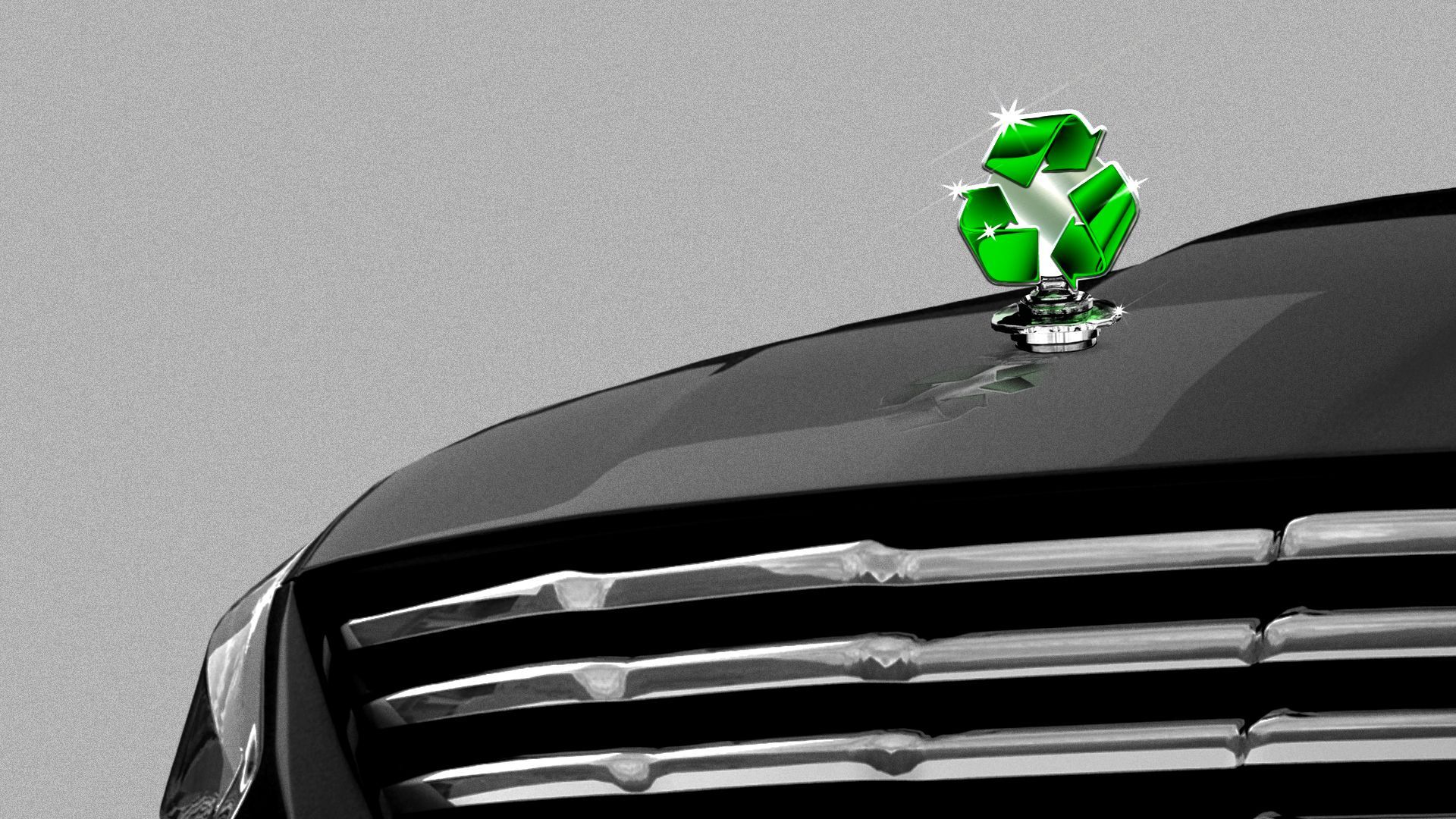 Carmakers are lining their electric vehicles with trash — literally — and hoping sparse, eco-friendly cabins will redefine luxury for a new generation of buyers.
Why it matters: Turning recycled denim, fishing nets and plastic bottles — or even mushroom roots — into automotive cockpits may help the industry reduce its carbon footprint.
Plus, it's what today's premium customers prefer in place of plush leather or polished wood, carmakers say.
"Sustainability is luxury," says Anders Karrberg, head of global sustainability at Volvo Cars. "It speaks to a younger generation."
Driving the news: Volvo's newest electric vehicle (EV), the compact EX30 SUV, will test that theory.
The Swedish luxury brand is known for its clean and simple Scandinavian design, with light oak interiors that are functional yet beautiful.
The EX30, starting at $34,950, puts a whole different spin on that theme, blending an array of recycled and renewable materials into an austere cabin.
The bare-bones interior features seat fabric sewn from denim scraps, a dashboard woven with thread from flax and linseed plants, and speckled door accents made from ground-up vinyl window frames.
The EX30 has the smallest carbon footprint of any Volvo, the company says.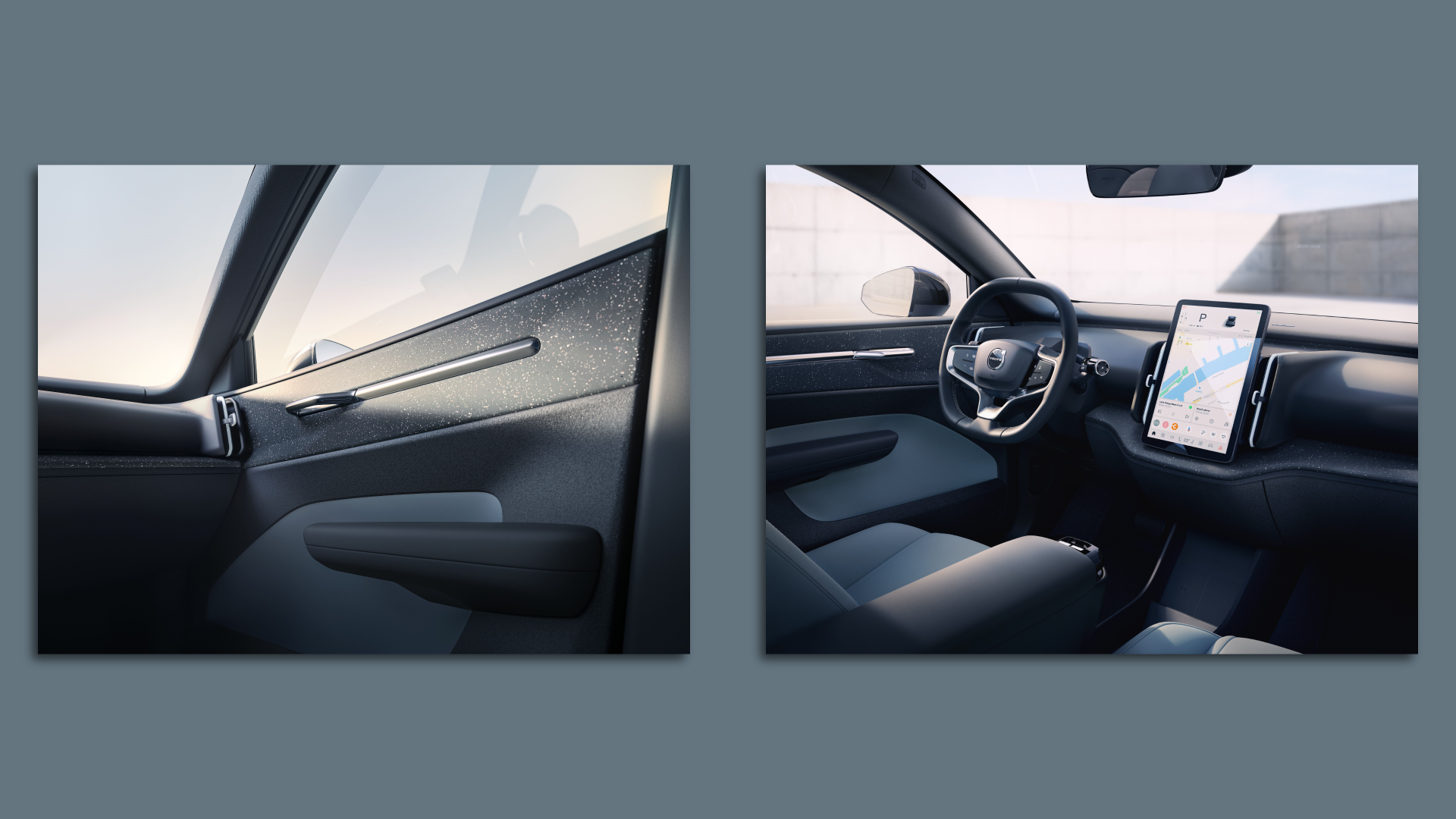 The big picture: Some automakers have used products like soy or sugar cane fibers in inconspicuous areas for years, like in wiring harnesses under the hood or in the headliner fabric on the inside roof of the car.
But there's a new urgency to use more recyclable and renewable materials as automakers face looming targets to be "carbon neutral" by 2050 or sooner.
They won't hit those goals simply by adding more EVs to their lineups, since evidence shows EVs aren't driven as much as gasoline-powered cars.
To dramatically reduce their carbon footprint, automakers need to decrease greenhouse gas emissions across their operations, including in manufacturing and logistics.
Meanwhile: Like Volvo, Kia is integrating a lot more recycled or plant-based components into its lineup — starting with the EV9, a family-friendly SUV hitting dealerships by the end of the year.
The EV9 uses 10 "must-have sustainable materials," including bio-paint made from rapeseed oil on the door switches, recycled polyethylene terephthalate plastic (PET) in the seats and other surfaces, and recycled fishing nets in the carpet.
The South Korean carmaker is taking the trend even further with newly revealed concept cars like the EV3, EV4 and EV5.
For example, it's replacing plastic molding with soft-but-strong plant-based parts "grown" from mycelium, the white hairlike fiber from mushroom roots.
What's next: Kia eventually wants to develop grown materials using a process called bio-fabrication.
"Using mycelium enables us to mimic the processes we see in nature and leverage it to design more sustainable solutions — the material can be grown in any shape you want using a mold," Marília Biill, who heads up color, materials and fabric design at Kia, notes in a press release.
What to watch: Will these recycled components and biomaterials hold up during the wear and tear of daily driving?
Complaints have been rolling in about the durability of a new recycled fabric Apple is using in place of leather for its iPhones and watches.
What they're saying: "The industry's been making interiors out of plastic for 70 years, so the supply chain is pretty good at it," says Stephen Kosowski, manager of long-range strategy and planning for Kia America.
"To engineer new parts that are as durable, and have the same look and feel and that will last as long as plastic, is not easy."
"I think we've cracked the code on durability," he said, but the cost of developing sustainable materials remains a challenge.
The bottom line: That's why Kia's initiative is beginning with its most expensive model, the EV9, with a top price of $73,900, until it can bring down the cost of sustainable materials.
Go deeper