Axios Finish Line: The power of original thinkers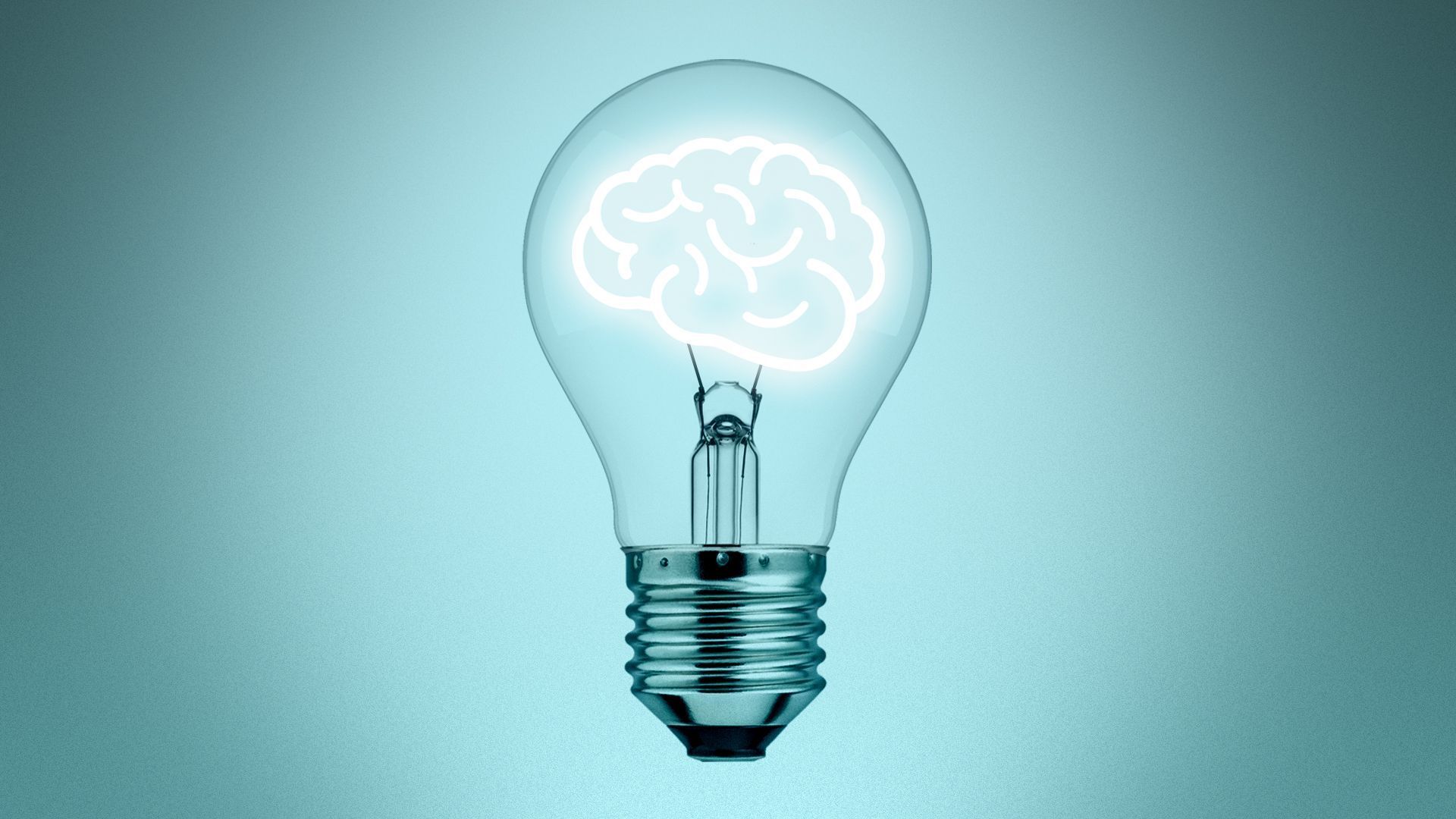 Fabricio Drumond, Axios' chief business officer, has more original ideas for clever ad campaigns or new products than almost anyone I know in American media. Which makes sense because he came to us from... the Brazilian feed and fertilizer industry.
No, I'm not yanking your chain. Fab, as we call him, was the chief operating officer of a biotech company in São Paulo when we hired him to oversee revenue.
Why it matters: Lots of people have lots of talents. But clever and consistent generation of original ideas is a very rare one. It spurs new ideas and sparks new business lines and companies.
You often need to hunt in unlikely places to find this kind of thinker.
In my experience, it can be taught if the person has innate attributes like curiosity and problem-solving bias. Otherwise, it's hard to teach.
One of my own early original ideas in 2007, in the early days of Politico, was to hunt for media business talent outside of media.
I found traditional, back-slapping salespeople in D.C. tended to rely on relationships, not smarts, and rarely consulted clients to figure out how to deliver more than the tired old rap. They were selling, not strategizing.
This led me to Roy Schwartz, whose background wasn't in media but in consulting for high-end clients at Gallup. We hired him to run revenue, a very unorthodox move back then.
Roy turned Politico into a client-first, consult-first strategy shop for ad buyers. Sales soared. He's an ideas machine.
Soon after, he helped dream up a high-end paid subscription business called Politico Pro, now a $100 million-plus revenue business. Soon after that, he joined Mike Allen and me in quitting Politico to start Axios.
Next he helped create our spinoff — an AI-powered company, Axios HQ, that helps organizations improve internal communications.
Now that's an ideas machine!
So what are common markers in the genetic code of original thinkers? And how can you oil your own idea machine?
1. A key tell of original thinkers: When confronted with a problem, their mind pivots to solving it. And not just solving it, but jumping outside the box for unorthodox fixes. They don't lock up with fear or pessimism. They fix.
"I live in the future, always wondering: 'What if this happened?'" Fab told me. The trick is to then "come back and guide others to the destination.
2. Forward motion. I play a parlor game at dinners where I ask people how much time they spend thinking about the past, present and future. It's hardly scientific. But the most creative people focus disproportionately on the future.
3. Wide thinkers. You need a fairly elastic mind to solve complex problems. Curious minds dig in many information holes across a variety of fields. They're good at spotting patterns and drawing from disparate, unobvious sources. They tend to be voracious consumers of information — be it from reading, podcasts, watching or conversation.
4. Mind-melders. Curious people attract other curious people. They like bouncing wild ideas around and contemplating what-ifs. They're often drawn to contrarians — they know difficult things are often not best solved conventionally. Roy and I have been ping-ponging ideas off each other, sometimes starting before 4:30 a.m., for the past decade.
5. Mind-massagers. Steve Jobs famously did his best thinking on long walks. Others do it on hikes — or through art or music or long runs or deep meditation. In every case, they're purposeful about carving out time for their mind to run free and dream. I try to find hours each day to do this.
6. Lemming-resisters. Most people think mostly the same in most situations. Humans are lemmings. This explains pervasive groupthink.
I always tell our staff: If everyone in media is running in the same direction, it's usually the wrong way. The clever ideas are usually down a road the others will pooh-pooh.
This article originally appeared in Axios Finish Line, our nightly newsletter on life, leadership and wellness. Sign up here.
Go deeper