Hollywood's restart scramble starts now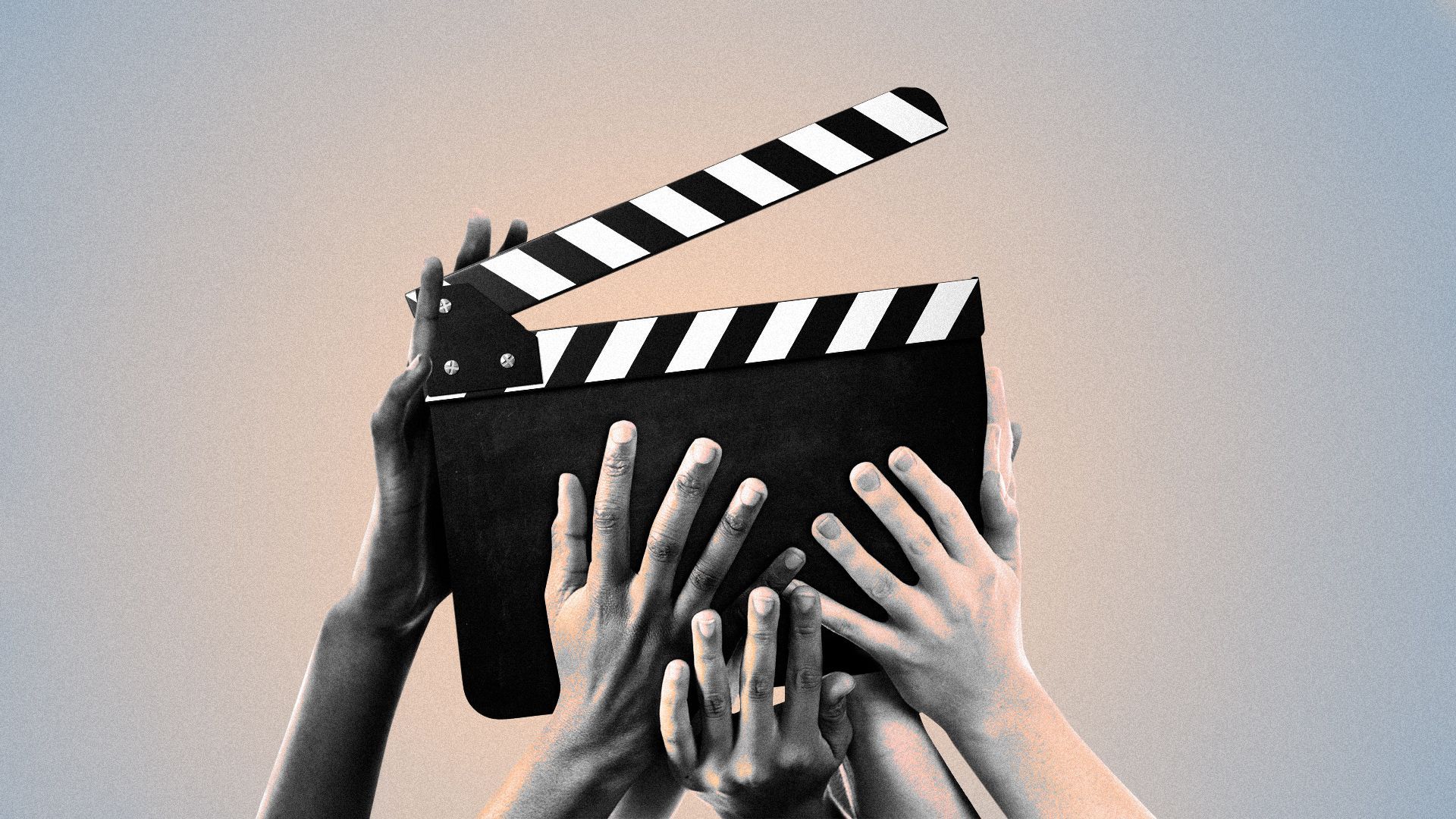 Don't assume that studios and unions putting media labor battles in the rearview mirror, means cameras will start rolling immediately.
Reality check: The process to clear schedules and book studio space means cameras won't be rolling again until January at the earliest.
The big picture: It typically takes 4-6 weeks to ramp up production, industry insiders tell Axios. And with writers' rooms only recently reopened, it's not certain how much of a 2023-24 TV season will be able to be salvaged.
One example of the coming crunch: HBO had initially slated the third season of Emmy-winning "The White Lotus" for 2024, but HBO chief Casey Bloys said last week it will likely debut in 2025.
More delays are expected amid an upcoming scheduling crunch for writers, directors and actors.
On the film side, completed movies were already pushed into 2024 in order to have actors' promote them — this can restart immediately, giving a boost to upcoming films like Warner Bros.' "Wonka" and "Aquaman" sequel.
But studios will have to weigh additional delays on some projects to avoid congesting the 2024 release calendar.
Between the lines: The rush to complete projects when cameras do start up again could lead to a post-production bottleneck, particularly at special effects studios.
Some projects that hadn't started filming yet are likely to get canceled as studios scale back content spend.
Yes, but: It's possible some shows and films can quickly restart — especially ones that were in the middle of production when the strikes began.
Some films that weren't produced by the AMPTP member studios were granted waivers to continue to filming. HBO's "House of the Dragon" was able to keep the cameras on due to U.K. labor laws, where the series was partially shot.
Be smart: Late-night talks shows and shows like "Saturday Night Live" quickly resumed filming new episodes after the writers strike ended. But their performers are covered under a different deal than the SAG-AFTRA deal that was agreed to Wednesday night.
Of note: The most immediate boost to the industry will be on the red carpet and awards' circuit.
The Emmys had been pushed to January amid the strikes. It was in danger being moved again if a deal wasn't reached soon.
The bottom line: Hollywood finally put an end to the industry's first dual strike in 63 years. Now comes the hard part.
Tim Baysinger co-authors the Axios Pro Media deals newsletter. Sign up now.
Go deeper