What to know about Diwali or Deepavali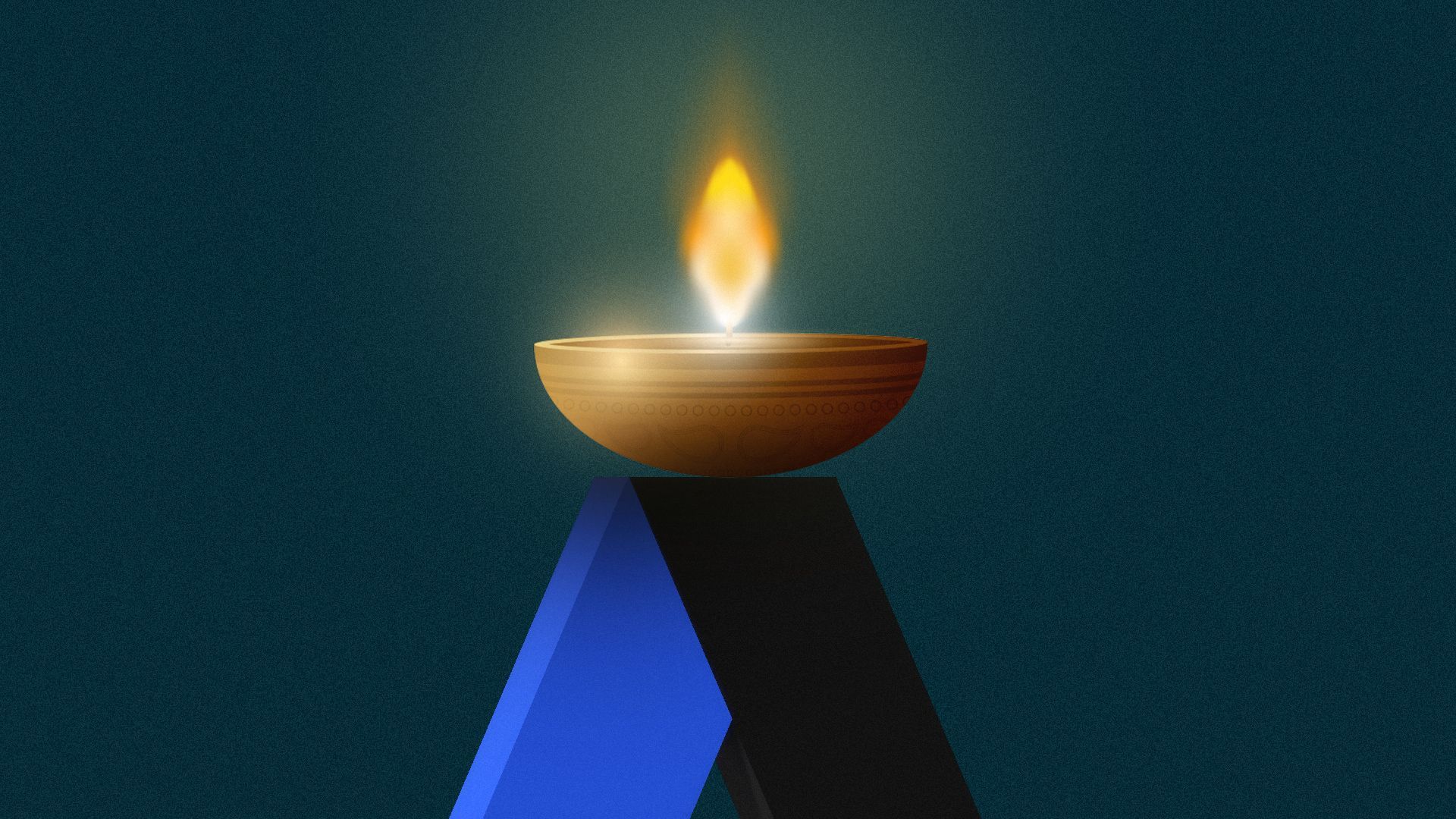 Diwali or Deepavali, a holiday that is becoming more widely known in the U.S., starts Sunday.
Why it matters: The religious holiday, also known as the festival of lights, is celebrated by over 4 million people in the U.S. and more than 1 billion people worldwide.
The latest: In April, Pennsylvania became the first U.S. state to make Diwali an official state holiday.
New York City followed suit in June, recognizing Diwali as a school holiday.
Between the lines: Diwali is a time to celebrate life and good conquering evil.
Also, Diwali isn't celebrated every Nov. 12. The holiday is synchronized with the lunar calendar and falls between October and November.
Context: In many Hindu communities, Diwali celebrates the return of Prince Rama of Ayodhya, his wife Sita and brother Lakshman after 14 years of exile.
Prince Rama is considered the incarnation of Lord Vishnu, the embodiment of dharma (or righteousness), and Sita is the incarnation of Lakshmi, the goddess of prosperity and wealth.
Some Hindus recognize Diwali as the day Lord Krishna defeated the demon King Narakasura.
For non-Hindu communities like the Jain, Diwali marks the day Lord Mahavira attained nirvana, or spiritual awakening. In Sikhism, it honors the day that Guru Hargobind was freed from imprisonment. Buddhists also observe Diwali.
Diwali is celebrated over five days, each day holding a different significance, per the Hindu American Foundation.
Day one: People clean their homes and make colored patterns on the floor with powders, flowers, rice or sand called rangolis or kolam. This day is also used to shop and make sweet and savory treats.
Day two: Called small Diwali, the day is spent decorating homes with rangoli. Clay lamps are put on display.
Day three: People put on new clothes and perform a worship service called puja at the temple. Lamps called diyas are lit, and family and friends come together to share food and light fireworks.
Day four: The first day of the new year, celebrated by exchanging gifts.
Day five: Honors the bonds between siblings.
What's next: As Diwali becomes more widely known in the U.S., it could win more official recognition.
In May, Rep. Grace Meng (D-N.Y.) introduced the Diwali Day Act, a bill to make Diwali a federal holiday. If passed, Diwali would become the 12th federally recognized holiday in the U.S.
What they're saying: "It is important for our country to expand its national awareness and understanding of a variety of cultural traditions as it grows more diverse," says Rep. Raja Krishnamoorthi (D-Ill.) "We are at our best as a nation when we embrace our national mosaic."
Go deeper