Inside the race to develop $500 "super shoes"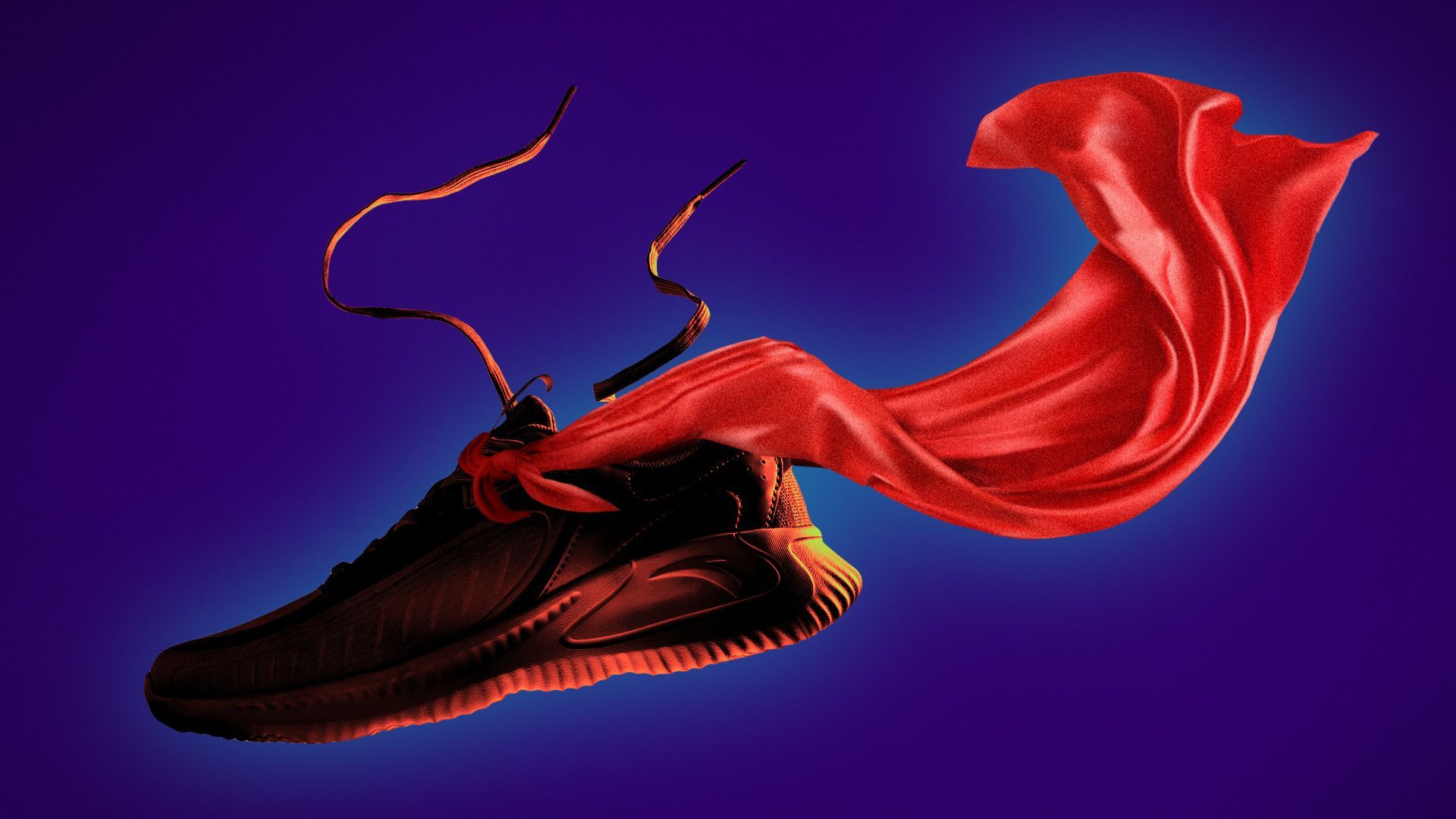 Shoes that cost the same as an iPhone — and with just about as much technology — are helping runners shatter records and triggering a feverish race among shoe companies.
Why it matters: Elite athletes are always looking for an edge — and their equipment decisions influence countless amateur athletes, which is where apparel companies make their money.
Catch up quick: Ethiopian long-distance runner Tigst Assefa obliterated the women's marathon record in September, recording a time of 2:11:53 while wearing Adidas' state-of-the-art Adizero Adios Pro Evo 1.
Two weeks later, Kenyan long-distance runner Kelvin Kiptum shattered the men's marathon record, posting a time of 2:00:35 while wearing Nike's Dev 163 prototype shoes.
Ethiopian runner Tamirat Tola broke the men's course record at the New York City Marathon on Sunday while wearing Adidas super shoes.
State of play: These super kicks are super light, cushy and springy — the antithesis of clodhoppers, you might say.
"We call them the super shoes for mere humans," Caspar Coppetti, executive co-chair of Swiss shoemaker On Holding, told investors earlier this month.
But they're controversial among elite runners, some of whom think they provide an unfair advantage — not unlike how now-banned high-tech swimsuits once gave an edge to competitive swimmers.
"Whether you agree or disagree with them, the war of the super shoes is well and truly on," Runner's World says.
Zoom in: The public can buy the Adidas super shoes for $500, which makes them legal in competitive races. The Nike shoes are set to arrive in January as the Alphafly 3.
One day, this technology could become cheap enough to integrate into shoes for the everyday consumer, but for now, it's about providing a halo effect to the shoe brands.
"A $500 running shoe that is designed to be worn once or twice is a very niche market, but could help drive popularity to other Adidas products," CFRA Research analyst Zachary Warring tells Axios.
Between the lines: Super shoes are powered by what Gazelle Sports calls a "stacked foam, carbon-plated, rocker design."
The Adidas kicks weigh less than a third of a pound, which the Wall Street Journal notes "is so lightweight that elite runners initially doubted it could hold up over a long race."
The bottom line: If and when someone breaks the two-hour mark in a marathon for the first time, it'll almost surely be while wearing super shoes.
Go deeper