After years, the FDA is moving to ban menthol cigarettes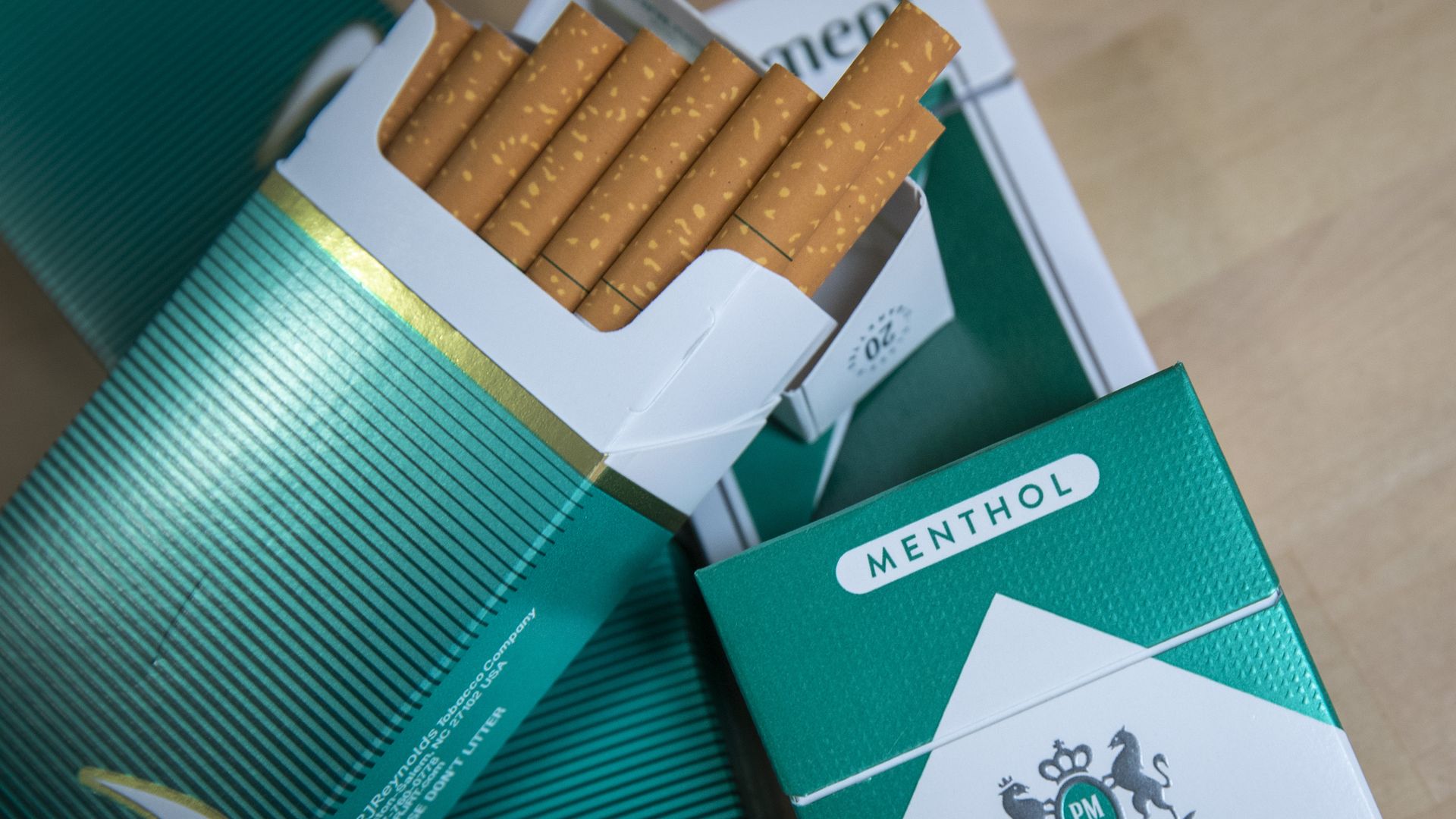 The Food and Drug Administration is poised to move forward with a long-awaited ban on menthol cigarettes, a move hailed by public health groups who say it will especially improve the health of Black communities and prevent young people from taking up smoking.
Why it matters: Menthol products account for more than a third of tobacco sales in the United States, and tobacco companies have been accused of heavily marketing them to Black communities — contributing to health disparities and making it harder for Black people to quit smoking, according to the CDC.
Health officials have said outlawing the products, along with a new ban on flavored cigars, is a significant step that will help put a dent in preventable deaths from smoking, which the CDC says kills more than 480,000 people in the U.S. annually.
Driving the news: The FDA in the past week submitted a final version of its proposed ban to the White House's budget office, the last step before issuing a regulation.
The FDA had formally proposed the ban in April 2022, and it missed a self-imposed deadline to finalize the ban by August of this year.
But the move has been years in the making amid concerns that menthol products, which help mask tobacco's taste with a cooling sensation, were more addictive than traditional cigarettes.
"Once implemented, they will protect kids from tobacco addiction, advance health equity and save hundreds of thousands of lives, especially Black lives," Yolonda Richardson, CEO of Campaign for Tobacco-Free Kids, told CNN.
Catch up quick: Menthol products were excluded from a 2009 law that, while giving the FDA authority to regulate tobacco, took aim at other flavored tobacco products.
In 2013, public interest groups filed a citizen petition asking the FDA to ban menthol, and in 2020, groups filed a lawsuit that accused the agency of unreasonable delay in responding to the petition.
In April 2021, the FDA confirmed it would move forward with a ban on menthol-flavored cigarettes and made its formal proposal a year later. However, it left out menthol-flavored e-cigarettes.
Context: The tobacco industry has argued against a ban, and it's expected to challenge the rules in court.
Among the arguments tobacco companies put forward is there's no causal relationship between the use of menthol in cigarettes and smoking initiation or increased dependence. Some experts note the law empowering the FDA doesn't require that elevated level of proof.
Many Black health groups and civil rights groups support a ban on menthol, with the products accounting for about 85% of those used by adult Black smokers.
Some prominent Black leaders and the American Civil Liberties Union have questioned whether a ban could lead to overzealous policing of Black communities. However, the FDA said enforcement wouldn't affect individual consumers, just the businesses involved in the sale, distribution and manufacturing of the products.
Health officials also said banning flavors like fruit and cocoa in cigars will limit their appeal, especially to kids and young adults, who they said will be less likely to try the products and become regular users.
A report last week found that about a half-million youths use cigars, and cigar sales more than doubled over the past two decades — largely driven by sales of flavored products.
Black high school students are 1.5 times more likely than white high school students to smoke cigars, according to the report from the Rutgers University Institute for Nicotine and Tobacco Studies and the Campaign for Tobacco-Free Kids.
What we're watching: Should the ban be implemented, there's the question of whether menthol users quit or gravitate to traditional cigarettes or vaping products.
Research published in the journal Tobacco Control two years ago projected a menthol ban, had it been enacted in 2021, would have reduced all cigarette smoking by nearly 15% within five years, translating to 650,000 premature tobacco-related deaths averted in a 40-year period.
A study of Canada's menthol ban showed that menthol smokers quit at higher rates than those using non-menthol products. Should Canada's menthol ban have the same effect in the United States, that would translate to more than 1.3 million U.S. smokers quitting, including over 380,000 African Americans.
Go deeper